Here is what they are competing for, it's a chrome and black twist pen with "Molten Bronze" material. Hand turned by yours truly. Thank you again for all that have donated for the cost of materials so I can keep this competition running! Pics of the prize are below.
Thanks again to everyone who is participating, we switched the method of getting to the voting process this month. The new nominee method is by how many "likes" your submission acquires. So the top 5 will be selected using that method, but......... with that being said we did have a three way tie with 9 "likes" each so this month will have 6 contestants as opposed to 5.
Again thank you and good luck to:
@Allen_rubin
(8 "likes")
@BlueHaloGirl
(9 "likes")
@Enemigo
(11 "likes")
@nickbaldwin86
(11 "likes")
@Pantera
(9 "likes")
@theGnarlz
(12 "likes")
Here is the prize pen - Black and Chrome twist pen with "Molten Bronze"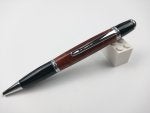 Here are the Contestants!!!
@Allen_rubin
(8 "likes")
@BlueHaloGirl
(9 "likes")
@Enemigo
(11 "likes")
@nickbaldwin86
(11 "likes")
@Pantera
(9 "likes")
@theGnarlz
(12 "likes")