Discussion Starter
•
#1
•
So today I finally got around to dynoing TTR's intake manifold. I booked a dyno dynamics in Louisville KY, which is about 170 miles away. The dyno operator pulled my ST into the shop and began strapping her down while I waited upfront. Technically I wasn't even supposed to be in the shop because of insurance/liability reasons. Once the operator strapped her in, he did a few pulls on his own while I was still up front talking to another worker. He came and got me and took me back to the dyno and showed me the numbers he got. I can't remember the numbers off hand, but they were around 224-225whp. I looked at him with a puzzled face, and he said that dyno dynamics typically run about 13% less than a dynojet. He ended up operating the dyno and car while I did the datalogging and video recording. We did 6 more pulls with the stock intake manifold running the Cobb Stage3, 93oct. v200 OTS map. We got consistent peak HPs at 225whp, with the exception of one run that ended up getting 226.8whp but we couldn't replicate it again. After all that, I decided we established a decent baseline to compare against and began swapping the stock manifold for the TTR manifold. I think it took me less than 40 minutes total to get it swapped by myself which surprised me. Anyways, we did 3 runs with the same Cobb OTS map that was flashed for the stock manifold, and got 228.7whp, 227.5whp, and 227.9whp. After that, I flashed over a v200 OTS map that I changed the Intake Manifold Volume parameter from the default 3.685L to 6.435L. We did some more pulls and got pretty consistent results around 230whp, with the exception of one oddball at 225.1whp. I did 4 more runs with the IMV changed to 6.185L and it seemed to bring it down slightly to 229.8-230.1 but still pretty consistent. By the way, I can't stand the graphing software for dyno dynamics...
TTR @ 230.6whp peak w/ modded OTS map versus stock manifold @ 224.8whp peak w/ OTS map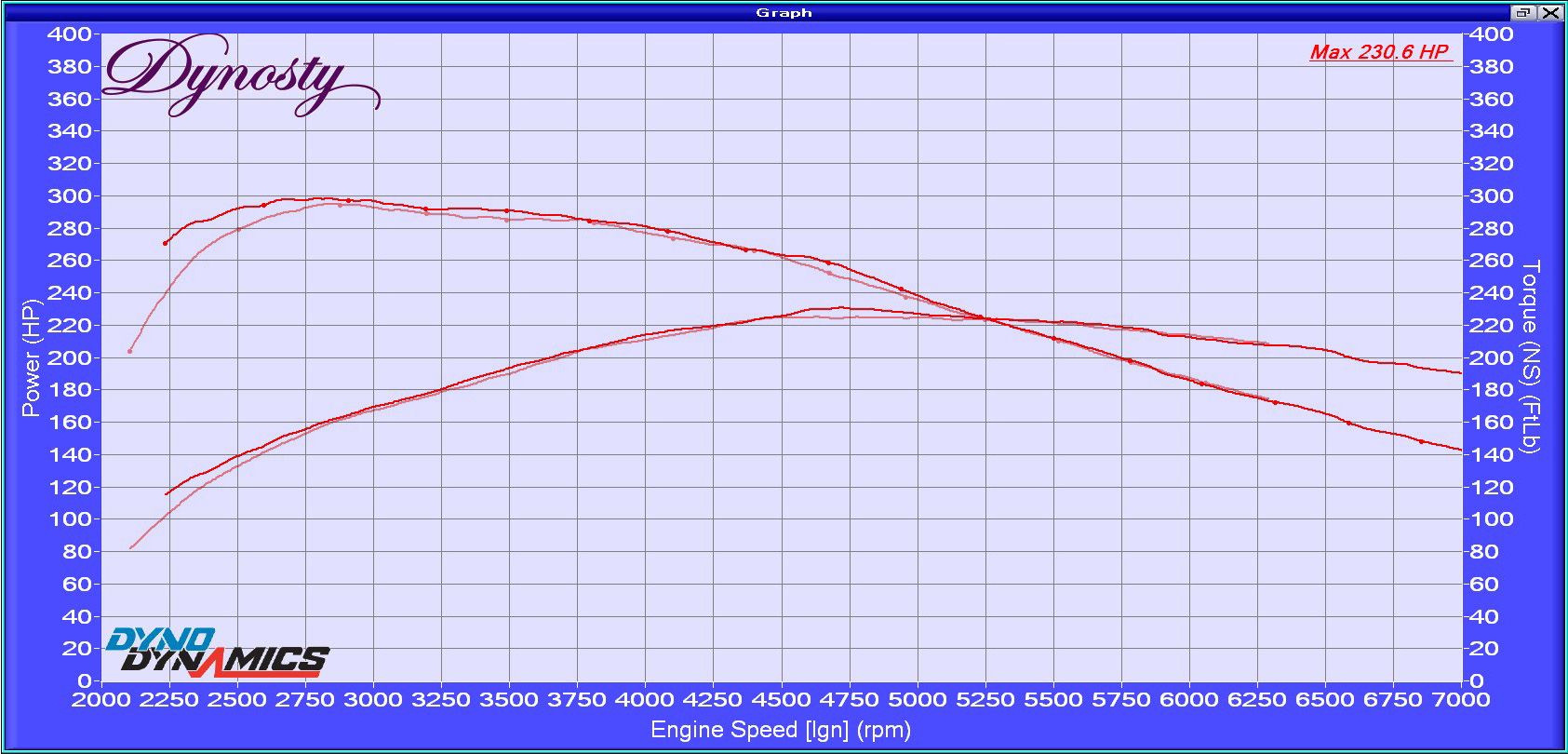 TTR @ 230.6whp peak w/ modded OTS map versus stock manifold @ 225.3whp peak w/ OTS map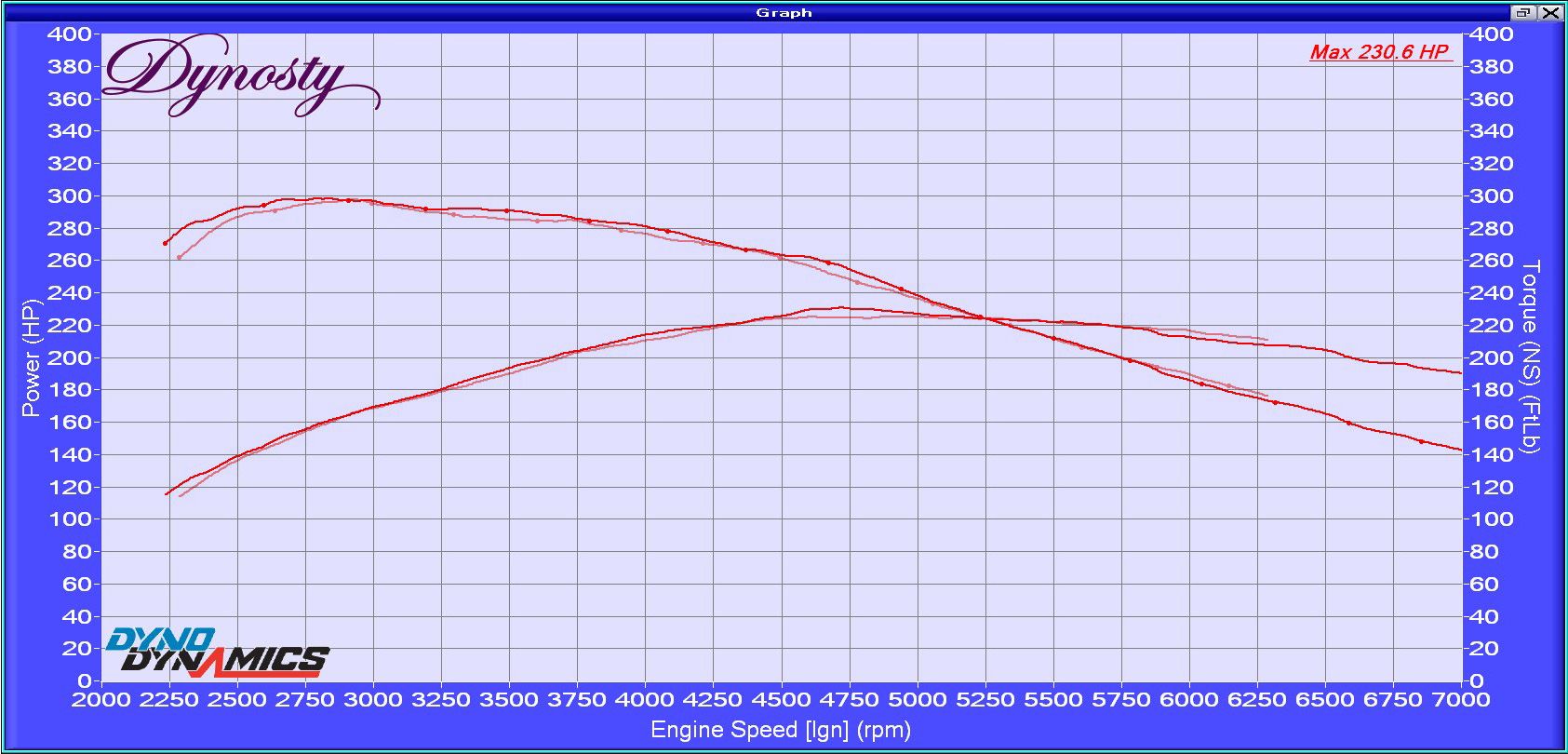 Comparison of two runs with the TTR installed and modded OTS map, 230.6 vs 230.1. The 230.6 was with 6.435L and the 230.1 was 6.185L
Video of one of the baseline runs:
Video of the one of the TTR runs w/ 6.435L @ 230.6whp, with two of the previous TTR @ 3.685L runs showing above it (227.5whp & 227.9whp)
Video showing 3 TTR runs w/ 6.185L
Here's a zip file that includes datalogs of most of the pulls, although I forgot to record two of them:
View attachment logs.zip
Or you can view them on datazap.me
baselines 1-3
,
baselines 4-5
TTR Manifold w/ unmodified OTS map
runs 1-3
TTR Manifold @ 6.435L
runs 1-3
and
runs 4-5
TTR Manifold @ 6.185L
runs 1-2
and
runs 3-4
My thoughts:
It seems as if the stock manifold isn't a huge bottleneck for the stock turbo but I think the gains would show up much more on bigger turbo setup. I'm curious what a custom tune could do as far as gaining more HP from the manifold. There were also torque increases of around 8-10wtq in some areas when comparing the baselines to the 230.1whp - 230.6whp runs.
That's it for now, I'm tired... and going to sleep.