Discussion Starter
·
#1
·
Need some advice on track day events. I attended a NASA drivers school at Gingerman Raceway a few weeks ago and had a lot of fun with the ST. We had rain in the morning and hot mid 80's humid weather for the rest of the weekend. This was my first track event with the ST all my other events were Autocross and ProSolo stuff.
Heres my problem the car overheated and went into limp mode after two or three laps, I noticed that each time I passed a slower car the temp gauge would rise till it was pegged and limp mode would kick in. The car was fast but couldn't handle the stress of WOT to pass. Letting the car cool down before each run I learned how to keep it from overheating but it was a bit disappointing having to keep worrying about the overheating problem and learning my line.
If I attend another track event I've been told to consider replacing the OE radiator and FMIC any other areas I should consider modifying? If I do replace them I'm out of G stock class in Autocross events so I may want to consider what type of events to attend.
Also since the car overheated a few times I have since changed the oil & filter, any other safe guards I should consider, coolant etc.? At present the car runs fine with no issues, I do give Ford credit for a system that works at keeping the car running through all this.
Thanks.....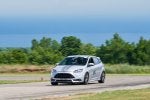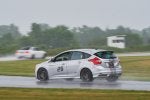 2013 ST3 115K miles; Cobb Intake, Accessport v3 MAP 1, Scorpion 3" CATBACK exhaust, Short Shifter kit, new pads & rotors.