Discussion Starter
•
#1
•
repost from passionford because a few people have asked to see it.
Well, came in for a few hours today and made some progress...
First job was to take the bonnet and the scuttle panel off, it wasn't making things any easier positioning the new engine with the crane!
Then, with the extra access and a bit of fettling of various mounts etc. this didn't take too long!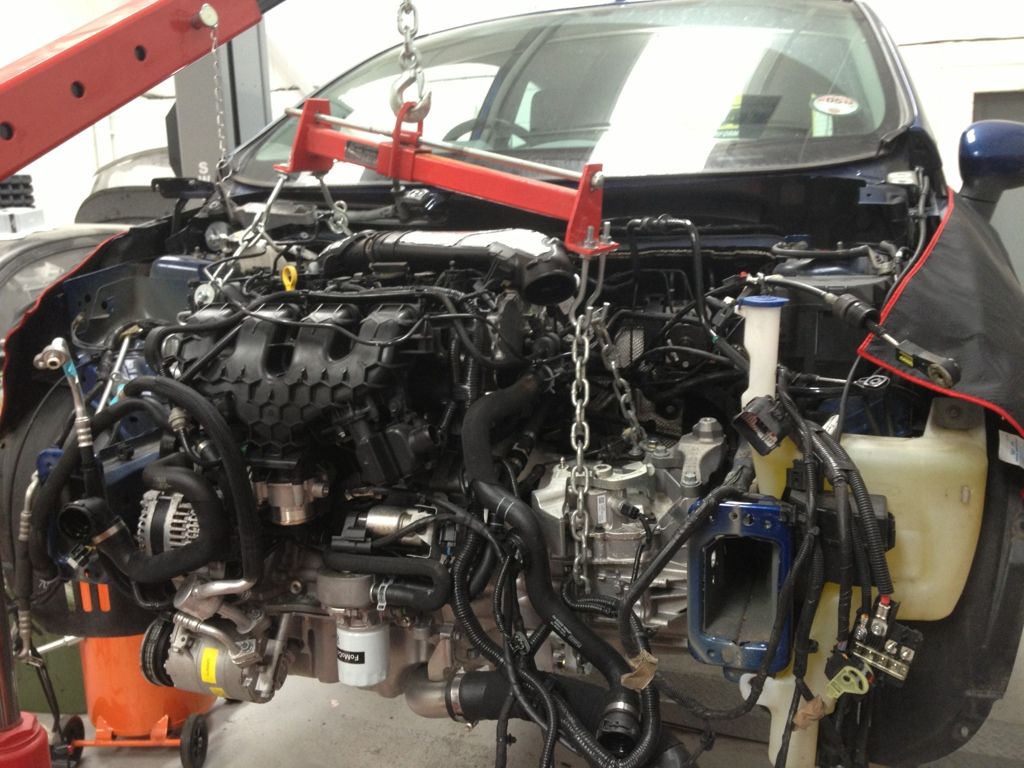 Which allowed suitable clearance either side: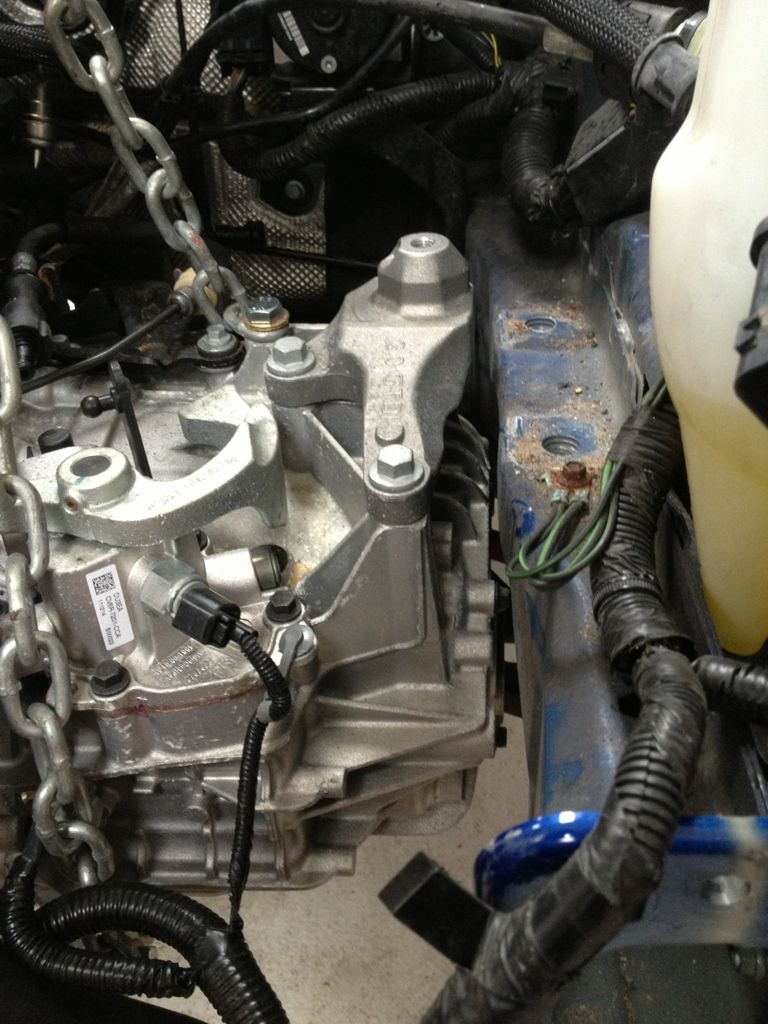 And then, another moment of truth - would the fan assembly go back on?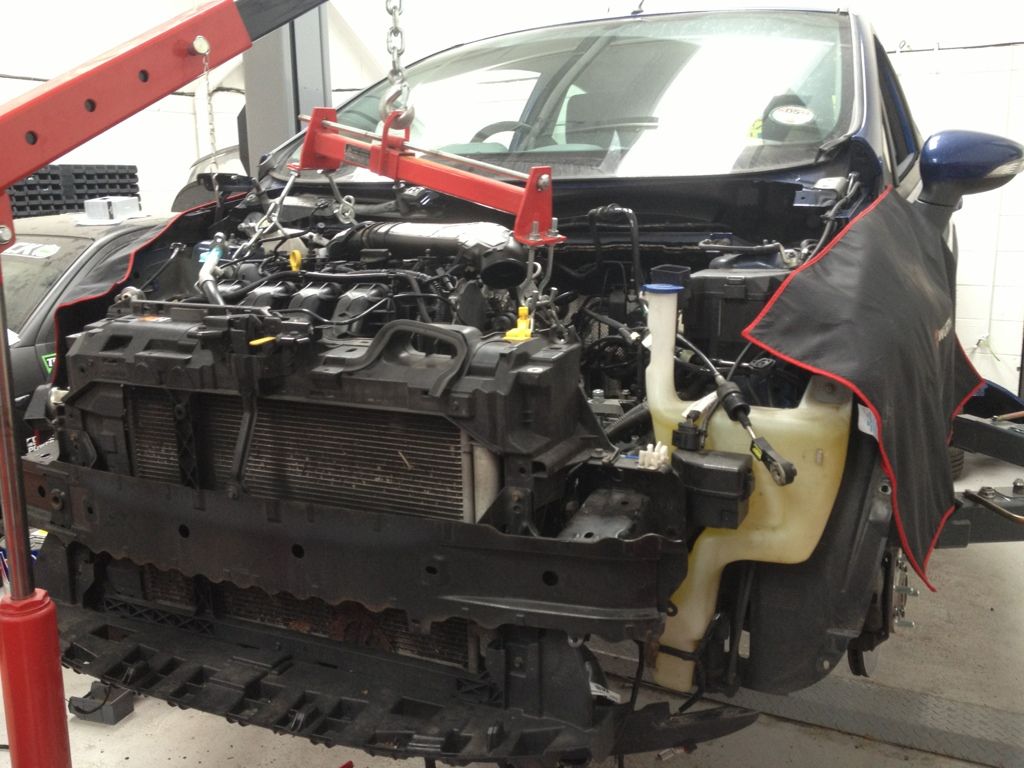 It does sit some 10cm taller than the old engine, but until i've made new engine / gearbox mounts I won't be able to refit the bonnet to check for clearance. So far though, the highest point is around the same level as the brake fluid reservoir so i'm not unduly concerned yet!
Hopefully tomorrow I can get some drawings done for the new mounts and get them away to my machinist!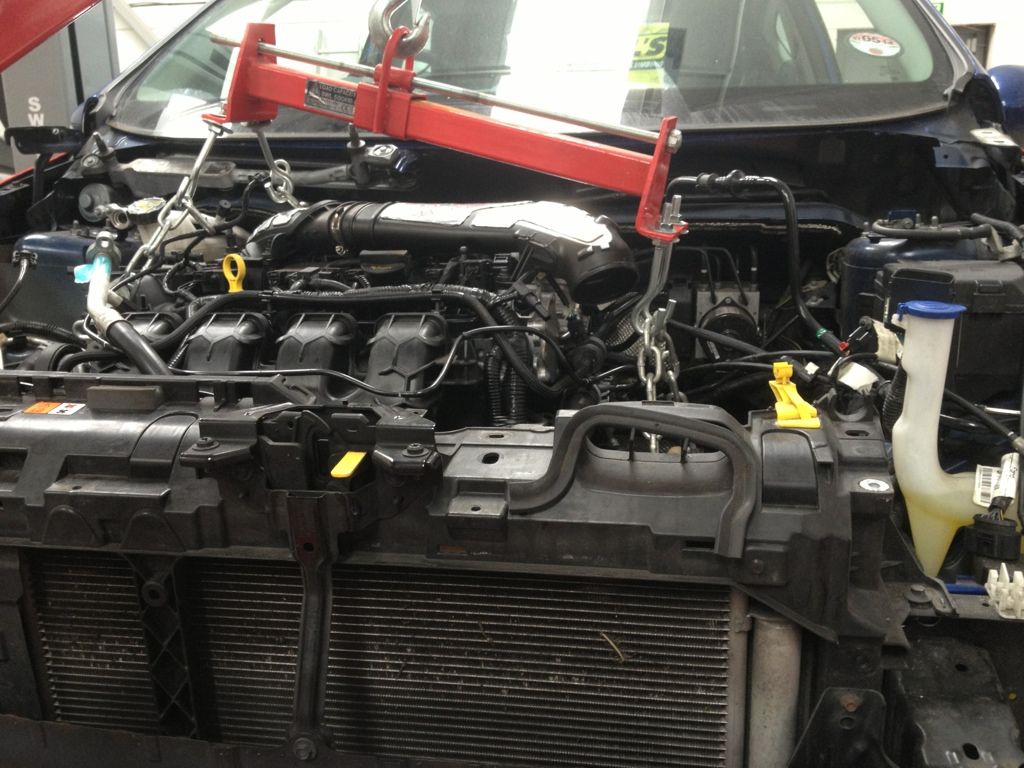 Quick update!
As Tim said, unfortunately we experienced some delays in getting the engine mounted. I had arranged for a welder fabricator to come in and make the custom mounts in situ. However, after two weeks of excuses for him not coming I bit the bullet and bought a TIG set!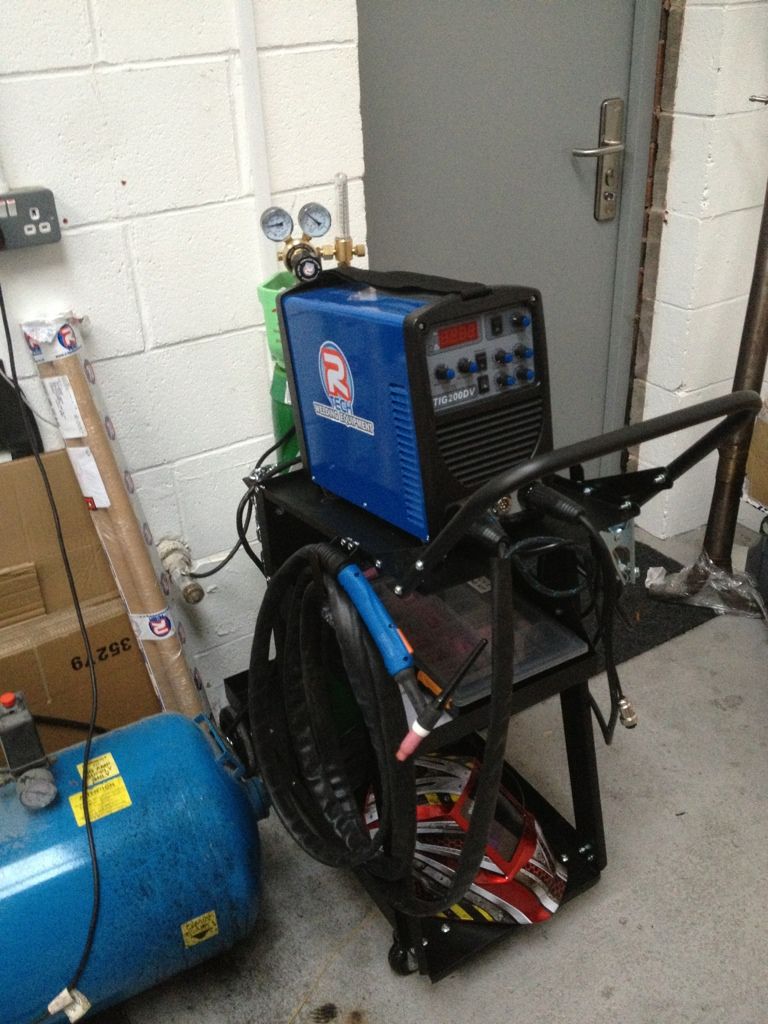 Fortunately I learnt to weld during my apprenticeship in F1, was just a case of doing an hours practice to get myself back up to speed as I'd not welded anything for about 6 years!
So yesterday, after putting my new TIG set to use, this happened!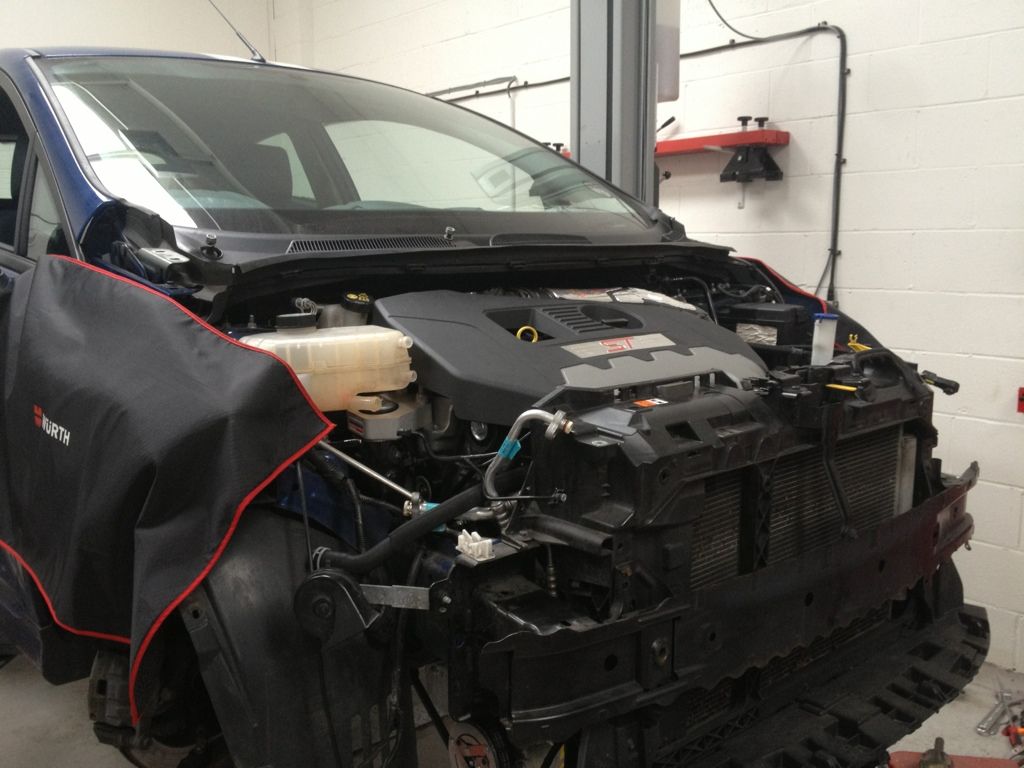 Hopefully will have the driveshafts mocked up by the end of tomorrow.
Couple of random pics I've been meaning to upload:
Wiring loom off ready for modification to run on standalone management and GDI control.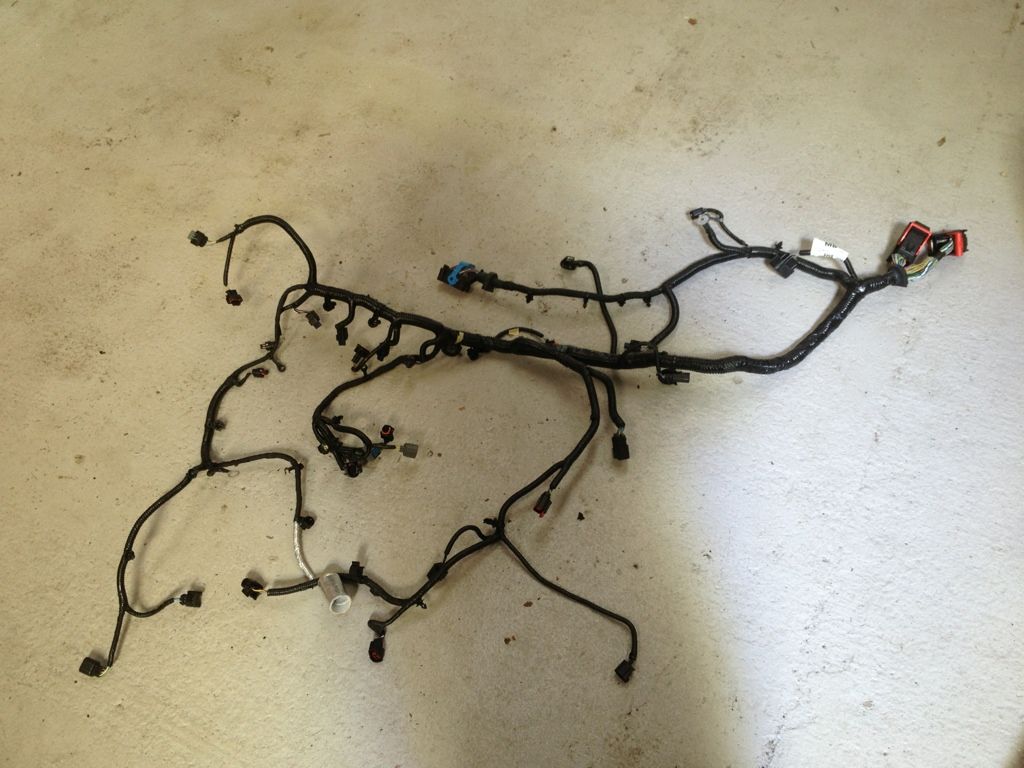 Took me a while but finally got the engine level:
Driveshafts mocked up and sleeved before going off to be made as one piece cross shafts:
so drive shafts arrived...looking awesome!
and had a couple of teaser pictures of the downpipe from the fabricator ahead of hopefully getting the car back from them next week to continue with everything else.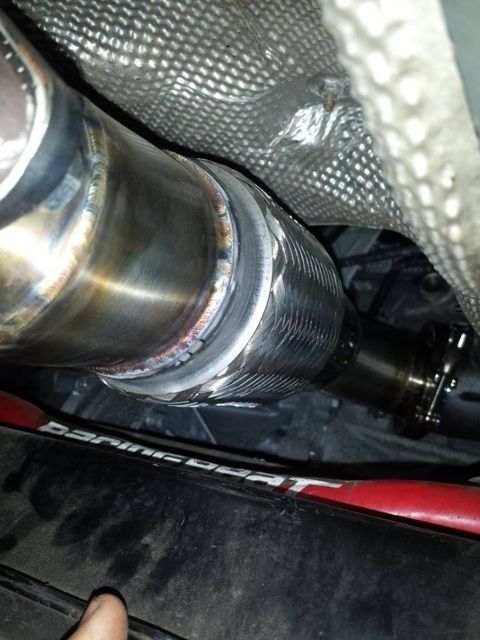 ECU is either delivered today or is due to be delivered next week and diff is paid for!
Hold up has been with the fabricators but hoping to have the car back to will end of next week and then full steam ahead with final fit and testing.....WOOP WOOP :king:
ECU, loom and injector control unit arrived!
Getting there
Right so we finally got the car back with everything from the fabricators done...... i can rest easier now that its back with will! (all this work took the fabricator three months -.-....ridiculous idiots!)
pick up this morning from the fabricator
intercooler yo and gonna go with some black silicones to be total stealth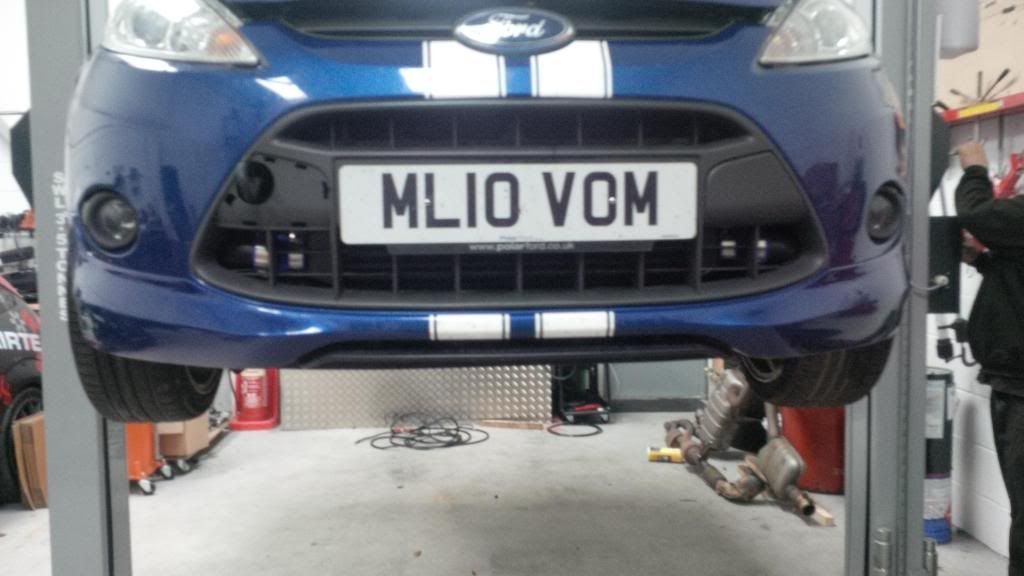 [/URL]
currently everything is there but about to be taken back apart so everything will be straight after final fit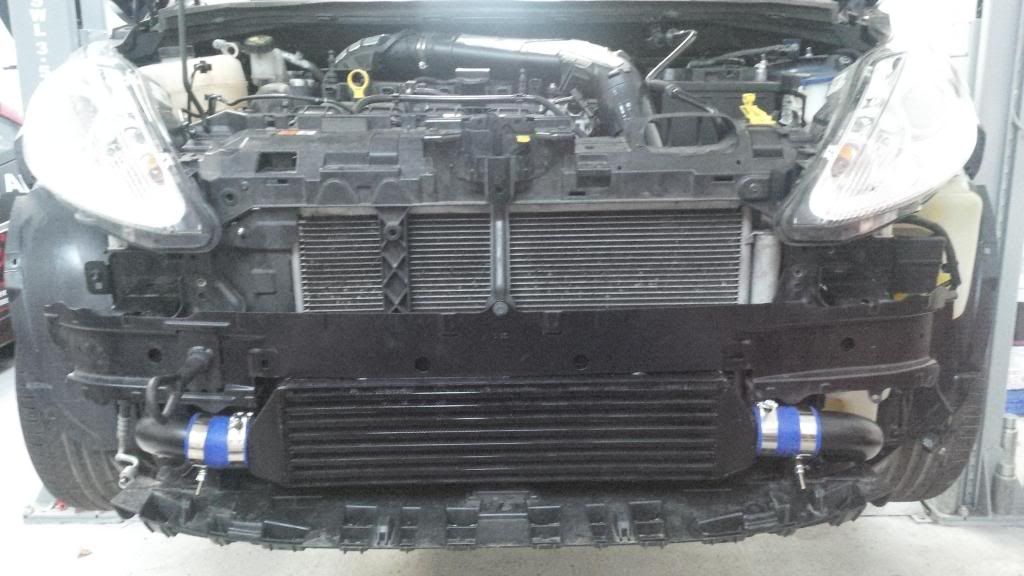 [/URL]
Airbox with audi rs6 panel filter so im told.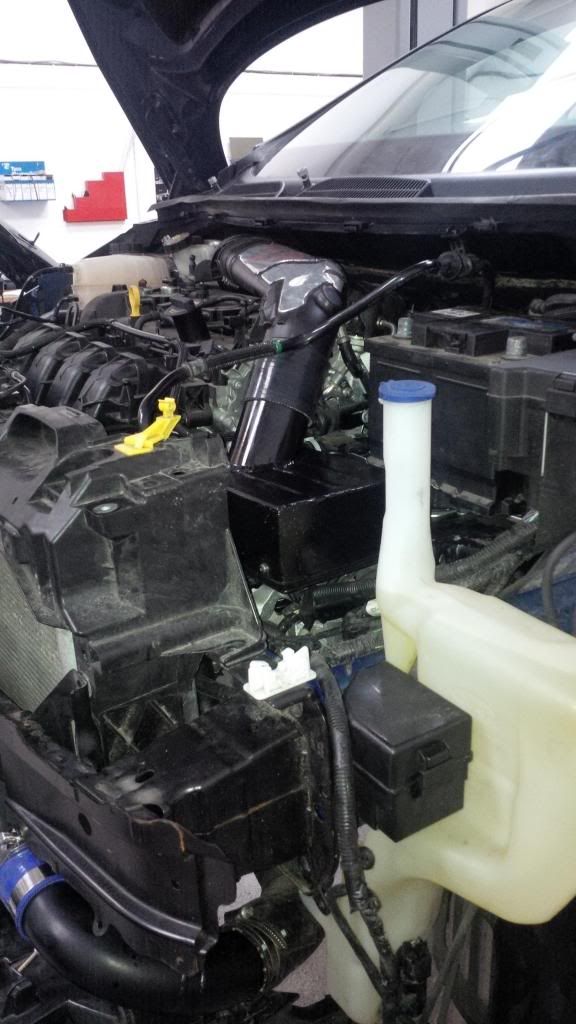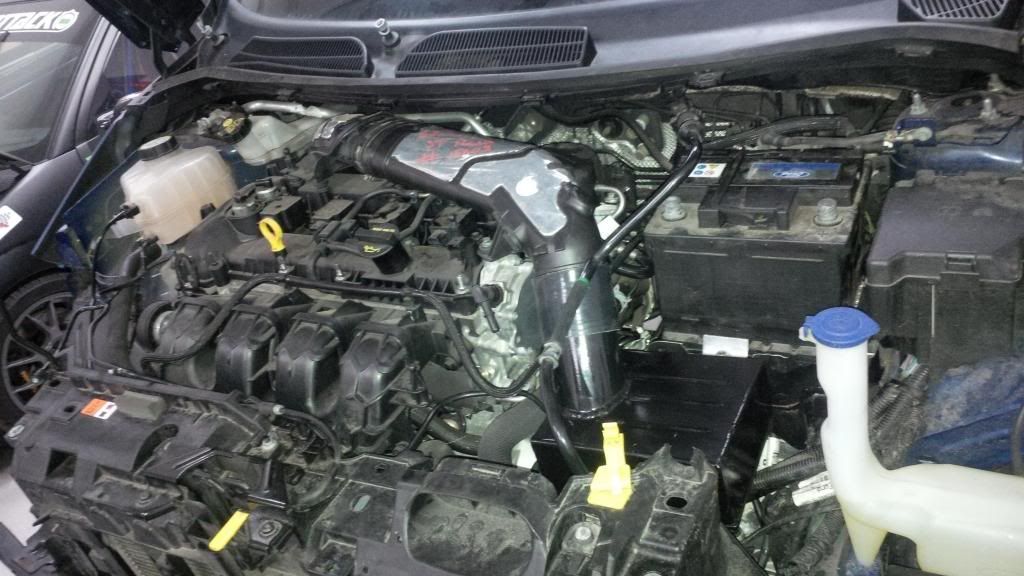 [/URL]
monster 50mm core rad that was the source of most of the headache -.-
[/URL]
and another look at it before i left the unit.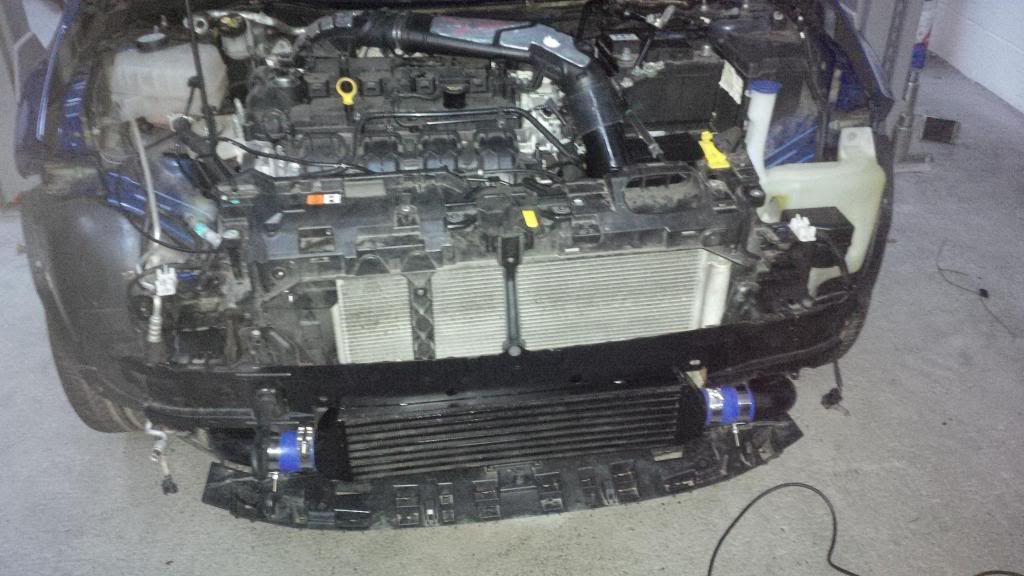 [/URL]
So boost pipes, downpipe, battery tray, airbox, rad and intercooler..CHECK! ONWARD MARCH!
The plumbing came together quicker than expected. Will managed to reuse a lot of the OEM hosing which is a bonus for timescale and my wallet and it looks spot on!
Coolant to heater matrix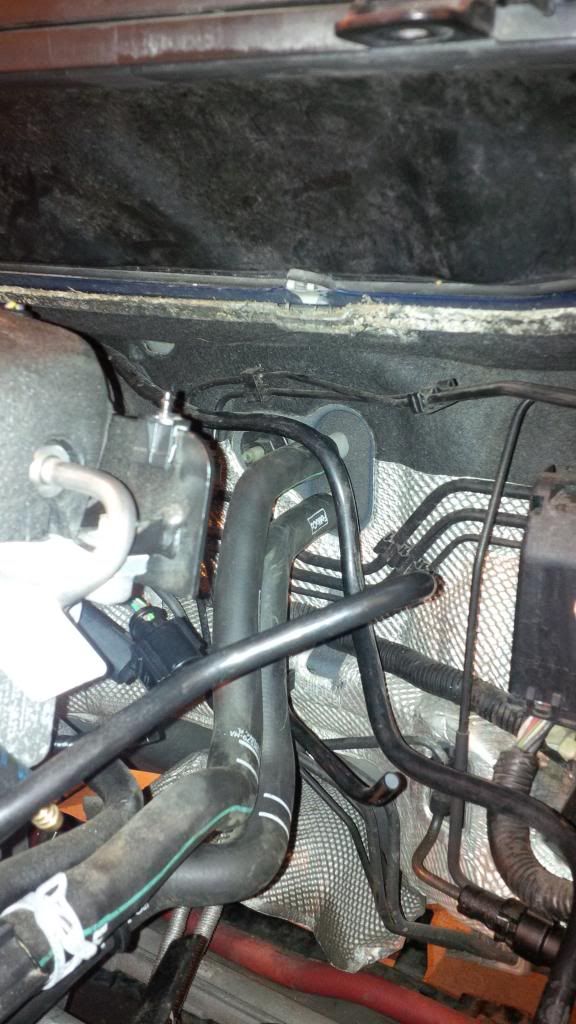 coolant to header tank
vac pump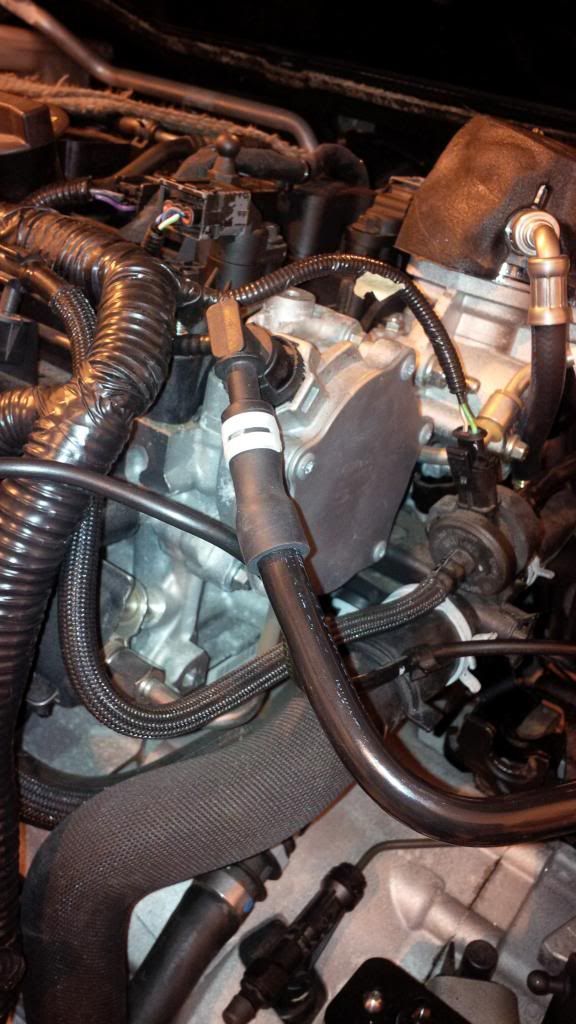 Fuel pump (awaiting some more 7mm rubber fuel line to connect to the standard piping from the tank, same goes for the charcoal canister breather pipe)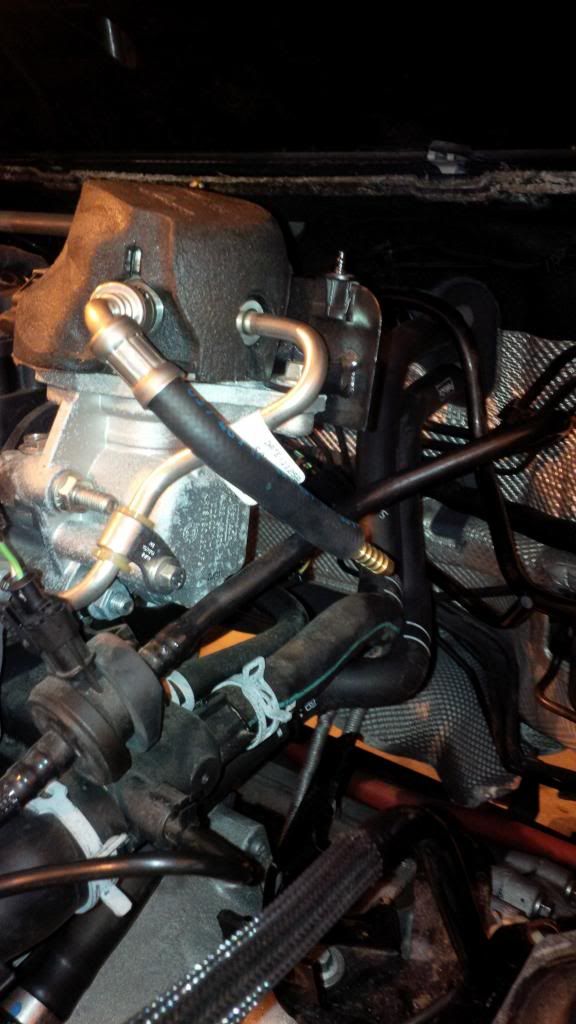 Vac line to be clipped down near the gearbox mount and clutch was a straight connection between the fiesta line and the slave cylinder pipe.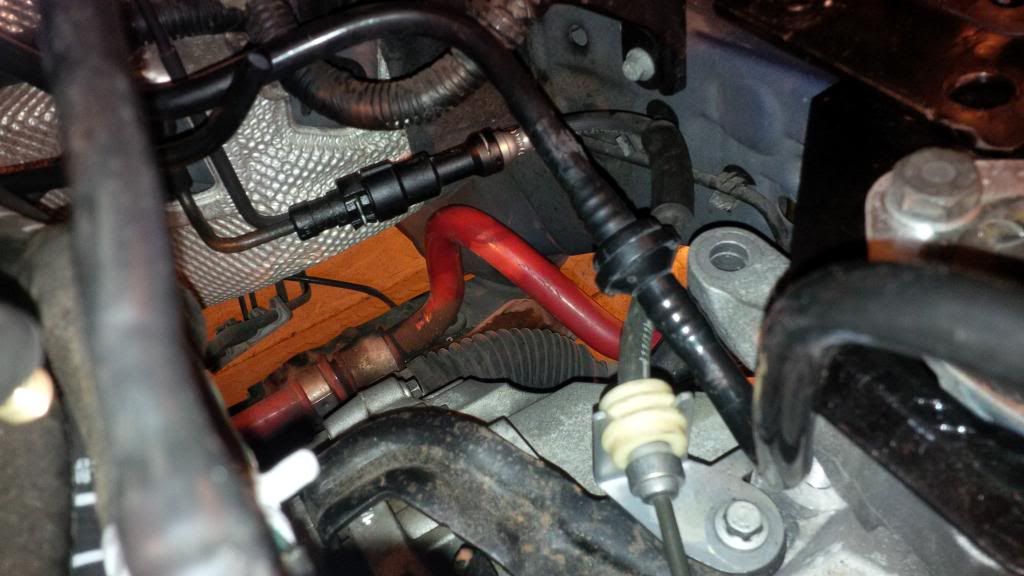 Also had chance to bleed the clutch through and it really does have a nice firm feel. Much heavier than the fiesta one that's for sure!
Had chance to fit the bonnet lifter as well. Really nice bit of kit, easy to fit and works well!
and here's a quick video of it working....excuse the phone-cameraman-ship.
http://i157.photobucket.com/albums/t57/timweeble/VID_00000025_zpsde8238b7.mp4
It took us a good few hours to fit the torque link bolt and spacers just because everything is so tight and also because the bolt i had made was just too tightly toleranced for the job. We didn't have enough wiggle room. So to get it on we ended up using the spacers with a bolt that we had ordered from RS, taking the mount off the gearbox and putting that into the sub frame first then swinging it back onto the box.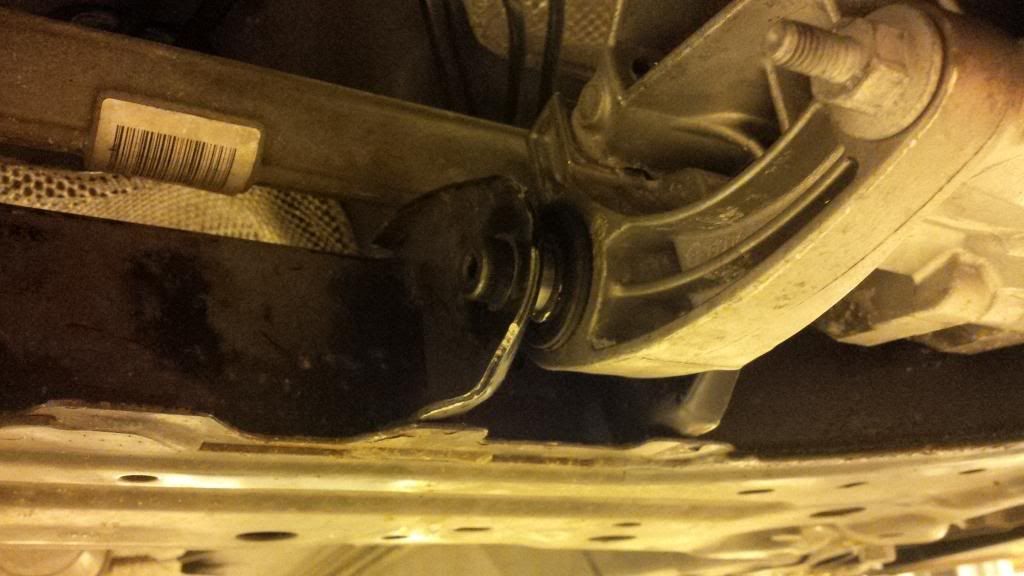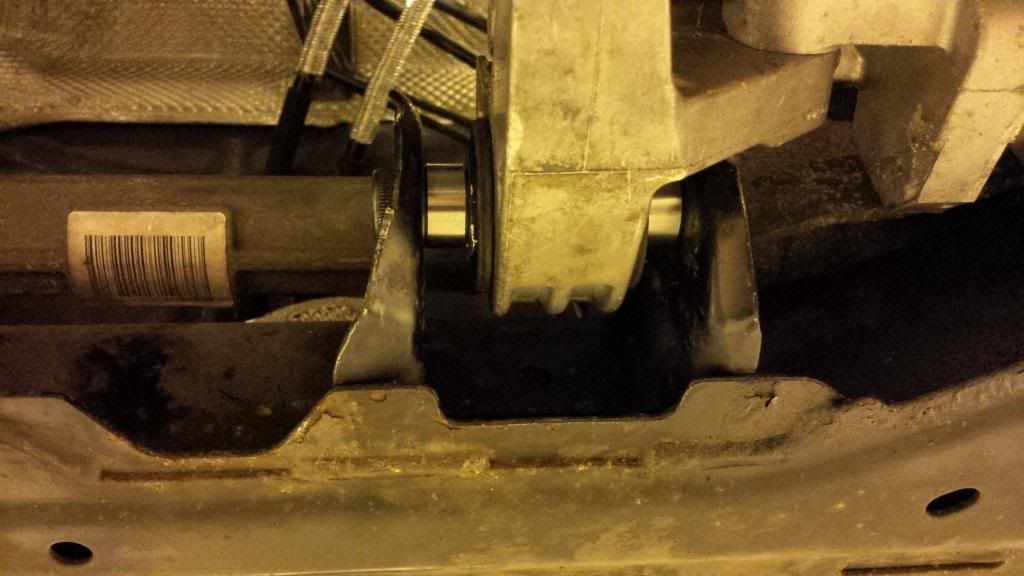 a small job that took way too long and may be addressed in the future depending upon how everything works!
Managed to get the focus gaiter off and fit the fiesta gaiter so it looks spot on =]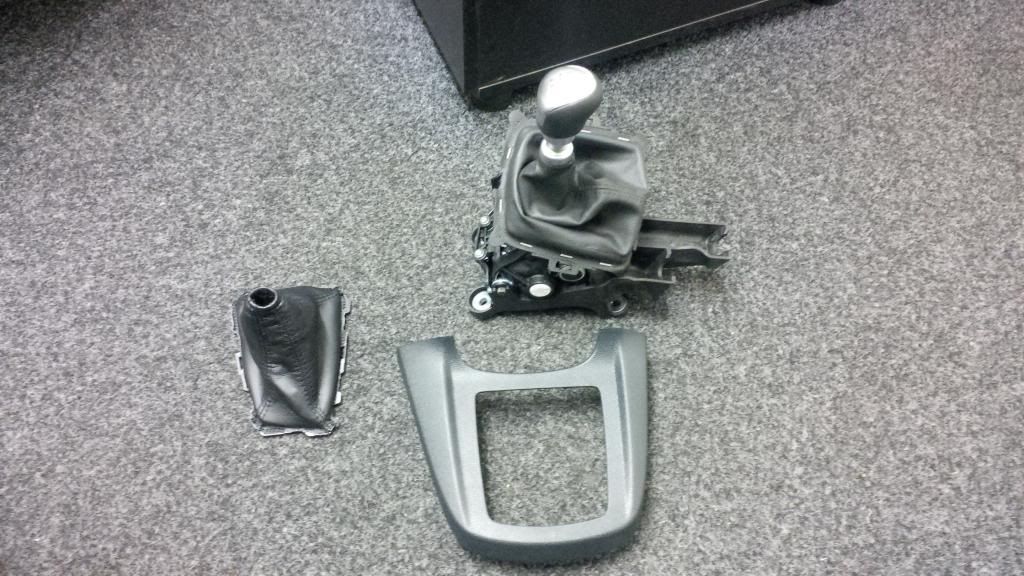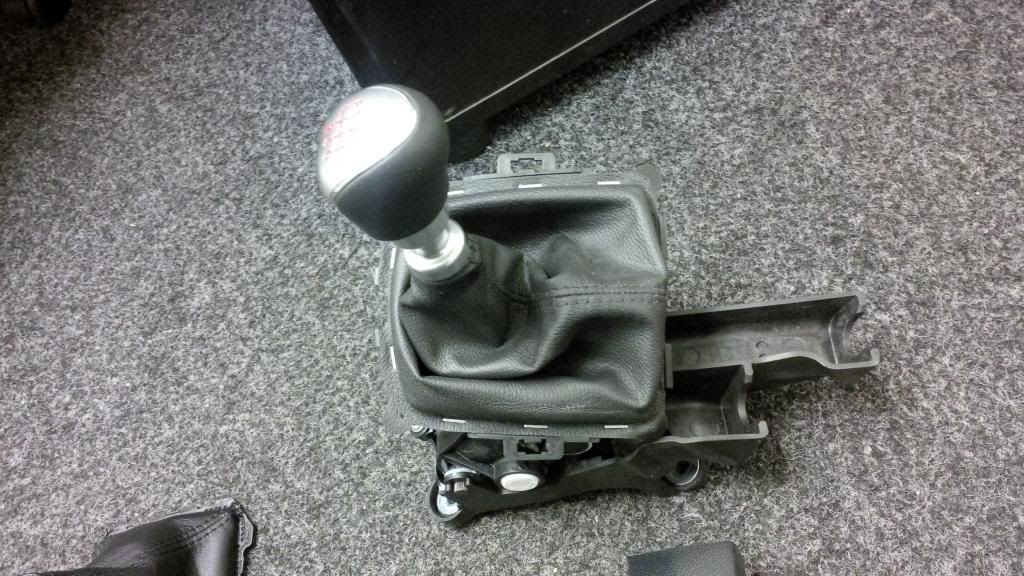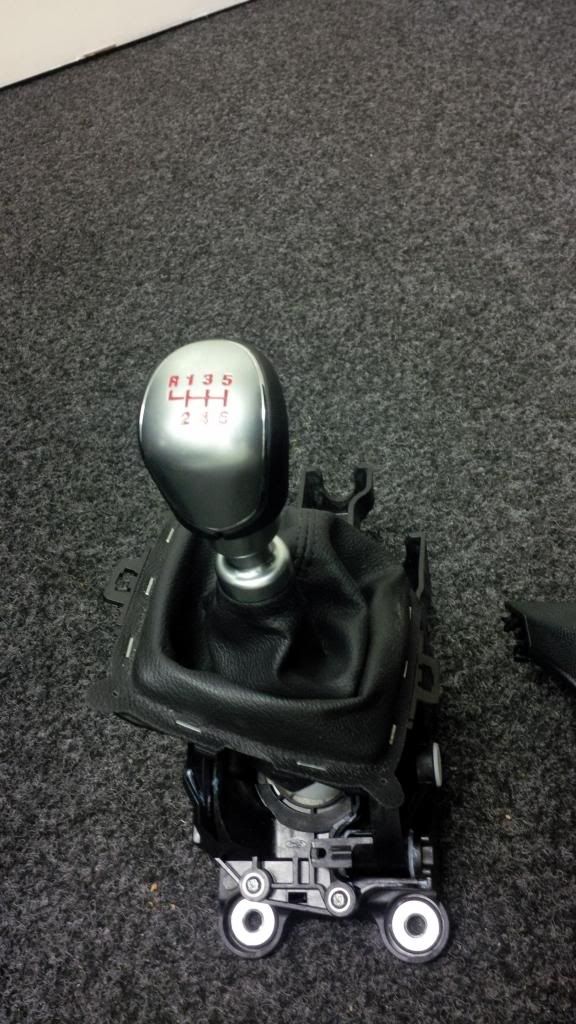 To fit the shifter in the car we have took the top half of the focus shifter off the raiser plate that it comes with and Will is going to make a new raiser plate from plate steel and box section. This way we can get the shifter to fit on the OEM tabs and at the exact height we need.
This was after the colossal ball ache that was removing the fiesta shifter cables. Nearly lost the will to live but with a bit of brute force they came out and we could get the focus cables in.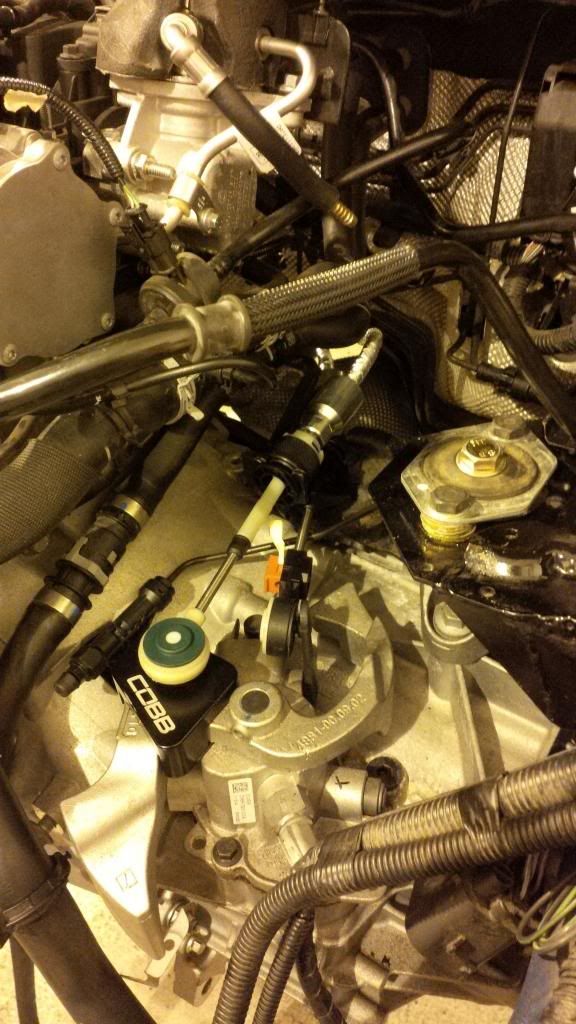 Bulkhead through connection is totally different but for ease of service in the future we are running the bulkhead seal on the outside of the car and Will is going to make a seal around it. Saves us having to remove the dash anyway!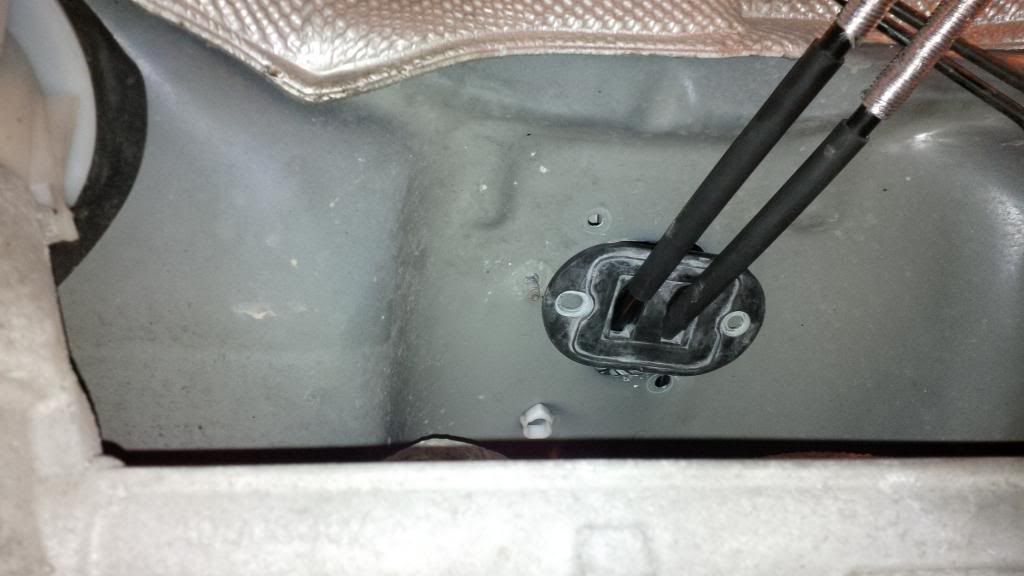 here's a closer look at the gearbox mount with the battery tray mount welded to it and coated in Dinitrol. Notice the gearbox vibro mount is on washers at the moment... a properly machined spacer is on order to support it correctly but for now washers will do =]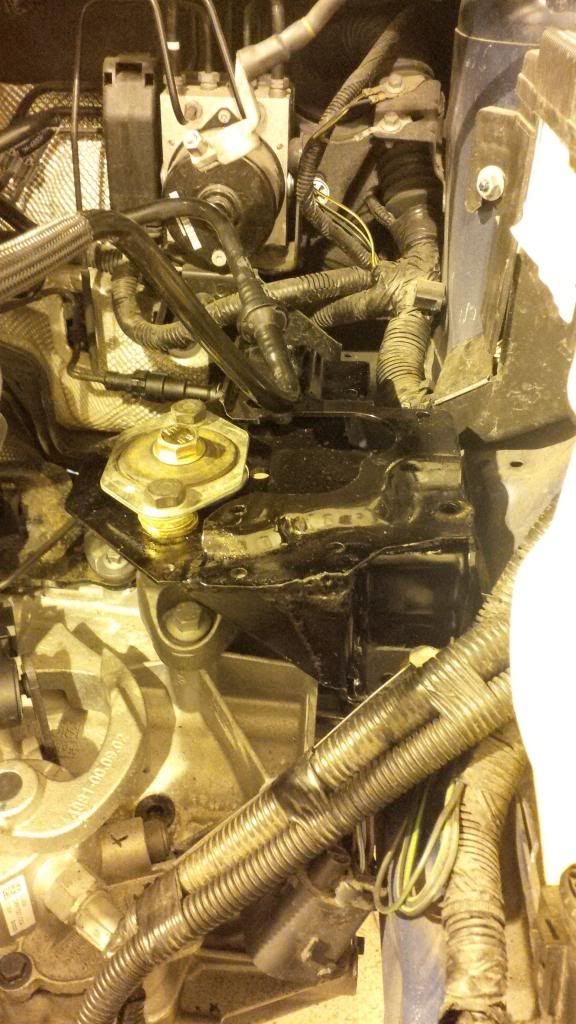 Now we didn't really want to go final fit yet but with how tight everything is we decided to start heading for it so the drive shafts went in.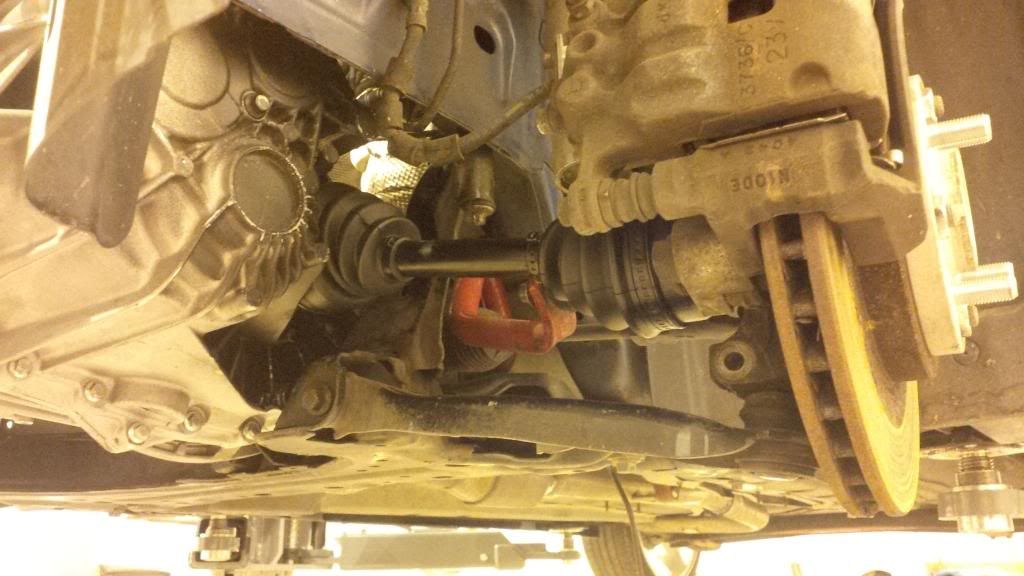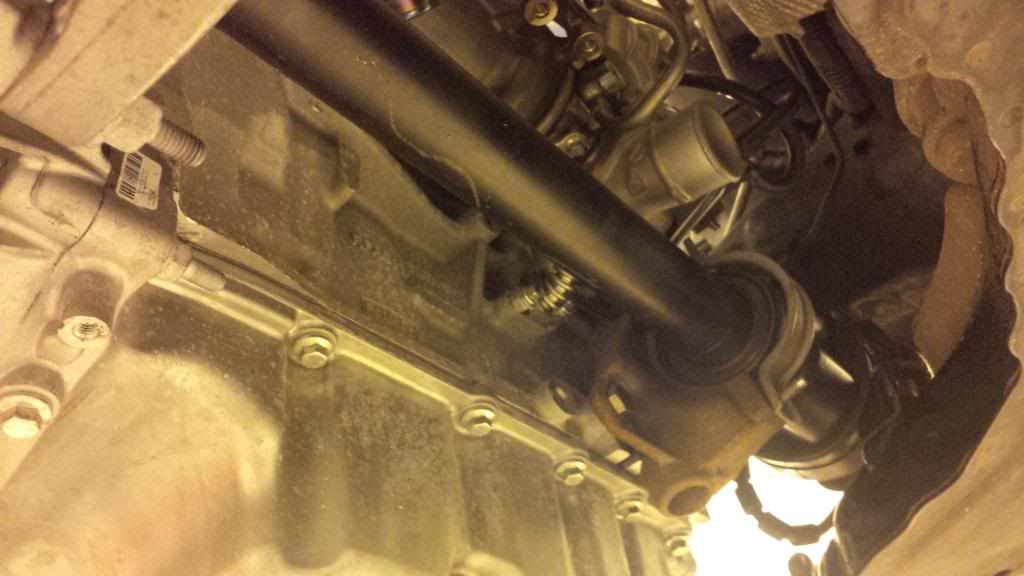 Still pretty close to the sub Frame but it is clear and the engine isn't going to twist much after giving it a push.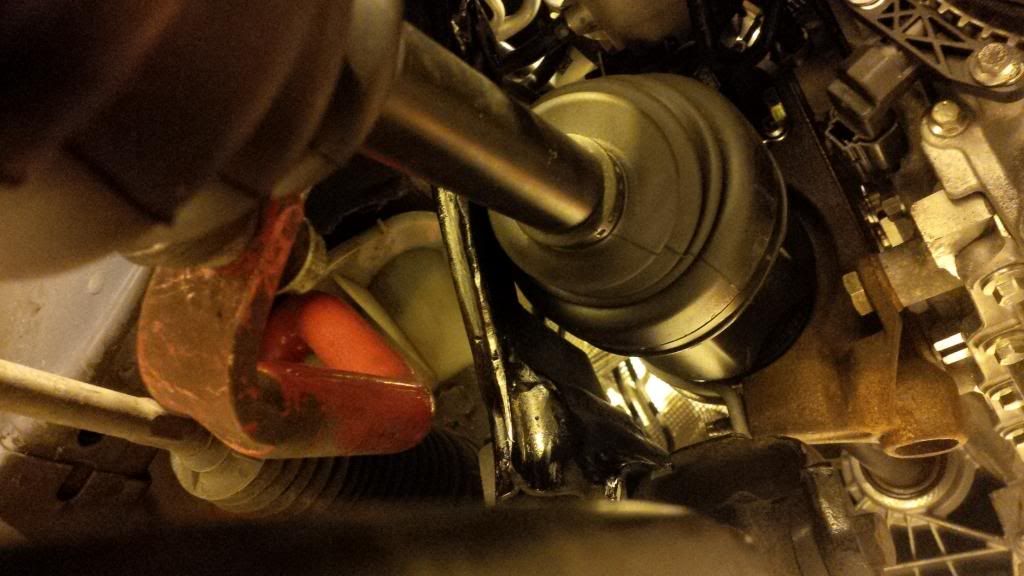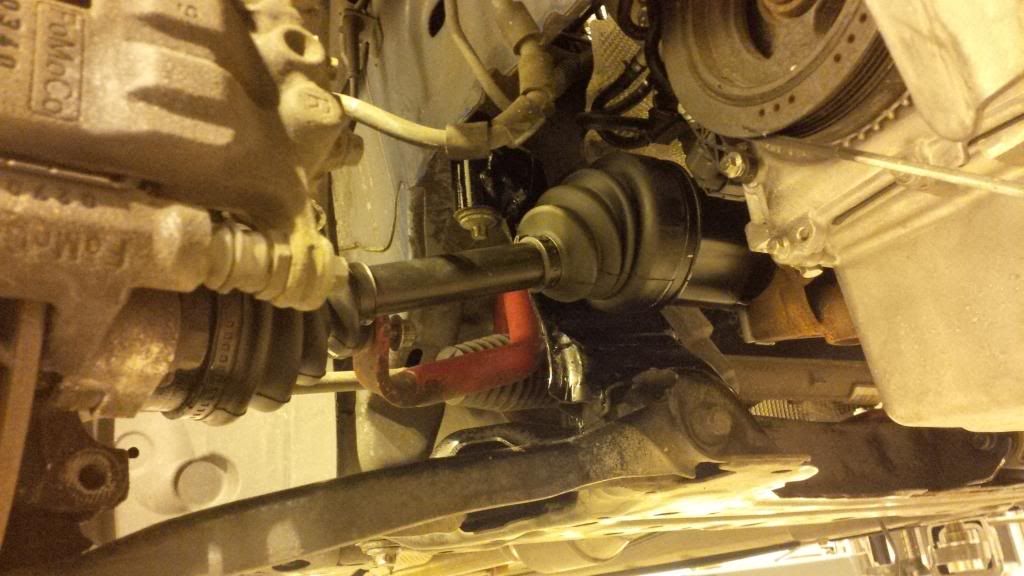 we then installed all of the new exhaust bushings and it is definitely better. For anyone with the milltek exhaust on the fiesta get yourself some EXH015's from powerflex. I dont have to wrap jubilees around them anymore either.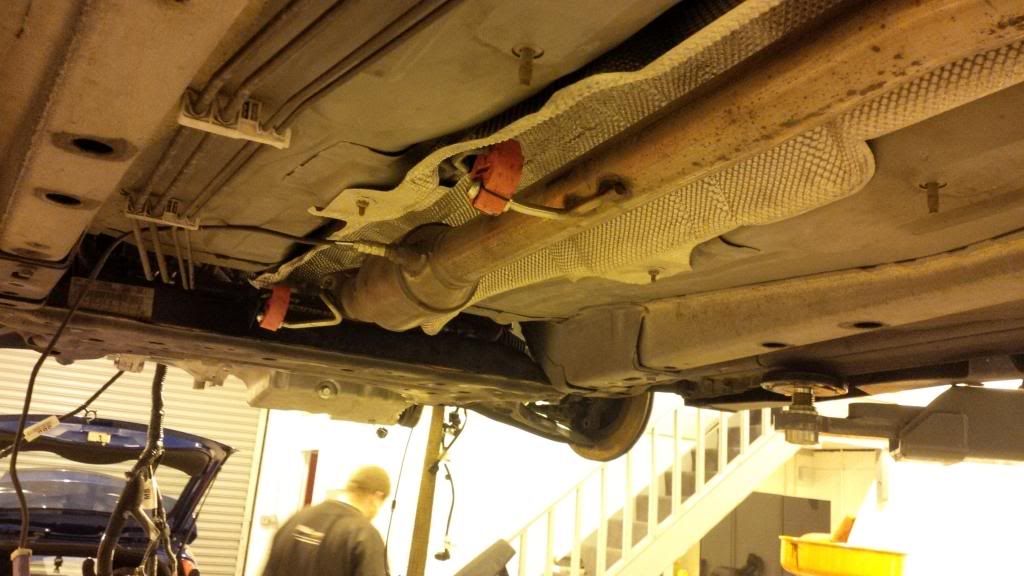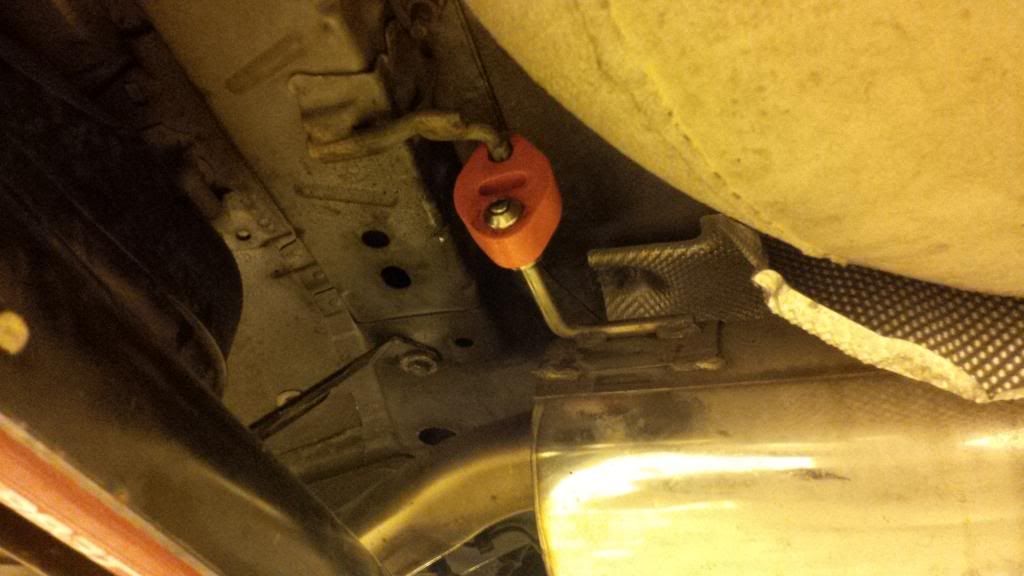 we forgot to reinstall the heat shielding around the tank so when the centre section is removed to sort out the joint seals this will be going back in.
Feel like we got a lot done yesterday and we're sort of back on track. This week the last items should be on order and Will can start the wiring. Big bonus is that most of the plumbing is done (bar the AC for which we still need to find a mobile guy who can crimp us some lines) along with a lot of the ball aches that were found.
looking a little neater anyway now that the coolant hoses are in position and most of the loom is on.
ONWARD!!!!
Will has been busy mounting my shifter.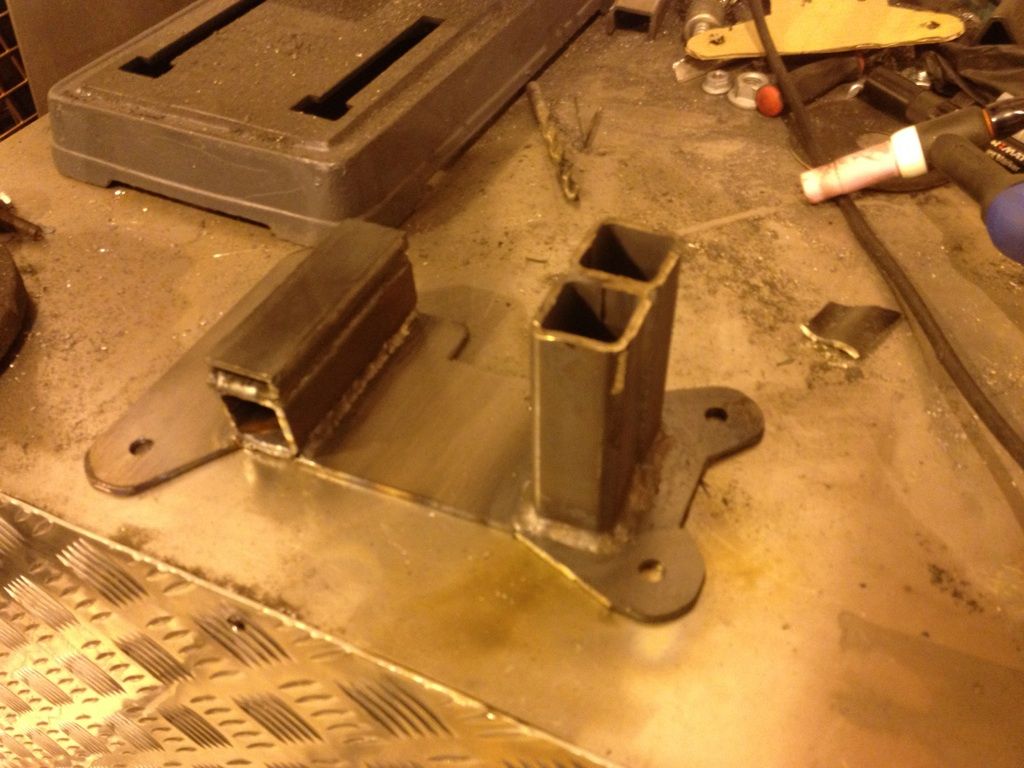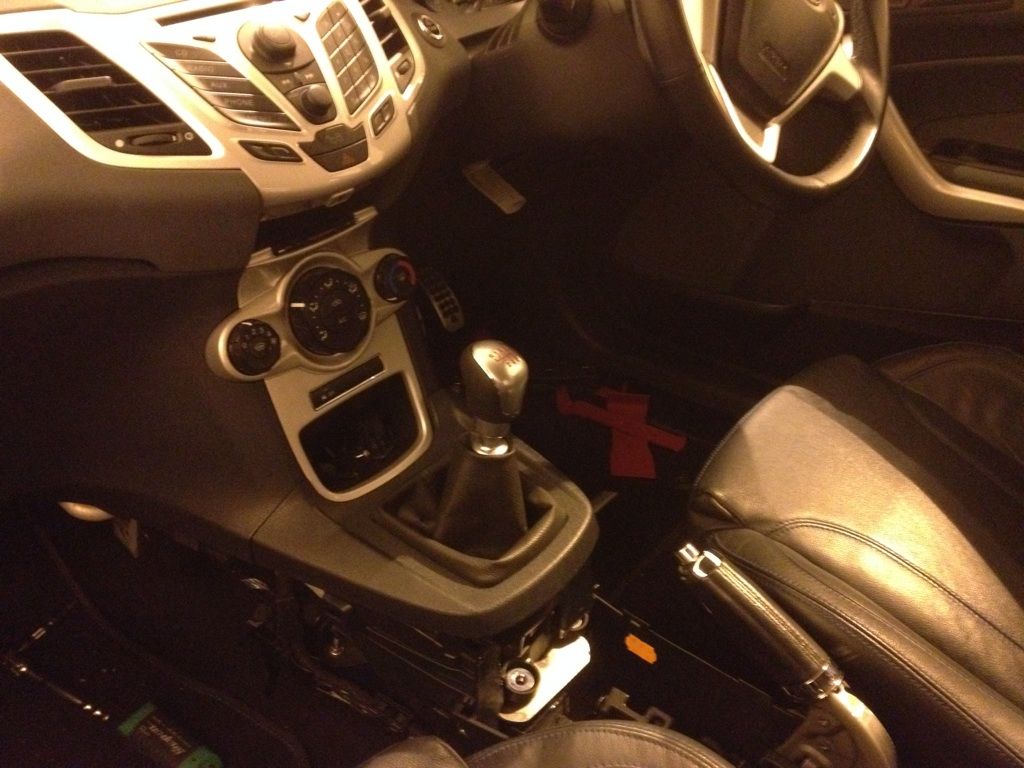 And a video to prove I have gears!
Getting there.
/tim
So I may have got in from work and passed out only to wake up at this ungodly time -.-
However I was greeted by an update from Will
Slimline SPAL fan mounted.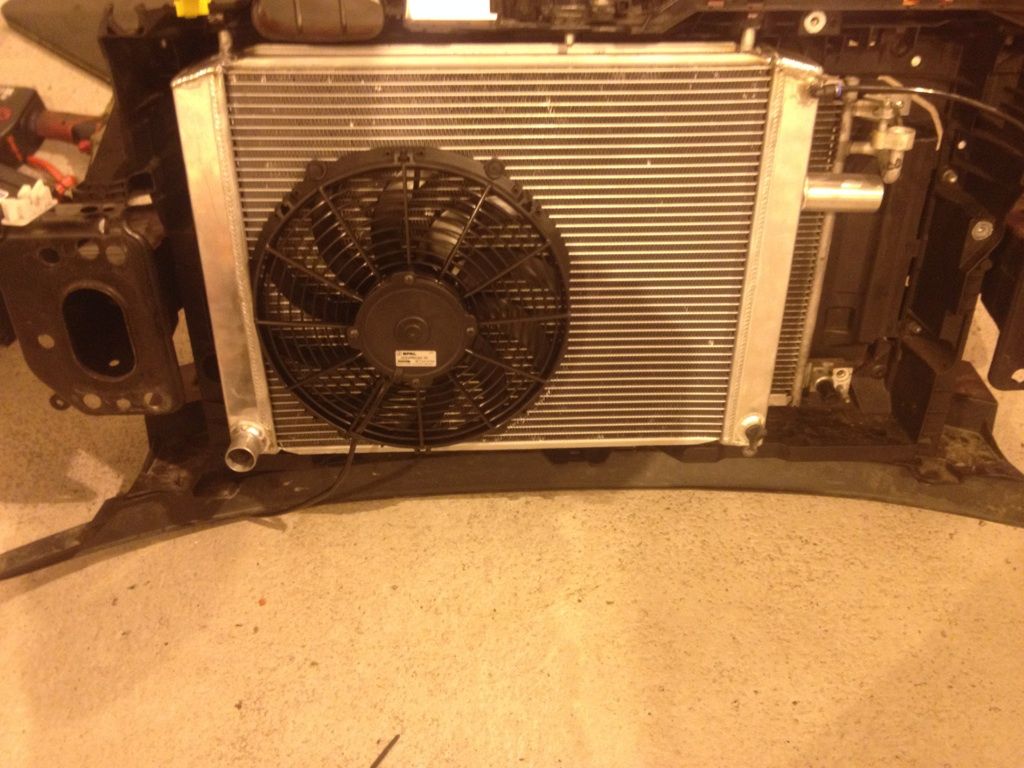 And lots of plumbing and wiring done as the front end starts to go back together.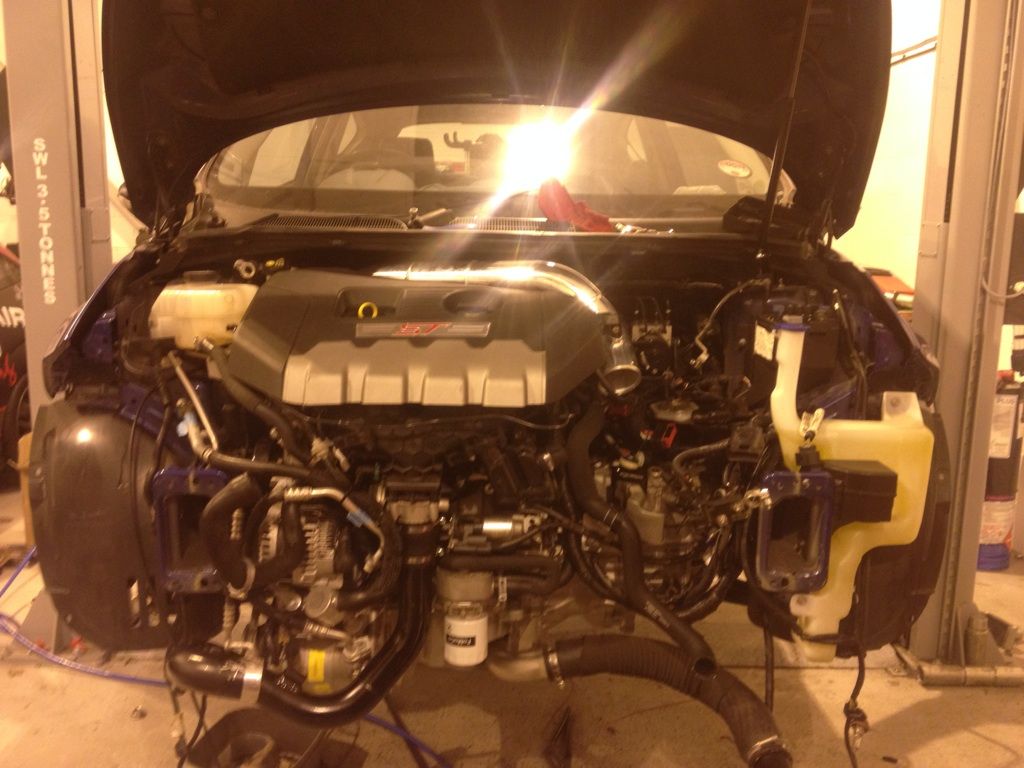 Cheers Fellas.
And its that Prestone Stuff. Makes your windows bead great.....looks like piss
Brakes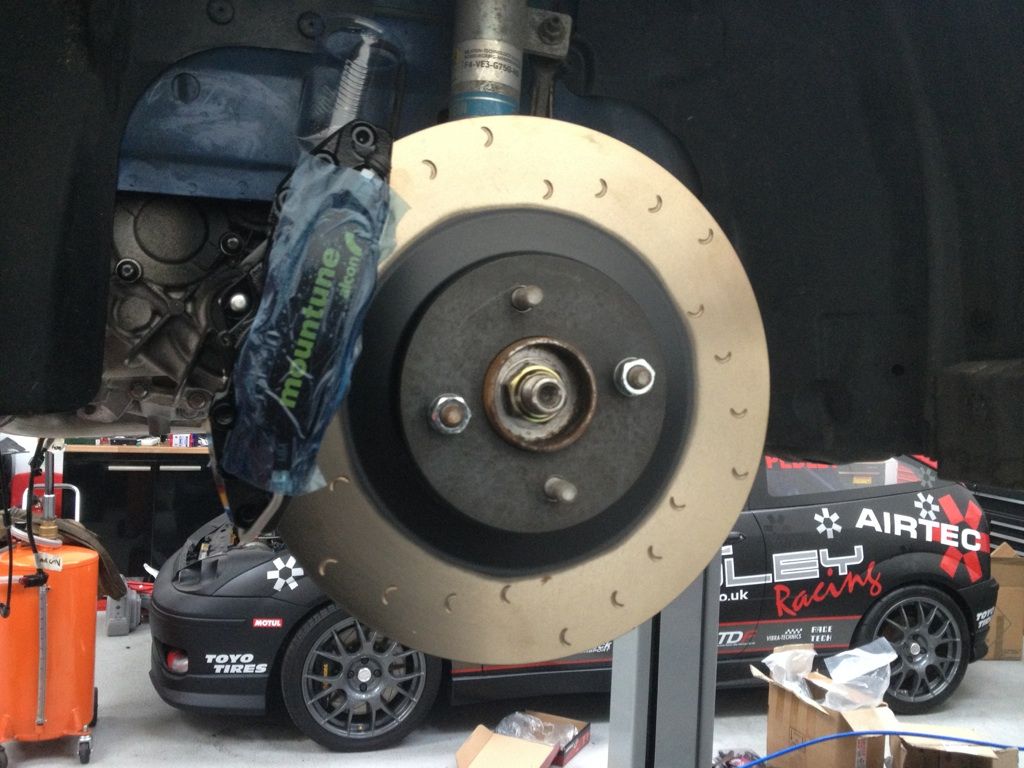 Front end nearly all back together looking stealthy
Should probably update this....
so after a few delays with fuel system issues we resorted to an ST180 tank and pump.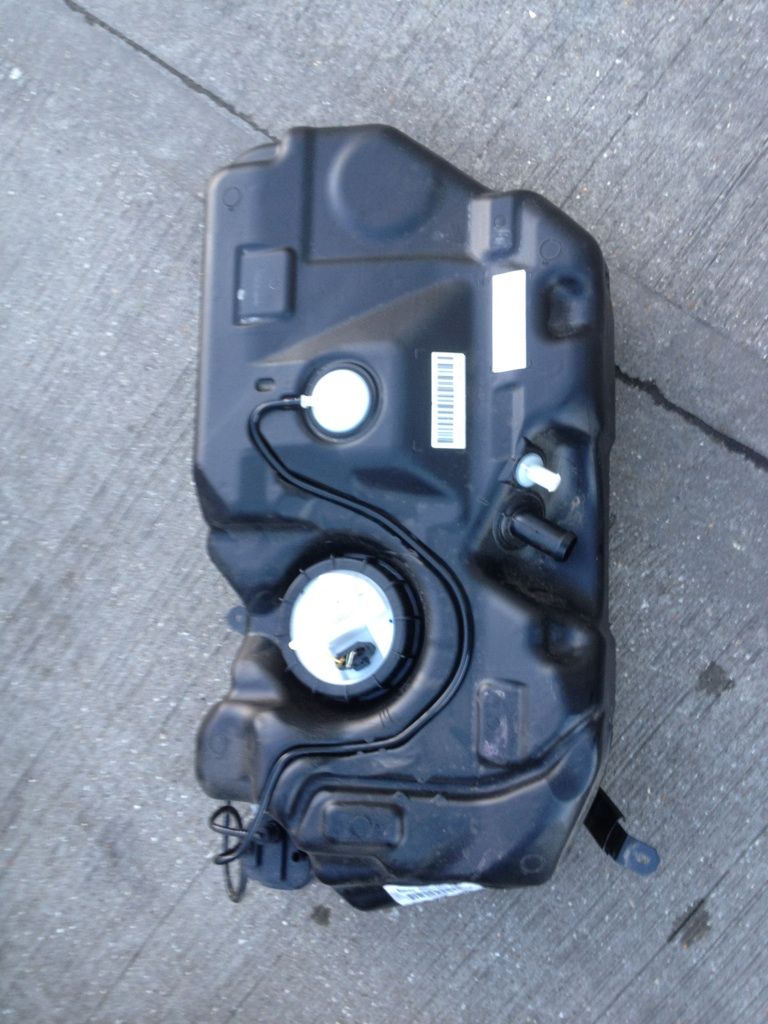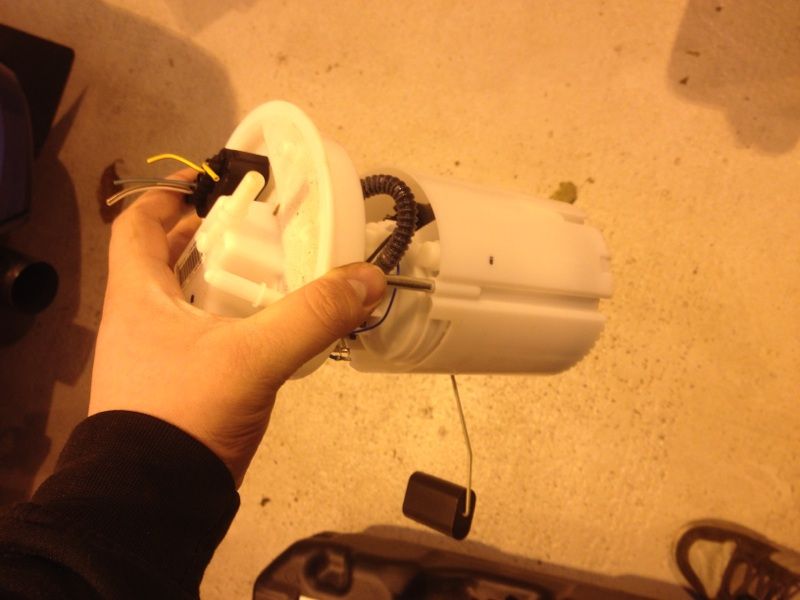 and replaced the variable regulator with the one we had set at the right pressure.
when the original tank was dropped a line had popped off the reg even though it was zero clipped on (explains why it cut out)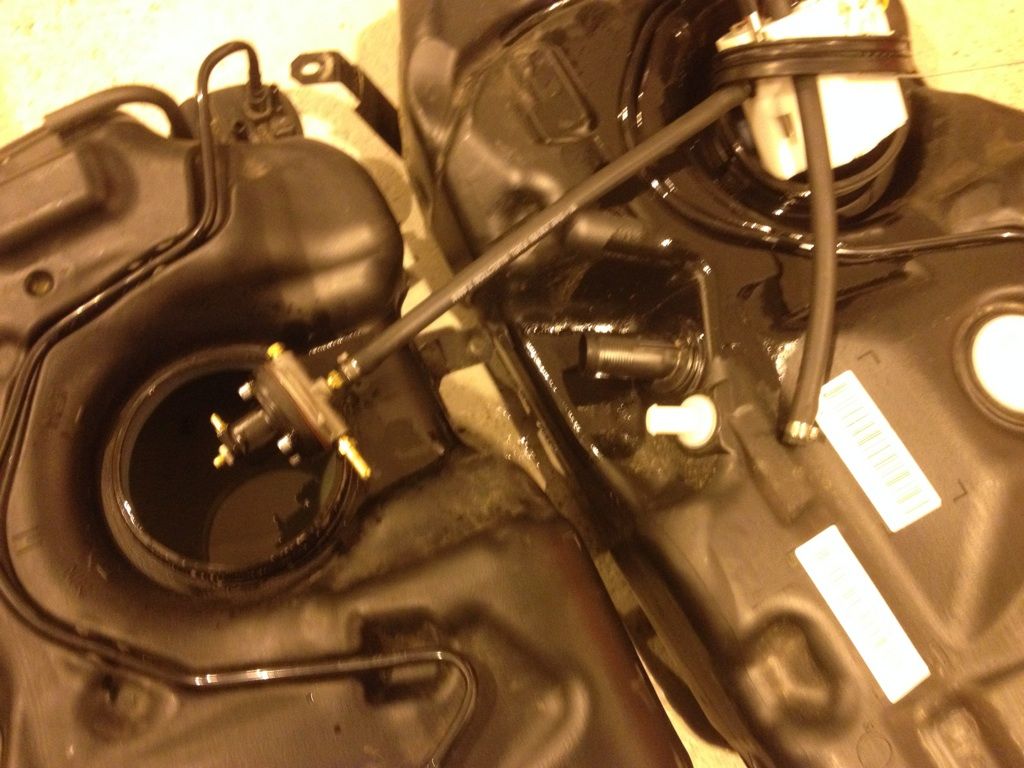 but got it running and i've had it back a week as i need it for commuting. So currently limited to 5k and low boost at the moment for the first 1000 miles then we can open up it all up..... even now it is rapid though!
Since ive had it i gave it a clean (didn't take any photos though *face palm*) and re aligned the bonnet for the gas strut. Still need to get the front grill out and relieve the plastic a bit more to clear the intercooler as after final fit it is pushing the bumper out a little (any advice on removing the front grill?).
Had some new conti's on the front on monday and raised the ride height a little to get rid of some rub and to give it speed bump clearance. Sits lovely now and i'll try and get some photos tomorrow.
In addition i took it to Blink Motorsport in Winsford yesterday for a full corner weight and alignment (steering was well off centre and toe well out after having everything apart). Could not have asked for a better service from Fraser, Richard and Adam if anyone needs a car setup (especially FWD) go see the guys there! They also seemed impressed with the setup and geometry of the car so i'm more than happy. Final results were:
Front 62.6%
Cross 50%
Rear 37.4%
Left 47.6%
Right 52.4%
Total 1381Kg (all with a driver weight of 140Kg for my fat arse in the drivers seat and a full tank of fuel)
so that puts the car at 1241Kg with a full tank of fuel and i must say for what i can push the car to at the moment it drives, rides and handles beautifully on a variety of roads.
There is a small amount of air trapped in the ABS block from when the brakes were done so i'm waiting on a slot for a service bleed at the moment to clear that but the only effect is the brakes are a bit low in the pedal. Have managed to give them a bit of a bed in though and they are awesome. Where previously I felt the 300mm front brakes could unbalance the car a little under harsh braking the 280mm out back coupled with the 4 pot 318mm at the front really makes the car hunker down and anchor you to a stop.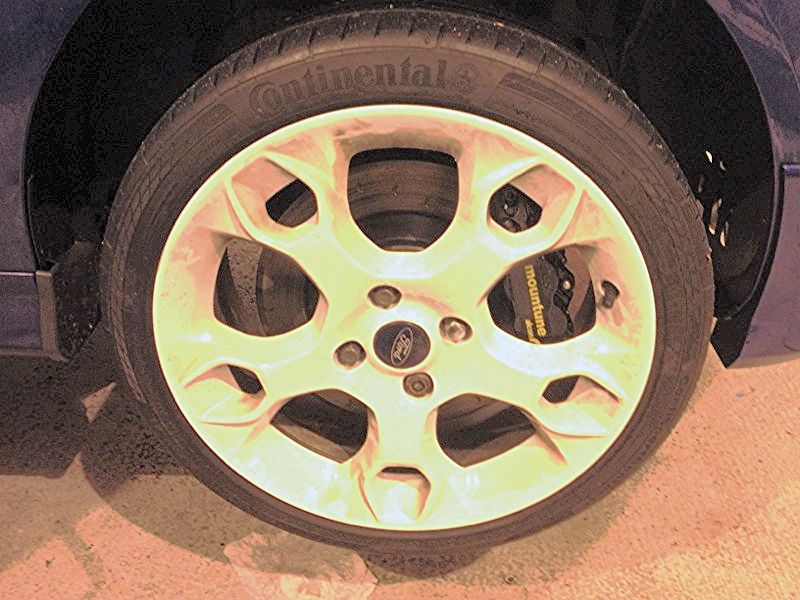 Anyway now that i have the car back i'll try and get some videos together and some better pictures. Development is still ongoing and hope to have the boost and revs opened up and the map tweaked at the end of the month. The canbus firmware then needs updating to sort all the dash out fully. In the meantime i'll be racking up some miles, sorting out panel alignment and clearance, and sorting out the aircon pipes ahead of implementing its operation on the canbus.
Lots of other small jobs for me to work on in addition to getting the car back up to the cleanliness I like but I'm happy for now and looking forward to ironing out the little niggles that detract from an otherwise perfect package at the moment (that's what this testing period is for
). considering the work and effort that's gone into it though I'm not complaining
Hope it's to everyone's liking and I'll try and keep the updates coming when I'm not too distracted by the little pocket rocket
haven't updated in a while so here's some happenings ahead of tomorrows mapping session....
so after many headaches so far this year and slow progress we're nearly there with a final map and i sorted the aircon pipework this week.
measuring up with splicer pieces
crimped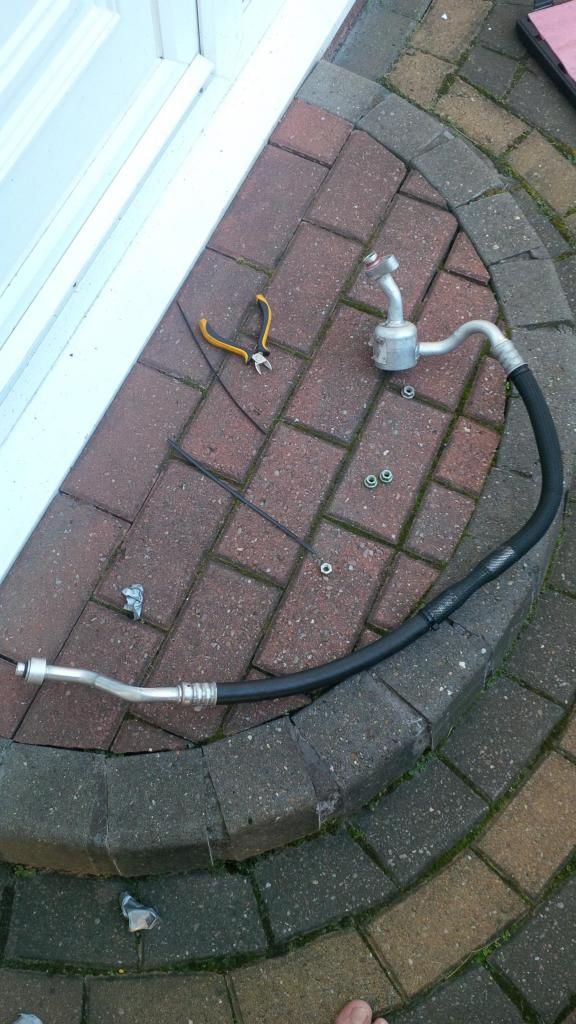 fitted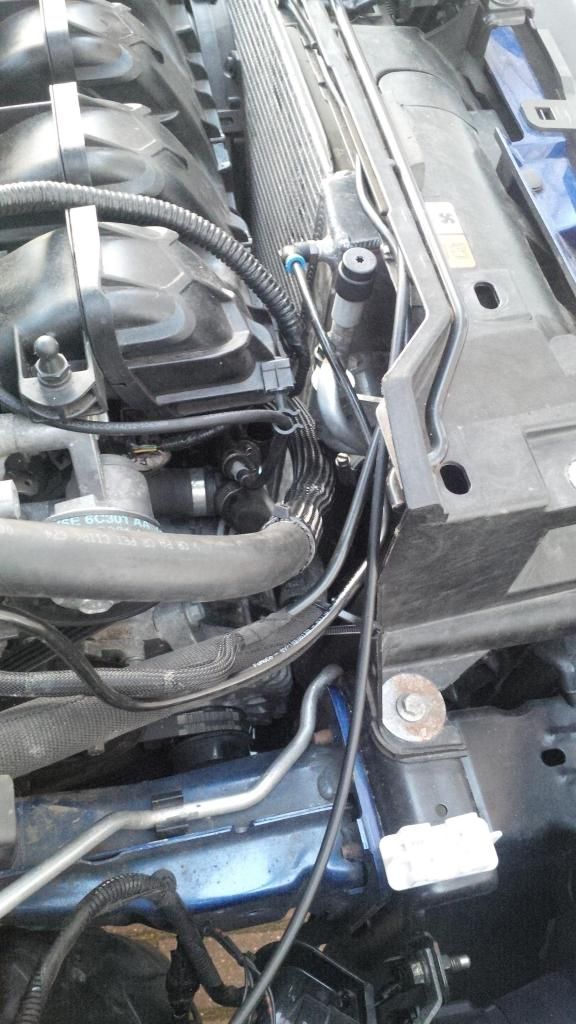 cover trimmed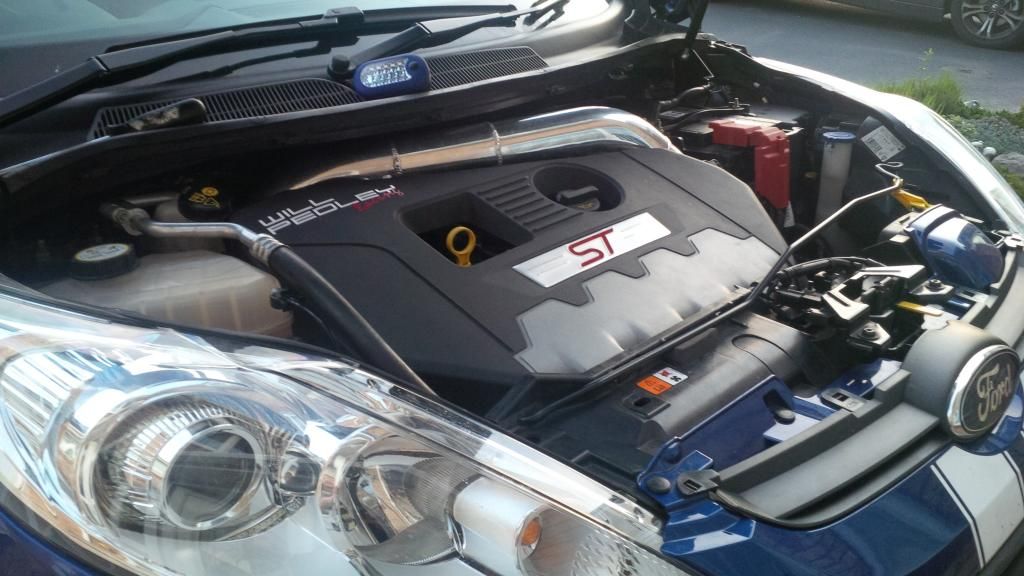 also got some extra photos from the shoot =]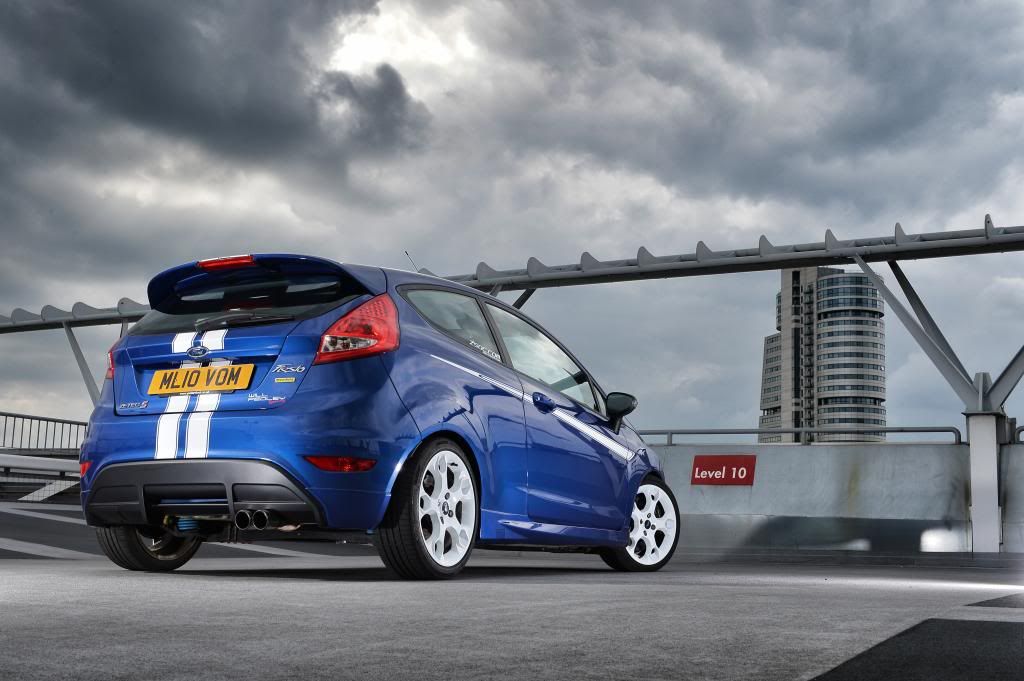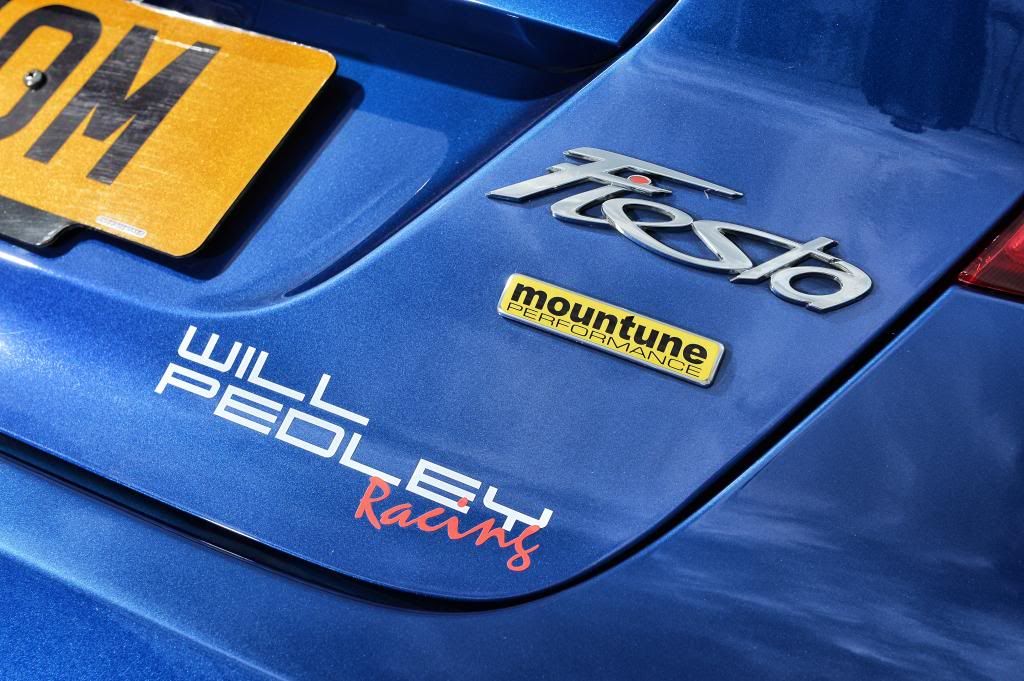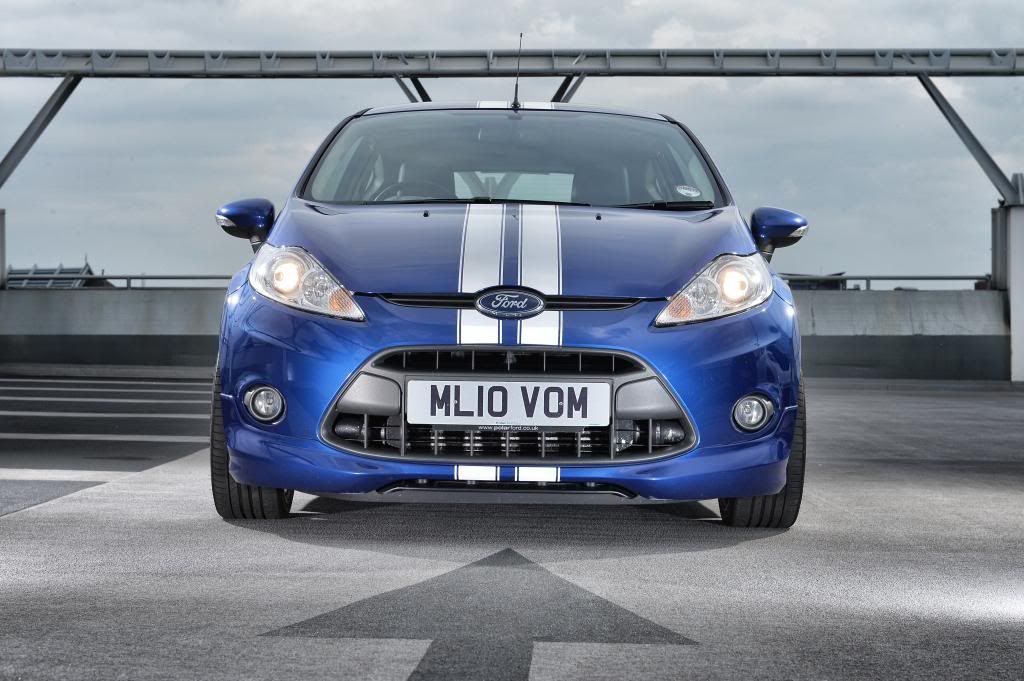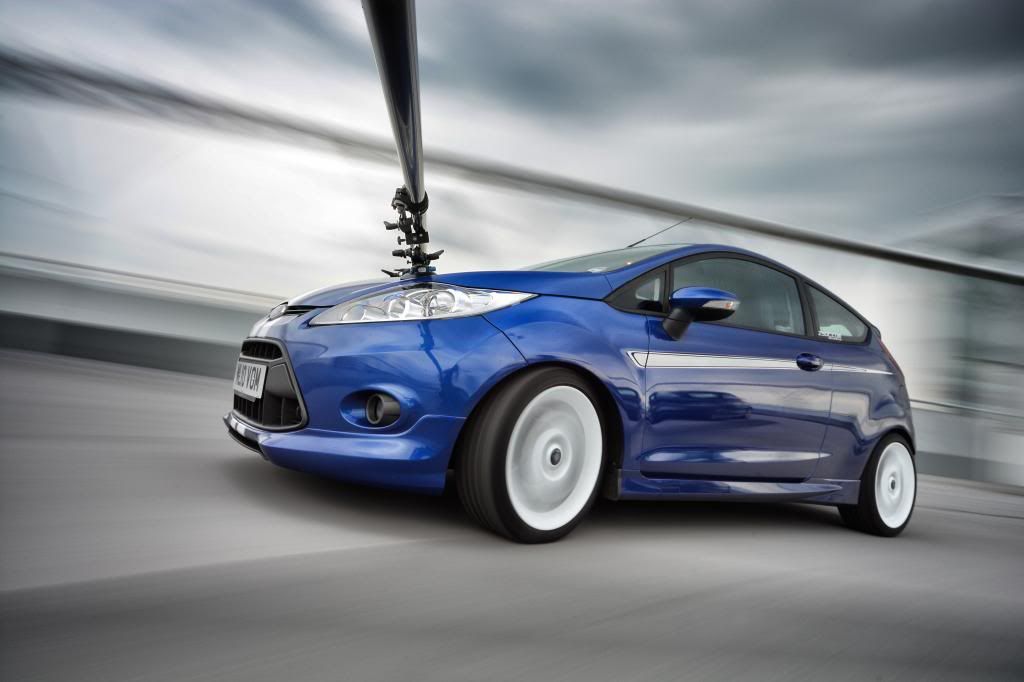 also have a vibratechnics torque link that im working on fitting into the subframe to increase refinement
gave the car its first thorough clean, since the fast ford shoot, today.
finally addressed the issue of the front sideskirt caps with some small self tapping screws.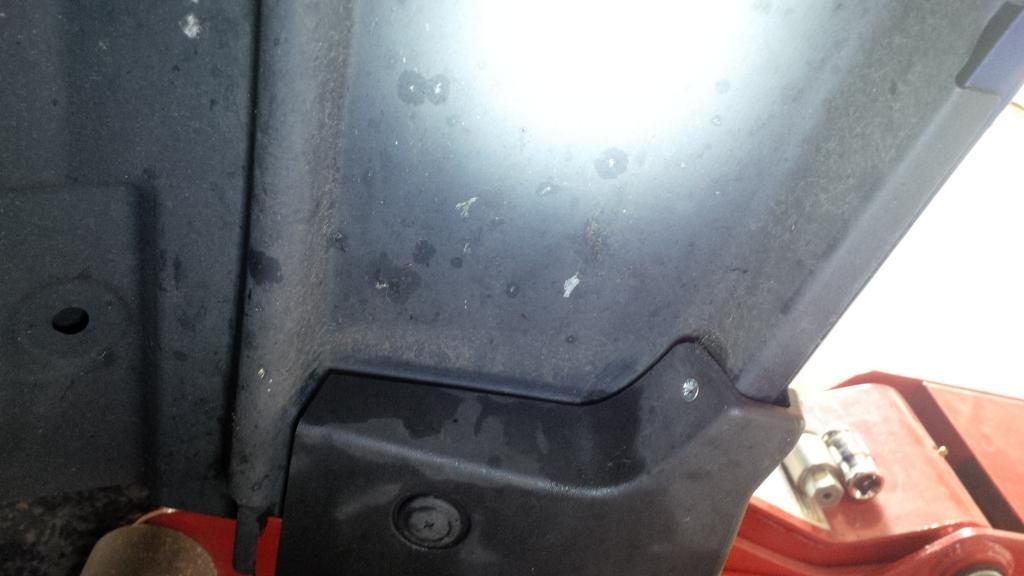 arches are pretty clean and rust free compared to some cars i've seen but may give them a clean out along with the bilsteins when/if i install camber bolts.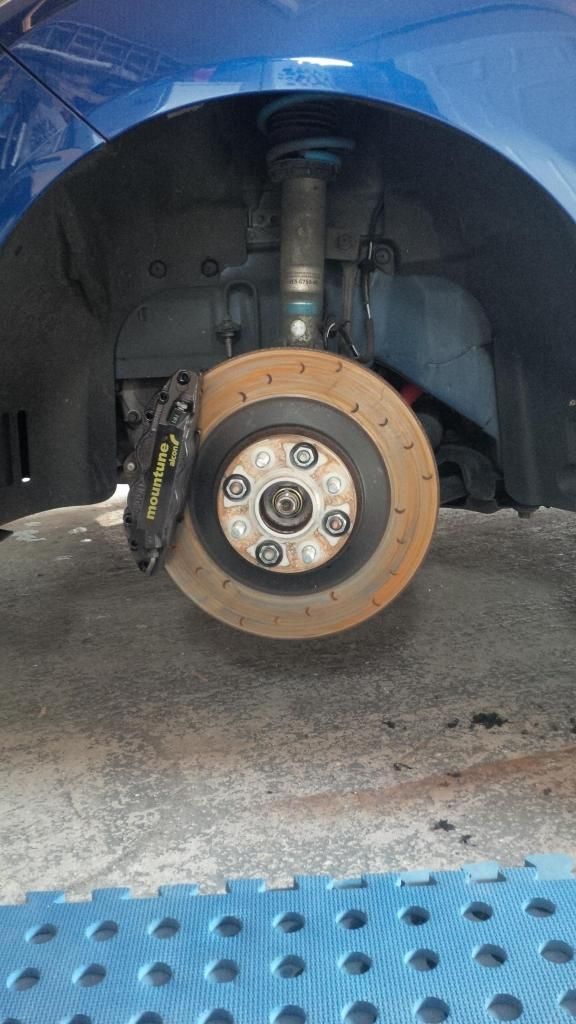 i'm thinking camber bolts to hopefully address the issue of rubbing on the arch liners as the rubbing is only minor but annoying on large compression. Should also help the suspension geometry although the tires most likely wont like it.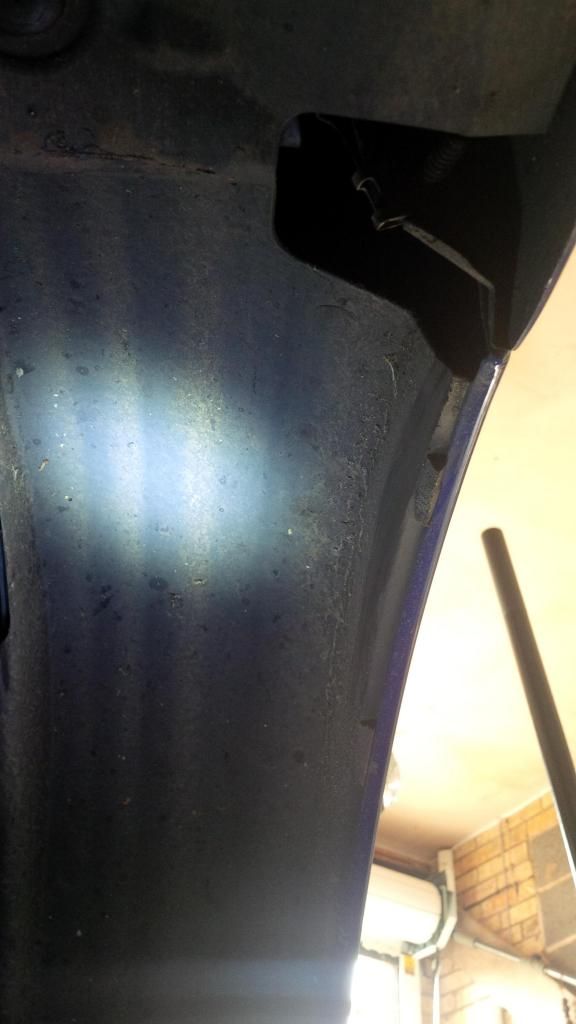 got a good 'pop' in the sun
gave the inside of the rim a good clean as well but tried not to spend hours on it as they really need a refurb.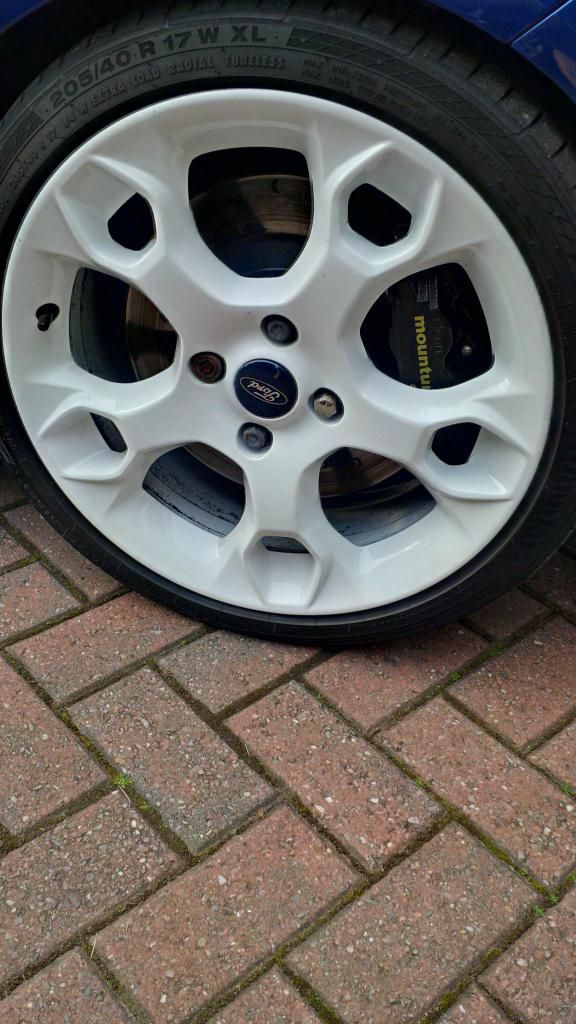 still makes me turn back to look at it even when its not this clean which is a satisfying feeling.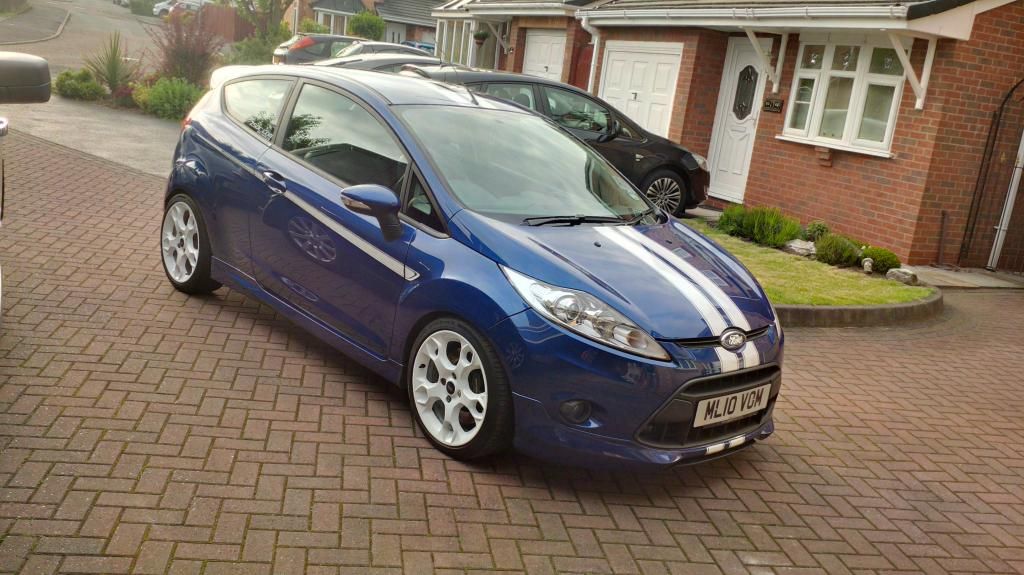 as previously mentioned next on the horizon is modifying the subframe to accept the vibratechnics torque link, wiring the a/c clutch solenoid, fitting a check valve in the fuel line then hub dyno mapping and finalising the CANBus file.
Waiting for available slots is annoying as there really isn't that much work left but it drives lovely at the moment so i can't complain too much.
Waiting on a quote for custom front springs plus possibly revalving the damping to match the extra front weight. its not entirely necessary but will be a nice development.
i'll keep you posted.
/tim
so not many updates of late as ive been waiting on Will and fault finding really.
had an issue with starting after the car had cooled from running temp that ive pretty much isolated to vapour lock in the line..... as such i took the opportunity to drop the tank, install a check valve and at the same time re align my fuel level sender so that it worked properly.
unfortunately i forgot to take any photos because my phone decided to throw a wobbler.
Anyway the check valve oddly seems to have made it run a little smoother which i wasn't expecting but it didn't solve the cold start issue.
so i ordered some DEI heat sheath to cover the line up to HPFP and hopefully eliminate the issue.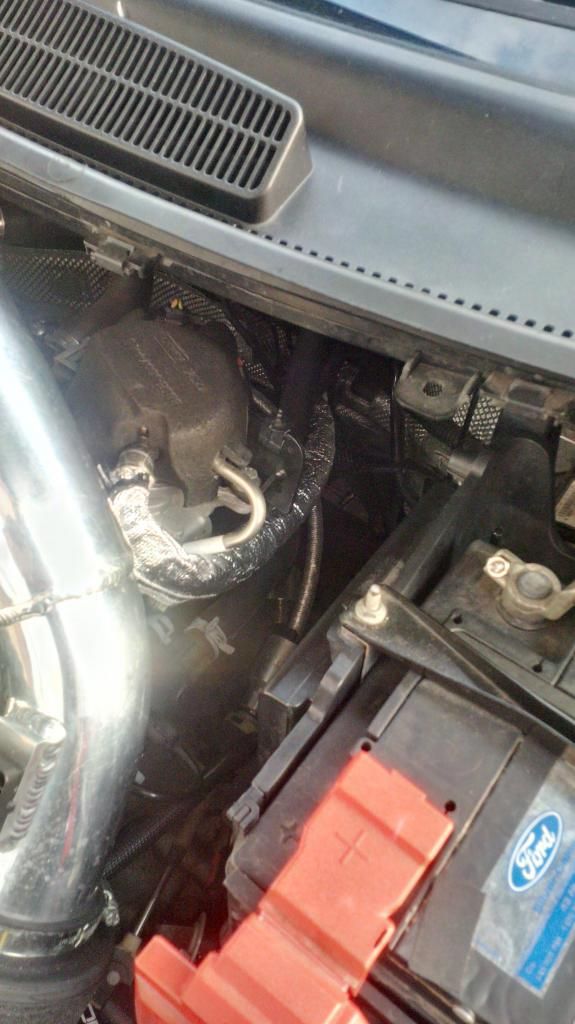 that was installed this evening so hopefully will find out in the morning if it has solved the issue.
Failing that it will be down to trying to purge the fuel system on start up in the first few cranks by opening the injectors then once clear revert to the proper Direct Injection injector timing.
In other news tomorrow is the day the car finally goes on the dyno and we are mapping for full power..... updates to follow!
Remaining Jobs:
- Full Map
- Wire Aircon
- Gas Aircon
- Resolve CANBus conflicts
- Setup Boost By Gear properly once at full power
- Setup traction Control and Possible Launch Control once CANBus conflicts are resolved
- Cut subframe to fit vibra technics torque link.
hoping to have everything except possibly the Aircon and CANBus conflicts sorted for Ford Fair.
I'll be on the Fast Ford stand and should be out on track in one of the Fast Ford Sessions.....in other words i need to get a shift on and get buftying up!
* Still have a pumaspeed 300mm brake setup for sale along with a full mountune MR155 airbox with blue silicone and k and n filter also standard ZS suspension for any one with a non ZS - check the for sale section or message me*
/Tim
Results of today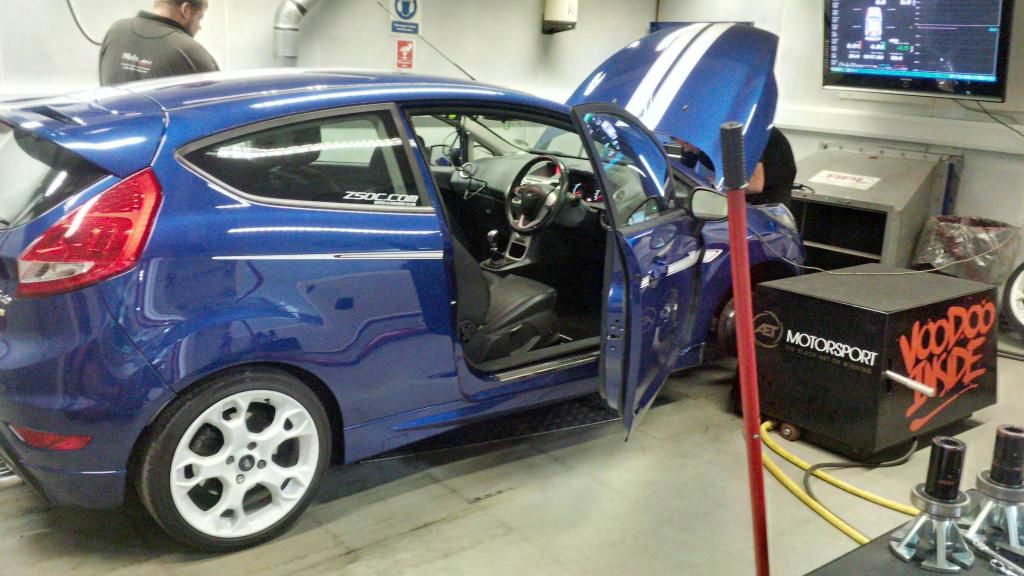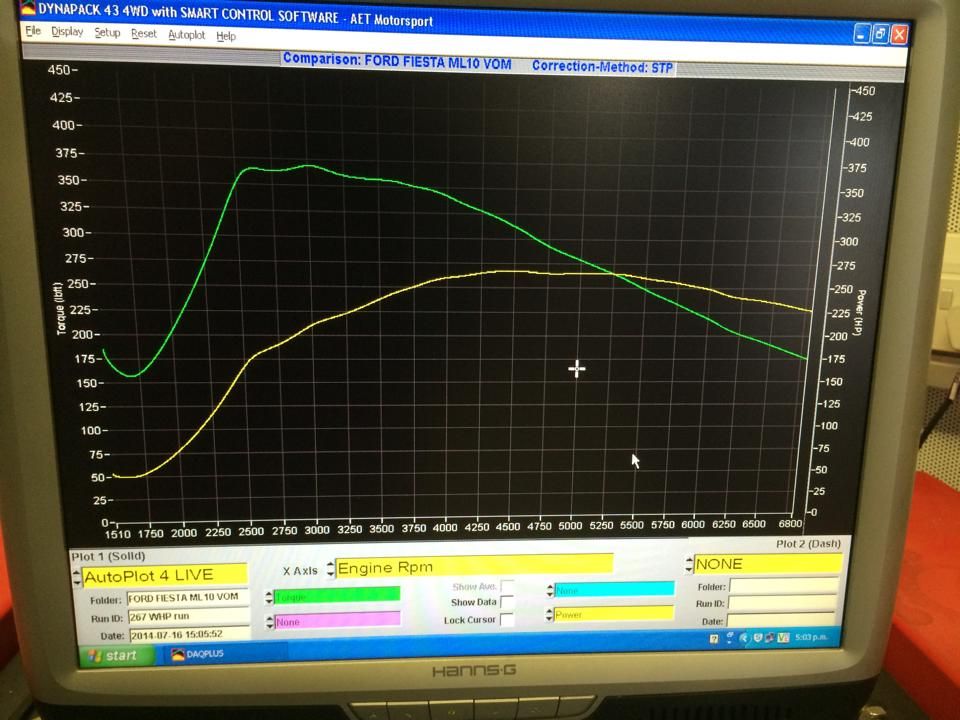 so that's 370lbft torque and 270bhp in 30 deg C ambients.
we then reigned in 1st gear -40% second -25% and 3rd -10% before giving all the engine fairies in 4th.
car is transformed with a super smooth wave of torque that pulls and pulls. Almost any gear any speed point and go. Traction seems pretty good with the above boost by gear settings to.
I keep promising videos so my friends are gonna try and help me get some good quality GoPro material to show you all!
*Happy Man*/Tim
Not Updated in a while so here are some copied posts.
at the end of feb
- new radiator in as old one had a leak
- been to see simon at specialist components who made the ecu and have solved most of the lights on the dash and included a new firmware upgrade to help with starting after a heat soak (it now starts consistently every time not just when its cold outside)
- bought a new subframe that is getting modified this week to fit the vibratechnics focus st torque link (if all goes well should help NVH considerably) subframe will be refitted with all new hardware and the fiesta st steering rack that's been sat in the garage for months.
- cracked a brake disc on the alcons -.- awaiting a replacement set from mountune.
- also ordered a mountune symposer delete to give me the option of a second boost tap for possible boost gauge and whilst they are going cheap a mountune front apron in primer (gonna make sure the paint matches perfectly so need to speak to some garages).
- awaiting Si from sico to get hold of the hard race roll centre adjusting lower ball joints and will likely go with the st suspensions xta coilover kit at the same time. Anybody who wants the Bilsteins please message me.
- also going to fit the zunsport grill with the mountune apron.
- installed a scan gauge to keep and eye on IAT's, Coolant Temp and Battery Voltage when i was having to crank for long periods to start can also use it as an adjustable speedo when i calibrate it to gps to give a more accurate reading.
- whilst fitting the rad gave it a service and upped the oil from 5w-20 to 5w-30 seems a little smoother although ford recommend either.
- looks like there is a wiring gremlin that needs resolving to get rid of the airbag light so aiming to sort that this month and with any luck wire the a/c compressor into the ecu
- once all that is sorted another trip to norfolk should see the a/c working and depending on time frames t/c
then a few things got pushed back as i waited on people but this is whats happened over the last 2 months or so.
Mountune Delivery.....
Replacement discs for my cracked one and mountune symposer blank to tidy up the bay. Gives me the option for boost gauge as well.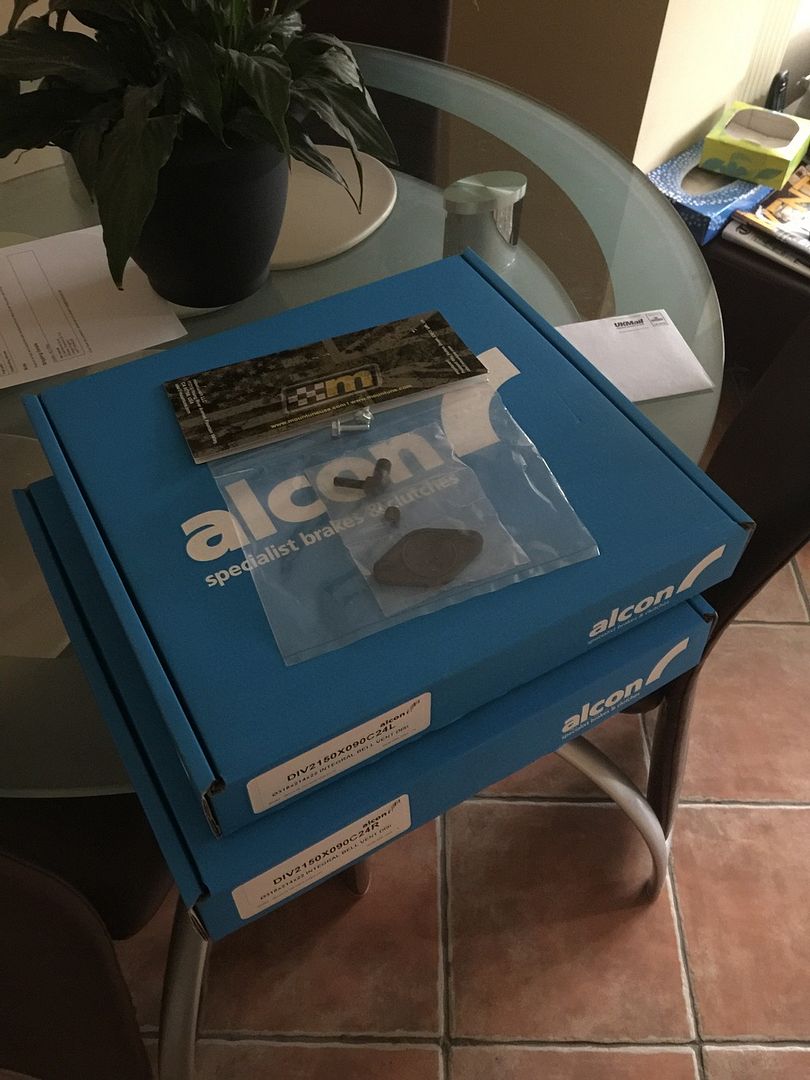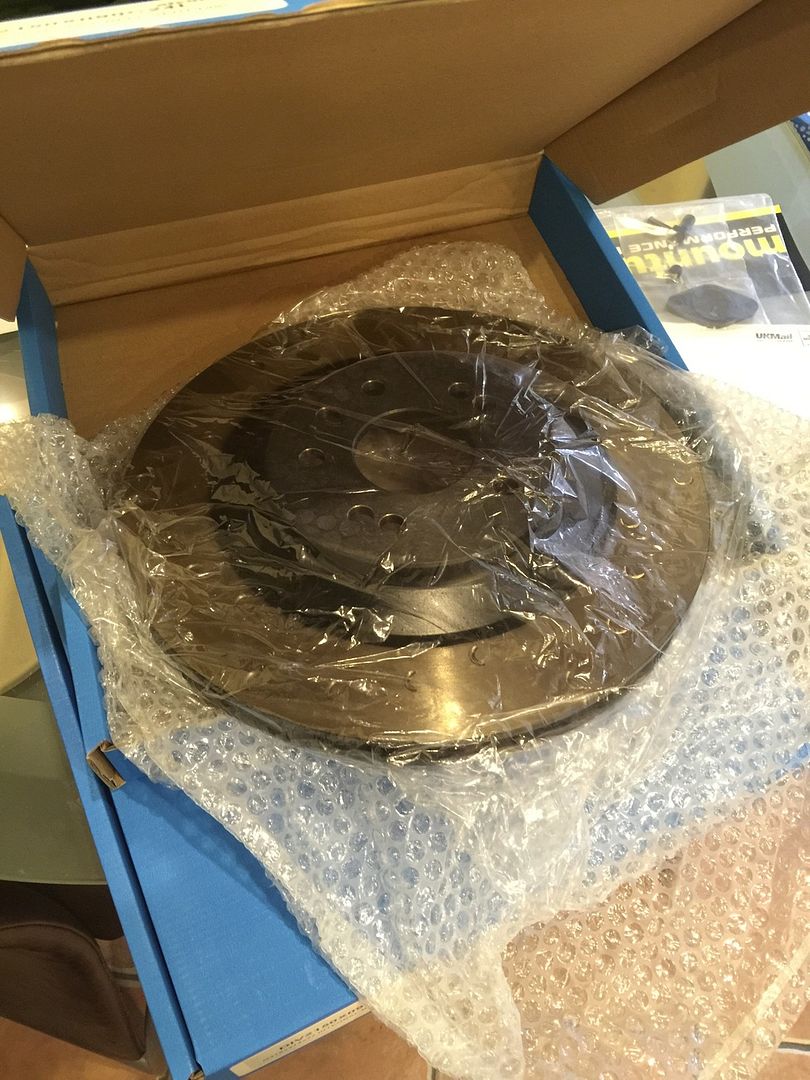 Mountune apron in primer =]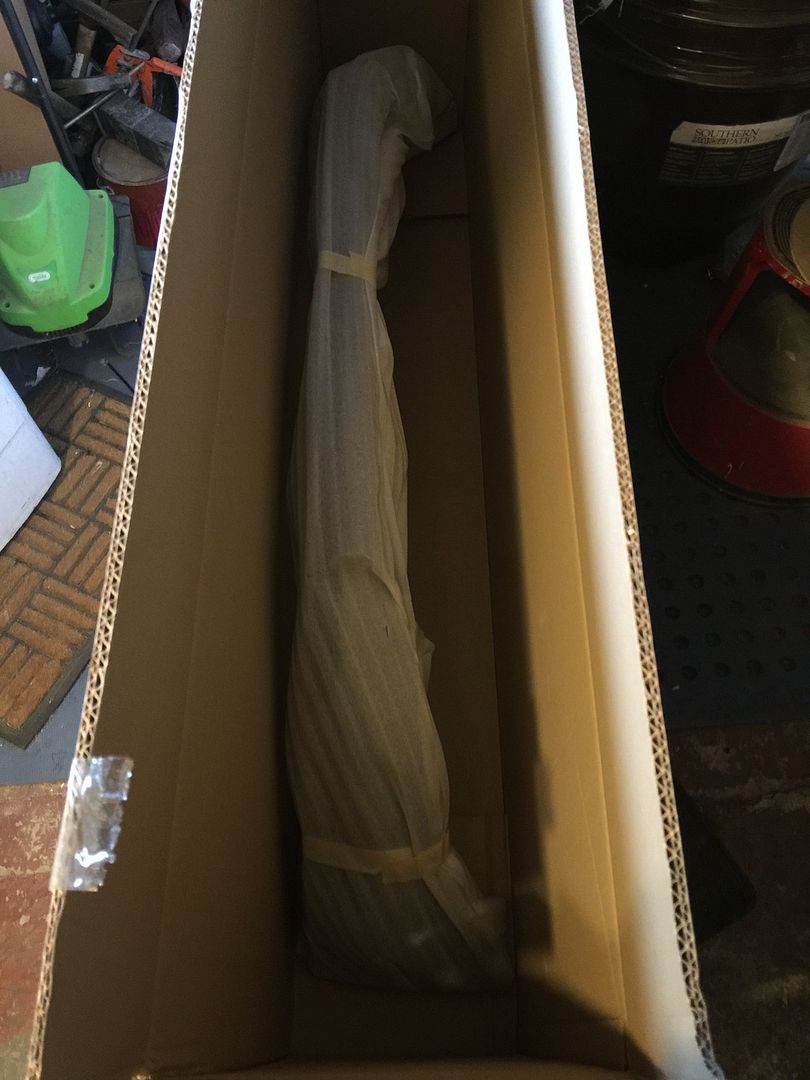 Waiting for a price on ST Suspensions XTA Coilovers and then going to order them and a Zunsport Grill.
unfortunately still waiting for the welding to be done on my subframe so havent got that, the torque link or the st steering rack on yet.
New discs on today. fairly painless. so much nicer without brake judder.
cracked rotor...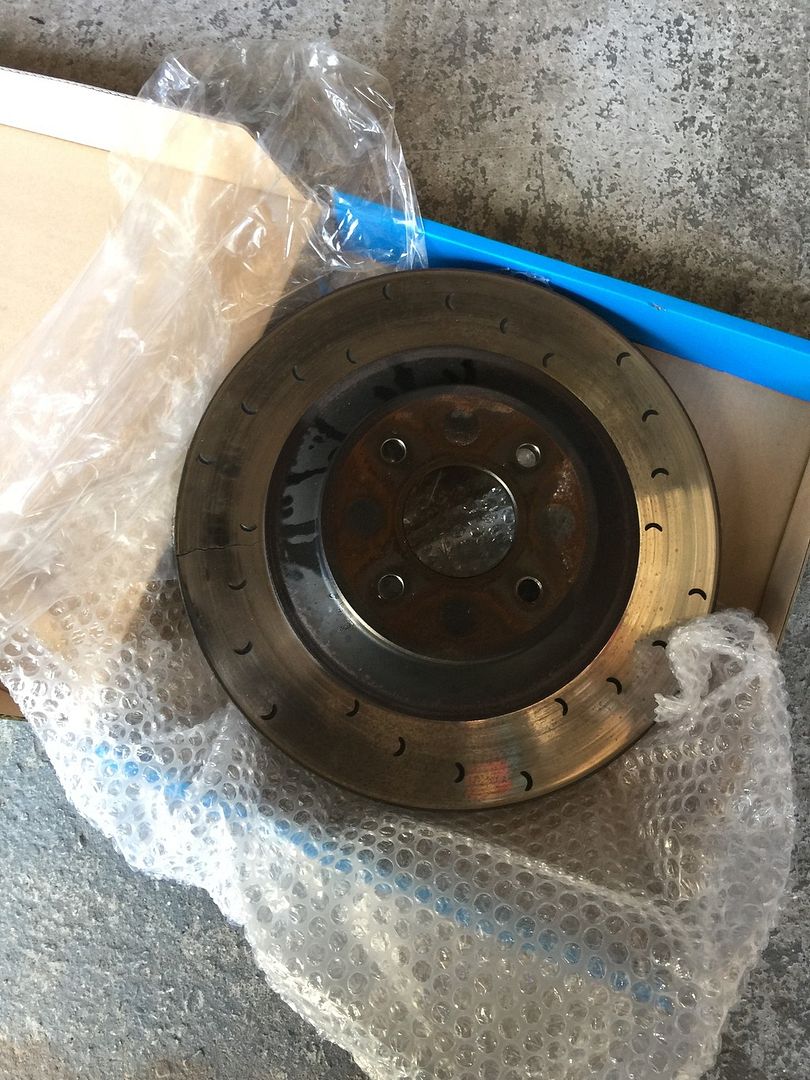 shiny new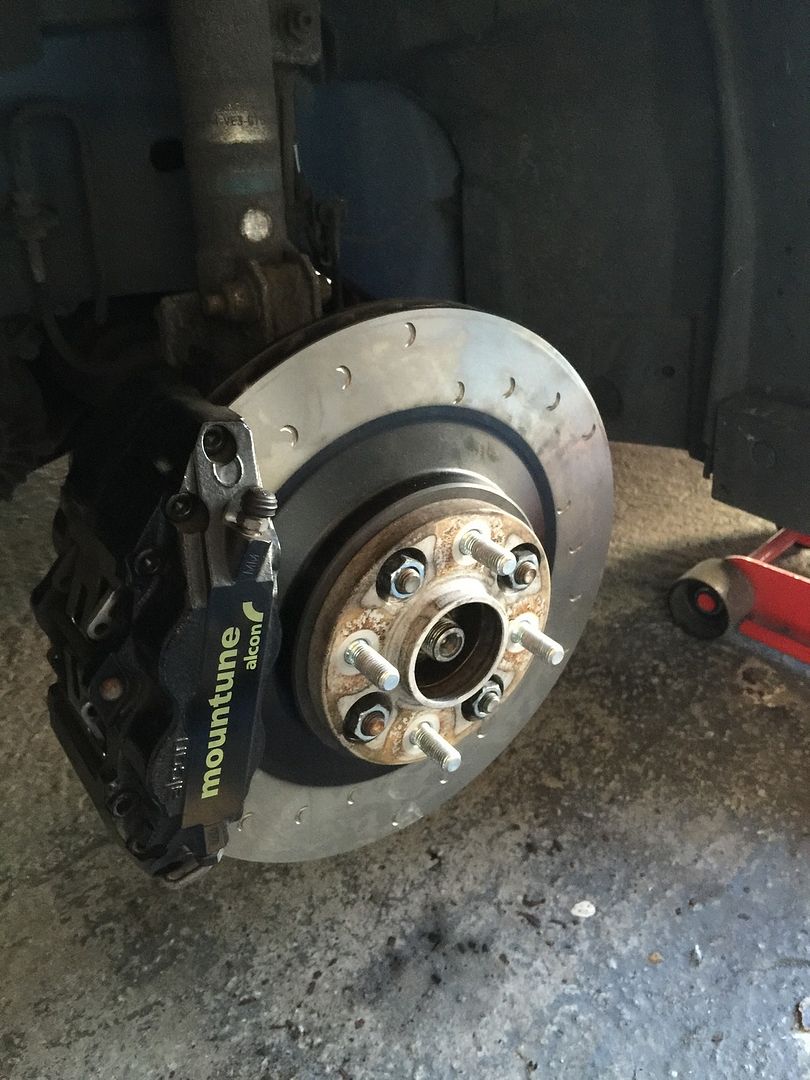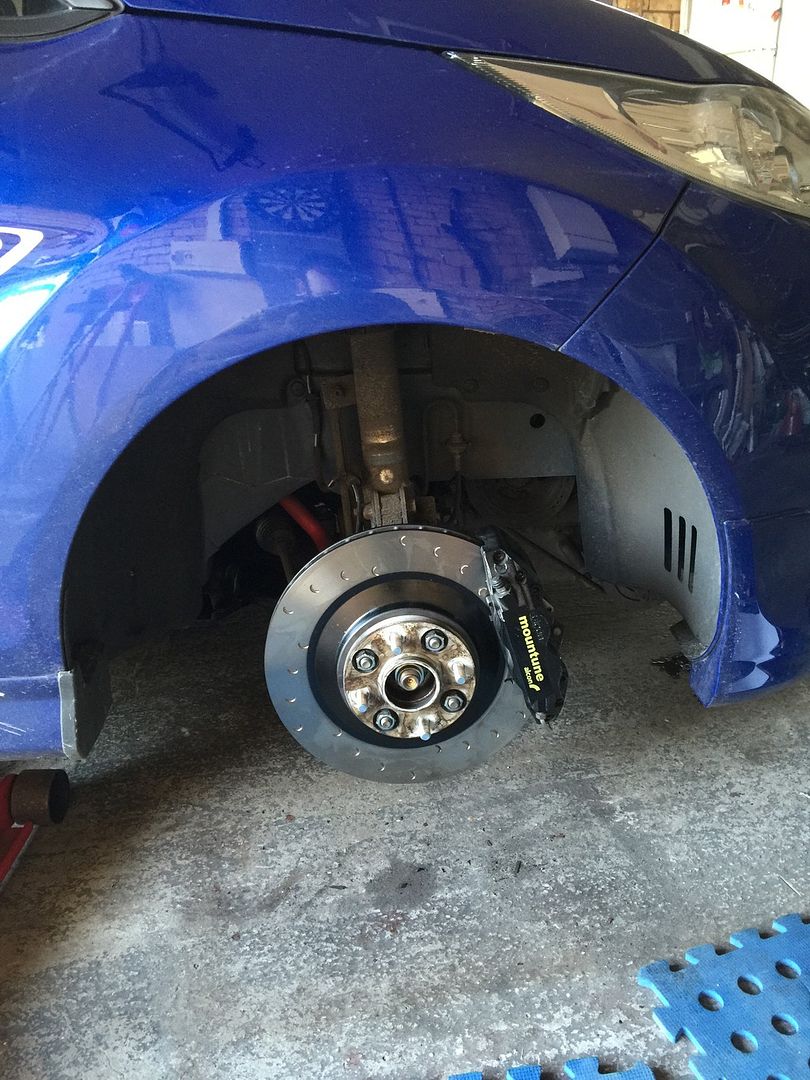 also dropped off the apron for paint this morning so hopefully mid week will see an awesome paint match but wont be able to fit it until the week after....doh!
arrived yesterday and going to have to wait 2 weeks to fit as i'm away this weekend.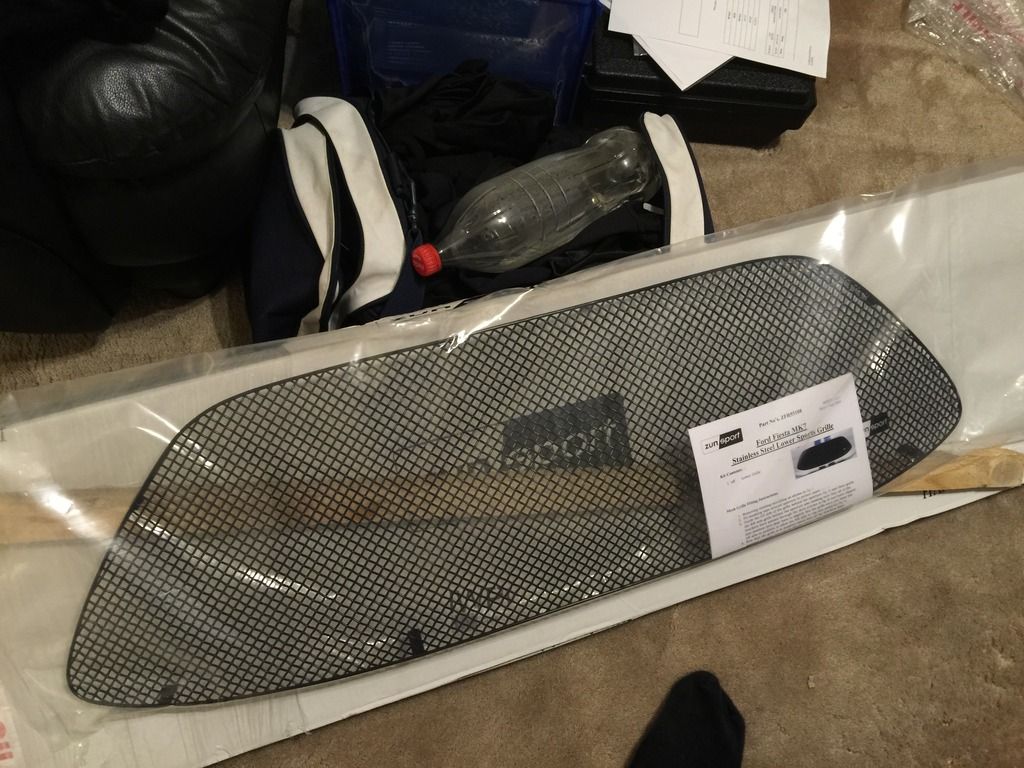 picking up the mountune apron tomorrow fingers crossed it looks good!
apron looks excellent!!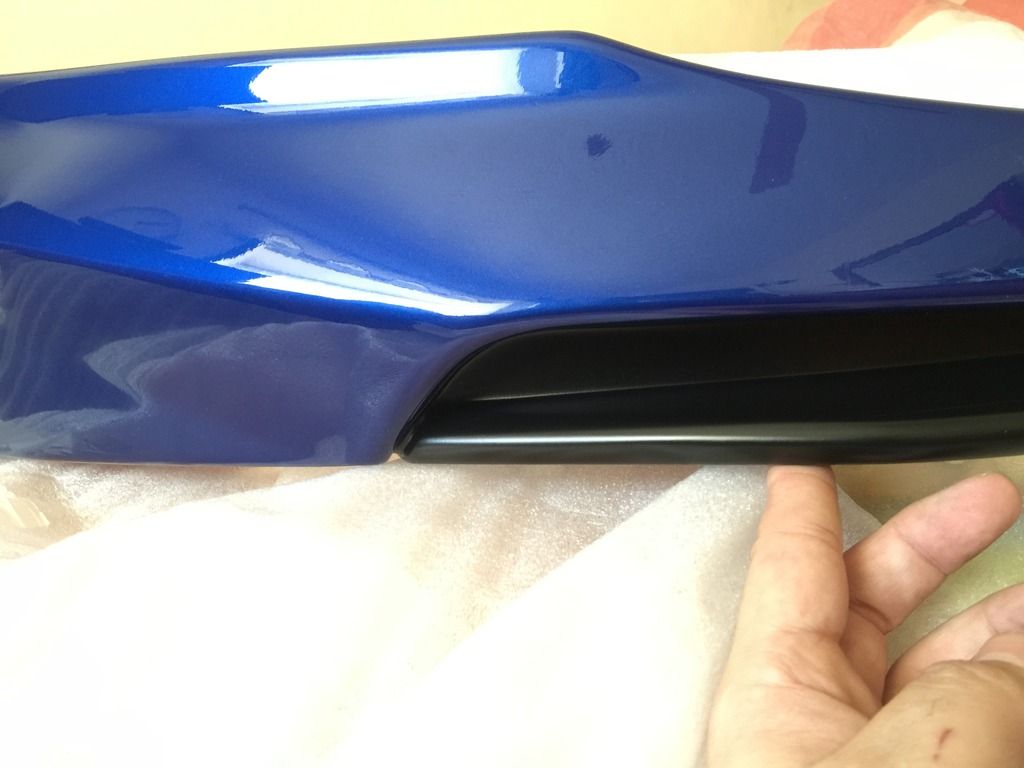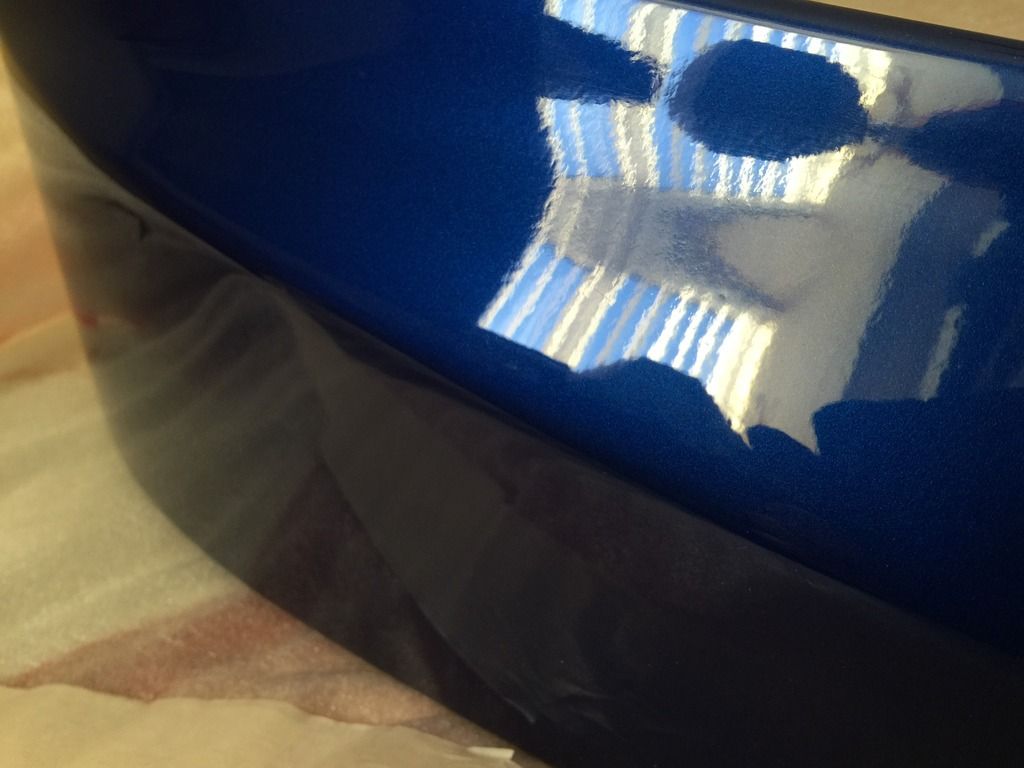 Leisurely day on the car.....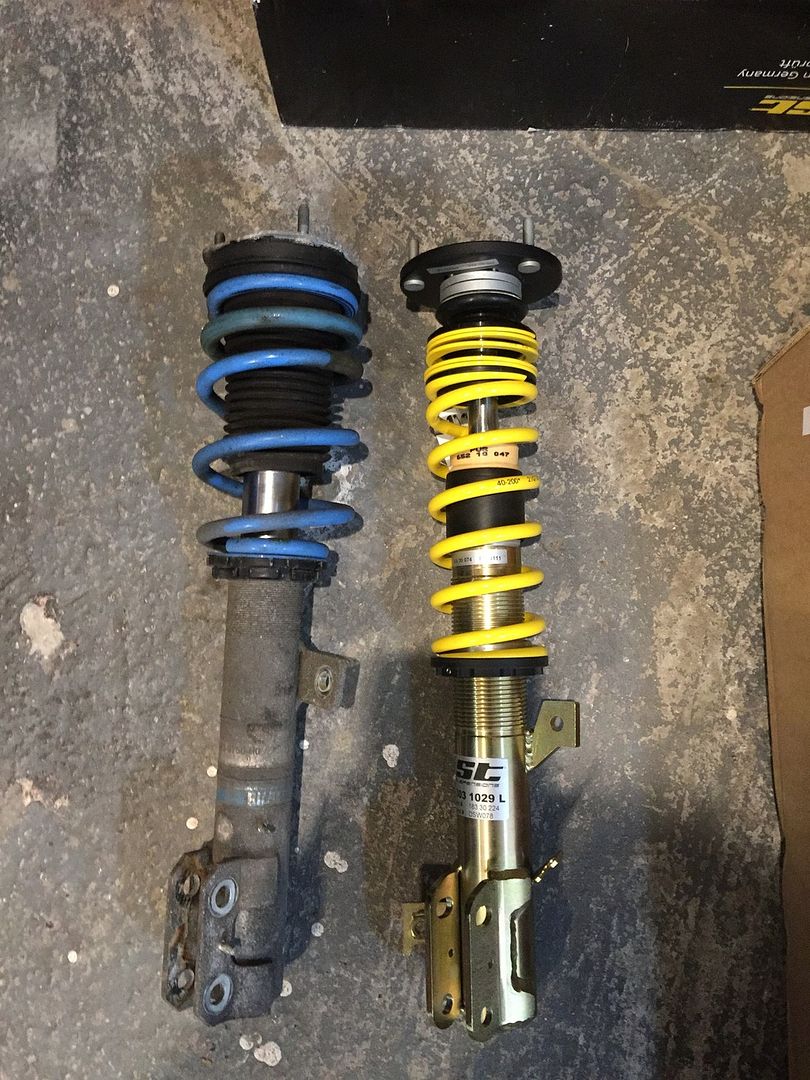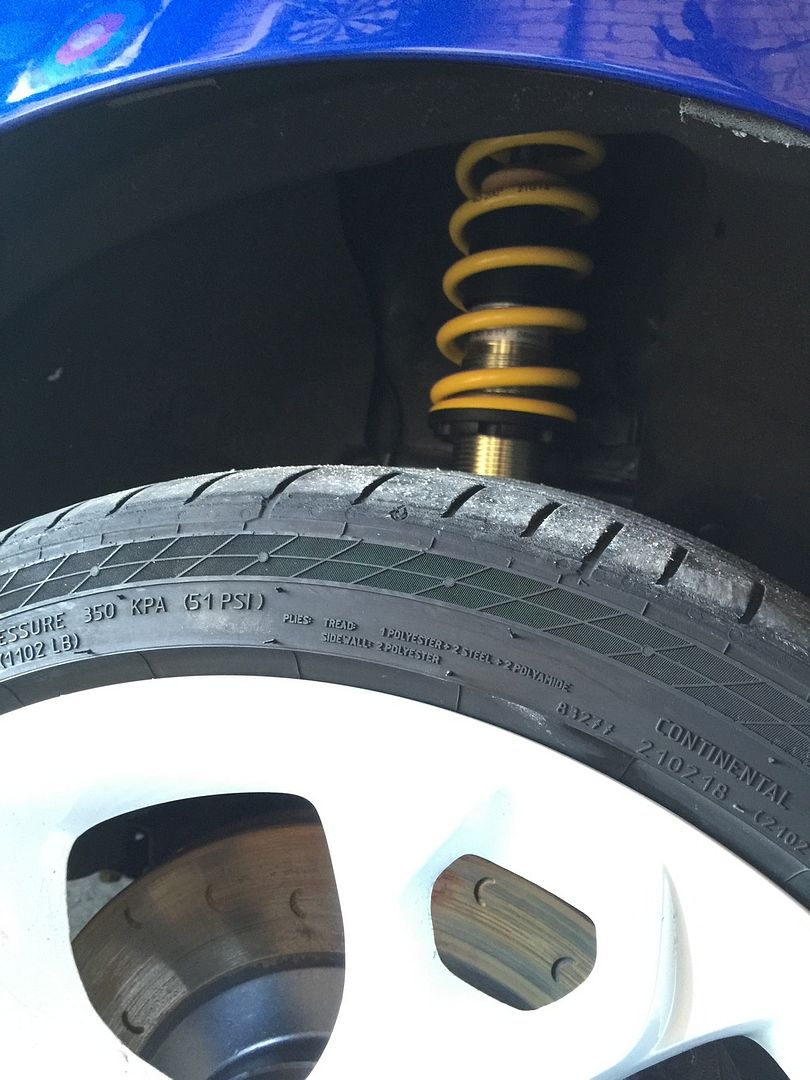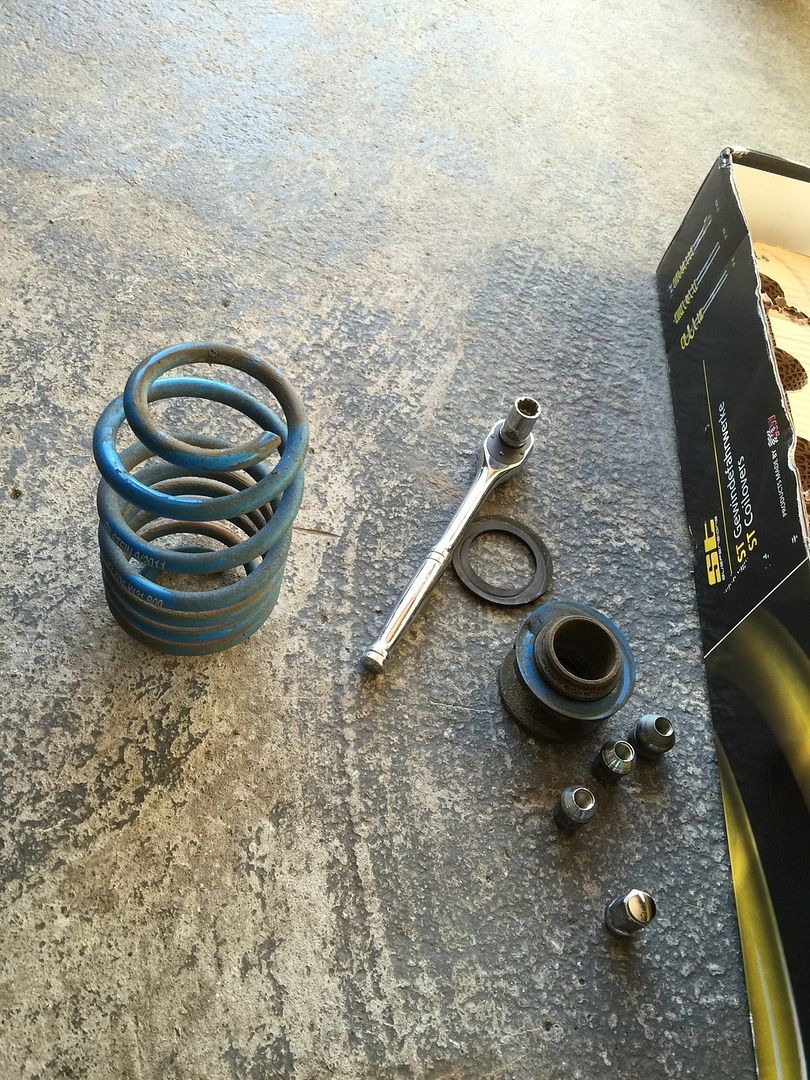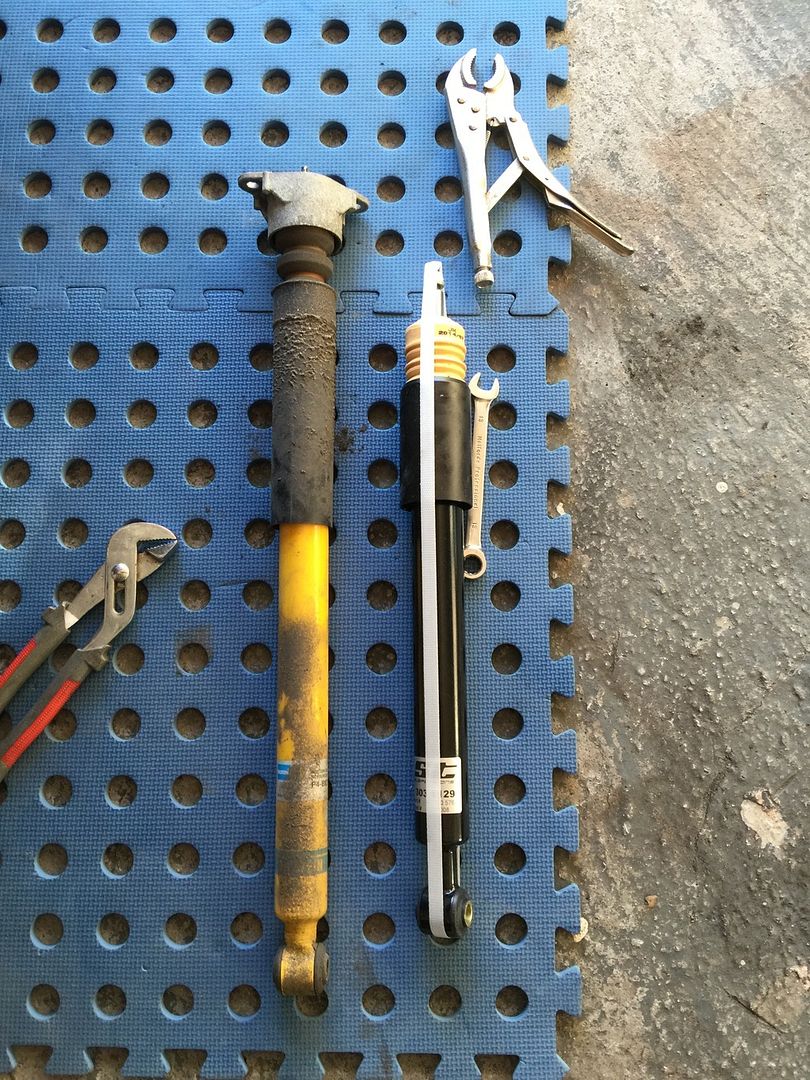 out with the old....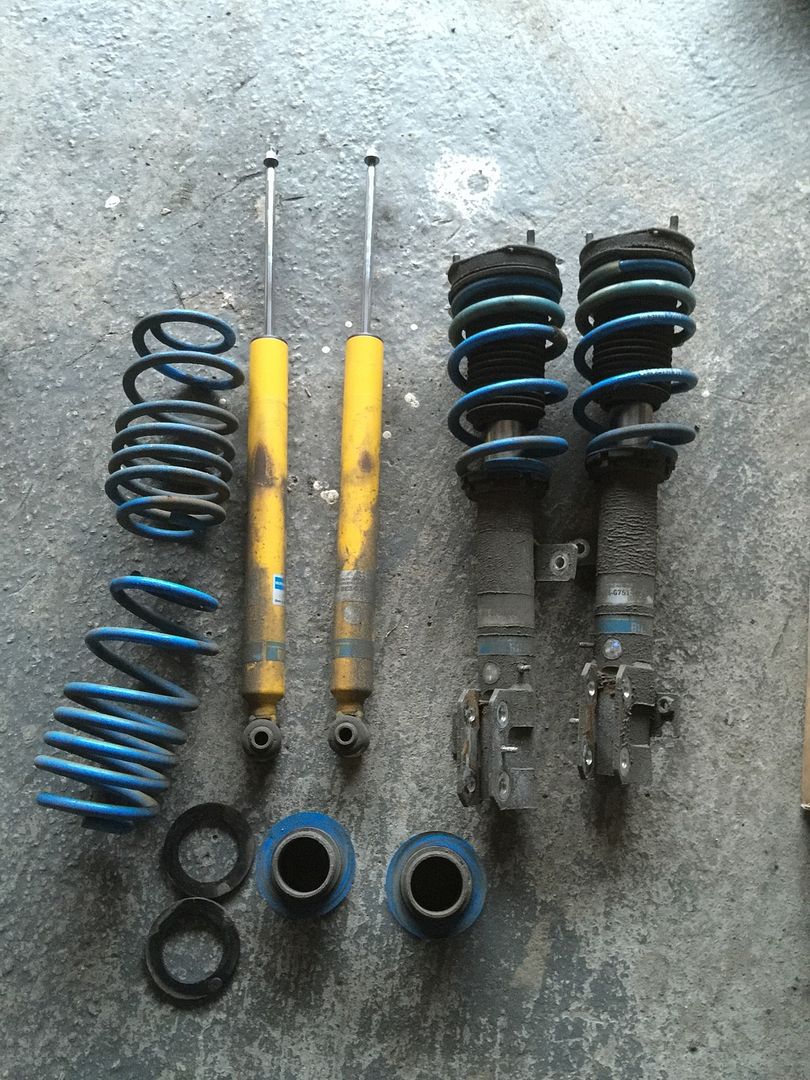 continued............
and nice proper ride height
grilled up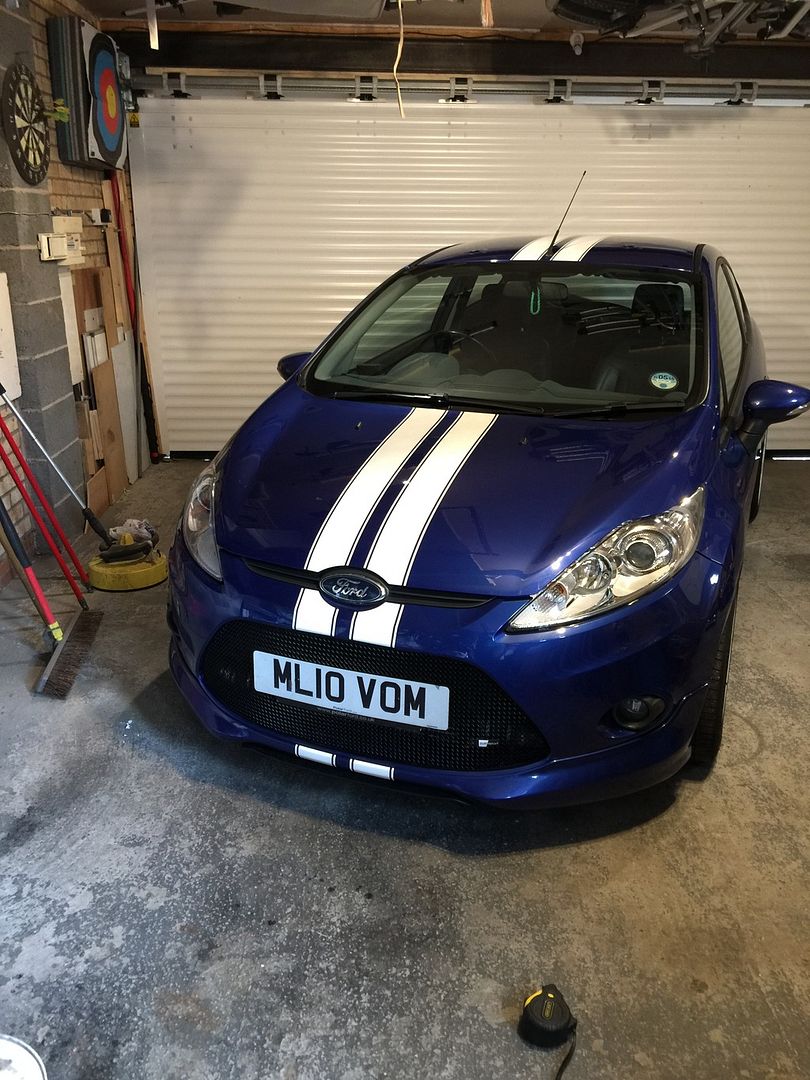 and tomorrows job....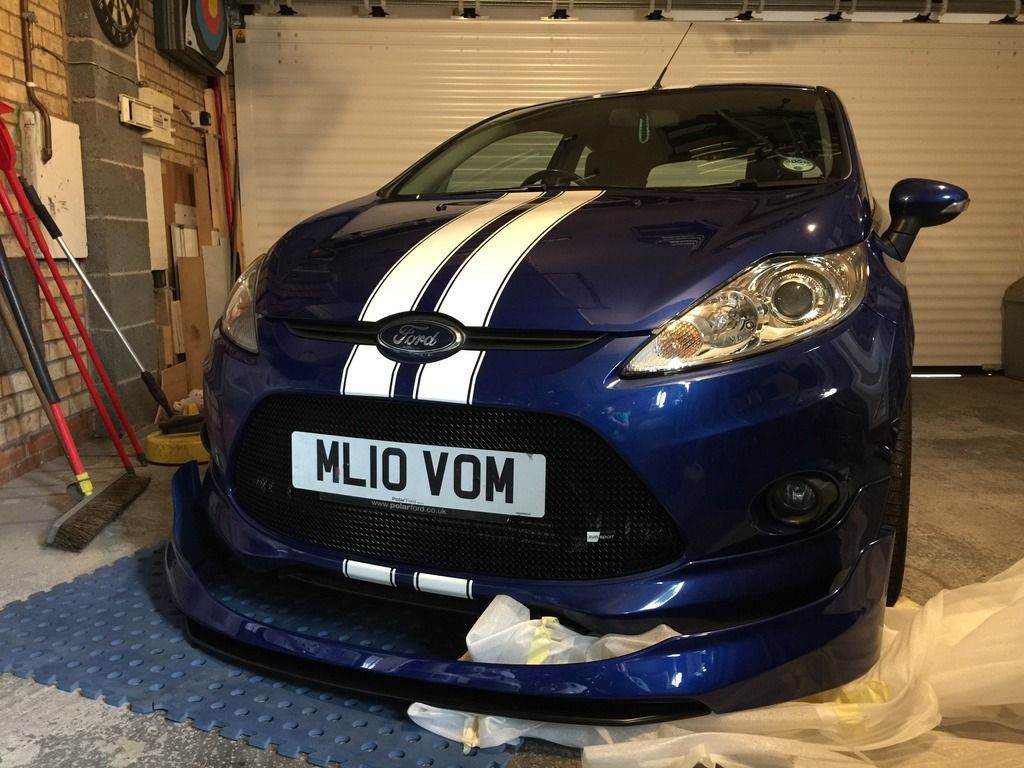 also need to raise the driver side rear spring seat about 8mm to approximate the cross weight that i had with the bilsteins. Also roughly gauging it i'm at 3 deg camber which from a quick test drive might be a little too much so with the lower adjust at the pinch bolts ill pull the camber back out a bit to sit between 2 and 3 hopefully. Wont know for sure until i get some miles on it to settle them and get a feel for it. then it will be back over to blink motorsport for a setup.
for this evening though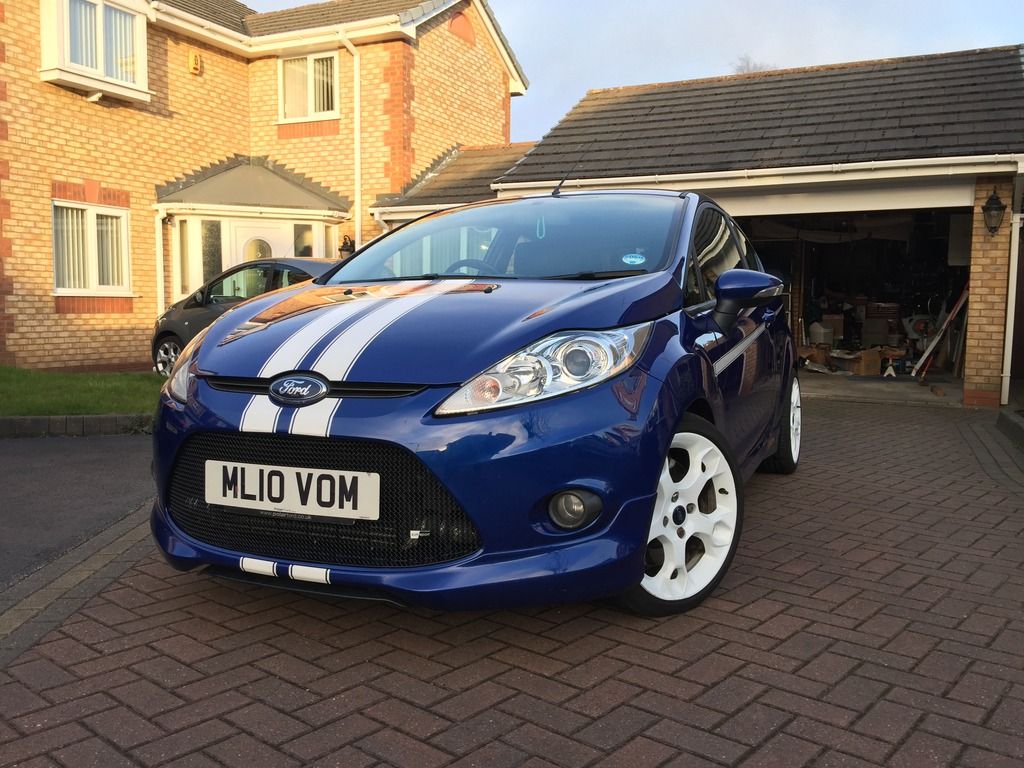 todays work....
apron off
filth hidden beneath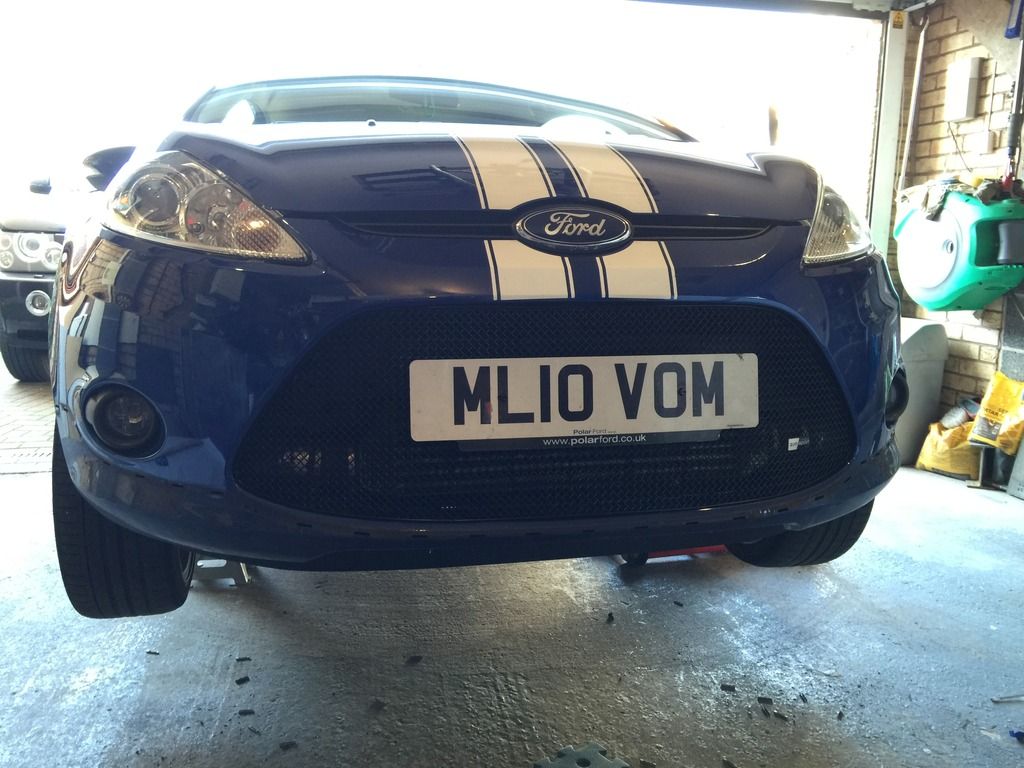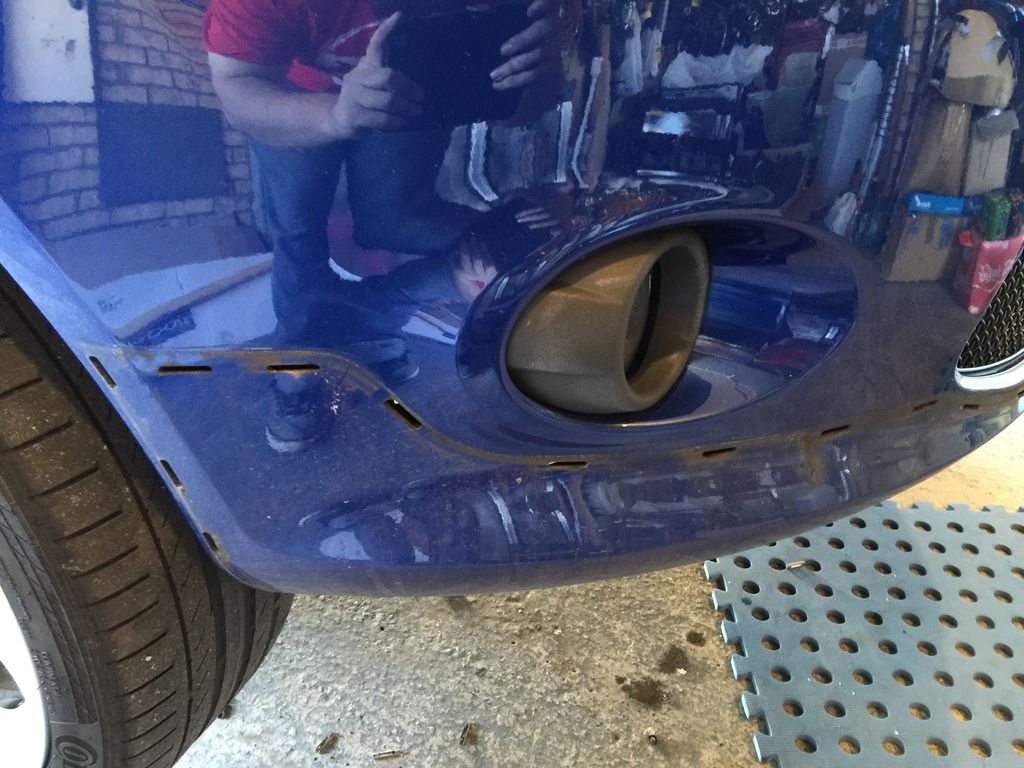 cleaned up
brackets fitted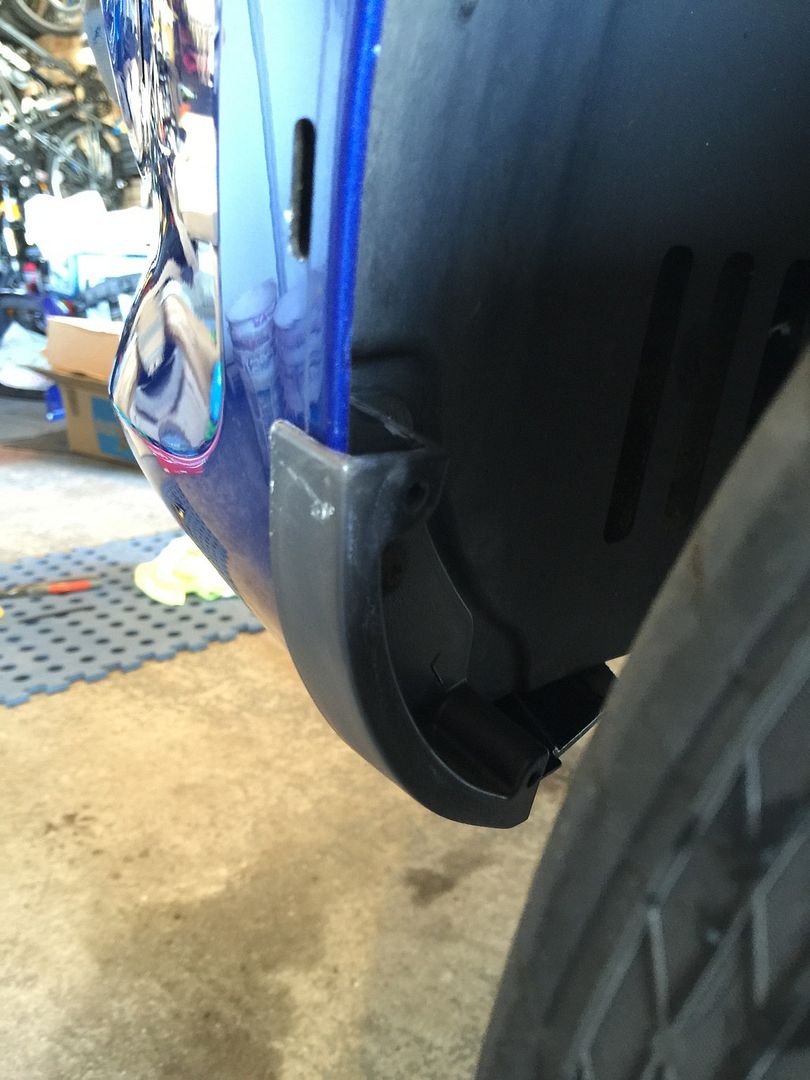 the adhesive supplied is foul stuff especially if you have to clean off any excess....regardless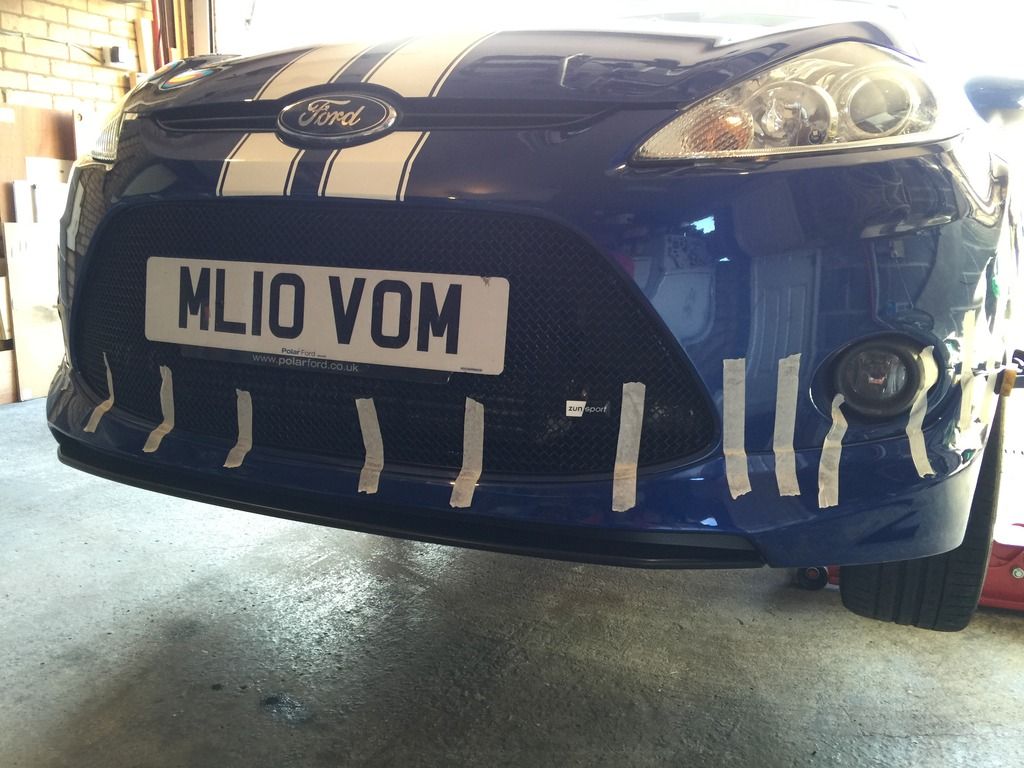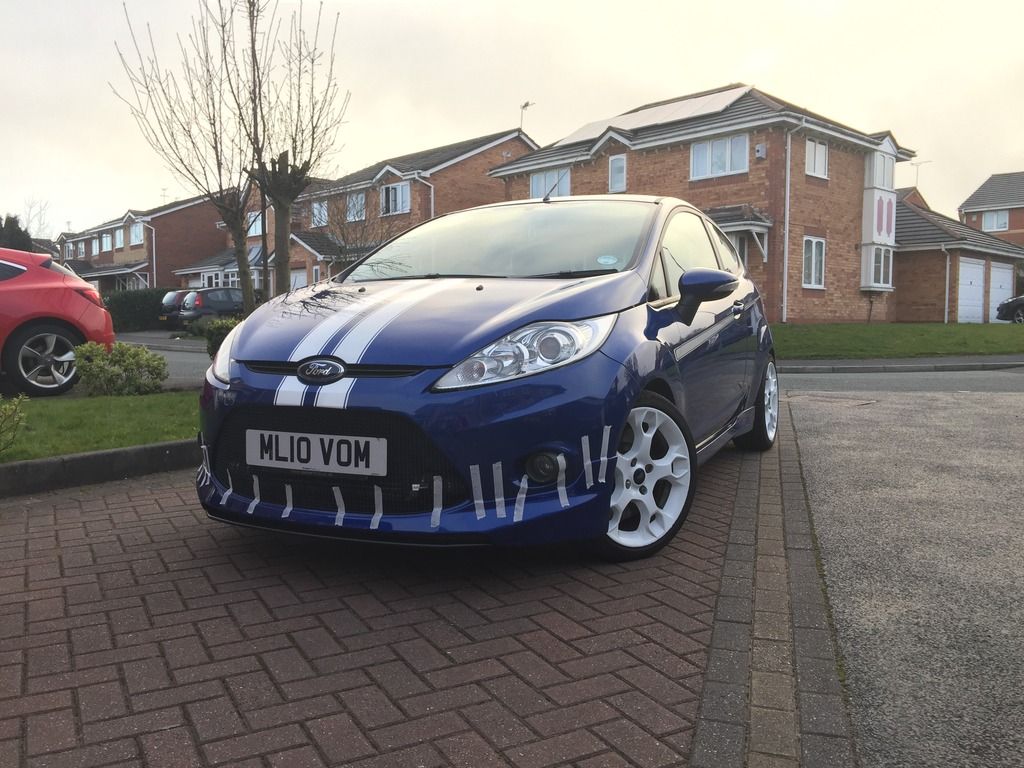 and something i've kept forgetting to do.....install an LED interior bulb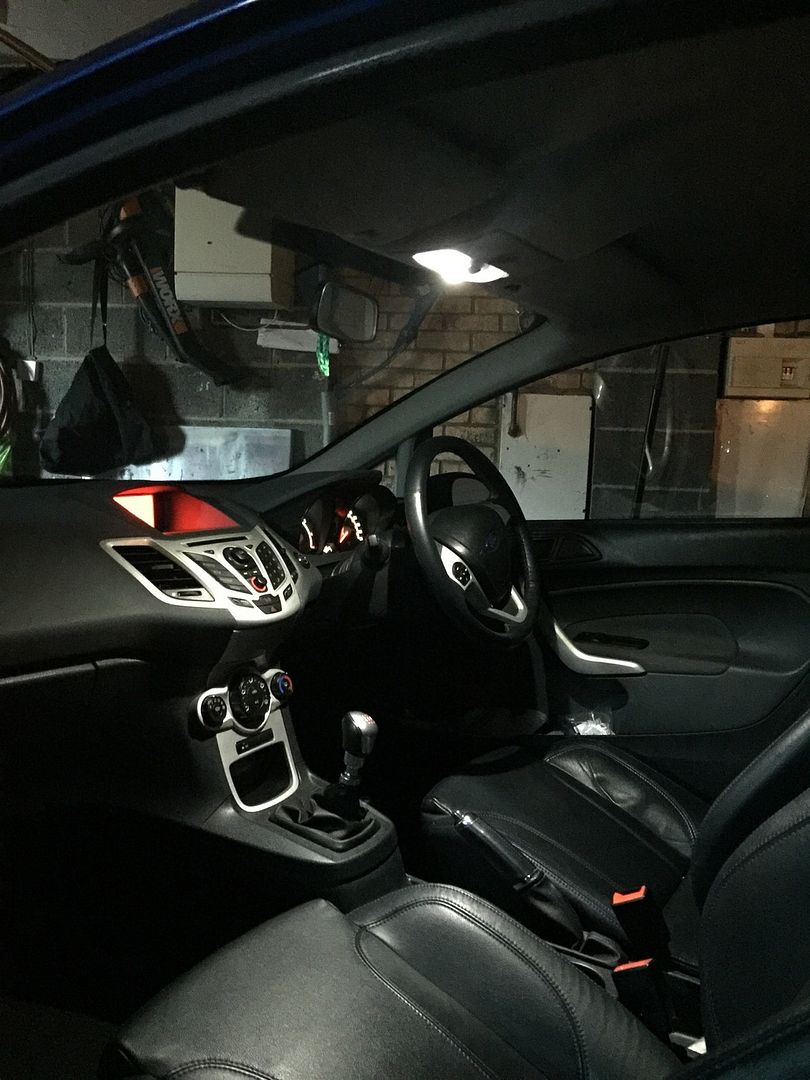 also raised the rear driver side spring perch and lowered the front to get my ride height were i want it. i suspect the camber gain has also induced toe in which is never good so i need to try and get a temporary toe setup on the car whilst im still awaiting my subframe and st rack.
Finally got the tape off now i just need some lower stripes to complete the look.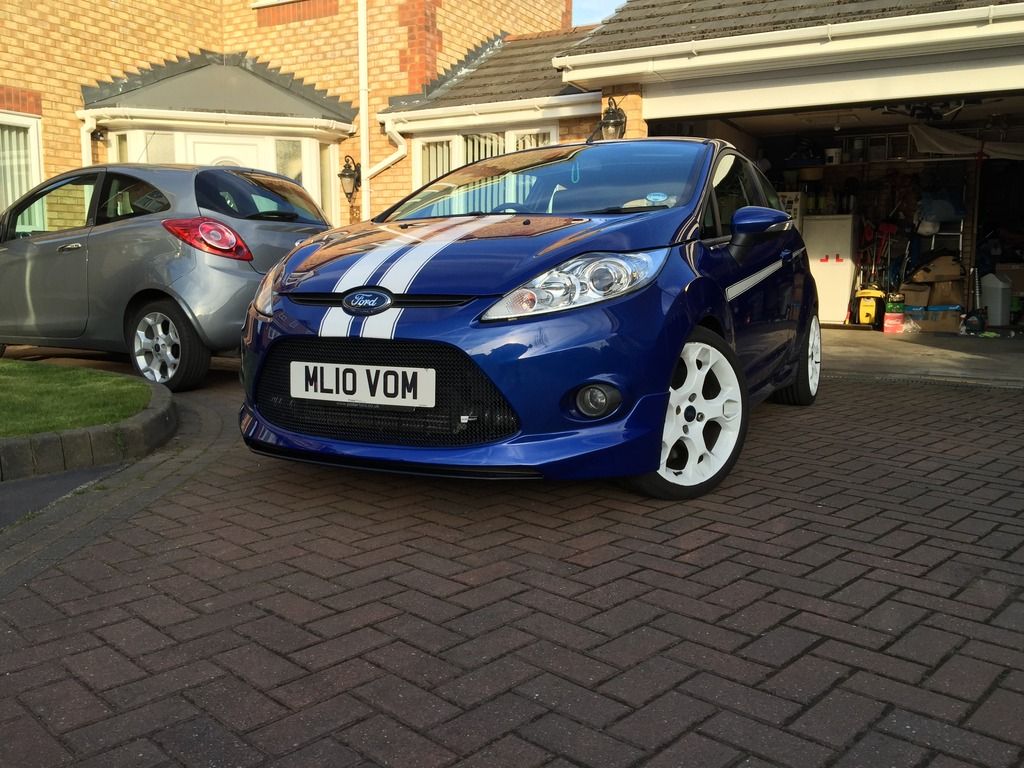 handling is a bit fruity at the moment....
New air filter not sure why this took me so long as the current one is tiny...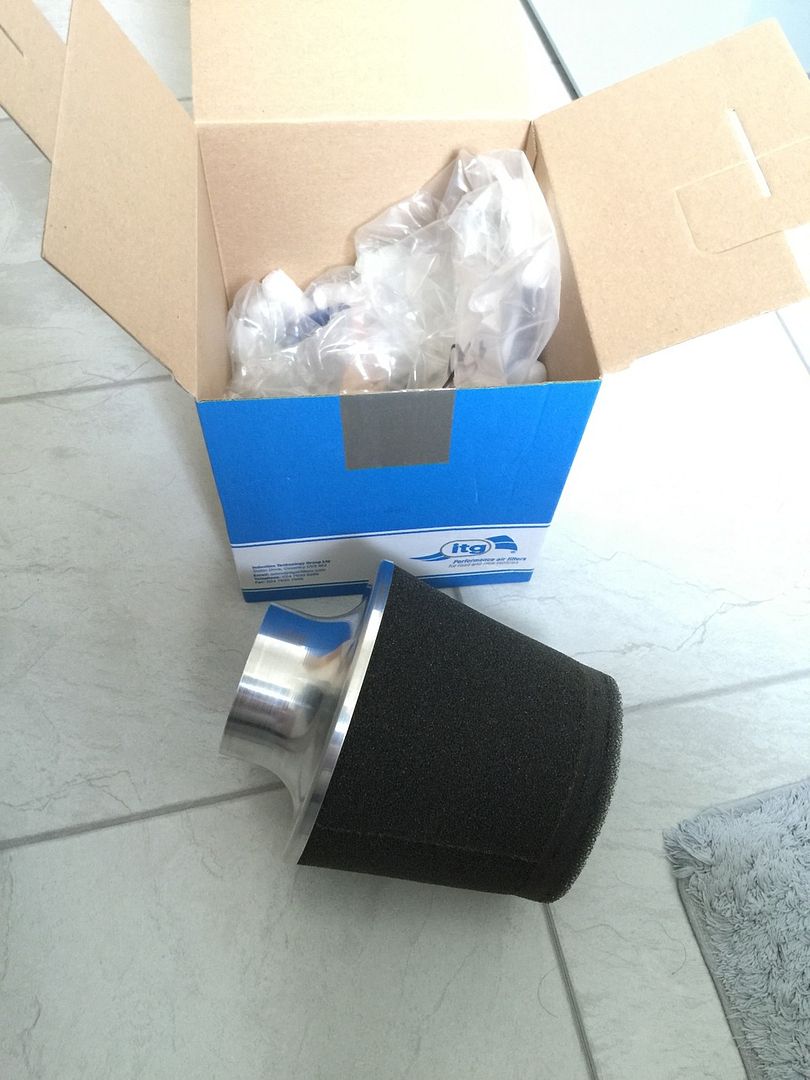 just waiting for roose to send my 45 degree silicone and i can get it fitted.
also ordered some new wheel nuts to get rid of my ghetto ass ones.
depending on how the filter sits once i get it in i may box it in and feed some nice cold air to it!
silicones turned up today so got the new filter fitted.
not the best cuts on the silicone but i'll tidy them up with a razor blade this weekend.
certainly feels like it picks up a bit better and has a little more growl but its subjective...i'm just happy to have a more suitable filter on there. think it may need oiling though...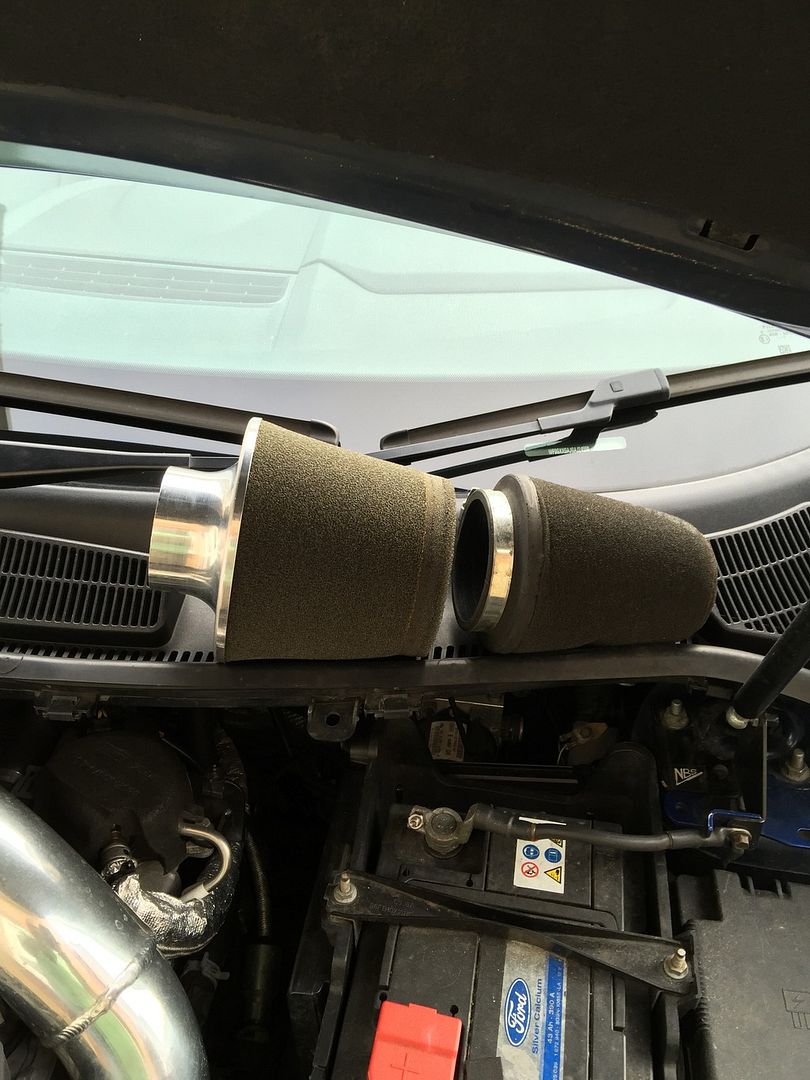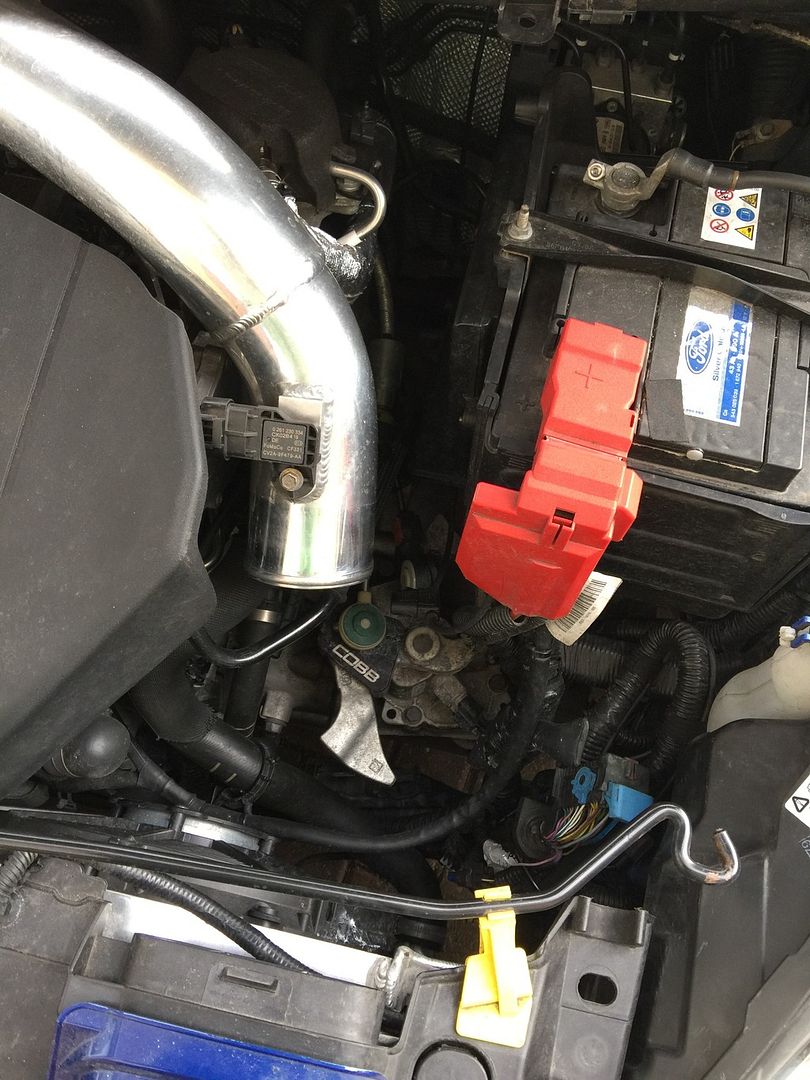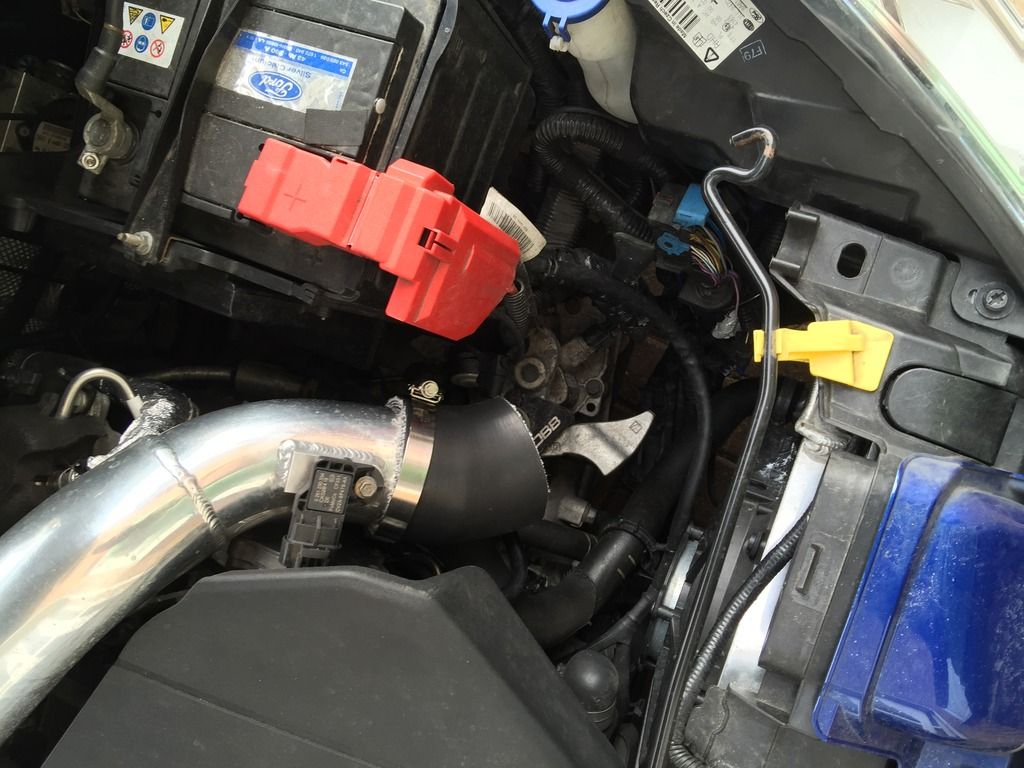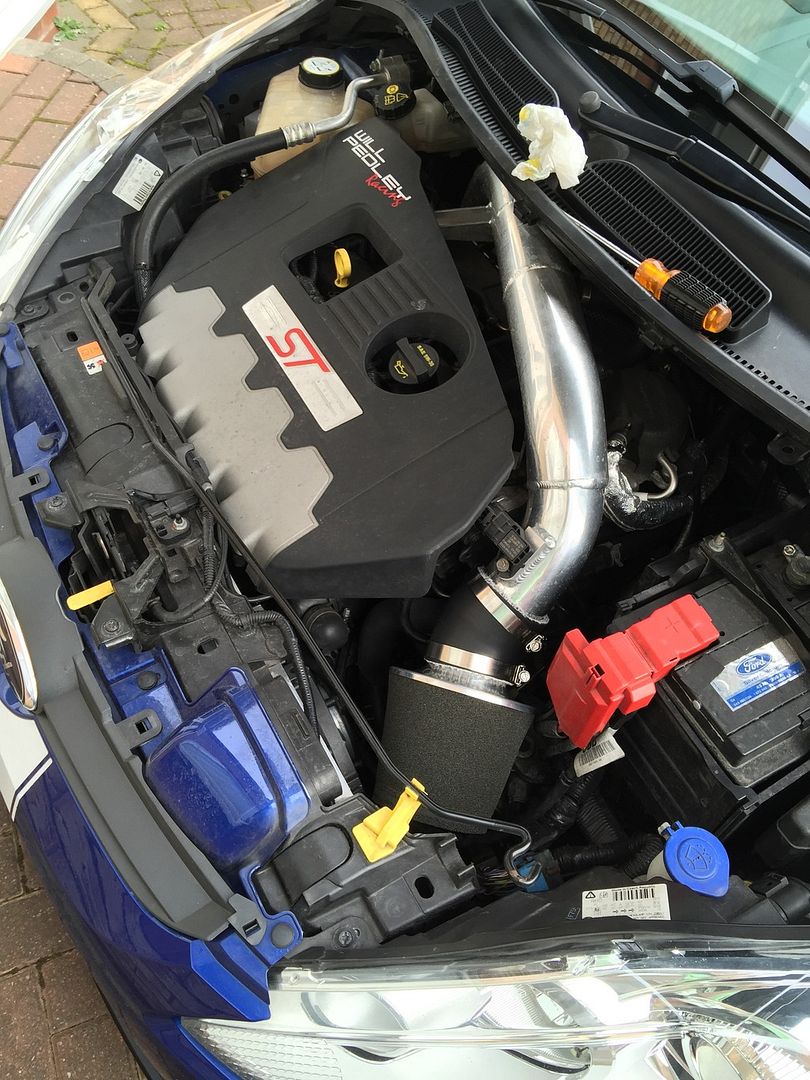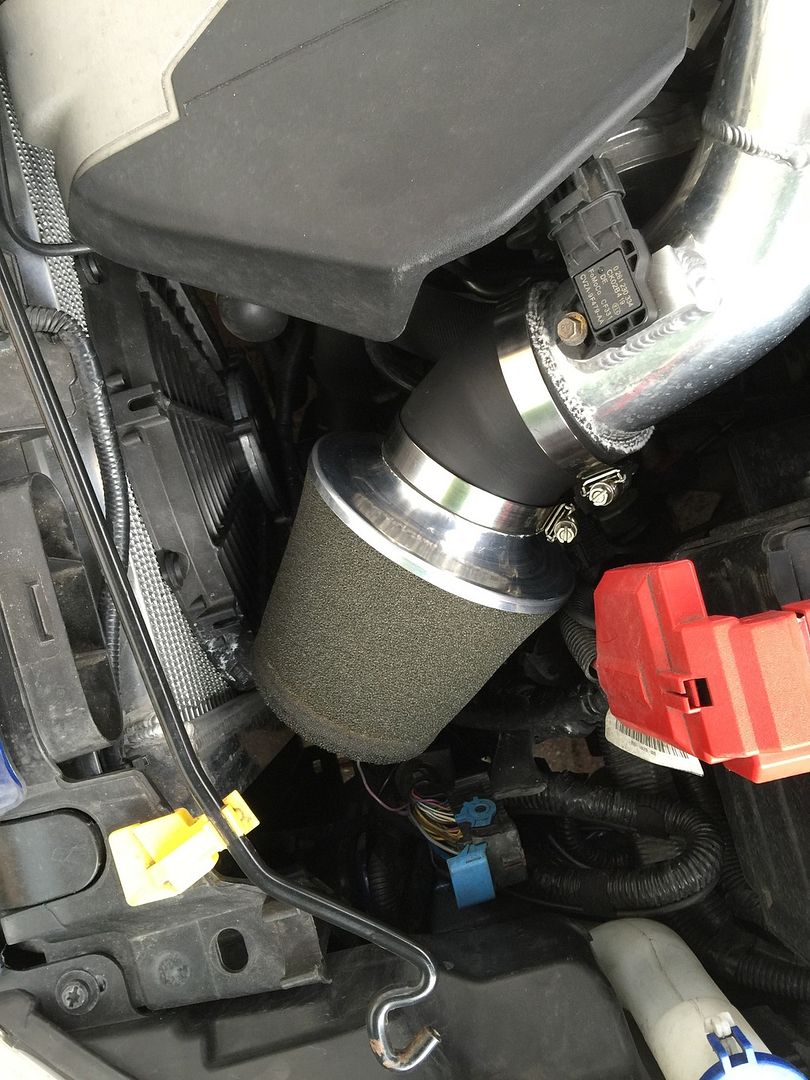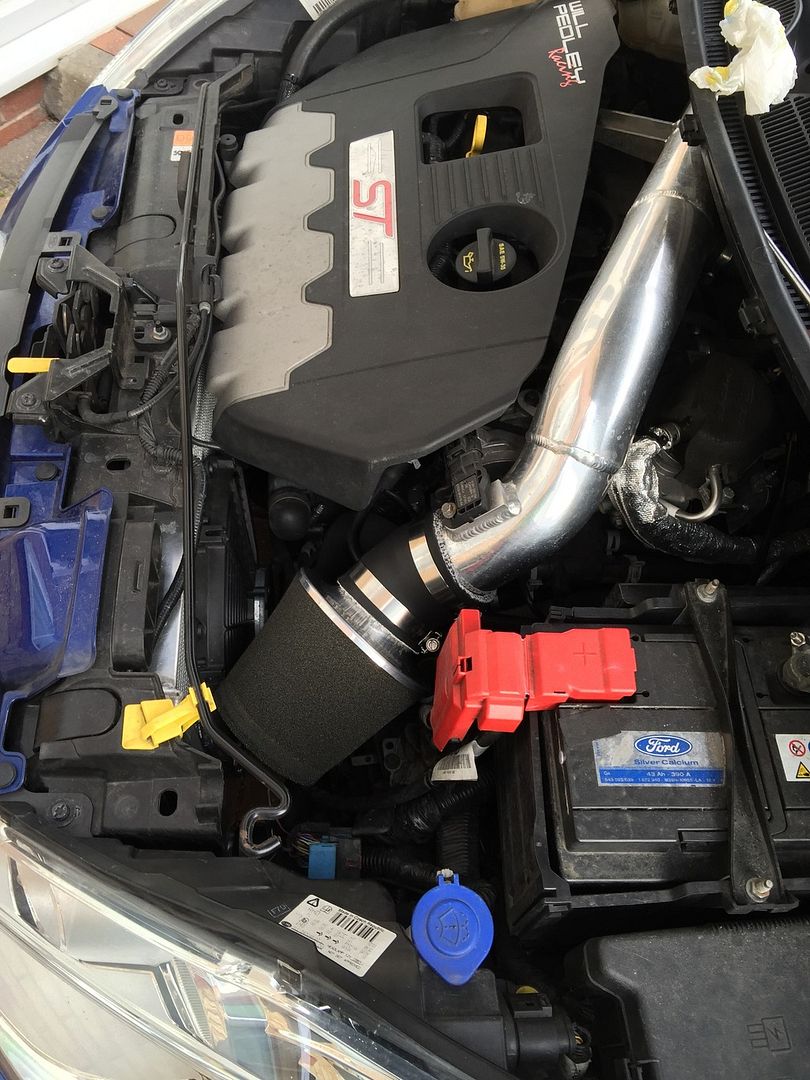 new wheel nuts turned up as well hopefully they seat better than the ones i've got on there now and don't look too bad in the process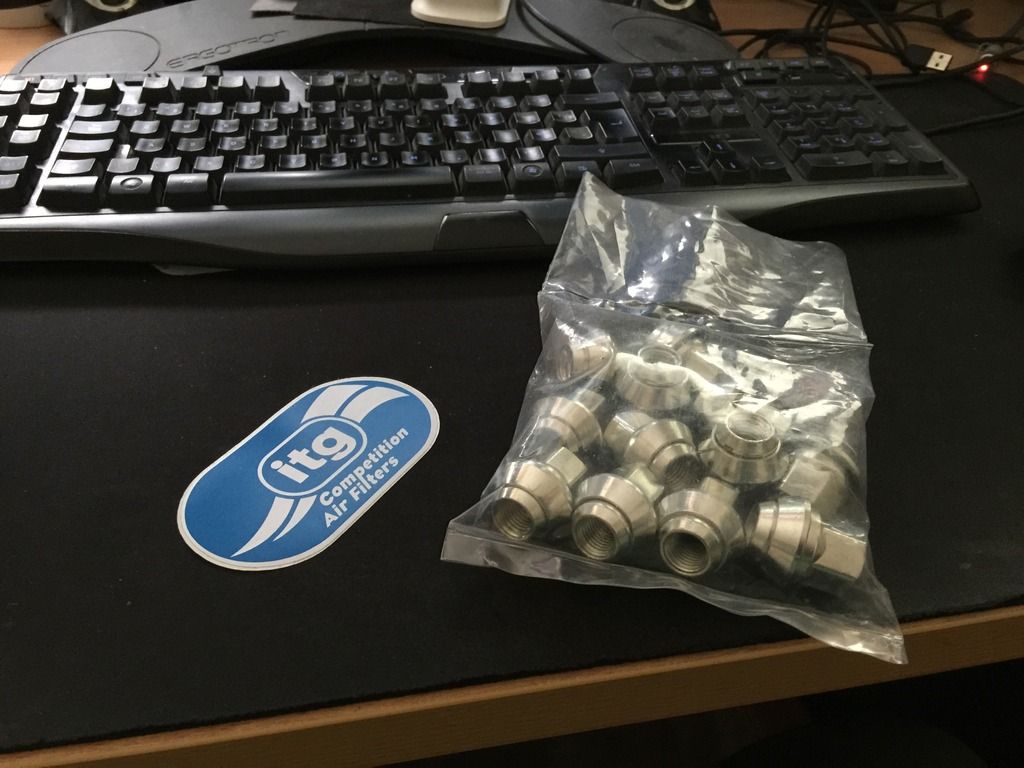 made a little cold air feed to the air filter. Not sure how effective it would be but it kept me busy for half an hour.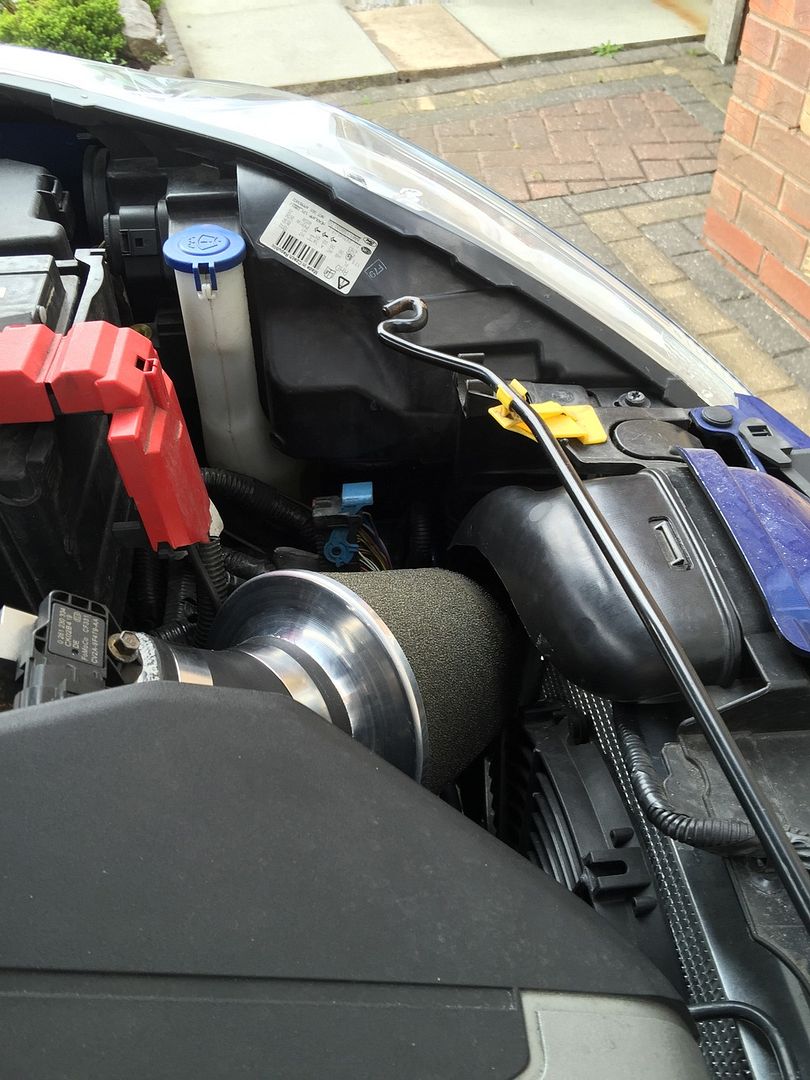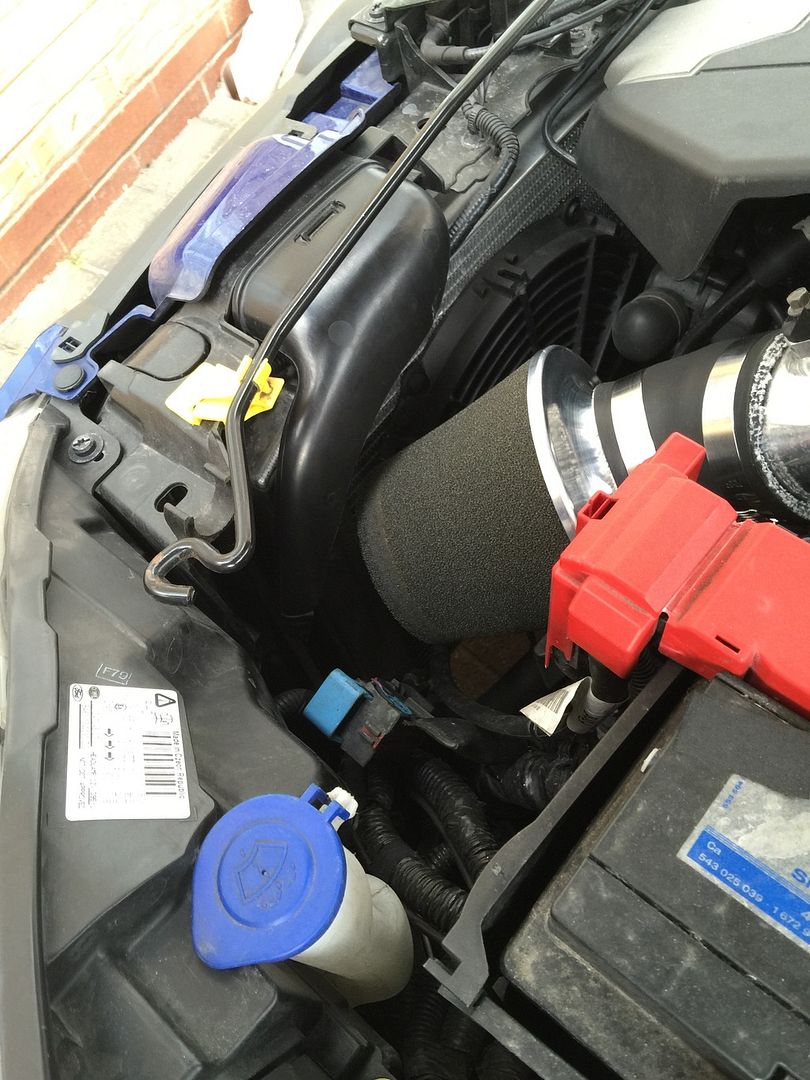 and finally some decent matching wheel nuts that are solid and don't have a stupid chrome cap on them...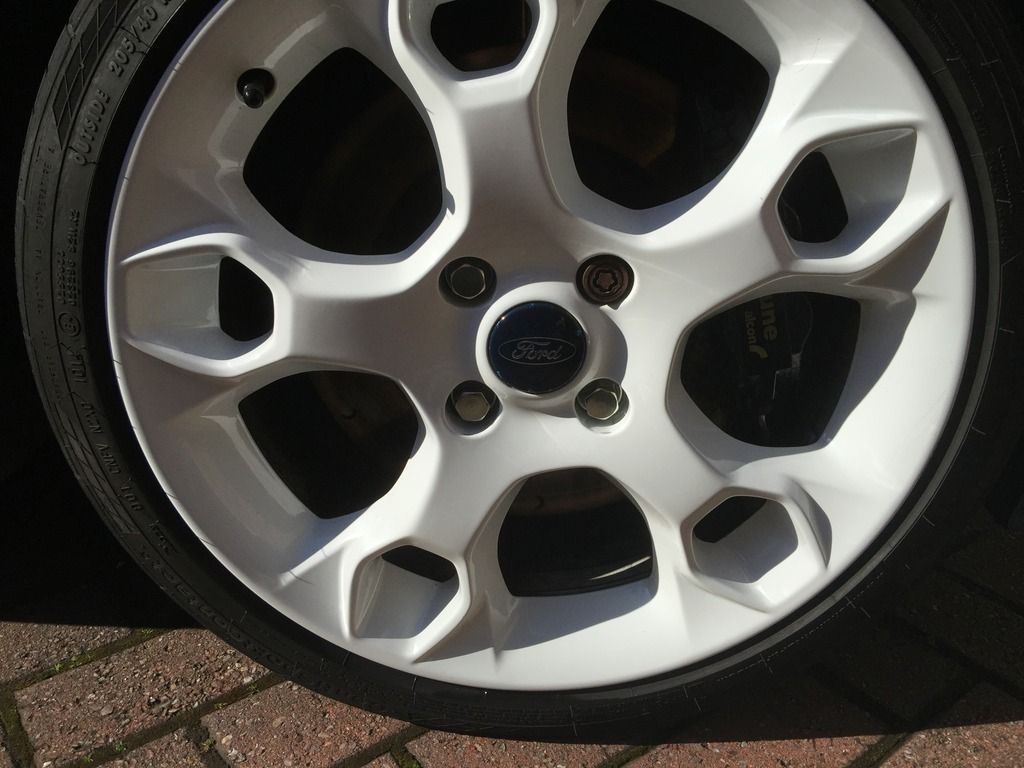 spent the day on the subframe yesterday. unfortunately i didnt get chance to get many shots.
old subframe dropped off the car and new subframe behind with vibratechnics torque link mounted in. left hand leg yet to be notched.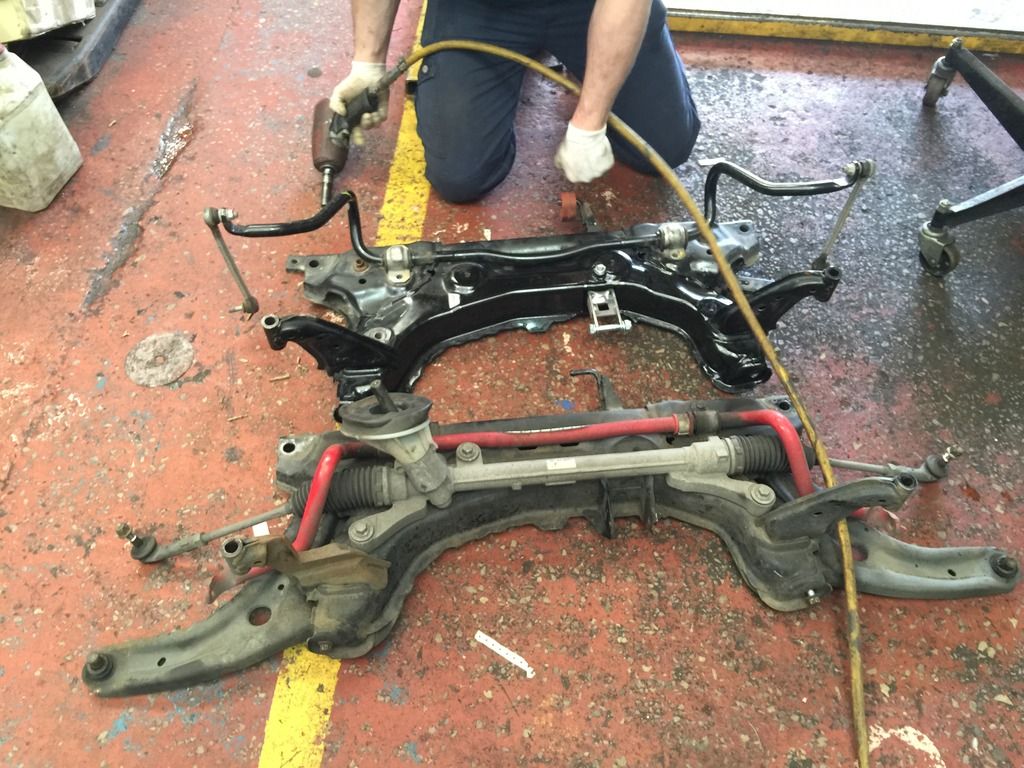 notched leg with new torque link gives the CV boot miles more clearance
good estimations and the torque link was almost millimeter perfect in position.
and all back together with the fiesta st steering rack, brand new hardware all round aluminium greased up and chassis braces finally refitted as i lost my original pair when we initially installed the engine.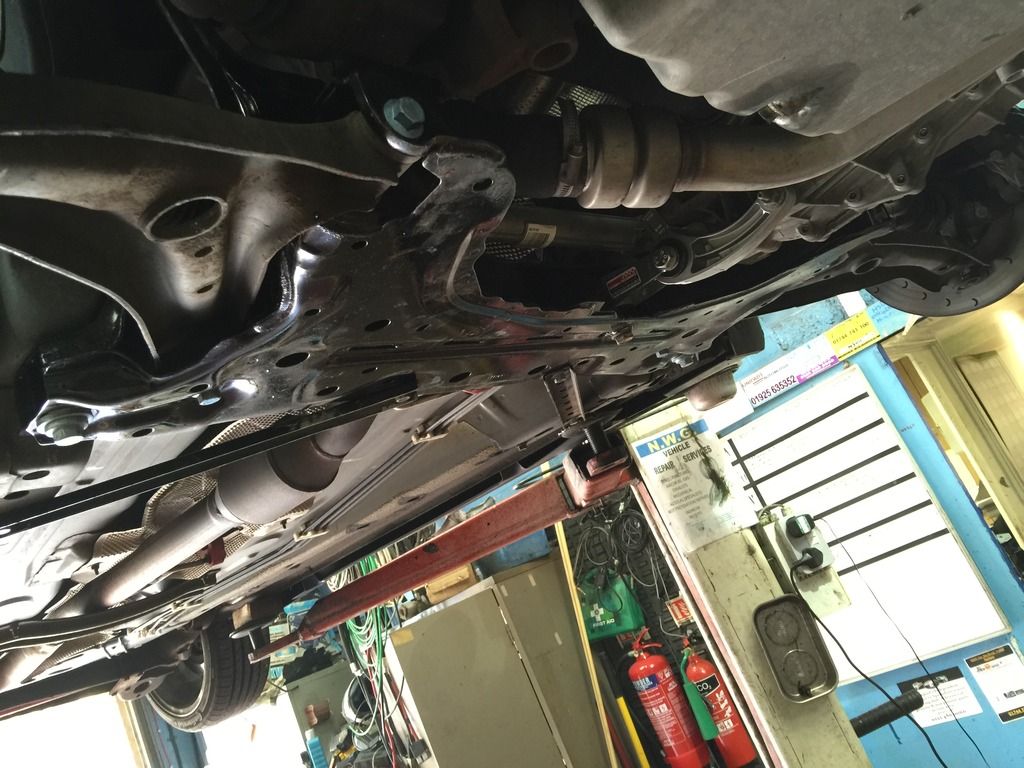 Didn't get a picture of the front tires but one was threadbare =S so the new contisportcontact 5's went on yesterday and we eyed up the tracking.
going to get an alignment done tomorrow hopefully but blink motorsport are booked up until the end of may for the full corner weight and setup.
only other note is that i may support the engine with a jack and remove the driver side engine mount to relieve it a bit more as i think it may be catching slightly under torque.
However the difference is like night and day the car is much smoother at lower rpm and NVH is hugely reduced and in general it feels much more refined.
final work of the day was to fit a new rad drain plug with PTFE on the threads and also PTFE the rad bleed line fitting. Hopefully now the coolant level will be nice and constant.
/tim
get the car setup next week so hopefully it will drive even better than it has been!
finally got out of work on time and got my stripes cut for the mountune apron.... keeping the oem vibe alive!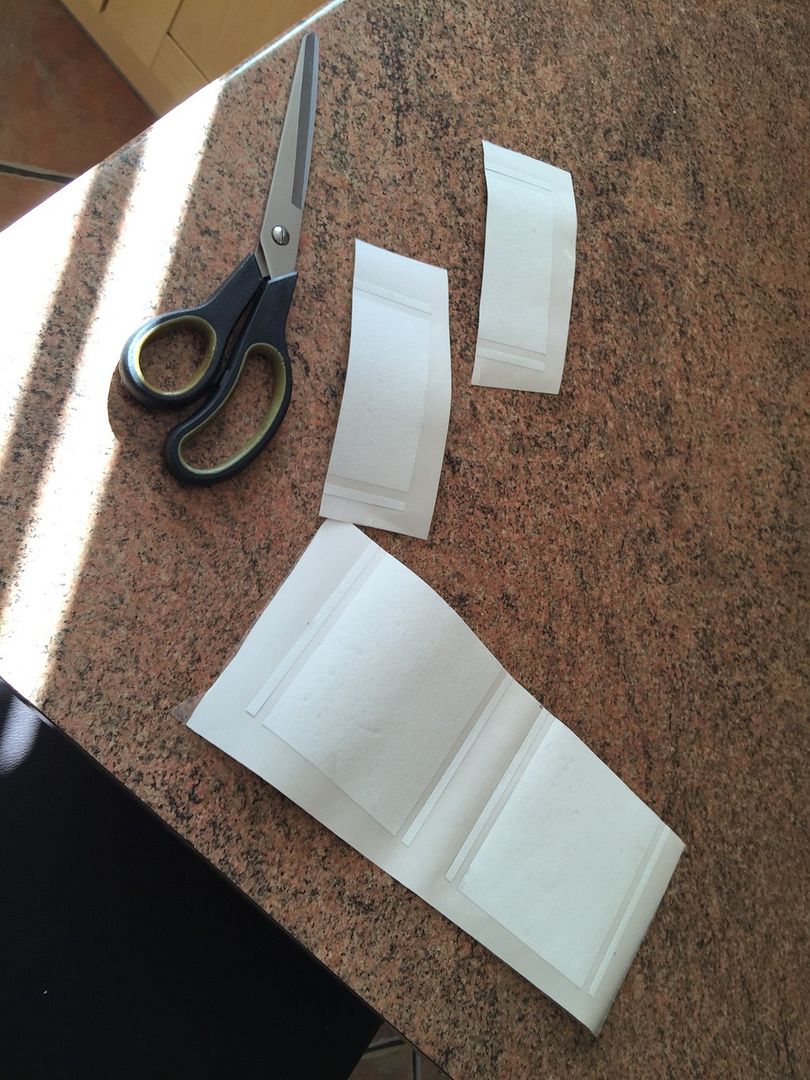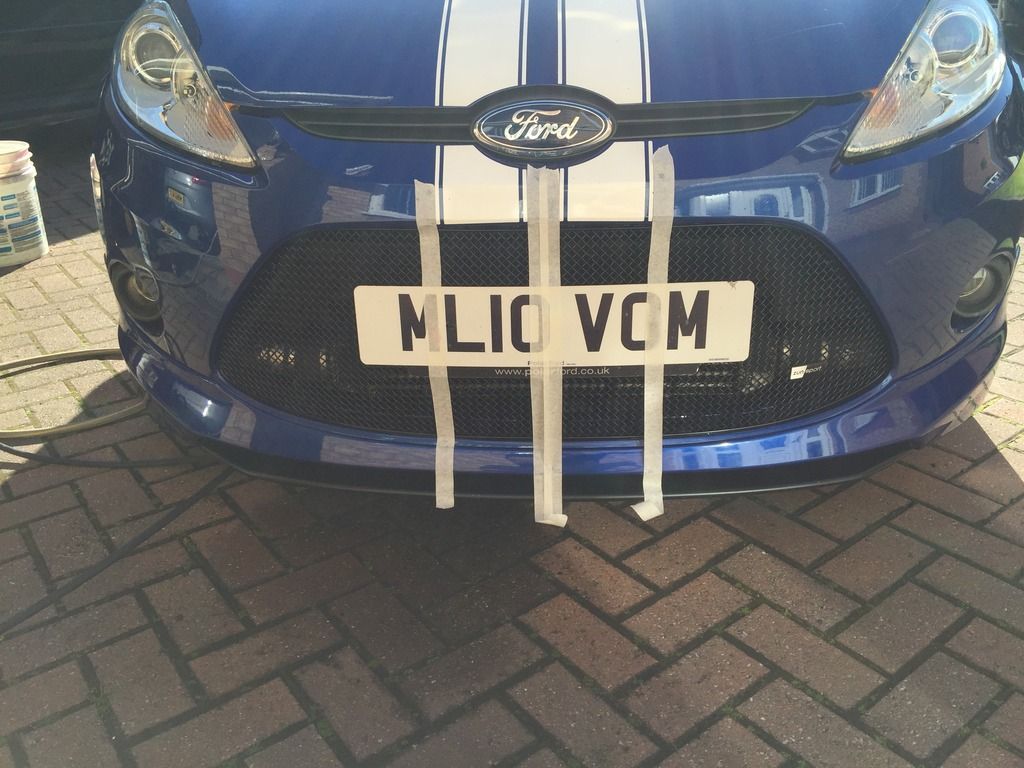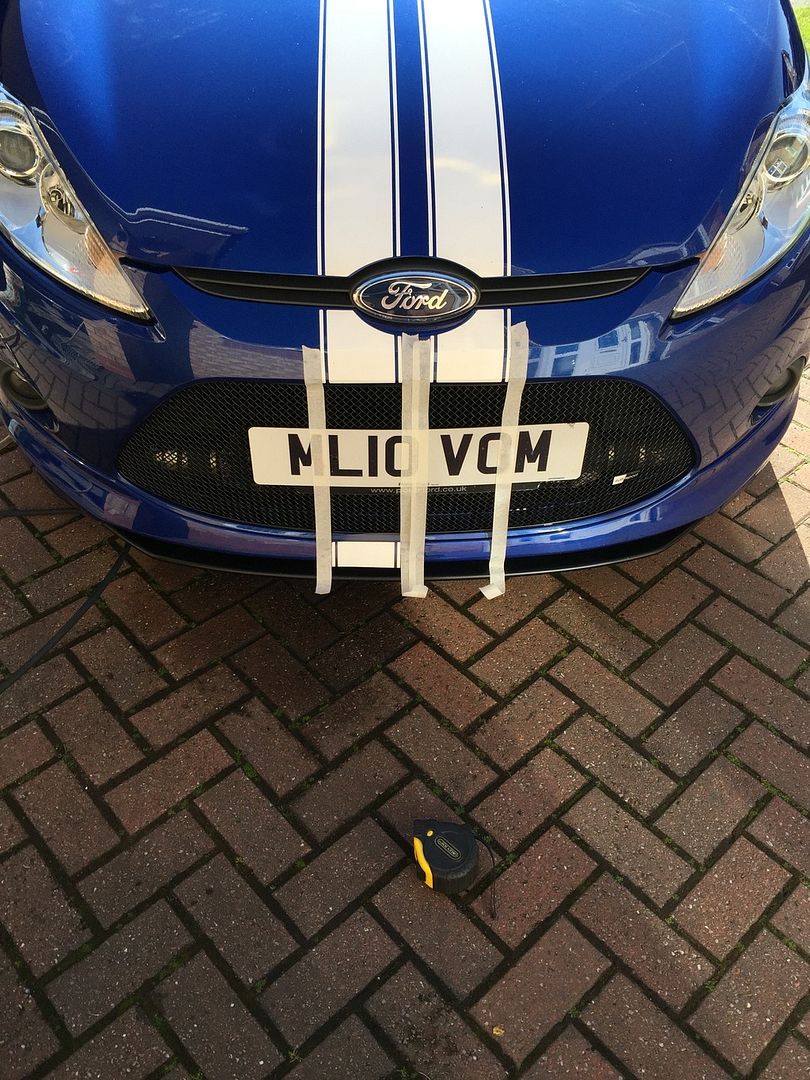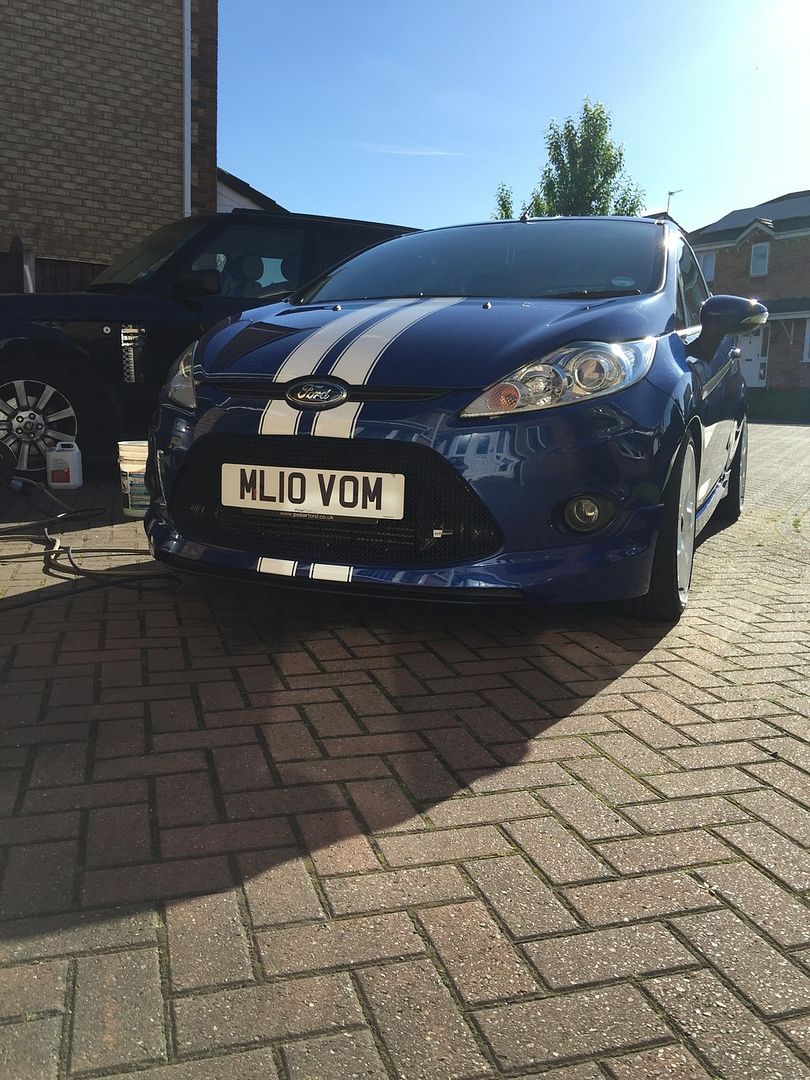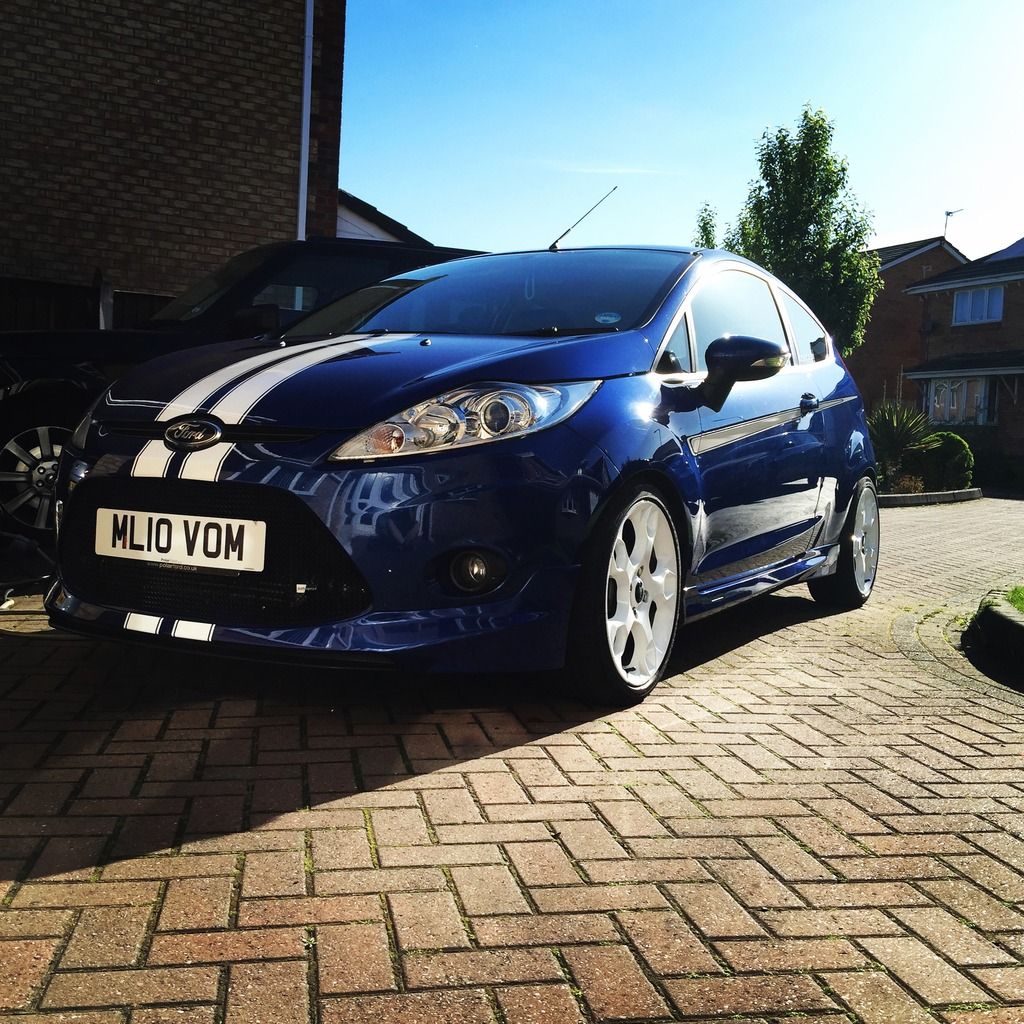 so cars a state. engine mount wasn't right and i've got multiple noisy wheel bearings.
Upside; bought st180 rear beam with hubs and calipers etc. (will use my calipers), st180 Front Knuckles and lower arms and st180 brake master cylinder.
Master cylinder will be a pig so i'm leaving that for now.
To fit all the bits i've ordered hard race rear roll bar as mine won't fit with the st180 gussets on the rear beam, whiteline caster adjusting bushes for the front arms as well as boomba brake cooling deflectors. Going to try the standard rear beam bushes and std front arm front bushes for now and see how it all feels. Whilst im at it im upping my front spring rate from 40n/mm to 50n/mm as its been blowing through the travel a little too easily for my liking also will have enough adjustment to get better lower arm angles (negative for the looks but i can deal with it for the handling).
as for the engine mount i bought myself an st180 upper engine mount then got my vernier out and lots of measurements later drew up a cad model for a new bracket which i then machined in work.
Cue photos of machining that some may find interesting.
Billet setup in machine
outer profile roughing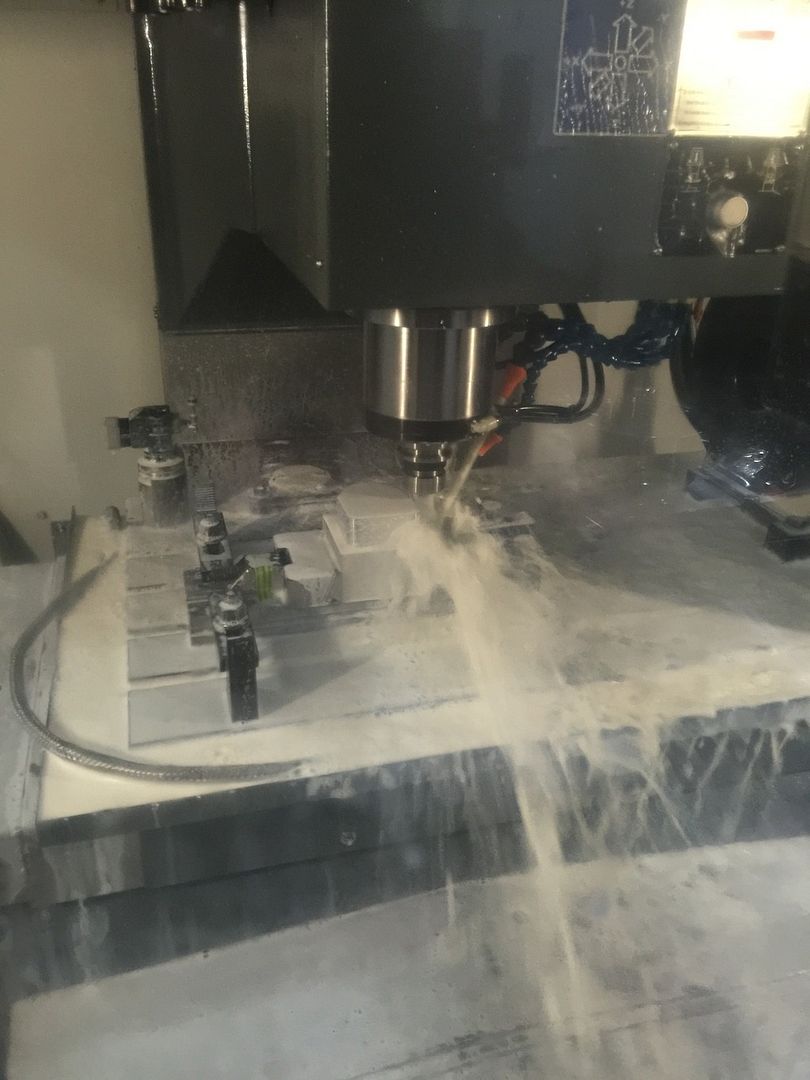 first op complete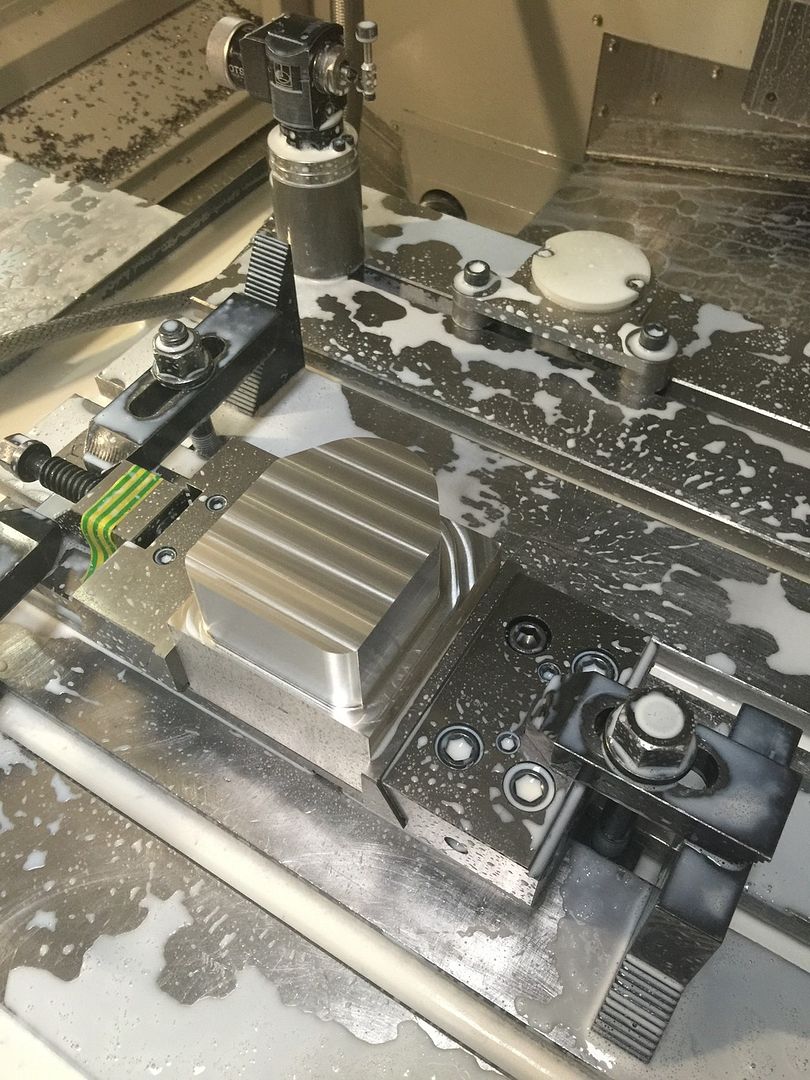 second op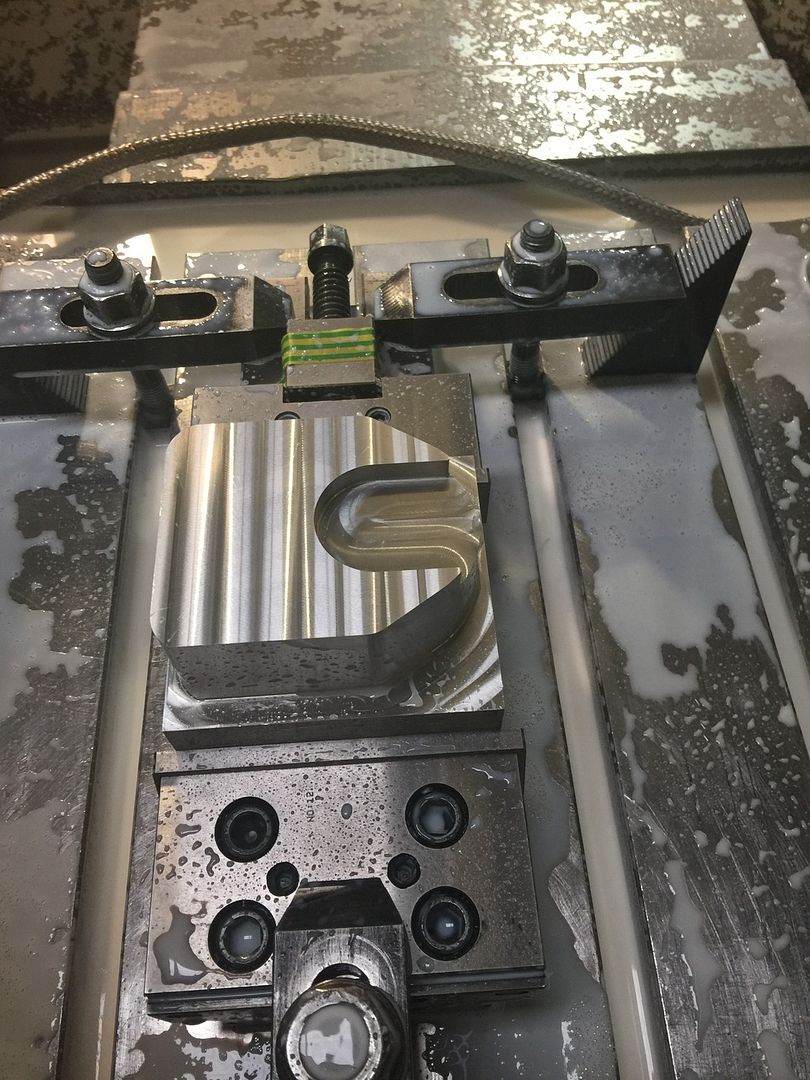 3rd and 4th op - the front face is tilted 3 degrees across and 5 degrees front and back to mate up to the engine and still leave the mount flat when fitted.
other angle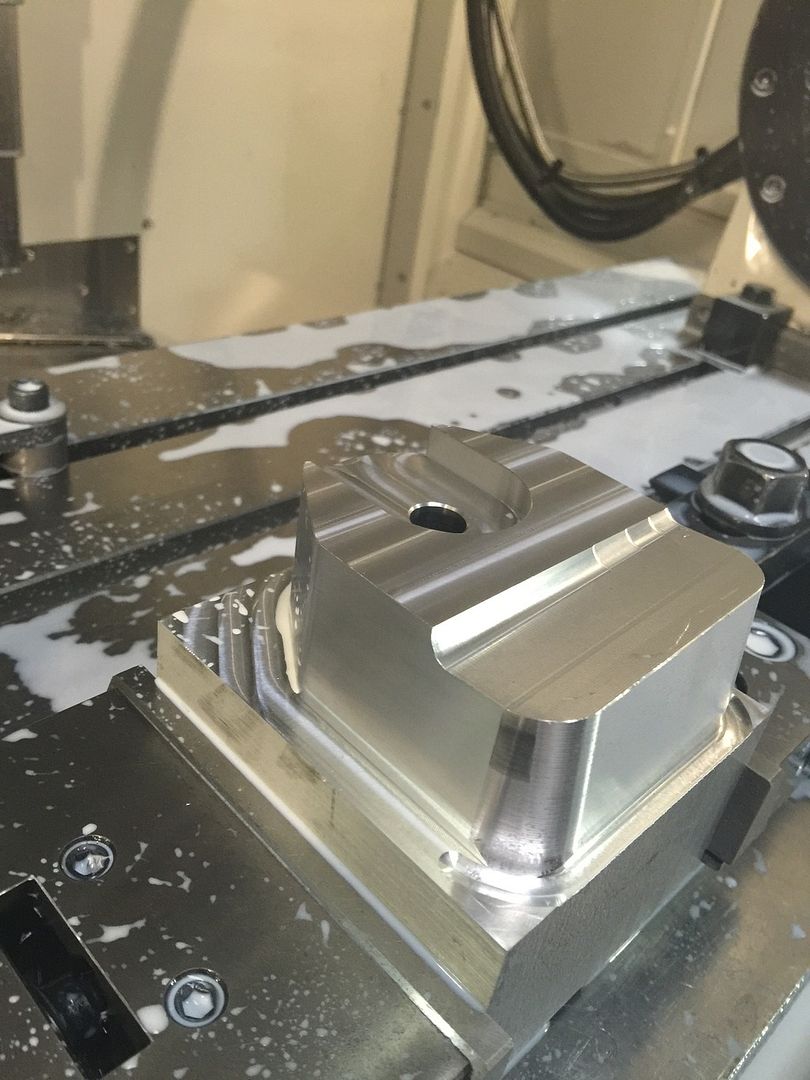 now to rough all the stock from the bottom of the billet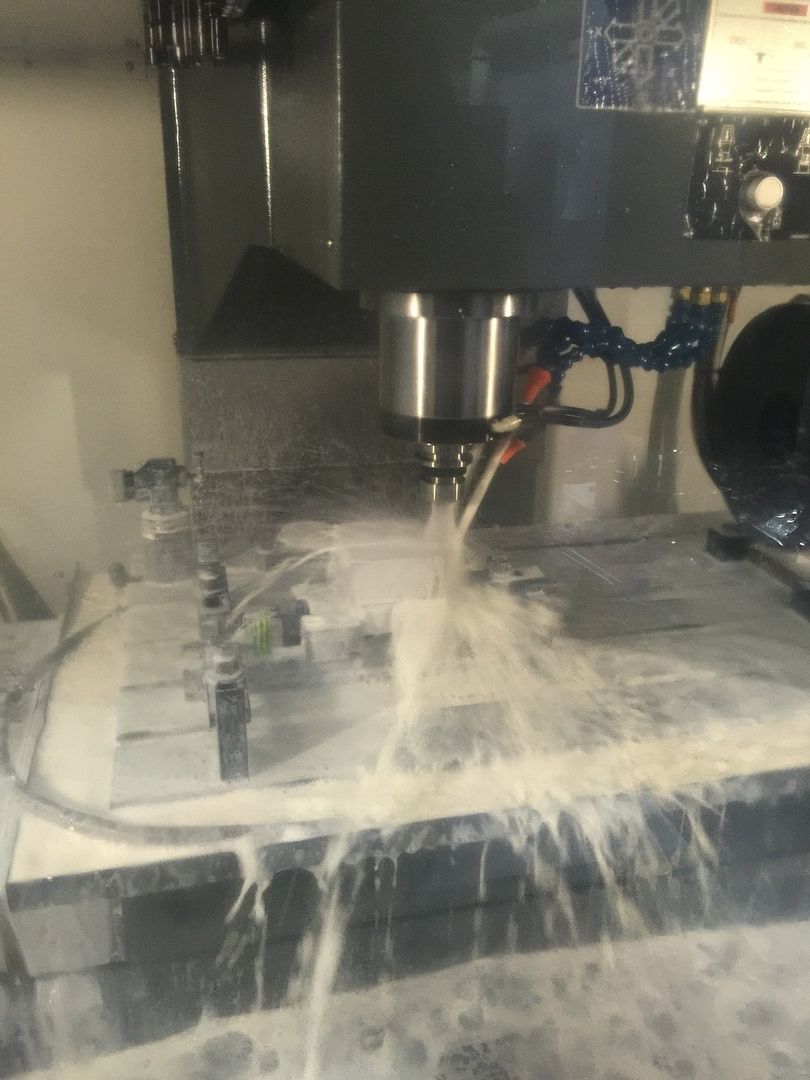 finished rough on the second end
relief on side 2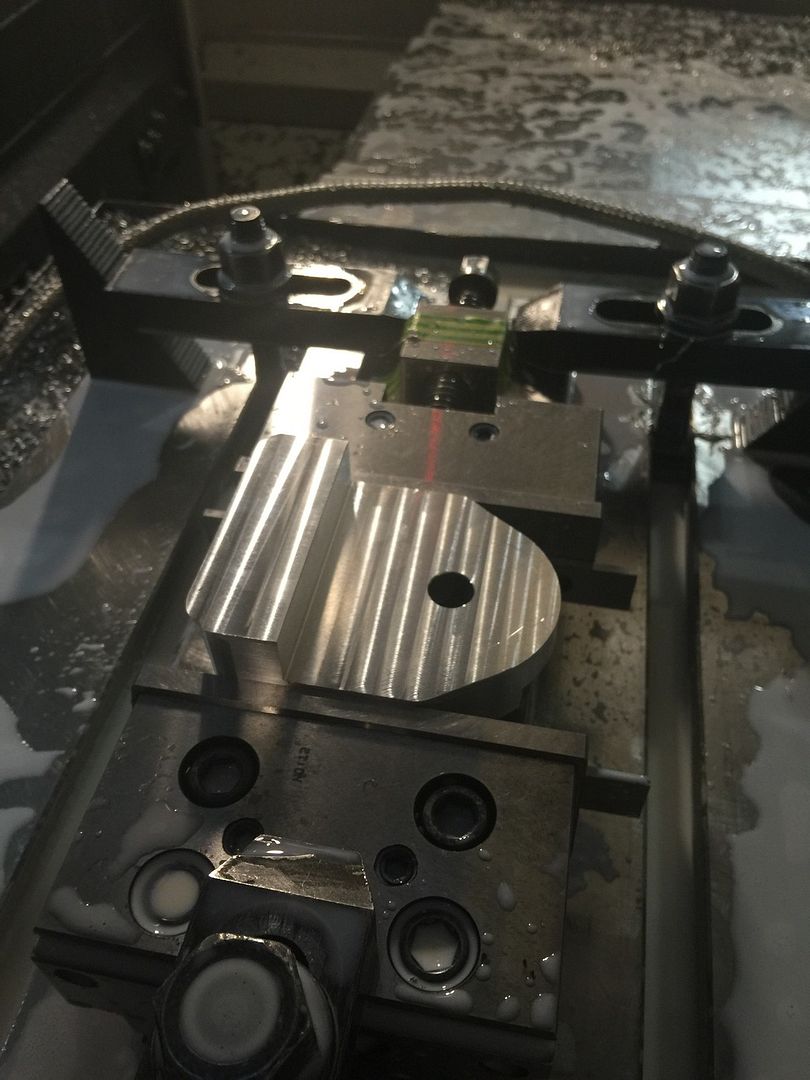 scanned the final face on the bottom to be parallel to the tilted top face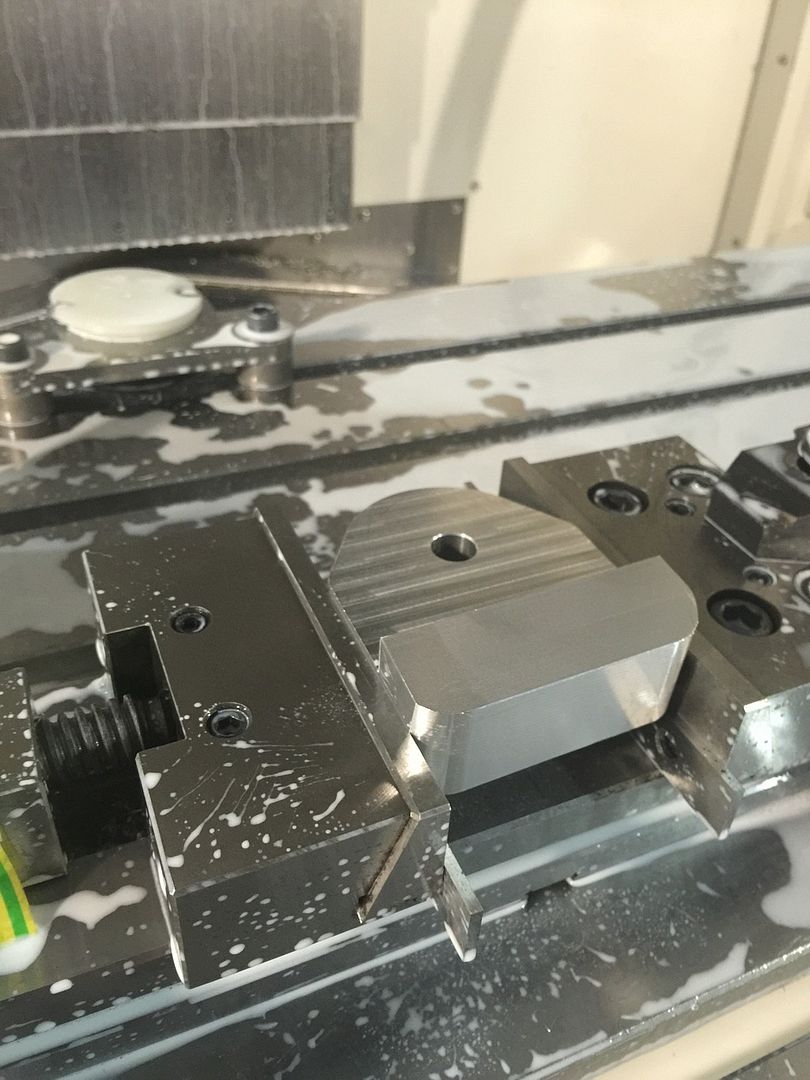 easier to see on this photo left hand mount side is flat and parallel, right hand engine side is tilted 3 deg forward and 5 deg laterally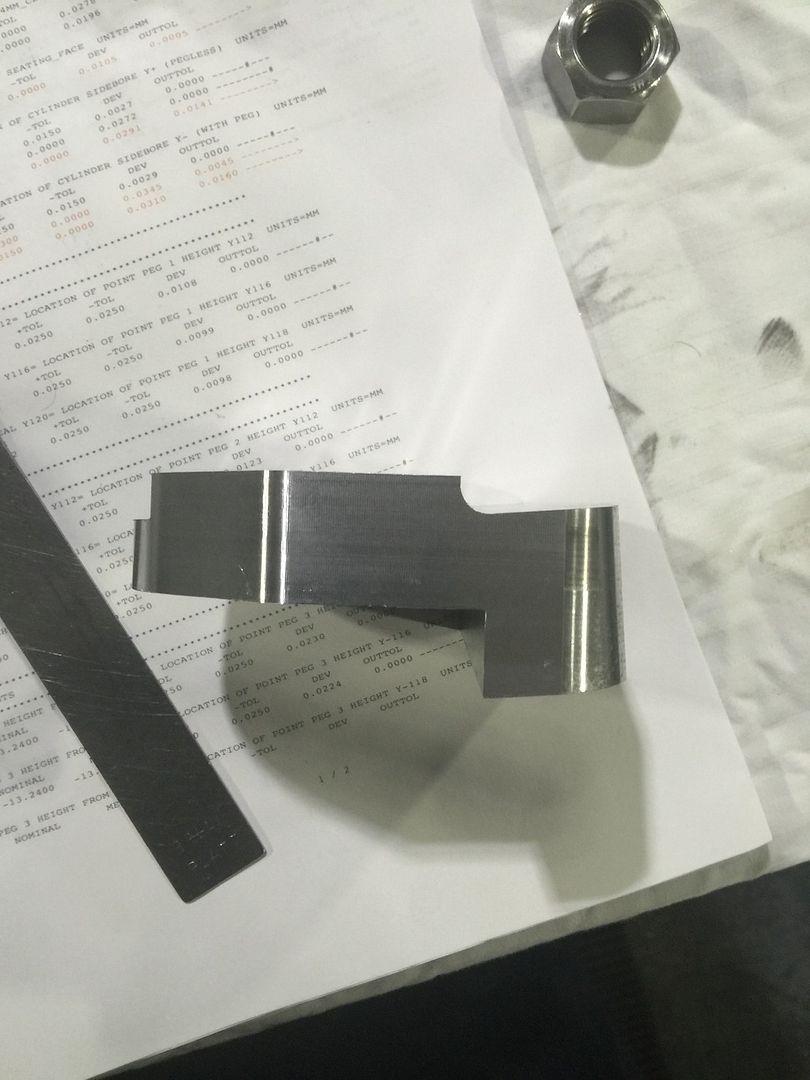 final op which is deceptively awkward as this is not a 5 axis machine and the holes for the engine studs need to be perpendicular to the odd angle face.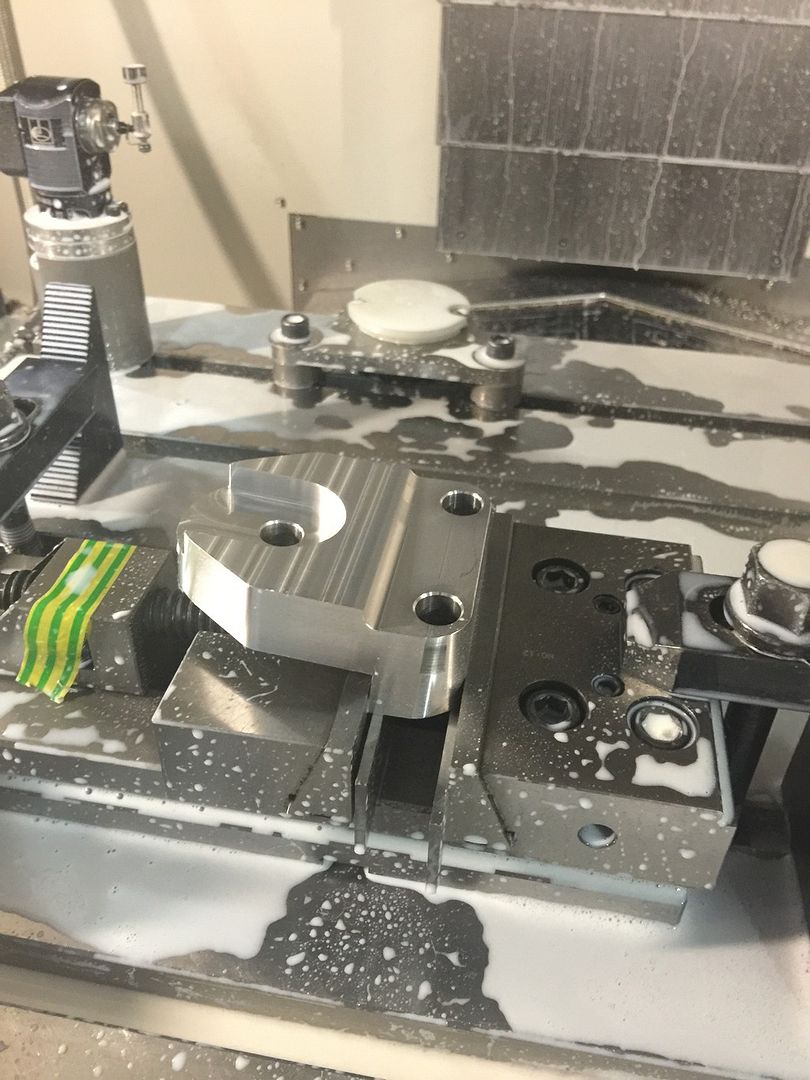 and the finished article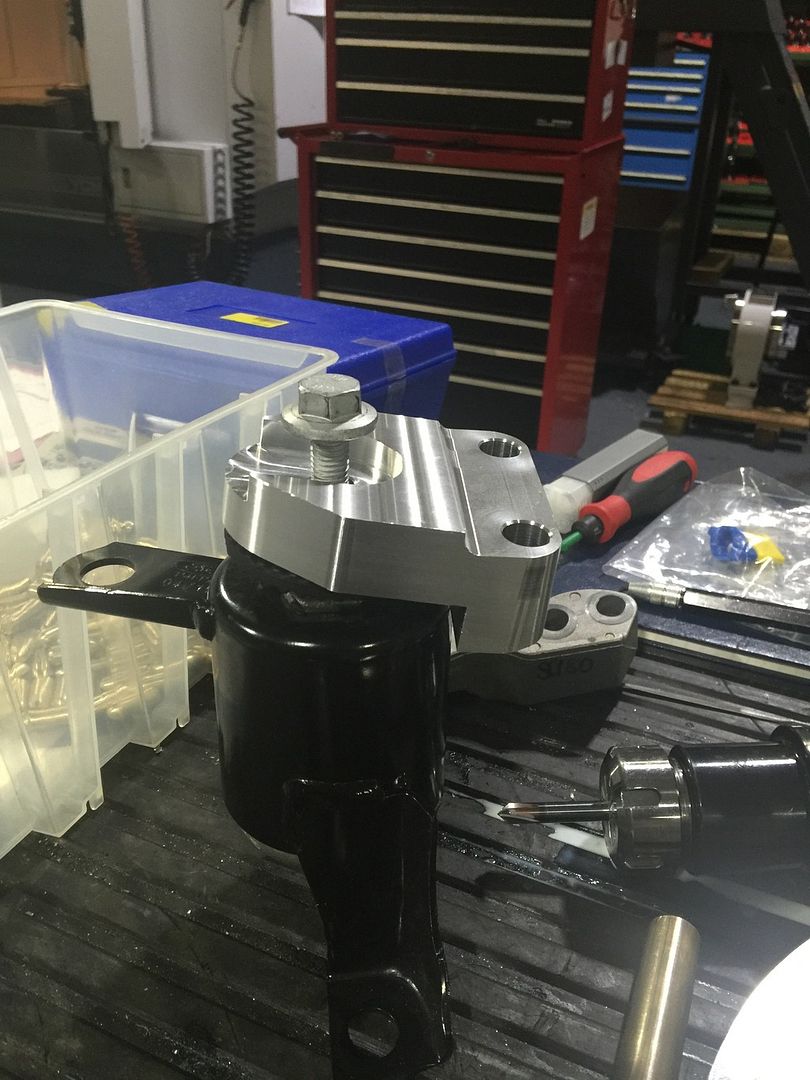 and fitted perfect first time and the engine is flat at 0 degrees no problem.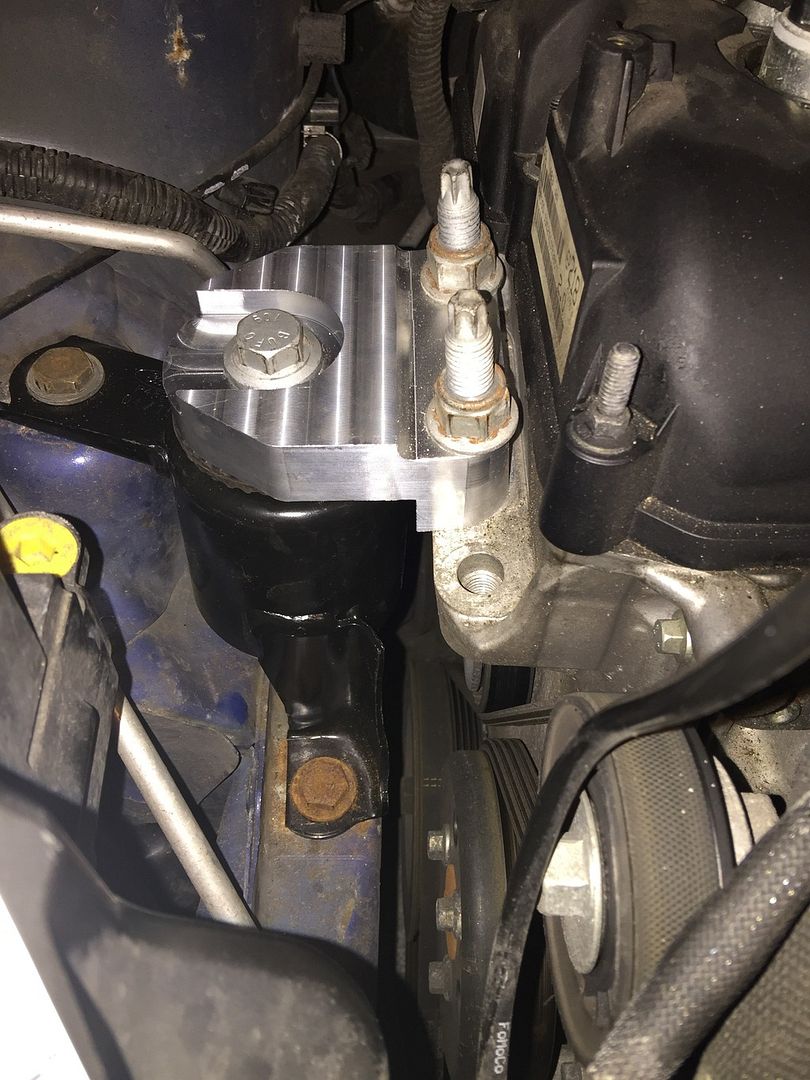 other view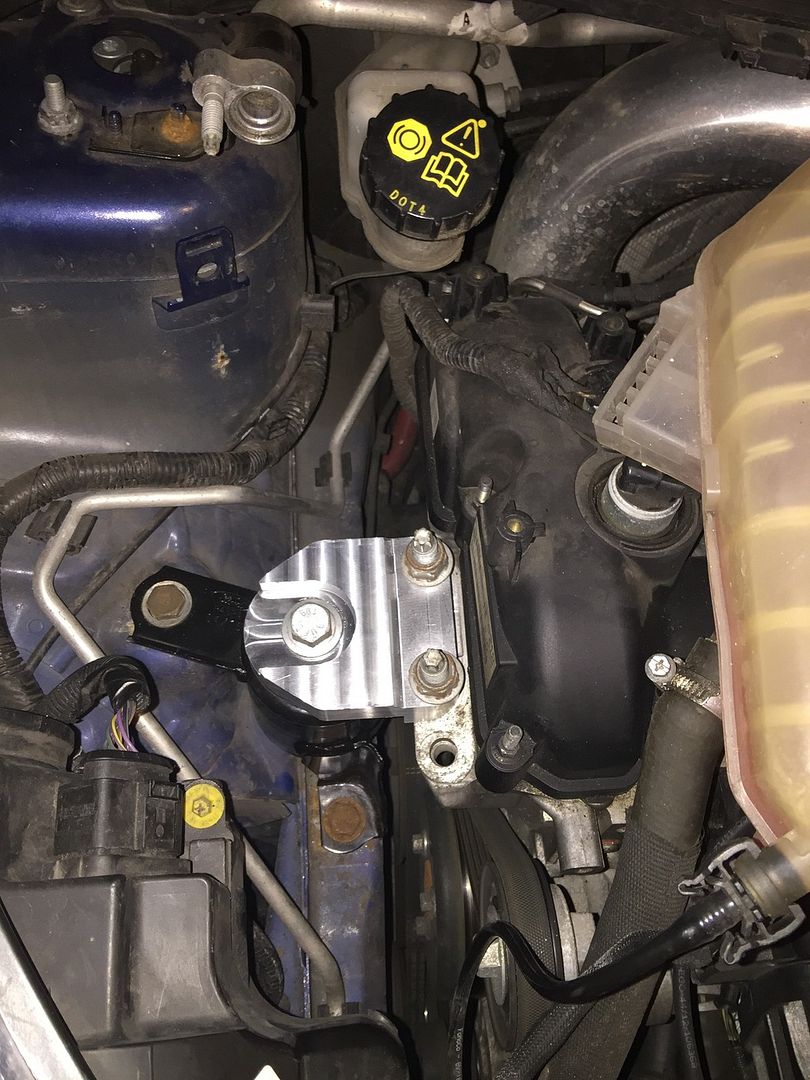 i'll try and get some good photos tomorrow when i'm working on the rear beam still need to order new pinch bolts from pumaspeed because i cant be assed working out 12.9 bolt spec myself.
Hope you found some of this interesting. Once i'm in my new house this year power gains will be on the horizon.
/tim
its a repost that i havent tidied up but i will add further posts as they develop