Hey there guys and gals!
I am back again! I am doing one final group buy for the year. After this I will not be doing anymore group buys for products I currently make for the Focus ST so this is your last chance to snag some TB Performance Products goodies at a discounted rate. Speaking of discounts, I made sure to make this group buy REALLLY worth your time. Read on and get stoked!

The Product
-Confirmed fitment with ALL intakes on the market. You read that right. EVERY SINGLE INTAKE FITS. Custom intakes, production intakes, stock intakes, no intakes. The whole shebang. No other strut bar fits with every intake. This is the only option.
-Hollow baseplate allows adjustment of coilovers. No more having to drill out the stock "brace"
-Steinjager 4130 Chromoly Heim Joints. These babies are 5/8" thick and probably overkill for this application but I said screw it, only the best for my Focus ST family.
-3/16" plate steel mounting plates for the ultimate in rugged load bearing capabilities
-5/8" hardware for extra strength. 1/2" hardware would work but I chose not to settle.
- Fully adjustable preload and height adjustment utilizing my double adjustable design. This height adjustment allows you to clear any intake. The double adjustable design allows you to preload the shock towers to whatever tickles your fancy.
-Powder coated in a two stage high gloss black. This stuff is durable beyond belief. I spare no cost on this coating because it is worth it...You can have any color you want as long as its black. seriously though, black is my only color so please do not ask if you can have it in highlighter green. The answer is no...also you have a focus st not a ratchet s13 240sx.
- 1 1/2" 1045 steel main tube made with all American steel. For the engineering geeks out there, I made this out of .060 wall thickness steel which is incredibly light. The bar by itself weighs in at less than 2 lbs, yet is stronger than dwarven mithril.
-Hand Mig and Tig welded in house here in the USA. You already are familiar with my welds by now. You know I do it all myself and love every painstaking hour I spend under my hood!
Please note this is with the cowl completely removed to show intake clearance. Obviously you will reinstall the upper cowl.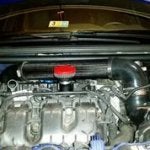 What It Does
The factory "strut bar" is a piece of stamped sheet metal that has a large section of flat sheet that bends under the slightest pressure. In the Boosted Aspirations video you can clearly see how flexible and weak this oem piece is. By replacing this factory piece with my brace you will gain:
-Reduced torque steer
-Reduced vibrations
-More direct steering response
-Flatter cornering
-Ability to quickly and easily adjust coilovers
For those that are skeptical of my claims, check out this review done by Sith Racing.
http://www.sithracing.com/primary/tb-performance-adjustable-front-strut-bar-review/
Installation
This brace is pretty easy to install. Thankfully you wont need to put your car in the air for this one. I even suckered Boosted Aspirations to do an install video for you guys so you can see for yourself! Remember, if Mcflyin can install it, you definitely can!
Cost Break Down
Ok here is the nuts and bolts of it. This is what you all really want to know. I have made the number of names a little larger here since this is a much more common product and also because the discounts I wanted to give you guys are so large that Ill need the volume to offset the loss. I wanted to make this group buy special though since you guys have been so incredible through the past two group buys. I keep seeing familiar names and it means a ton to me so I wanted to return the love.
Normal MSRP- 230 dollars shipped within the USA
30 Names- 210 dollars shipped within the USA (20 dollars off!)
50 Names- 195 dollars shipped within the USA (35 dollars off!!)
75 Names- 180 dollars shipped within the USA (50 dollars off!!!)
Payment
Just like the last group buy I will be posting up a Coupon code that is redeemable at tbperformanceproducts.com. I will be posting the code on April 21st and payments will be accepted all the way to may 10th. You do not need to message me and ask if it is ok to use the code once it is posted, during that window of time it will be available for everyone on the forum to use. The code will EXPIRE at 11:59 on may 10th and if you miss the group buy, I will not be accepting any late orders. Any messages asking for the group buy rate after May 10th will be ignored.
USE CODE STRUTBARGB2017 at checkout to get the group buy price. No need to ask me to use it, if you can use it then do it!
Shipping Times

Ah the age old question of "when will I get my order?" Many of you asked this question on the last group buy and I appreciate your patience. This group buy hopefully will be even quicker than the last one. I have talked to my powdercoater and she is ready for this group buy. I also have begun work on these braces. My end answer to "where is my order" is that it is being built as quickly as possible and you WILL receive your order.
I am a one man show, meaning I build all the parts, I order all the materials, I answer all the emails and FB messages, I cut every single box, I wrap each part, and I drive my speed3 to the post office to drop every single order off. Oh, I also wait in the stupid long lines at the post office, so please understand that I am truly working as quick as I can to get these orders out to you guys.
The List
1.) TheAceFox
2.) FuryST
3.) Turboboost12004
4.) OoNahGii
5.) Eleven
6.) SLC_ST
7.) lunacyfringe67
8.) jjc034
9.) LockeLamora33
10.) MattB16tegg
11.) skizzo81
12.) Pairadime
13.) thatblue_St
14.) JedzST2
15.) adjalb
16.) hanyolo44
17.) focuST16
18.) GrishST
19.) ST_Doe
20.) Blackula
21.)GoGaels
22.) jason.wooden
23.) alotofchronic
24.) drock
25.) Huzzah
26.) killpsibot
27.) roadwayrescue
28.) RJRich
29.) johnboysavage
30.) Sk8ter713
31.) Stasiu
32.) exia989
33.) Dkoske
34.) 45'sST
35.) LeojST
36.) n0m4d
37.) Ginger_snaps4
38.) BlackMazdaMx-3
39.) UnfocusedST
40.) Sicklyboy
41.) Homer
42.) NebraskaST2
43.) ChiliMac_42
44.) KonaBlue
45.) moosehead89
46.) ST Fun
47.) SemperFiMarine2
48.) creesj
49.) Iphonefreak
50.) Twinbiker11
51.) cyclingcat
52.) AFFocus45
53.) Mr Grey
54.) lloydbrondial19
55.) Decoy
56.) mike-st2
57.) usmcst
59.) RacingST
59.) Nonooli
60.) Mabears80
61.) danielclever
62.) Ibepaintin
63.) Tommysyko
64.) crashmw
65.) St2016
66.) Ciappa_ST
67.) TouCikz
68.) Jafocus01
69.)
70.)
71.)
72.)
73.)
74.)
75.)