We wrap up calibrating our customer's 2016 Focus ST with our Stage-2 2.3L Stroker build and Precision Turbo & Engine Gen 2 5558 Turbo! We were able to produce 631 WHP / 621 Ft-Lbs at 31 PSI of boost std. We surpassed the customer's goals by a long shot and turned it down to 28 PSI: 578 WHP / 577 Ft-Lbs. Tuned with COBB Tuning AccessPort utilizing VE Based Speed Density Custom Feature!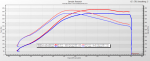 l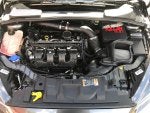 Links to our products below so that you can achieve the same results!
SP63 Stage 2 Built Long Block For Ford Ecoboost 2.3L - SPEED PERF6RMANC3
Port Injection Fuel Kit For Ford Ecoboost 2.0/2.3L - SPEED PERF6RMANC3
PTE 5858 Turbo Kit for Ford Focus ST Ecoboost - SPEED PERF6RMANC3
Click Watch Dyno Video!!
https://www.facebook.com/SpeedPerf6rmanc3/videos/723089337900629/