I am currently in the midst of the install, but I wanted to start this so I had documentation, this will undergo quite a bit of editing as time goes on. Reason for starting this thread is also because I was appalled at the lack of information available to those of us with ST1's in terms of audio installs.
So, I am currently installing:
1) Sundown SA-8 Dual 2-ohm sub
2) Rockford Fosgate R750-1D
3) Audiocontrol LC2i LOC.
I designed a custom enclosure that is 0.75 Cu.Ft. and tuned to 35 Hz.
I bought a KnuKonceptz wiring kit that included true 4 gauge power and ground wire for the amp, 12 gauge wire for the sub, a super long shielded RCA cable, wire terminations that are gold plated, and a water proof fuse holder. Was about $60 but the quality is up there and I am happy I went with them.
I also purchased an aero port for my enclosure as it allows for less area and therefore, a shorter port length allowing me to make my box smaller in footprint.
(Insert picture when it arrives)
I will also be doing a wiring guide in this thread once everything is underway, as I just managed to get the wires started in the grommet in the firewall as it became to dark to even see what was going on. But then again I started very late....
Also fun fact, my amp is the cheapest line Rockford makes, yet the birth certificate says it dyno'd at 890 watts...which means I will have to lower the gain on the amp, so I can utilize the remote knob fully without worrying about where to stop to prevent damage.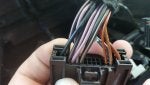 EDIT (6/22):
Okay so I ran the amp power, RCA's and the amp gain knob, but due to the fact it was dark by the time I had finished, I will update tomorrow with pictures and probably a video describing wiring layout better. Also the sub and port arrive tomorrow so I will take pictures of that and update then. I also won't be building the enclosure until next weekend probably as I get paid next Thursday, and then I can afford to splurge again.
Right now I recommend being careful when running wire through the firewall grommet, I can now hear my engine through there as the hole is too large, I will have to use something to seal it up at some point before the glove box goes back on.
EDIT (6/28):
Okay, this is a very late update but I finally finished the wiring!!!!!!!!
So here is how everything should be wired. Note: I was going to use this harness so I didn't end up modifying the stock harness, well I decided to forego that and be a man and just modify the stock harness.
So for the LC2i you need the following wires hooked up:
(The speaker wires are behind the radio and on the driver side most connector)
Left+ --> White (May look violet like mine did, but officially it is white)
Left- --> White/Brown Stripe (Once again, white may look violet)
Right+ --> White/Purple Stripe (Stripe looks similar to brown so be careful, and white looks violet again...)
Right- --> White/Orange Stripe (Stripe may look reddish, but it is actually orange, just a forewarning)
+ 12V --> Use a mini add-a-circuit that uses the fuse socket F85 behind the glovebox, this will be the forth
fuse down on the right most column of fuses.
Ground --> Just use a bolt around the glove box, I used the one that holds the dash in by the passenger door.
Remote Out --> goes to the amps remote terminal
Bass Output --> Goes into your sub amp, which is what I am using this for, you can also use main output
for a mids/highs amp if you so choose, but an LC7i is recommended if you plan on both.
The wiring for the Amp was easy, just fuse off the battery and run the the grommet behind the glove box, run from the inside as that is the easiest way to access. It will be a pain to route the wire along the back firewall, but be patient.
For the ground I used a bolt under the foam on the passenger side of the hatch, there are two bolts that you need to get a nut for, still have to do this myself, but choose one and use a wire brush to remove the paint.
That is all for wiring!!! You should be done at this point and be able to finish route the wires. I just finished the wiring about 20 mins ago and played some sound through it to have fun.
Now on to setting gains: (DON'T have any speaker on the amp side hooked up, this will stress them)
First either make a CD with test tones and put a track on repeat, or download the app ToneGen for the play store, not sure if iphones have the same app, but it just gives the option of generating a sine wave at a set frequency and doesn't time out.
I set mine to a sine wave and 50 Hz initially, but you do have to check more frequencies, low frequencies for sub amp and high frequencies for highs amp, to check the voltage out of the LC2i. You need to read your amp manual to see what max voltage it wants on the input. Like mine wants a max of 4 volts input to it. Measure voltage with a multi-meter and use VAC as the signal is not a DC voltage.
Now once you are done setting the LC2i's voltage, go to your amp and adjust gain using the same tones, set the voltage on the amp to V = SQRT( RMS*Impedance ). Basically take the power of the RMS amp, if yours came with a birth sheet, use that RMS, if not just use the rated RMS at the impedance you are running it at.
BTW, make sure if you have a remote knob to disconnect it while doing this as it can skew the numbers, once done then reconnect it. This voltage is what should be going to your sub, from your amp. Mine would be V = SQRT( 890 * 1 ) = 29.83 Volts, so I would adjust gain to that value and then can hook up the sub and have fun.
The "finished" product, still need to do carpet or some covering(haven't decided yet) and at some point I will make the wiring look better, but it has worked for months and I really don't feel like messing it up. Plus the extra length lets me pull it out and work on it on the edge of the hatch. The floor will be done this week most likely, my friend has a scroll saw, so I will see if that will be able to cut the shape I need out of the last piece, if not a jig saw will do.
I also installed Infinity Primus PR6500cs and PR6502IS to replace all of the door speakers, I don't have any install pics or video as I was doing the build in my student organizations office when I was between classes, and then installed in my car in less than 30 minutes.
The hardest part with that install was the fact I had to take off the door panels for a couple days so I could reuse the stock speaker rim to install the new ones.