A. Item for sale/trade:
Front and Rear Koni Adjustable Yellow Shocks
Ground Control Coilover Sleeves - Spring Rates 440 lbs/in Front, 550 lbs/in Rear
Ground Control Front Adjustable Camber Plates
4x Ground Control Bump Stops
OEM Rear Upper Shock Mounts
B. Condition:
Lightly Used
[*]Approximately 5000 km (3100 miles) on the Koni/GC Combo
[*]Approximately 2000 km (1240 miles) on the GC Camber Plates
C. Price/What you want to trade for:
$300 USD for the Camber Plates ONLY
$1100 USD for Coilover Conversion Kit + Front and Rear Koni Shocks WITHOUT Camber Plates
$1350 USD for Coilover Conversion Kit + Front and Rear Koni Shocks WITH Camber Plates
D. Location of item:
This kit is arguably one of the best performing kits for the Focus ST. It will fit all years, 2013 through 2016. The front spring rates are 440 lbs/in and the rear are 550 lbs/in (Rear WHEEL Rate is 269.6 lbs/in). These spring rates keep the factory weight ratio (60F:40R) so the car feels very OEM like in handling however it is a lot tighter in the corners. Feel free to see
this thread here
where
@XRJoe
goes through the calculations to figure this out. I used this kit for one autocross season and have absolutely zero complaints; the car handled much better than it did on stock dampers and springs and most importantly it handled predictably. The damping adjustment on the Koni Yellows also allow for some fine tuning should you need it at the track! I daily drove with this kit on for just under 5000 km's and have absolutely zero complaints once again. The ride was never "too stiff" even on Winnipeg roads.
As far as lowering goes this kit also accomplishes that quite well. In the front you could definitely set it up to tuck all the way to the lip of an 18" wheel if you wanted, and in the rear you could definitely get rid of every little bit of wheel gap. Furthermore, if you want front camber adjustment this kit can also offer that if you purchase the Ground Control front camber plates which work wonderfully. I was easily able to get -2.5 degrees of camber with a decent amount of room left to go should you desire more!
I am including the OEM rear upper shock mounts as they serve no use to me now. The strut hole had to be drilled out slightly to allow the rear Koni shock to fit into the mount - this is one less step for you to do when installing these! The threads on all of the coilover collars are in perfect condition and I've never had an issue with the set screw or adjusting ride height due to anything seizing.
These coil over sleeves are all high-strength aluminum so they'll never rust and more importantly the entire kit - shocks, camber plates, AND coil over conversion kit carry a LIFETIME warranty that is backed by Ground Control. Ground Control offers some of the best customer service that I've ever had to deal with.
I'm asking $1100 USD shipped considering this kit is very lightly used (less than 3100 miles) and easily goes for $1350 USD new (not factoring in tax - $1425USD+ with tax) with the Koni Shock sale promotion. The camber plates go for $400 USD new and I'm asking $300 USD for those. If you want the whole thing I'll cut you a little bit of a deal - $1350 USD and they're yours.
The reason I'm selling is because I've switched to air ride for this year. I'm open to reasonable offers and motivated to sell. Please don't hesitate to contact me if you have any more questions.
Onto the pictures!
Ground Control Front Camber Plates:
Koni Yellow Front Shocks with Ground Control Coilover Conversion Kit: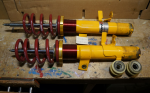 Koni Yellow Rear Shocks with Ground Coilover Conversion Kit:
Miscellaneous Tools Included: