Having turned 62 last month, you'd think I'd be possessed of enough wisdom to just leave my 2014 PB ST3 Focus ST alone and enjoy it in my golden years, but alas, I am not. Perhaps said wisdom will be gifted to me next year and I'll promptly trade in my ST for a Fusion or something suitably practical and mundane. But until then, enjoy my build thread, whereupon I will, throwing caution (and Ford's Powertrain warranty to the wind), transform my sedate PB DD into a 300HP Track Day Superstar!
First though, a quick look at my previous vehicle: 2012 Toyota Tacoma X-Runner (TRD Supercharger, overdrive pulley, headers. CAI, performance suspension,....)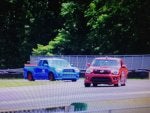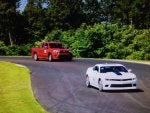 As it is customary to post a list of desired modifications at the beginning of the thread, here's mine:
Bold Text means 'completed'.

Engine & Related Systems
Mountune Intercooler
Mountune Silicone Boost Hose Kit
Depo Racing Intake Tube
Mountune AP/Randy R. Tuning
Mishimoto Oil Cooler
K&N Air Filter
Magnaflow CBE
Depo Racing Catted DownPipe
Denso 2-step colder spark plugs

Chassis & Wheels
ST Suspension ST-X coilovers
Ground COntrol camber plates
Steeda RSB
Steeda RSB End Links
Ford Racing RS 19" Wheels (Gloss Black)
Michelin Pilot Super Sport tires
Upgraded brake pads (Hawk)
Motul High Temp Brake fluid (RBF 600)
Mikelly's kydex brake cooling contraptions
Miscellaneous Modz

Glowshift Pillar gauge pod
Glowshift Oil Pressure, Oil Temp, and Boost/Vac gauges
Mountune shift boot
Mountune Yellow/Black shift knob
Steeda Sound Symposer Delete
Dash Camera
Valentine 1 Radar detector
Here's my FoST as she was when I drove her home from Metro Ford on December 12, 2014. I won't bore you with 50 jpegs of my bone-stock Focus ST as I'm fairly certain you know what one looks like.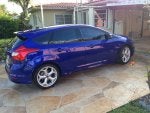 I plan on installing the ST Suspension coilovers tomorrow with my son, Stephen. Pictures and commentary will follow.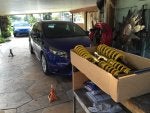 My overall plan for this build is to take care of some Handling/cosmetic mods first, like Lowering and Handling improvement (ST Coilovers), then wheels and tires. Then, having made her look like a 'badass', I'll go about the task of making her run like a 'badass with performance improvements (many of which I have already purchased). So check in often, this build should be done by Jan. '16.