Discussion Starter
•
#1
•
I have been able to test out this new oil catch can kit from Damond, and would like to show some feed back in here! For starters, an oil catch can is a MUST have on our cars! This is the kit to buy! Most kits that I have seen act as a go between, between the valve cover vent and air intake tube, well, those just wont work.
Here is a picture of the kit layed out when I first got it in the mail, and this is what to expect in your kit.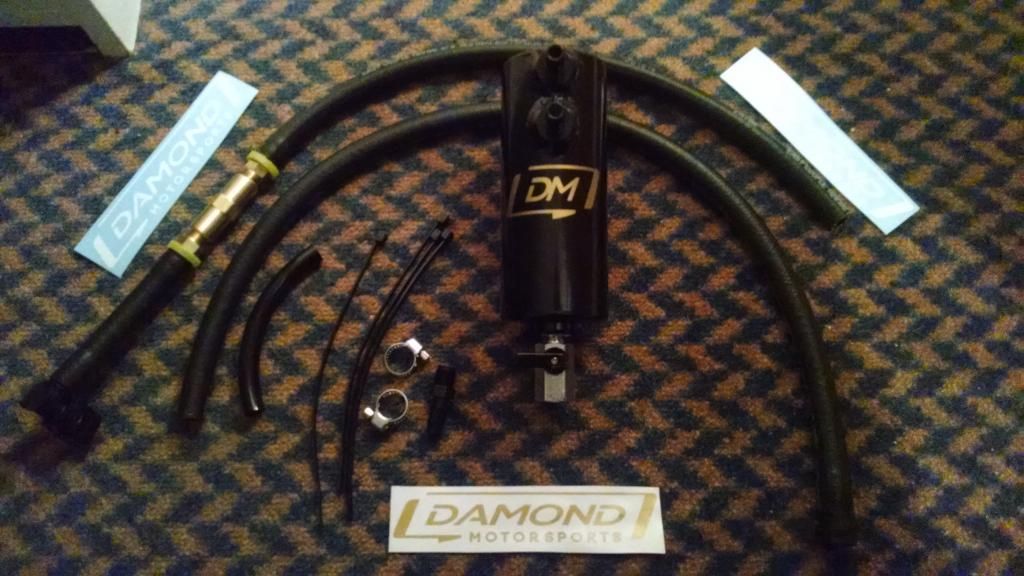 My initial though when I tool it out of he packaging "wow, this just feels like a quality piece". The can itself is powder coated black and bears a "DM" logo on it in an awesome gold color! The welds are flawless, and even the bracket is powder coated, making it feel like more that a piece of metal with holes drilled into it, feels like it came off an assembly line for a lack of a better way to explain it.
There are a few key features I want to point out that I believe put this kit far above the rest. The first, Ford factory connectors! That's right, this kit is "plug and play", there is no need to attach it to the engine with hose clamps, zip ties or any of that! Why is there zip ties and hose clamps in the kit you may now be asking, that's to clamp the hoses to the catch can itself, and the zip ties to lock down the lines so they are not just flopping around. The second feature is where it is mounted. Personally I think the mounting selection is genius! It is mounted using an existing bolt that holds the PCM bracket. This will put the can near the bottom of the car, which means two things, gravity works with the can not against, and will be easy to drain while doing an oil change, or anything under your car for that matter. With that said, the can has a high flow drain valve attached to the bottom to allow fast and simple draining! The third key feature is an inline check valve. I haven't seen one on any other kit. this means its a back up PCV valve more or less, making sure your boost pressure is not lost, and is also a fail safe for the factory PCV.
Below is a picture of where the can will mount. The black plastic box to the right of the catch can is the holder for your PCM.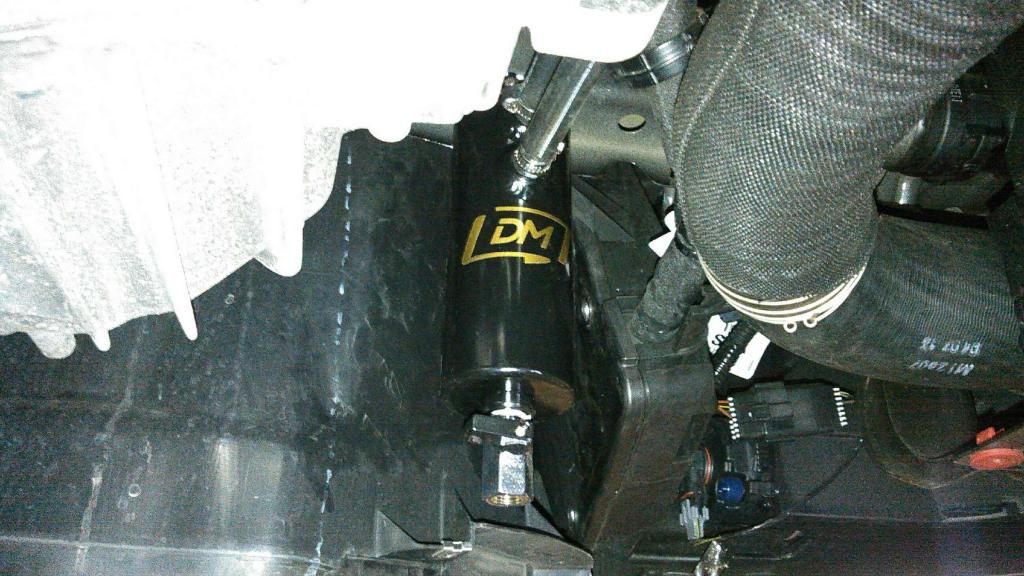 Damond has done a lot of research and development with this kit, and use the actual PCV valve behind the intake manifold. This is where the most oil contamination will come from, and believe me, its a lot. When I took the throttle body off, the inside of the intake manifold was soaked! Oil was actually dripping from the throttle body. Here is a couple of pictures of the throttle body.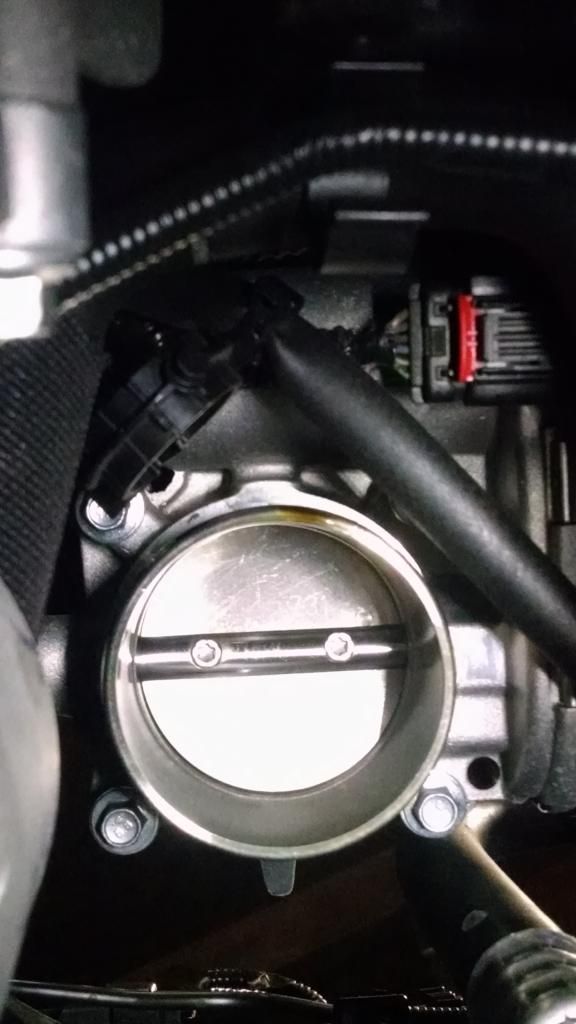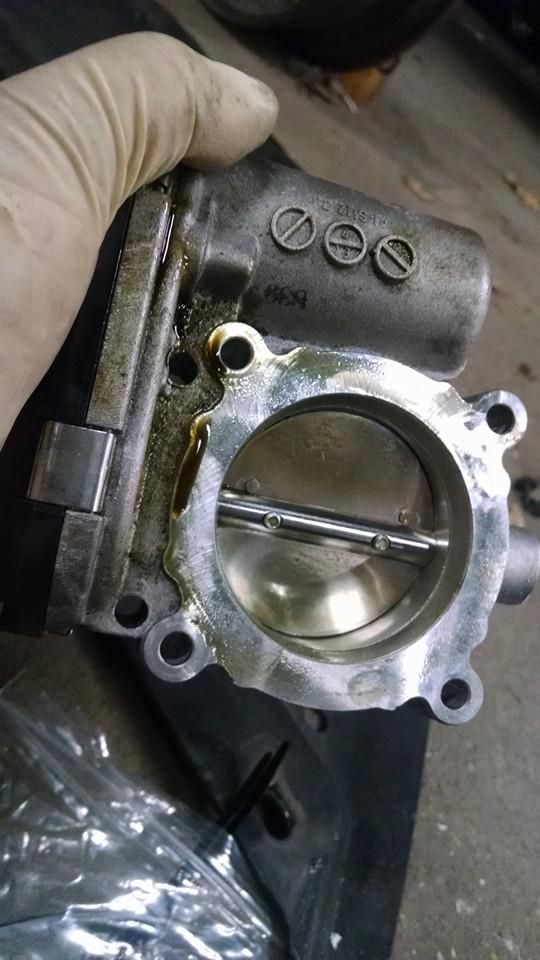 Depending on how handy you are with tools, installation should take you about an hour to an hour and a half. It's a small car with a tight engine bay so the working room is a little cramped. You will need to remove your throttle body to install this, I know, sounds scary right? Well its actually not, it's 4 8mm bolts at an electrical connector, wiggle it around a little bit and it will come our from the bottom of the car. Take my advice NOW, the instructions will tell you to disconnect the battery. MAKE SURE YOU DISCONNECT THE BATTERY. As I said, its tight working space, and the throttle body is close to the starer and can be very easy to arc across the starter terminals with the throttle body. So do yourself a favor and disconnect the throttle body, will save you a headache in the long run!
I haven't had many miles on the car with this on, So i haven't seen how much oil is actually being collected. I will be sure to update soon with how well it is doing its job!
All in all, knowing the research, time and development that went into this product, and for the pure excellent craftsmanship you cant beat the price! Under $200 to prolong and protect your car that cost you $20k plus!
The guys at Damond are awesome, very friendly and knowledgeable. They were able to answer any question I threw at them while i was installing this to test it for them.
Seriously, if your planning to buy an oil catch can, spend the money on this! I promise you wont be disappointed.