Discussion Starter
·
#1
·
Okay so to begin with, I've been looking for a cold air intake for my Focus ST that is different, everyone uses a 3" tube, great for big turbos, a bit much for stock turbo cars, I'm indifferent to having a air box or not, I do thoroughly enjoy having the stock air box open to get the extra turbo sounds out of it. My car has been modified quite a bit and I won't be able to give you a before and after as I recently blew the motor and amongst putting forged internals plus head porting plus a lightweight flywheel and other things it also has a mountune strut bar. Problem is, with this bar not many intakes fit without hitting, Injen, Mountune and FSWerks I've been told fit, Cobb does not. So I was taking a risk with this setup. Now onto the review.
I found RamAir Filters just by stumbling onto them, they are a British company out of the UK that make intakes for many different vehicles, and they looked promising. I reached out to them and they gave me a discount for a honest review. They shipped the unit out very quickly, and it came via DHL (I am from Toronto, Ontario, Canada so shipping wasn't cheap) and arrived within a few days.
Shipping: 9/10
It was shipped well, a very large box but very light. In the box:
- 2.75" Powder Coated Black Aluminum intake pipe
- Very large black Foam Filter
- Turbo silicone adapter and filter adapter
- Metal heat shield
- All necessary hardware and pictorial instructions.
So upon first look, everything looked pretty good, I did notice a few small scratches on the pipe that had been touched up but other than that it was okay. The filter is huge and it looks awesome! I spoke to the Reps from RamAir Filters and they said it does not need to be oiled unless it will be around a very dusty and dirty environment. The heat shield is thin metal but should be strong enough for its job. All the fasteners (bolts and clamps) are stainless steel and should resist corrosion.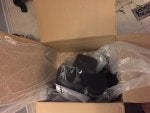 Installation: 7/10
Installation was tricky, the instructions are lacking to say the least, I mean sure they have pictures but they are not step by step or detailed by any means. I would recommend putting the heat shield in first, not last the way the instructions show, you have to use the rubber feet that hold the stock air box on. So that goes in, then silicone coupler for the turbo, and intake pipe both fit well. Then silicone adapter for filter and all set. At this point I am happy to announce IT DOES fit with the mountune strut bar and leaves almost 1" of space between. Great I am very happy about that. Also, it lines up perfectly for the second more forward mounting spot. The first more rear mounting spot closer to the turbo uses a small extra piece of metal to reach and it fits well. Now I ran into a problem that the screw supplied to attach the MAP sensor was too short so I had to get my own. But overall the install was pretty self explanatory
Overall fitment: 8/10
Was okay but not great. The edges of the filter seems to hit and rub the heat shield. The pipe does fit well otherwise, I used two small washers to shim up the pipe in the second mount point to give me a little more play with the filter and heat shield. Also getting the heat shield in was a pain in the butt with the pipe in place already, however the fact that it fits with the mountune strut bar is a huge plus. A little thing I did find quite nice was the little screw covers that protect the heat shield from the battery box, I thought I was a great detail and safety was definitely kept in mind when this was designed
Performance: 10/10
I'm being lenient with this rating, since I can't say what it was like before. But it sounds great and looks great too!
Overall: 8.5/10
I'm happy with the looks and sounds, fitment and installation left a lot to be desired but the fact that it fit under the mountune strut bar made a huge difference. I would definitely recommend this intake to anyone looking for a cold air intake.
Sent from my iPhone using Tapatalk