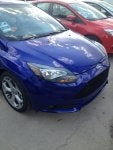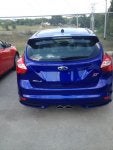 Performance blue with recaro perfarmance blue interior
I bought it on ship date strait off of the delivery truck. It is an st2 package with Sirius radio and myfordtouch navigation. Sony sound system perimeter alarm moon roof and all of the other good crap.
Mods to come:
Intake (when released)
Tune (when cracked)
Steeda short throw shifter (when released)
Steeda rear sway bar
http://www.steedafocus.com/parts/2013-focus-st-rear-swaybar.html
More mod plans to come.
My name is Tyler and I'm located in San Antonio Texas. Track meets at San Antonio speedway on Fridays (or street car meet at lowes on I35) to whoevers close maybe we can head to track and run each other for fun? Any suggestions on my car? Let me know! I'll post more pictures upon request
Current mods:
Custom tune
Red calipers
Yellow fog lights
Modified exhaust
White plastidiped wheels (coming this weekend)
Edit: more pictures
Edit 2:
Added: painted calipers
Added: yellow lenses
Added: FocusST.org sticker
Edit 3: removed resonator, has a nice deep growl but isn't too loud at all. If anyone is looking to do this also, remember that it's just the resonator and not the muffler removed. Resonator is located in the middle of the exhaust system, just cut it off and have a pipe welded in place. Cost me $45. If you have any inquiries, ask me.
Edit 4: added new 88 durometer motor mount. Information Can be found here:
http://www.focusst.org/forum/showthread.php?t=719
Edit 5: Added a new tune, thanks to Torrie. Will get a track review on it soon