***EDIT***
You can now use the RS rear rotor for the Frankenbrake. The RS rotor has the proper wheel stud hole diameter
compared to the Volvo's larger wheel stud diameter.
I was asked to make this more of a how to.
So you upgraded your 320mm front rotors to the 332mm, but what about the rear? What if you could upgrade your rotors from a 271mm to 302mm for just for as little as $220 and retain the factory caliper? Well you can and this is how.
Rotors for a 2008-10 Volvo V70 share the same bolt pattern (108x5) and dimensions as the ST and are available in plain to slotted from EBC and StopTech. Mazda uses the 114x5 bolt pattern
ST
V70
Source some pre 2008.5 Mazda 5 rear caliper brackets. I used the part number in the photo. dealer want $108ea, parts.com wants $75, if you can find them used you could probably get the set $25.
Tools needed.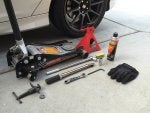 I'm assuming you already know how to lift your car and remove the wheel. Give the brake assembly a good dousing with brake cleaner. Leave your parking brake down and remove the parking brake cable from the caliper. Remove the caliper spring. Remove the caps covering the guide pins. You need a 7mm L Allen key to remove the guide pins. Pull the caliper off setting it to the side. Support it don't let it hang on the brake line. Remove the pads
Use a 13mm wrench to remove the bolts securing the bracket to the knuckle. These bolts are going to be tight. If you don't have a cheater, link two wrenches together.
Pull the rotor off the hub. If it's stuck lightly tap with the mallet.
Clean and wipe everything down. Use a caliper reset tool with the M adapter to reset the piston into the caliper.
Wipe down and install the V70 rotor. Thread on a lug nut on to hold the rotor in place.
Install the Mazda bracket reusing the bolts. Install the pads onto the bracket. Replace them if the near the ending their life. Use brake grease on the contact points.
Install the caliper over the pads and reinstall the guide pins. Reattach the caliper spring, and parking brake cable.
Put the wheel back on.
Congrats, now go do the other side!
Don't forget to pump your brakes before you take off and bed the pads.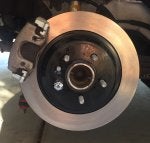 Their may be other years or model vehicles the use the same parts but the ones listed are what I used.
Size comparison