Interested in knowing how everyone else is doing with rock chips...
I've currently got 4 (1 on drivers door and 1 on rear bumper...no clue how that works)
I've only got 5600 miles and I feel like by 50k it'll be rediculous. I want to keep the paint nice but it's not working very well.
Note: I've already had the front bumper repainted due to a gravel truck f**king me. They paid for it at least.
I purposefully don't tailgate but it doesn't seem to help.
On a side note I just installed these rock guards: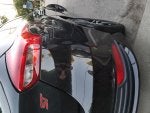 (Can't make this not sideways due to using my phone)