***Update*** - Fogs are in. I said f**k it, pulled the PCM box, placed the light, replaced the bolt that I could, and zip tie the other bolt that wouldn't reach. (not necessary, but just some insurance). Anyone able to get all bolts back in?
I purchased the
@Diode Dynamics
XML2 LED fogs after speaking with a rep, assuring me they'd fit...
Passenger side: Went in no problem, just remove 2 screws, peel the wheel back, pull the bulb and swap.
Driver side: The XML2 bulbs require an extra 2" behind the fog light for the heatsink. The problem is, the PCM housing is about an inch or so away from the back of the fog light. I haven't put it up on jack stands yet to remove the wheel and unbolt the housing and attempt to squeeze it in (as I would have in my younger days).
There seems to be maybe an inch or so - I don't see 2" extra without the back of the heatsink pushing on the back of the housing. I'm concerned about how hot it gets (the passenger side was quite hot after running for maybe 1 minute).
Is it possible for the heatsink to melt/burn into the plastic housing it's pushing up against?
IF I can even get it in, would the pressure pushing on the light/PCM mess anything up?
Pics, best I could get: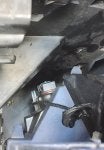 Product wise: Initial impressions... Seemingly solid build quality, very bright. The fans are very loud though...
I'll try and get another side-by-side comparison tonight until we figure this PCM issue out...