Discussion Starter
•
#1
•
Hey everyone I just thought I would pop up a quick first impression since I got a lil' sum-thin in the mail today. I have been using the zl1 add-ons original heavy duty pads for the last year or so and they are a great product. That being said I think John has stepped up his game. The packaging and quality of these new jack pads are incredible. They are packaged and feel like the premium label given to them. Now for a couple pics.
Now with the other model. Funny story here, I went to grab it to snap a photo with the one I had and couldn't find it where I normally keep it, so I went and looked under the car and sure enough it was still stuck on the pinch weld. Those magnets work great, it had been 10 days since I used it and probably around 250 miles though rain and even a little snow. I am actually a little amazed it was still on the car!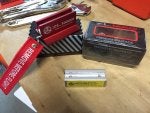 Thanks
@Skylane765
glad to have your products on the forum. Next item I will be picking up is the mag puck.