Discussion Starter
·
#1
·
So the leather on top of my steering wheel has been peeling/flaking off. It's a 2016 car with only 12k miles on it, and this has been happening for many months, and it's getting worse and worse.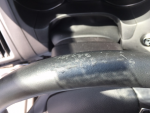 I've tried searching but couldn't find any threads about this. Has anybody else experienced it? I have no idea what it's caused by, and I've never had anything like it in any other car. It's only happening at the top of the wheel, nowhere else. Any ideas?
Anything I can do to prevent it from getting worse, or even better, to make it like new again? And do you think that this is something that would be covered by the warranty?