Here it is- the part so many of you have been waiting for...the Panda Downpipe!!!
I currently have the road legal stainless steel catted version fabricated with a 200 cell catalytic converter, 4" flex section (will be 6" for o/r downpipe), and custom flange. It's mated to a modified MBRP system (video later). This downpipe is amazing. It fits flawlessly and the fit and finish is top notch.
Install:
The hardest part was the O2 clips and the stock v-band clamp. We put the car up in the air and began the install by removing all of the bracing and stock exhaust from the stock downpipe. Remember, if you're doing this yourself, to be very careful with both the ring on the stock downpipe and the stock gasket mating to the catback as you will reuse them. You also can reuse the stock v-band clamp to reattach the new downpipe to the turbo.
Once the stock downpipe is out of the way the install is cake. Be sure the seal is good and the face of the dp mates to the turbo flush so there won't be any leaks causing you tuning headaches.
Pics: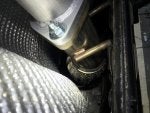 Verdict:
I love this piece. Our fabrication department worked exceptionally hard on this piece and it fit perfectly and performs flawlessly. The sound of the turbo when it spools makes me feel like a 5 year old on Christmas morning when you first wake up and you can't wait to wake everybody in the house so you can rip open your first present and sip some hot chocolate.
Video:
This was recorded with my iPhone attached to the hatch. I do have a slight license plate rattle so that's what you're hearing. The full exhaust is our new Panda catted downpipe, a modified MBRP (front piece removed and replaced with pipe), and all of the stock hangars have been replaced with the COBB poly hangars. I highly recommend you all upgrade to the COBB hangars.
WATCH OUR SECTION for this piece to come soon! Pricing to be announced.
Thanks for stopping by.
-Phil