Discussion Starter
·
#1
·
Massive has sold many thousands of their line of precision cam timing chain / belt alignment tools, and has now brought the love to the newest evolution of the Ford Duratec 2.0 motor.
Here's a bit about them:
A MUST for cam swaps, timing chain jobs or your hardcore engine build. Another Massive exclusive!!!
Ford 2.0L Duratec 2.0 Gasoline Direct Injected
Twin Variable Cam Timing
Ti-VCT
AND
2.0 Ti-VCT GTDI Turbocharged Turbo Ecoboost
Focus ST
Escape Explorer Edge Fusion Taurus Police Interceptor Special Service Sedan
Lincoln MKX MKT MKZ MKC
Land Rover Range Rover Evoque Freelander 2
Jaguar XF XJ
Global Ford Models:
Mondeo S-MAX Falcon
Bar will fit regular AND turbo cars
MATO'8646
A true cut above in quality and accuracy! Superior alternative to:

*OTC 303-1565 ST3288-A
*OTC 303-507 Timing Peg, Crankshaft TDC Duratec
A true cut above in quality and accuracy! You'll need these tools to positively hold your crank and cams in place whilst timing your motor. None offered the level of precision found here.
Gages are much more than a simple piece of bar stock like others have produced – they are much thicker (and hence stronger) bars that feature 2 machined reliefs offering a TIGHT +/- .001" fit. A much more accurate means of locking your cams, resulting in less need for cam degreeing post install. Clean sheet design offers more stability and holds both cams firmly. Includes all tools to complete job, other kits don't.
Cam position bar
*Crank stop
*gage pin
*Plate Lockdown screw
Pins are super tolerance monolithic machined 6061 aluminum for an exact fit. Pins are anodized in high vis Massive Purple for corrosion resistance and this bright coloring will help to remind user of removal(seen folks leave it in – NOT good!). Should pin be left in, aluminum construction will give way without harming vital engine internals. Handle area has built in hex for tool usage. Alpha stamping so you'll know the difference between available pin styles.
Quality made IN HOUSE right here in the USA!!!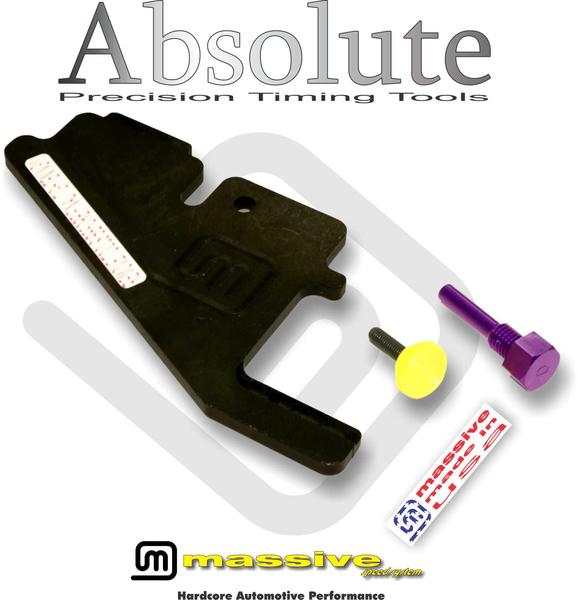 [highlight]Just $81.15[/highlight]
Find 'em
Here
Also available in new Master PRO +, a complete all-in-one collection of all of our Ford / Mazda Duratec / MZR timing tools:
[highlight]Just $127.31[/highlight]
Find 'em
Here