My 2014 TB ST - Big Turbo Daily Build
I guess it's about time that I started a build journal on here. A little about myself, I've been into "tuner" cars since the first time that I watched "The Fast and The Furious". Something about that movie just got me hooked. The ST is the newest car that I've ever owned, and by far the most fun. I also live in WNC, so I'm surrounded by fun roads, and I'm just a couple of hours away from US 129, the Tail of the Dragon. Enough about me, onto the car.
I picked up my 2014 ST3 in June of 2015 with 6,100 miles on it. And I waited about 6 weeks until I started with the mods. I bought a Green Filter USA air filter and a Torque Solution RMM. Shortly after that I bought a Cobb AP v3, and it was on from there. This is my daily driver, so it has some rock chips, and blemishes here and there, but I still absolutely love this car.
This is a picture of the night that I got to bring the car home. Financing wasn't completely finalized, but they let me take the car home for the night. I was stoked the next day when we finalized the deal with Ford!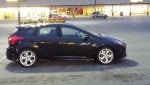 Current modifications:
Engine/Power
Mountune MRX turbo kit w/ EFR 6758 option
Mountune MRX 3" catless downpipe
Mountune air filter by Green Filter
Depo 3.5" FMIC
OEM RS airbox
1/2 of a JBR 3" intake
Radium PCV plate
Radium dual OCCs
Radium symposer delete
Torque Solution RMM
AWE Track Edition CBE
Cobb AP v3 tuned by Randy at Mountune on 93
Wheels/Tires/Brakes
Konig Oversteer 18x8 +45 in Opal
Achilles ATR Sport 2 in 235/40/18
OEM RS brake air guides
Suspension
ST Suspensions ST-X coil-overs
TB Performance front traction brace
TB Performance rear traction brace
Transmission/Drivetrain
JBR short shift arm
JBR shifter cable bushings
JBR shifter base bushings
JBR solid shifter cable bushings
OEM RS shifter assembly
Interior
Boosted Designs dead pedal
GarageLine throttle pedal spacer
Redline Goods shift boot
Anarchy Motive 6 speed Atlas Shift Knob
Exterior/Lighting
Diode Dynamics DD5005 LED fog lights w/ yellow Lamin-X film
Vega Motorworks canards (waiting to be powder coated)
Boomba wing risers
GarageLine Hood Struts
OEM Fiesta ST red 3rd brake light
White ST emblem inlays
Black center caps with black metal Ford decals
I think that is the rundown so far, but I might be missing a couple of things. I definitely have a lot more planned for the car, and should be adding auxiliary fuel, a clutch and LSD later this year. I'm also planning RS Brembos, new wheels, JBR motor mounts, etc. in the future, but we'll see what happens next. I'll upload pictures once I'm home. If you're local or passing through the area, I'm always down to go on a drive, just shoot me a message!
This is one of my more recent pictures taken up on the Blue Ridge Parkway. I'll add some more posts in the next few days once I have pictures in chronological order.