Discussion Starter
·
#1
·
So last week a local member posted up that he needed to get rid of some stuff taking up space. In that were a torn down set of authentic OZ Racing Futura's. I believe they used to be
@Drama
wheels at one time. Dual drilled 18x9.5-10.0 and 18x9.0-9.5 depending on how you mount the face. for my application ill be doing 18x9.5 all around. Offset is a little hard to figure out. One pair of faces have a plate/spacer bolted to it, the other pair does not.. I've come up with about +35 front with out the spacer sandwich mount to +29 with the spacer, and rear is back mounted face and about +37.
So ill be running the front with out spacer, sandwich mount for about a 18x9.5 +35 ---ish and the rear, face back mounted 18x9.5 +37--ish... If my math is right.
The guy i bought them from already sanded down 3 lips and polished them, he said he would get the 4th done for me but had it there so i can see everything.
the 4th that has to be polished
Overall everything is in good shape. I ordered 175 new chrome bolts and nuts from Blackforestindustries.com and taking the faces to be powder coated Saturday. I haven't picked out exactly what i want, its a toss up between a Gloss black and metallic in it kinda like the Tuxedo Black OEM paint, or a Matte/Satin black.
Also im thinking of going with a different route on the carbon trim rings on the caps.. instead of regular black carbon going with a red carbon from Composite Envisions. Ive been using them for many years for my carbon and the stuff is top notch. I just dont know if i want their Carbon/Red Kevlar
or their Red Reflections sheet
Here's what i picked up
and test fitted on the car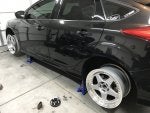 Fronts
Rears