Discussion Starter
•
#1
•
Hi Guys,
i'm from the UK but you guys are far more active in the forums than Mountune UK (and i'll have to wait until a weekday to ring them).
So the mountune pistons and rods have been announced and from the BTCC engine there is obviously a lot of data been gathered however 9:1 compression vs the std 9.3:1 seems counter intuitive on an engine that's all about response.
Could you shed some light on how the marginally lower CR affects engine characteristics?
Also announced by Piper Cams here in the UK who i believe are mountunes technical partners are three levels of cam and the associated springs and caps.
now bear in mind that i'm running the 2.0 ecoboost in a mk7 fiesta with aftermarket management and its currently my daily and will always be street driven.
would you think the fast road cams would be a good match with an EFR6258 setup as i want to keep the response but get the engine breathing properly in the mid to top end like i know it can?
the idea is to build the engine to a similar spec as the fifteen52 trackster engine but with an EFR:
mountune rods and pistons (need advice on the compression)
mountune elbow
mountune sump baffle
piper cams (need advice on best power band for build based on experience)
suitable piper springs
efr6258
hopefully you can shed some light on these developments. if i get anymore info from mountune uk i will add them to the post for anyone else who is interested.
here's the last dyno graph from my fiestas current setup measured at the hubs on a dynapack.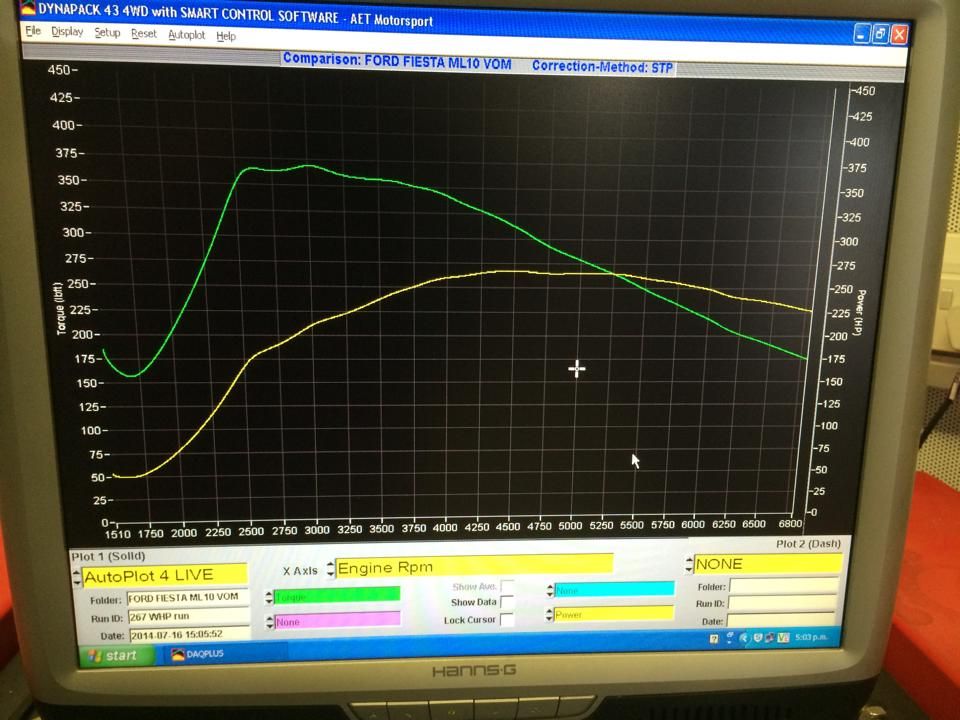 bottom end needs some work to remove that torque dip but my tuner is currently very busy.
for any one interested here's some links to the project.
fiesta faction -
http://www.fiestafaction.com/forums/...boost-Project*
ZSOC -
Ford Zetec-S Owners Club
passionford -
http://passionford.com/forum/restora...ft-270bhp.html
hopefully there will be some interesting information to be shared.....looking forward to your reply.
Cheers /Tim