Discussion Starter
·
#1
·
Hello,
This isn't meant to be a How To post, but I'll link a few things that helped me along the way. First, here are the parts I used and where I got them...
HARDWARE PURCHASED and USED
Dash Kit
https://smile.amazon.com/Metra-99-5...qid=1515963550&sr=8-1&keywords=metra+99-5843b
Note this particular kit comes with the antenna adapter. If you buy from somewhere else, you'll need to buy the antenna adapter, but it's pretty cheap...usually around $5.
Here's the antenna link just in case you need it.
Antenna Adapter
https://smile.amazon.com/Metra-40-E...&qid=1515963626&sr=1-1&keywords=metra+40-eu10
I wanted to use Android Auto so I needed a spot to run a USB cable. Turns out, there's a Metra piece that replaces the OEM one. Here's the link for that...
USB Port Replacement
https://smile.amazon.com/gp/product/B01MG27XXC/ref=oh_aui_detailpage_o00_s00?ie=UTF8&psc=1
Please note, if you use this, you'll need an extension cable for every single one of the plugs you intend to use to make the run all the way from the armrest to the radio. I only needed one USB port so I only needed one extension. Fortunately, my radio actually came with an extension so I didn't need to purchase one.
Radio Used
https://smile.amazon.com/Pioneer-AV...ords=pioneer+2300nex&psc=1&smid=AAF51Q3JWARL4
INSTALLATION TIPS
So that's all that you need to replace the factory radio and now let's get into the installation and the links that really helped me.
Here's the video I watched to remove the interior dash area. I'd say pretty spot on with everything.
This link here has how to access the USB hub replacement in the armrest.
http://www.focusst.org/forum/focus-st-electronics/93641-sync-2-sync-3-upgrade.html
When you are wiring everything up between your aftermarket radio and 99-5843B, follow the instructions provided in the kit very carefully. There are wires that you do not use so pay attention to that. Also, be sure to move over the mounting hardware from the factory faceplate to the Metra one. I used solder, heat shrink, and tesa tape for a solid connection.
I used a windows 10 computer to update the firmware on the actual AXXESS unit. It's the black thing that's about the size of a deck of cards. It's much bigger than the normal ones I've used on other cars. Also you can do a firmware update on the actual faceplate as there's a USB port on there too. For me, there was nothing available for the faceplate, but I was two versions behind on the AXXESS unit.
INITIALIZATION OF AXXESS
You'll want to just have everything laying in there and not buttoned up so you can see the actual flashes. BEFORE plugging in the AXXESS plug in the face plate. Follow the instructions and pay attention to the LED flashes and when the radio should turn off and turn on. Instructions also indicate when you should turn your car on/off so follow that too. Assuming it flashed in the right sequence and turned off/on, don't press anything on your radio. Your SYNC screen should also turn on. At this point, hit the SYNC button on your steering wheel and tell it to play music and pick an input. For me, it went something like, Play Music, USB, Play all. Just to be clear, you are only using your voice. I'm assuming you could pick another source to play music, but I happened to have a USB stick with music handy so that worked for me. At that point everything should be initialized between the steering wheel, your radio, and SYNC. Now the buttons on the actual face plate will start working and you can mess around with your radio and make sure the steering wheel controls work. I know it's sorta tricky, but seriously the only way it would work for me is if I went in those exact steps. The folks at Metra said that SYNC needs to be initialized and working for your steering wheel controls to be live and working. So now I just have it set at Line In all the time. I don't have my phone paired to SYNC as I use my Pioneer for that. I get a quick nag message to pair, but it goes away pretty quickly. I'll post a few pictures.
Nag Message:
So it'll just have the "line in" mode in the 4.2" screen the rest of the time.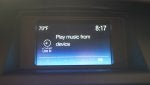 OVERALL OPINIONS
I'd say that overall the kit is good, but not perfect. The mounting area for the air vents isn't exactly as tight as OEM. There's also no silver trim around them. The finish of the face plate is pretty close to OEM though...passable for sure. No HUGE gaps, but it isn't 100% OEM fit. It's good enough for me though. The radio is pretty recessed. You can mess around with it a bit to bring it out, but I was happy with where it was so I left it alone. Others may be irritated. Here's a picture of how deep it looks.
The buttons on the face plate are an indigo blue that doesn't really match anything else in the car. I ended up making my radio buttons the same so it won't look too out of place I guess. Would have preferred the option of changing colors here.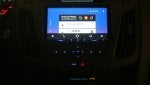 Here's how it looks with everything off.
The buttons on the faceplate look OK, but they are sorta squishy and don't have great feedback. Usable though.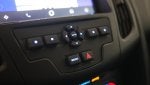 Back up camera works with no issues. When someone calls you, the hang up and pick up buttons work on the steering wheel work fine. They skip forward 30 seconds when I'm using my podcast app on Android Auto so that's perfect for me. When in Radio mode, it skips forward presets. Only bummer is you can't remap anything to initialize "OK Google" but I can live without it.
I'm sure I left off some details or wasn't clear somewhere. Please feel free to ask more questions. It wasn't too bad to get it done. Now that I've done one, I'm sure I could knock out another one in about an hour.
Thanks and good luck!