Discussion Starter
·
#1
·
Hey guys, I'm sure a lot of you share my opinion; that Ford took a big step forward with the ST's front end design with the face-lift models but seemingly two steps back with the face-lift rear end. I personally love the new front end but I honestly hate the rear end even more which is one of the reasons why I got my 2013 ST (that and a great deal :haha: ). Regardless, pretty soon after I got it, I saw that Maxton Design had come up with a "RS-Style" front bumper for the pre-face-lift ST's. From their pictures (renders), it looked pretty good but renders are renders. Very few people had the bumper and had pictures circulating around so things were up in the air. Together with the lack of real pictures and the fact that it's 500 euros to buy it, then more to have it shipped from the UK, and then prep and paint...you're talking easily $1250+ for a front bumper. So with those two issues, I decided that I was interested but I'd have to have serious extra money to burn before I thought about buying one.
Well, about a month ago, I was browsing the ST buy/trade/sell FaceBook group and saw someone looking to return their ST to stock and they had the bumper. I messaged him and asked if he was willing to sell/trade the bumper and after some negotiating, we decided on trading with an extra hundred on my end. I figured it was literally too good of a deal to pass up so I drove the four hour drive to pick it up.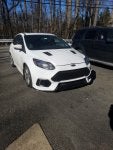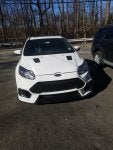 All in all, I'm very happy with it. I think it does a very good job of adding some aggression to the pre-face-lift ST front end and it really does look like what the RS would've looked like if Ford produced it between 2013 and 2014. Install is almost identical and no custom fabrication was needed. I didn't go into detail with the guy that I got it from about how much it needed to be fitted before it was painted and installed but it doesn't look like there was much. I actually really like the four separate LED fog lights as opposed to the single LED that the new ST's and RS uses. I also think that it helps the bigger headlights seem a bit more balanced. There's a few spots that need to be touched up with satin black paint which I plan to do next weekend hopefully. I also want to try reducing the hood gap a bit more with the few tutorials floating around the site. I wanted to make this post to help offer pictures of the bumper and to answer any questions that people may have who are considering purchasing it. One thing that I have done to it since I got it, the openings are all bare in the bumper (above and below the "mouth guard", in front of the intercooler, by the fog lights, etc.) so I purchased some black aluminum window screening and covered the openings. I think it looks 10x better than having everything bare.
Also, for the record, I'm not trying to copycat the RS. There's no RS badging on the bumper, the ST badge is still in the rear, and I still have the stock spoiler. Just looking to improve the looks of my own car and to differentiate it among the other ST's in my area.