Discussion Starter
·
#1
·
I am currently running some Fifteen52 TurboMacs on my ST. A while ago my buddy put my car into a ditch and caused a bit of damage to the right front. The damage seemed to be mostly cosmetic (broken bumper cover, scuffed wheel, inner fender cracked) but the wheel seemed to be completely intact.
A few months and about 5k miles later, I am doing an oil change and tire rotation and noticed this on the wheel that went into the ditch.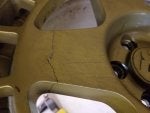 Totally not safe to drive on, so i swapped the spare tire on and then contacted Fifteen52. All I can say is, they have amazing customer service. Even though I was not the original owner of the wheel, and it had been weakened by the previous accident, they still offered me a discount on a new wheel. My new wheel should be here next week, and ill be switching up the color scheme a bit.