So one of the first modifications I made to my ST was the JBR TRU-3.0 Wide Path Full Intake. Everything went relatively smoothly aside from the PCV-to-intake connection at the rear of the intake tube, which just seemed odd. The intake has a roughly 1" bung on the back and came with a 3" length of rubber hose (slips over the bung), two clamps, and a 1" PVC insert coupling that, presumably, was supposed to connect to the PCV quick-connect.
This is a picture of the PCV quick connect I'm talking about:
The JBR-supplied coupling looks sorta like this: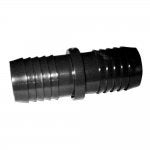 So it goes PCV quick-connect --> JBR 1" coupler --> 1" hose --> 1" intake bung
Anyway, the coupling JBR provided kinda-sorta seemed to clip into the PCV quick-connect, but didn't seem to engage fully no matter how hard I tried. I didn't think anything of it until a few days ago when a CEL popped: P04DB (Crankcase Ventilation System Disconnected). After an initial scare not understanding why my <1000 mile ST was throwing a code, I remembered the weird PCV connection. I checked under the hood and lo and behold, the PCV quick-connect had popped off the JBR-supplied insert coupling.
The insert coupling was severely warped (presumably from heat) and wouldn't mate back up to the PCV quick-connect. I managed to heat and re-form the coupling, and then used a Dremel to trim down the ID so I could get it back on the PCV quick-connect. This is a stopgap solution at best, though, and I need to figure out a permanent fix for this.
Has anyone else had issues with this connection? Where can I get a replacement coupling that will hold up to the heat back there?
Thanks in advance for your help!