Discussion Starter
·
#1
·
Hi folks.
Not sure if I should post here or in the maintenance section. Hopefully this is a quick fix so I figured here would get more visibility and hopefully a quicker answer.
I'm trying to replace my motor mount (Cobb) and running into an issue with one of the which attaches the brackets to what seems to be part of the exhaust system...
From the cobb manual: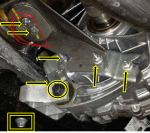 I circled the ones giving me a hard time. They were super rusted (car is 3+ years old). I was able to remove one nut, but the other one spins freely with the bolt. I can't seem to figure out how I can get the bolt to stay so I can unscrew it. Everything else is out and I'm ready to go, just stuck with this.
Alternatively, anyone successfully do a replacement without taking that part out?
Any advice would be greatly appreciated!