Install rotating assembly, oil pump, thrust washer, chain, guide, tensioner and insert crank pin.
Rotate till piston 1 is at TDC and crank stops on the pin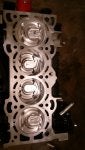 Install oil pan without moving rotating assembly.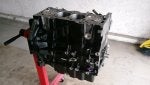 Install head, studs, gasket and buckets. If not changing valves or doing a valve job install buckets exactly where they came out and you should be good. All others get the feeler gauges ready.
Loosen phaser bolts in a vise but make sure to mark cam position with phaser. Use a scribe or marker. use assembly lube on the buckets and journals and drop cams in with cylinder 1 lobes in this position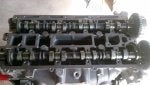 Install and tq cam caps per manual then install timing tool. It will only go in 1 way and will not go in if cams are not in the right position.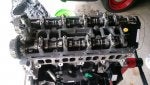 Now remover phasers and change the thrust washers behind them I used new bolts also. Only hand tight