Before I start,
PLEASE do not post
any "thanks" or "you're so awesome, can I have your babies?" messages
. It means a lot to me when people do post those things because it lets me know that what I've done is appreciated, but please direct posts like that to my
build thread
or just PM me directly. I wish to keep this thread as clean as possible so that people who are researching this LSD don't have to dig through a bunch of useless posts to find useful information. If you have a question directly related to the LSD installation then please feel free to post in this thread! If you wish to just show your appreciation, then
simply hit the "Like" button
at the bottom of this post. I wrote this install instructions as a basic guide to help other ST owners install the Quaife LSD by themselves. At the time of writing this installation instructions, there has not been many people who have installed the LSD. To the best of my knowledge, I'm the first person in the U.S. to have installed the LSD in his own personal ST. I don't recommend everyone to do this, but if you're dead set on doing it yourself, and you've got the necessary tools and mechanical know-how then this write-up should help you in your journey of installing it. I will try my best to be as detailed with these instructions as possible, but I may forget a things or leave things out because they should be obvious. Please don't use this guide as your only source of information to aid in your installation. Please do plenty of your own research! Furthermore, take into consideration that you car could be nonoperational for longer than expected. With a project like this, you never know what may go wrong. You may break something important and need to order the part that you broke. You need to plan this project down to every minor detail!
[HR][/HR]
Edited 5/30/14:
The video How-To
I will keep the previous written/picture based how-to below for reference/part numbers.
[HR][/HR]
Here are the parts necessary to complete this install:
#########################
----
Non-ford parts & major tools
:
-High temp grease
-High temp anaerobic gasket maker
-High-strength Loctite
-1.75" Exhaust clamp, U-bolt style.
-Aluminum bearing installer
-Aluminum round stock, 0.5" wide, 3-4" long
-Brake bleeder kit
-Hub removal kit
-Transmission jack
-Engine support bar
-
Feeler gauges
----
Minor tools
-32mm hub socket or deep-well socket
-T55 Torx bit
-Hard plastic/rubber hammer
-Crow-bar
-Vise
-Propane torch or heat gun
-Torque wrench(es) with capacities from 8 to 109ft/lbs
-Various sockets, ratches, wrenches, screwdrivers, and misc. tools that you should already have.
#########################
----
Ford parts
:
(2)
CV6Z1S177A
-
Shaft seal assembly
(2)
F7RZ4221AC
-
Roller-bearing & Race
(10)
W700427S300
-
Bolts for ring-gear
(1)
W500361S442
-
Bolt for transmission mount
(1)
CV6Z3B477A
-
Hub nut
(2)
W520102S442
-
Nuts for RH halfshaft bearing retainer
(1)
YS4Z3N324AA
-
Bearing retainer for RH halfshaft
(1)
4S7Z4B422A
-
Circlip for LH halfshaft
(2)
W715491S442
-
Bolt for lower arm / knuckle
(2)
W520415S442
-
Nut for lower arm / knuckle
(2)
XT-11-QDC
-
Tranmission fluid, Motorcraft® Dual Clutch
(2)
PM-20
-
Brake fluid, Motorcraft® DOT 4 LV High Performance
----
Shims
:
3S7Z4067AA
-
1.44mm
91ZZ4067BA
-
1.5mm
91ZZ4067CA
-
1.6mm
91ZZ4067DA
-
1.7mm
91ZZ4067EA
-
1.8mm
91ZZ4067FA
-
1.9mm
91ZZ4067GA
-
2.0mm
3S7Z4067AB
-
2.08mm
91ZZ4067HA
-
2.1mm
91ZZ4067JA
-
2.2mm
#########################
Let's talk about these parts and tools
:
#########################
Bearing installer
:
The bearing installer absolutely necessary for this installation if you're doing it all by yourself. You'll need to have someone with a lathe to machine this for you, assuming you don't have a lathe. The bearing tool will look like this: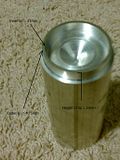 This whole piece was machined out of a 2" piece of aluminum round stock. It MUST be aluminum to prevent damage to the bearings! Also note that it doesn't have to be this tall. The whole piece could be 1 to 2" tall. If you cannot find someone to make you a bearing installer, you can always try using
this
. As a very last resort you could try finding a shop to press the bearings on for you.
Edit to add: @Stasiu used a 36mm kobalt socket to successfully hammer the bearing onto the LSD:
Excellent idea
@Stasiu
!
If you go the socket route as above, you will probably still want to pick up a small piece of scrap aluminum to act as a soft punch tool to insert the races.
#########################
Aluminum round stock, 0.5" wide, 3-4" long
Do not confuse this with the bearing installer above. I included this as more of an optional tool. This will make hammering the races in easier for you. During my install I used my bearing tool to hammer them in as shown in this picture: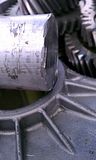 I simply put the edge of the tool up against the edge of the race and hit it with a hammer. This will not damage the race, but it will damage the tool. Using a smaller piece of round-stock that is about 1/2" wide as a "punch" would have been a little easier I think. This tool is optional if you have had a bearing tool made, but it will be necessary if you had a shop press the bearings on for you.
#########################
Brake bleeder kit
Absolutely necessary for bleeding your clutch. Do not try it the "old school" way. My local autopart store had a kit for loaning. Do not give up on the search for this tool. If none of the local autoparts stores have it, travel to the next closest city and try to find one. If you still can't find one, you will have to buy one online.
#########################
Hub removal kit
Necessary to prevent damage to your halfshaft and hub. With this tool you basically "push" the end portion of the halfshaft out of the hub. I found this at the same autopart store as a loaner tool. As a last resort you could try taking the hub nut almost off, and then taking a hammer to it, but there's a good possibility you could damage the threads of the halfshaft. If you do that, you just screwed yourself and you will need to be buying a $120 halfshaft.
#########################
Transmission jack
I had a couple people tell me that they have dropped some FWD transmissions without a transmission jack, but I really would recommend using one. I would even recommend using one if you had an extra person helping you. Don't try to benchpress this transmission, it's just not a good idea for your safety or the safety of the transmission. I bought a cheap transmission jack from
Harbor Freight
. Try borrowing one from a friend or an autoparts store.
#########################
Engine support bar
This came in very handy. To remove the transmission you will have to remove the rear motor mount and transmission mount, leaving only one mount holding the engine from falling to the ground. Physics just don't allow that one motor mount to hold the engine up, something has to support the engine in place. I bought an engine support bar which basically is a bar that runs across the top side of your engine. You use chains to tie onto the two engine lift brackets. I would not recommend using a jack on the bottom side of the engine as it is highly unsafe, so if you go that route then good luck to you. I bought my support bar from
Harbor Freight
. Try borrowing one from a friend or an autoparts store.
Suggested by
pmaltinsky
: You can also construct a make-shift engine support bar with some 2x4's.
#########################
Feeler gauges
This will be used to measure the preload of your LSD. Absolutely necessary. They can be bought at an autoparts stores, but I bought a big 32 piece set from
amazon
.
#########################
1.75" Exhaust clamp, U-bolt style.
This will be used to install the RH halfshaft in place. You can find these in just about any autoparts store in their exhaust section for a few bucks. In addition to this part/tool, you will need a piece of rubber or leather that is around 1" wide or more and no less than 5.75" long. I bought a cheap bicycle innertube. You will be wrapping the shaft with this material and then putting the U-clamp around it. The material is there to protect the shaft from being scraped up.
#########################
Shims
These are absolutely necessary. In the end, you will only need one, but you'll need one to act as a measuring shim, and then one as the final shim that you will place in your transmission. I bought one of each so I would have the full set. I did not want to break apart my transmission, measure the preload amount, and then have to order the correct sized shim while waiting around for it to be shipped. You might want to see if your local Ford dealership can source these, but I doubt they will be able to get them in a reasonable time.
*Note
: Read section 5.02.5 before purchasing any shims.
#########################
Crow-bar
You'll want to use a crowbar with a claw that isn't too thick or wide. Something like these two will work: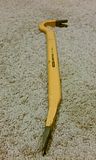 The first one is a Stanley 17" Ripping Chisel. The second is a Stanley/Bostitch 17 3/4" Crowbar. Please keep in mind while selecting a crowbar that you won't be using the goose-neck portion of it, you'll be using the straight end which will need a claw. The teeth of the claw cannot be overly thick or it will not fit into the slit of the lower control arm (thanks
ST3 4 ME
for pointing all this out.) Also, I suppose it doesn't need to have a claw if the end portion is not too wide.
#########################
Okay, so now that you've got an idea of the tools necessary for this installation, and you haven't been scared away, let's continue!
1) Top-side disassembly
#########################
1.01 - Airbox removal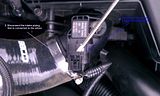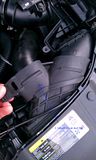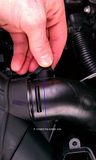 After that, you should be able to pull the airbox up. It is basically "snapped" into three round fittings. You can see where they are here:
#########################
1.02 - Removal of the battery and battery box.
Remove the dust cover off of the battery. It is split in half and the two halves should come out. Disconnect the ground first. Let the cable rest on a piece of plastic.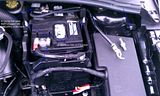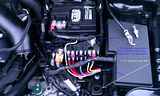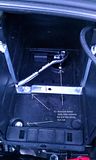 #########################
1.03 - Cowl panel removal
- Only necessary if using engine support bar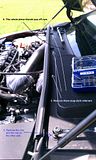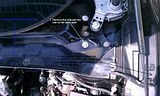 #########################
1.04 - Intake piping removal
- Only necessary if using engine support bar
I didn't take any pictures of the intake removal because I have a Cobb intake, but the proceedure is simple enough. At this point you should already have the intake piping disconnected from the airbox, so proceed to disconnecting it from the turbo. Just loosen the worm clamp and it should pop off. After that, the intake pipe should also be secured to part of the engine by a bolt. Remove that bolt and everything should come apart. If I remember right, the stock intake piping was in multiple pieces. It may make it easier to break those apart also during this process. Cover the opening to the turbo to prevent dirt and such from entering. I used a sandwich bag and the worm clamp to cover it.
#########################
1.05 - Starter motor removal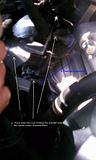 #########################
1.06 - Shifter linkages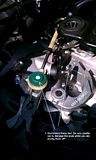 #########################
1.07 - Misc. top-side parts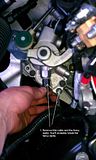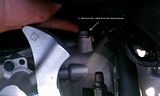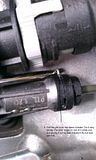 #########################
2) Bottom-side disassembly
#########################
2.01 - Jacking up the car
Before we start with removing parts on the bottom side, we need to discuss jacking up the car. Everything written in this how-to has been assumed that the person will be using jack stands and not a hydraulic lift. You first will need to consider how high you will need to jack up the car. Once you are jacked up, you will still need to be able to reach the transmission from the top-side of the car through the engine bay as you are maneuvering the transmission down to the ground. So don't jack the car up too high. At the same time, you definitely do not want it too low or you will not be able to pull out. When I pulled my transmission I had to take it off the transmission jack so that it would clear part of the car's frame. Next thing to figure out before you jack the car up is how are you planning on getting the left-hand axel nut off? You have two options.
First option, if you are doing this by yourself, you can jack the car up, remove the wheel, remove the center cap from the wheel, reinstall the wheel with the center cap removed so that you can access the axel nut, lower the car down just far enough that the tire is touching the ground and will prevent the wheel from spinning, and then break the axel nut loose. You do not want to have too much weight on the wheel as you do this! You want just barely enough that the tire will bite into the ground and prevent it from turning. Once broken loose, you would then jack the car all the way up and continue to remove the wheel, and later on when it is time to remove the axel nut, you will remove it the rest of the way.
Second option, if you have someone else to help you, you can jack the car up, and when the time comes to remove the axel nut, you will have the other person apply the breaks as you break the axel nut loose. Using an impact wrench while doing this would be the prefered method, but using a breaker bar will work also.
There's nothing really left to discuss except safety. You will be having your car in a lifted position for an extended period of time. Chock your wheels! Please always use a secondary safety. I normally have two jack stands as the primary, then a jack in the middle of the car for the secondary, and then as a third I will throw my wheels underneath my car. My cousin died while he was working under his car because his jack gave out. I think about that every time before I go underneath my car. NEVER allow yourself to become complacent. If you walk away from your car for a period of time and you come back to get underneath it, double check all of your safety devices before going underneath.
#########################
2.01 - Remove splash guard
Don't really need any pictures for this one. If you have removed your splash guard as many times as I have you probably hate it just as much as I do. I wish Ford would have designed it to be a quick disconnect.
#########################
2.02 - Drain transmission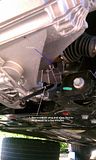 You'll want to slowly remove the plug. Since the oil will be coming out at an angle, you probably don't want to fully remove it right away either. I removed mine just enough to allow the fluid to come out as I kept ahold of it in my hand. Oh yeah, and don't forget to have an oil pan ready to catch the escaping fluid. After it has drained, replace the plug and torque to 25ft/lbs.
#########################
2.03 - Remove rear motor mount
I'm not going to get detailed with this because if you're installing an LSD, you probably already have experience with swapping our rear motor mount. If you haven't, I think you're doing the wrong mod first.
#########################
2.04 - Remove intercooler piping
I didn't get any pictures of this because I have a Cobb FMIC. You can refer to Cobb's
installation instructions
on how to remove the stock IC piping. You're just wanting to remove the warm side piping, i.e. the piping coming from the turbo going into the intercooler. If you look, you'll see that it'll be in the way of dropping the transmission. Cover the openings to prevent dirt from entering them.
#########################
2.05 - Remove LH fender splash shield
I didn't get any pictures of this but it's simple enough. It's the plastic splash shield that's in your left hand wheel-well. It is retained by a bunch of the plastic push-pins and a few torx screws.
#########################
2.06 - Remove LH axel/hub nut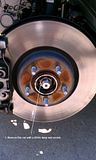 You may need to use a little bit of penetrating oil on the nut to help it break free. Be careful not to get any on your rotors.
#########################
2.07 - Disconnect LH brake line
#########################
2.08 - Remove LH lower arm from wheel knuckle
First, you'll have to remove the knuckle bot and nut:
Now, let's separate the lower arm from the knuckle: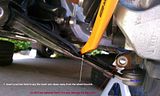 You may need to use some rubber-safe penetrating oil where the ball joint is connected to the knuckle. Do not use any penetrating oil unless you know if it is safe on rubber. You do not want to damage the boot on ball joint. While prying, be careful not to hurt yourself. The crow bar may slip! The best method I used to separate the lower arm from the knuckle was a fast up and down motion. Brute force prying did not seem like it worked. If I kept rapidly moving the lower arm up and down it seemed like it helped the most. Keep momentum going. It will feel like it binds up as soon as you slow down. Also, you may want to try turning the whole knuckle assembly one way or another to get a better position with your crow bar.
#########################
2.09 - Install Hub puller on LH hub
#########################
2.10 - LH halfshaft removal
Once you are done with the hub puller, go ahead and remove it from the hub. Before we pull this axel from the transmission, you need to know that Ford doesn't want you to bend the inner CV joint more than 18° and 45° for the outer. The outer CV joint will be the one closest to the hub, and inner will be the one closest to the transmission. You can damage these joints if you bend them past what they were designed for. Tie the outer section of the axel up so you can focus more on getting it pulled from the transmission. Make sure you have your oil pan on the floor to catch any fluid that may drip. While pulling the axel from the transmission, keep in mind that the shaft is actually shoved into the differential, and that there is a circlip at the end of the shaft that "holds" it in the differential. You'll need to apply a little bit of force to remove it. I carefully used a crowbar between the transmission case and the CV's metal case to pry it out. BE CAREFUL!
Once the shaft pops out, go ahead and remove it from the car and place it in a safe place. Remember not to allow the joints to bend much. You can remove the circlip from the end of the shaft and discard it. You will be installing a new one before you reinstall the shaft.
#########################
2.11 - Remove RH lower arm from wheel knuckle
Repeat step 2.08 on the RH side to seperate lower arm from knuckle.
Also remove brake line like in 2.07.
#########################
2.12 - RH halfshaft removal
With the RH halfshaft you will only need to pull it out from the differential. You will not need to remove it from the wheel hub. You'll separate the lower arm from the knuckle to give you a little extra room to pull the halfshaft out.
Once the bearing retaining bracket is removed, the halfshaft is ready to be pulled out. Before you pull it out though, you will want to tie it up with something. I ended up using a strap from a carry-bag and strapped it to my downpipe. Once you have it tied off, go ahead and pull the halfshaft out enough so that you can move it off to the side a little. Remember not to over bend the inner joint! Be careful not to damage the splines at the end of the shaft. Be sure to have an oil pan ready to catch any dripping fluid.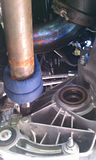 If for some odd reason you can't get it to come out by hand, refer to the U-clamp method in section 8.04
#########################
2.13 - Transmission bolt removal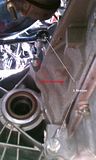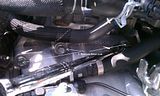 The only thing holding your transmission up right now is the two bolts that you didn't remove, and the transmission mount.
#########################
2.14 - Position transmission jack in place
I didn't take any pictures of putting the jack in place, but it's quite simple. You can see where the two halves of the transmission join together. I put the jack centered with this, then strapped it down. If you look at the transmission you will also see that the bottom side isn't level with the ground, it's kinda rotated a bit, so I used a small block between the jack's platform and transmission to help aid with this. Sorry about not having pictures. I was pretty focused on what all I was doing at the time to think about snapping some pictures.
#########################
2.15 - Install engine support bar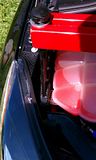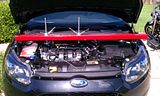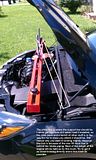 Not shown in the pictures above are the two chains you would use to loop through the engine's lift hooks. Be sure to have them nice and tight, especially the one that connects to the lift hook in the back. Make sure the legs of the support bar will not shift around. On the passenger side it may want to slip down against the coolant tank.
#########################
2.16 - Remove transmission mount
After removing the main bolt, lift up on the transmission mount to remove it. Underneath it there will be a mounting bracket bolted to the transmission case with 3 bolts. Go ahead and remove this so it isn't in your way while you are dropping the transmission. Your engine is now only supported by the support bar and the passenger side engine mount.
#########################
2.17 - Remove the two remaining transmission bolts
Those two bolts that you didn't remove during step 2.13 can now be removed. Double check your transmission jack before doing so!
#########################
2.18 - Drop the transmission
So, now for the fun part. Dropping the transmission, just not *literally* dropping it. You may damage transmission, or worse, damage your floor
. Pull the transmission roughly 2-3" directly away from the engine. Do not move the transmission in any other direction other than directly away from the engine. You don't want to damage the clutch or the fingers of the pressure plate. Once it has cleared the pressure plate, you can then start maneuvering it down. I had to rotate the transmission clockwise just a little:
Then I moved the whole transmission towards the front of the car.
Be careful not to damage the slave cylinder. It's plastic and plastic vs metal has a very bad outcome. The frame shown in the picture will be in your way a little and you'll have to maneuver around it. You should be able to begin lowering the transmission at this point. You may have had to lower it slightly earlier, but there's so many variables at this point it's hard to tell you to "do x and y will happen." Once you have the transmission lowered to the ground, you can begin trying to pull it out from the left side of the wheel hub. You may have to move the hub over a bit to make room. You might also want to try disconnecting the left half of your front bumper to make room. Refer to Cobb's FMIC instructions on how to remove your front bumper. You might also want to move the ECU out of the way. It's bolted in place with 3 bolts. I never had to do any of this while removing the transmission, but I did remove the front bumper and moved the ECU over to help with reinstalling it. You may also need to remove the transmission from the jack at this point and pull it out by hand. Be careful not to damage the transmission if you do.
#########################
3) Breaking apart the transmission
#########################
3.01 - Slave cylinder removal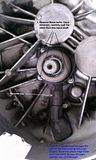 #########################
3.02 - Remove case bolts
Before you remove these bolts, know that you'll always want the input shaft facing up like in the picture shown above in 3.01 and in the picture below. Don't lay the transmission on its side once we start taking the bolts out.
There should be around 22 bolts in total holding the transmission together. There will also be some on the inside of the bellhousing: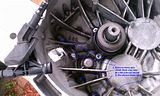 #########################
3.03 - Transmission separation
Start hitting up lightly with a plastic or rubber hammer on these areas around the whole transmission. You may have to hit harder, but start off slow. Watch the gap between the two halves. You don't want one side coming up more than the other. Keep working its way up until you can pull it off by hand. While pulling it off, be sure to pull it straight up. Be careful with the input shaft's seal. You can damage it during this step. Once the top half is removed, flip the top halve upside down. There is two plastic pieces on the bottom side that you don't want to damage, so have them facing up for now. Do not attempt to flip the bottom half of the transmission upside-down or on its side!
#########################
3.04 - Remove differential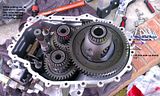 #########################
Continued in next post