This project has been In the making for about 2 months now. First off I want to say thanks to Silver_shooter, Kevin, and most of all ST3 4 ME! Help from them was necessary for me to get this install done, as It is was my first time doing one. Overall The install went really smooth, and only took me about 4 hours! I hope this thread can help those out there looking to do their own DIY Intercooler. I went with the GReddy core for a few reasons;
1) an Intercooler is the best performance mod for the ST
2) I always wanted a GReddy part since the first Fast and Furious movie......
3) The core size, and welded on bung locations seemed ideal for mounting.
4) I wanted something a little more expensive & different then the godspeed or CRX, but didnt want to spend a whole lot more then those options
5) because ST3 4 ME suggested I would be the first one to ever install it on a ST (that we know of) He originally came up with the idea to do it!
Parts List:
-GReddy Universal core (1) 228$
Universal GReddy LS Spec Intercooler Type31
Greddy Universal Intercooler Type 31 LS Spec with 60mm Endtanks | eBay
-2.5" T-bolt clamps (4) 12.59$
X8 2 5" Stainless T Bolt Clamp Turbo Down Pipe Intake | eBay
* I bought the 8 pack because you should always have some extras incase
-2.5" cast 90* elbow (1) 19.95$
Cxracing 2 5" Cast Aluminum Elbow 90 Degree Pipe Turbo Intercooler Universal | eBay
-2.5" ATP Cast 90* elbow w/ sensor mount (1) 39.00$
Separate Elbow from ATP FMIC Kit with sensor mount welded : atpturbo.com
-2.5" ATP 3 ply silicone couplers (2) 12.00$
Straight Connector 2.50" ID - Turbo Silicone : atpturbo.com
*ATP shipping-5.99$
-Blue (removable) Loc-tite 5$
-Grey RTV Silicone gasket maker 5$
-white plumbers tape 1$
- 1/4" X 1" X 4' aluminum bar (Can be found at Lowes / Home Depot) 12$
Total cost was 340.53$ give or take a dollar or two :money:
First thing to do was removing the front bumper. This was way easier then I expected! You need to remove 3 T30 screws in both wheel wells (turn wheels to one side then other to make room) , remove the undertray, and 4 more T30's where the undertray and wheel wells come together.
Next I would suggest removing the headlights along with 2 more screws attaching the front bumper to the frame (similar screw next to the headlamp screw)
* notice in pictures I did not do this, but I'm suggesting it because the bumper comes off way easier when you can access the clips that hold it in place, I broke one by yanking on it...
Remove the 4 plastic retainer clips on the front center top of the bumper, these are in front of the hood release which you also will need to disconnect and set aside, pull off the bumper and unplug the fog lights.
Overall removing the front bumper took me about 15 minutes
Now....jack it up, or Get it up on ramps!! (not needed to do it.....but it makes things so much easier)
next you will need to remove the rubbery air guide, Styrofoam crash beam piece, AGS system, the map sensor, and finally the stock intercooler can come out!
* the Center to Center measurement of the stock IC pipes is 33.75" my GReddy core with the elbows was 35.5" I think that is about the max you can go without having to modify the radiator support brackets. It was a tight squeeze and It really helped to have my friend there to help me smush it all in. (that's his newly tuned 13' Charger in the next bay)
After connecting the elbows to the stock pipes I supported it from underneath and began to mock up the bottom brackets
*I had to re-use the stock worm clamps to connect my elbow couplers to the stock piping, the t-bolt clamps would not fit, I will eventually order some 3" clamps and hopefully that will work. The pipes are in there really tight, and after 2 weeks of driving I have had no problems (running fsw 93 stg II)
Using the 1/4" X 1 plate (approx 5" each) you can mark the holes for the I/C bungs and where your hole will meet the mounting location on the frame.
* the frame mounting spot is already drilled out and in a perfect location for this.
I used the stock bolts/washer/lock washer that came with the I/C to attach it to the bracket, and on the frame side I used (2) 1/4-20 X 3/4" hex head bolts, (2) 1/4" washers, (2) 1/4-20 locking nuts
* Its tough to tighten down the frame-bracket bolts, you will need an open end wrench with a flexible head to be able to get it tightened.
Next you need to mount the bracket from the top bung to the crash beam. Since the bottom brackets now hold the intercooler in the spot its going to be you can mock up where you will need to drill through the crash beam
I was lucky enough to find a bracket that was absolutely perfect for this, but you guys can make one just by bending some of the 1/4" X 1" X 4' bar
* make sure to loc-tite all of the nuts and bolts!!
Getting the hole in the crash beam took about 10 minutes of continuous drilling using a Dewalt titanium bit (my friend suffered through all of it for me, now that's good help!) I repaid him with a diablo tuner install !
opped out:
Almost done! Now to mount the map sensor in the ATP elbow. A lot of others doing the DIY intercoolers have also noticed that the stock map sensor o-ring does not fit into the ATP sensor hole tightly. *you cannot just place it in there anyways...It will leak*.
"map sensor?!" "YUUUP"
I wrapped the bottom part of the sensor in plumbers tape (good from -212*F-500*F under pressure or in vacuum)
read this if you want to know more on why I used plumbers tape to make a better seal instead of searching down the right size o-ring.
Temp. rating on teflon tape? - Yahoo Answers
before mounting it in the elbow I also used grey RTV gasket maker to make another seal on the flange.
I wanted to make sure everything was good to go so I pulled it off the ramps and checked that the I/C was centered and level
Reinstall the bumper, etc.... and now you're good to go Stage II!! I also suggest prior to install you get a tune set up from Randy @ FSWerks!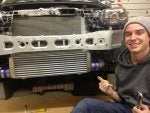 During the whole process I wanted to do something to make sure my I/C can be seen all the time! so I removed the black center grill insert on the bumper and plasti-dipped the center vertical pieces black.