Discussion Starter
·
#1
·
So im bolting on an mrx kit here soon and had a question for those who know about these cylinder heads.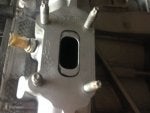 So the black outline is where the gasket sits for the mountune turbo flange and I wanted to know if that would be to large to use carbide bits to enlarge to? Ive been looking around and cant find any info on how close the coolant passages are to that area. It looks like it would be safe to do based off the wall thickness. There cant be a passage that close, right?
Any insight or knowledge wil be very much appreciated!