Hey Everyone,
I wanted to provide a little bit of information about my experience working with Justin to dyno tune my 2015 ST.
Originally I had a flash tune from Stratified. I was happy enough with the experience and product, but after doing some additional research on tuners for our platform I learned about Freektune. Everyone that had worked with Justin seemed to be thrilled with the product and support. When I realized that he offered dyno tuning services and was only 1 1/2 hours north of me, my decision was made. I began corresponding with Justin back in December. I submitted a down payment for the dyno time and he sent me a base tune within a couple of days. I much preferred the way my car performed on the Freektune base map over the Stratified flash tune. This is my subjective opinion, and doesn't say anything about the quality/safety of the other tune. I drove on the base tune all of January before making the trip to Freektune on 2/4/18.
During the month between receiving the base tune and my dyno appointment, Justin and I corresponded on multiple occasions. He always answered my questions and was incredibly flexible with me. I had a death in the family that threatened to make me reschedule my appointment. He offered condolences and promised to find time to help me out if that happened. Thankfully I was able to keep my appointment.
When I got to the shop he welcomed me with a smile and genuinely seemed happy to have me there. We chatted about the Pat's loss in the Super Bowl (Hurts like hell!), cars, etc. He is a great guy and is easy to talk with. He explained to me the process and allowed me to hang around during the tuning process. We did a total of ten pulls over a couple of hours to get my car dialed in. It really was awesome.
You can see the dynochart comparing the Freektune base map to the final map revision after the tuning process. Pretty impressive gains all around and the car feels great.
I gotta be honest...the whole experience was fantastic and Justin is a stand up guy. I look forward to continuing the relationship into the future.
Regards,
Brad
93 Octane map (modifications in signature)
Blue = base Freektune map
Red = final map revision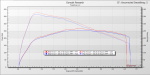 Edit:. Changed "OTS" to "flash" for accuracy.