Discussion Starter
·
#1
·
One thing that has bugged me with my ST is how bright the indicators are with night driving, especially the headlight/driving light indicators. These indicators don't dim when you dim the dash lighting. The other thing was that the center LCD always seemed too bright compared to the gauges. I also recently started using the Cobb TC on my Stratified tune, so I've been running in Sport mode a lot lately, and the TC off indicator always seemed annoying bright, even in the daytime.
So, I finally decided to do something about it. I'm really happy with the results, so thought I'd share...
First, I pulled out the gauge pod and disassembled it so I had access to the LCD panel and gauges (very easy to do with instructions I found here:
Removing OEM gauge cluster: how to - Ford Focus Forum, Ford Focus ST Forum, Ford Focus RS Forum
)
Next, I cut some Avery labels to fit behind the indicator light locations I wanted to dim and slipped them in behind the gauge, adhering to the back. I pressed down a bit on the gauge background so it would stick well. I used 2 pieces, one for the headlight and driving light indicators on the left, and the other for the TC off indicator on the right. I decided to leave the other indicators as is since if lit, I'd want them to draw my attention. You have to look closely to see where the indicator light locations are, but its pretty easy to figure out. I could have removed the needles and gauge background and applied it directly, but didn't want to bother with that and this method worked just fine.
Finally, I ordered a darkened screen cover meant for a phone (I used this, $3.88 shipped for 2 in case I messed one up:
https://www.amazon.com/gp/product/B00OLHXDAM
) and cut to fit the LCD (2 1/16x 3 5/8). Applied it and reassembled everything and installed it back into the dash.
I'm VERY happy with the result. Here are some pics of the process and outcome:
Sizing the avery label for the TC off indicator: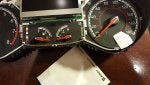 The darkened phone screen proctector I used:
Sized screen protector for the LCD:
All complete, ready to reassemble and install:
Looks great at dim setting: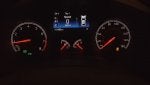 Comparison with some of the other indicators and the un-darkened radio LCD on my ST1 (TC Off indicate was not lit in this photo):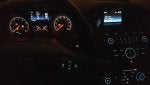 A little brighter dash setting:
Daylight. Looks great here as well: