Discussion Starter
•
#1
•
After testing my setup at a few track days I firmly believe it is effective in improving oil and coolant temps on track and have gotten several requests for more details so I wanted to provide a starting point for others to fabricate their own.
I started off by shaving my grill using an angle grinder and a 60 grit flap wheel.
Next I began creating a template out of cardboard, starting with the sides and then adding a top and middle section.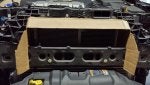 This took several iterations of mocking it up, putting the bumper on and checking for clearances, adjusting, etc. Once complete I made some drawings up and have attached those below. Note that I don't have specific dimensions for the tabs that I used to bolt everything together. Also, I ended up making some extra tabs/brackets on the top piece utilized existing holes for attachment. These drawings are a good place to start but I still recommend using them to make a carboard mockup and then adjust that for you individual application.
I used aluminum sheet metal from home depot to actually make the final product. I had access to nice sheet metal tools (press break, hydraulic shear, etc) but you could do this with a pair of snips, a work bench/vise, and a drill. Also if you can weld, you don't need to use bolts and tabs to hold the sheet metal pieces together. I mounted the side pieces to the composite plastic structure with 2 small bolts on each side. The 2 holes in the composite on each side were the only permanent alterations to the car, besides of course shaving the grill.
You can see the tabs I used to mount to stock holes below.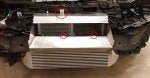 Final Product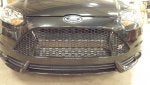 I ran Gingerman April 16-17 this year and collected data with my OBDLink MX to compare to last year at the same track. Both days were about 80-85°F ambient. You can see the difference in ECT (225 vs 240+)as well as how well the Depo 3.5" FMIC was compared to stock (<100°F vs 140+). I don't have a way to log oil temperature but I do have a real sensor and gauge in the car and it had hit 280°F without the shrouds but was always less than 250°F with them. I ran Pitt Race last weekend and it was only the in the low-mid 60's both days but with those temperatures my coolant stayed well below 220°F usually around 210 max and oil was less than 230°F all weekend.
All the runs are on video as well.
Before:
After:
After 60°F day: