Discussion Starter
•
#1
•
Hey everyone, this is not a how to and I am not a professional audio installer. But i wanted to share my experience with putting a stereo in this car and what equipment I purchased. Before we get started i just want to say that if you decide to install your own stereo system do so AT YOUR OWN RISK and I WILL NOT be liable for any damages, I am only writing this to share my experience and a few things i learned along the way.
So first we all know that the stock stereo system in the ST1 is anything but good (and from what I've read the ST2&3 is not much better). While I was trying to research products for this car they are very limited and even more limited seems people actually upgrading their system, or at least doing a write up about it.
Products Purchased:
Pioneer AVH501EX Kit for 12-18 Ford Focus $499.99 free shipping this kit comes with everything you need to install the stereo including the dash kit, Maestro RR, wiring harness, and the antenna adapter.
Pioneer AVH501EX, KIT-FOC1 Kit 12-18 Ford Focus + ADSMRR + Antenna Adapter 19213338114 | eBay
Kicker KS Speaker Upgrade Package 13-18 Focus ST $199.95 free shipping
2013-2018 Focus ST Complete Kicker KS Series Speaker Upgrade Package S3M-KICKFOCSTKS
MTX Terminator Series TNE212D 12inch 1200 Watt subs with enclosure $149.95
https://www.amazon.com/MTX-Terminator-TNE212D-200-Watt-Enclosure/dp/B001JECAM2/ref=sr_1_1?keywords=MTX+Terminator+Series+TNE212D+12inch+1200+Watt+subs+with+enclosure&qid=1578799410&sr=8-1
Elite Audio 4 Gauge Wiring Kit $41.99
https://www.amazon.com/Elite-Audio-Gauge-Premium-Interconnects/dp/B081FVJBJ4/ref=sr_1_2?keywords=Elite+Audio+4+Gauge+Wiring+Kit&qid=1578799457&sr=8-2
Rockford Fosgate R500X1D Monoblock Amp $134.97
https://www.amazon.com/Rockford-Fosgate-R500X1D-1-Channel-Amplifier/dp/B00BF6HYDE/ref=sr_1_1?keywords=Rockford+Fosgate+R500X1D+Monoblock+Amp&qid=1578799507&sr=8-1
Total: $1026.85
This is definitely not a cheap upgrade but is still cheaper than the $3000 upgrade for the ST2/3 system, and you get a better system in the end. Alright I'll get into it now. I started with running all of the wires for the amp, which was the biggest PIA I think I've ever had installing subs. I ran the power wire through a grommet behind the glove box and snaked it behind the engine up to the battery. There's a fuse panel directly on the front of the battery box that has a great spot to attach the power wire.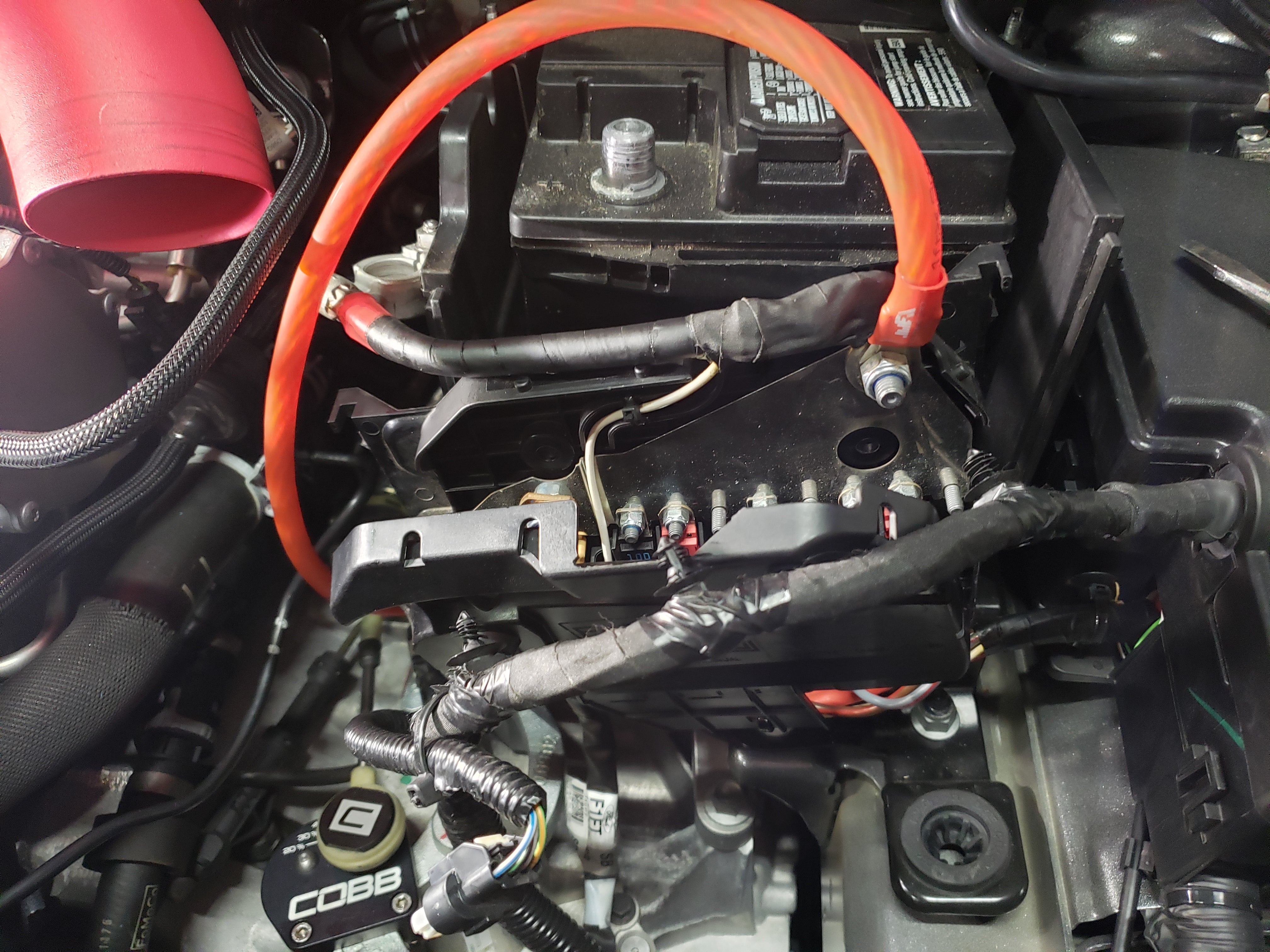 I then ran all the wires for the amp under the trim on the passenger side back to the rear hatch area. There is a small groove in the body of the car under the back seat that i ran the wires through. I grounded it on the back seat mount.
I used a box cutter the trim the foam in the rear so the amp would fit. Next was on to installing the head unit, which was the hardest head unit i have ever installed. The dash kit that came in the kit I ordered is made to fit flush to the front of the head unit instead of allowing the head unit to go through it like every other kit I've ever used, this means the head unit has to be fit perfectly so the dash kit will install around it and snap into place. This part alone took an hour and a lot of taking the stereo in and out and fitting up the dash kit. The wiring harnesses looks like a mess for this setup and you have to use the Maestro RR in order to retain the steering wheel controls and sync. The Maestro RR has to be programmed to work with your specific vehicle, it comes with instructions and their program software is really simple to use. Then you combine the wiring harness that comes with the dash kit, the Maestro RR harness, and the stereo harness. I highly recommend printing the wiring diagram from Maestro's website. Also be very careful when unplugging the radio antenna from the factory radio, I broke mine but fortunately I listen to music through my phone so I'll fix the antenna later.
After the new head unit was installed i decided to see what it sounded like with the factory door speakers before i swapped them out with the Kickers. I was shocked at just how bad the factory speakers were. I was only able to turn the volume up to 10 before the speakers started distorting. After I removed the factory speakers I found out why, they are only rated to 25 Watts. Yes 25 Watts, that's insane! Even the the ST2/3 speakers are only rated to 25 Watts. The Kickers are rated for 100 W RMS and 200 W Peak. So if nothing else upgrade your door speakers at least, trust me it's worth the $200. The kit I ordered from stage3motorsports came with the adapter rings to mount them to the door and the wiring harness to adapt the speaker to the factory wiring, so no cutting required and everything is mounted behind the factory door panel so nothing to cut there either. They also have a really detailed install video on their website. It is worth noting that Ford apparently used whatever stupid screw they had laying around to mount the speakers and the door panels. My front speakers had 2 T20 (maybe T25 I can't remember) Torx screws and 1 5.5mm screw. Also apparently my left rear speaker was the "upgraded" ST2/3 speaker for some reason.
So after all of that I was finally finished. I've installed a lot of stereos and subs and this one is definitely the hardest one I have ever installed. From start to finish it took about 7.5 hours to complete and that's not counting programming the Maestro RR or getting the wiring harness together so another hour for that so 8.5 hours altogether. But it was worth it, this blows the stock system away. I tried to put all of this together as cheap as i could and that played a big factor in what I ordered. I picked that particular Pioneer kit because that was the cheapest on they had. And I know I could of went better on the subs but they are decent for the price as long as you get a decent amp to push them. MTX also offers the same subs with an amp included but its way under powered at 150 Watt RMS. So here's the finished product and I hope this helps someone who is wanting to upgrade their stereo in their ST1 or at least give someone some ideas and show there is actually some stereo stuff out there for our STs.