Discussion Starter
·
#1
·
Hey guys I wanted to start a build thread here to share and to try to answer any questions that anyone has about my parts and any other questions. I want to try and share my experiences good and bad.
Now thats out of the way... My car was purchased in march 2014. Its a 2014 Race Red and I call her Roxxane or 'Roxy' for short. So the reason I waited so long was because 1 I didn't think that the mod bug would bite this deep and I've never experienced the fun self satisfaction of modifying a car lol. 2 I was just to lazy. SO now here I am going to try and get everyone up to date. Sorry If I don't have pictures of me installing things. But you can ask me and I can try to help and try and tell you how much of a pain something was.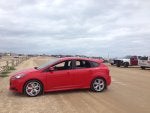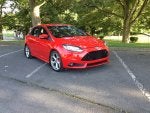 Burning off the Stock F1s for some all seasons.
So yea I got this car with 5 miles on it back in march 2014 and I feel in love instantly... a few months go buy and after watching the CJ Poney parts 3 exhaust system video I knew that I wanted the Borla. So the day came were we had a massive 50 ST meet at CJs and they had some amazing deals on installs. I went ahead and got a Borla, Rally Armour mudflaps, and the MGP caliper covers. I will say that the Borla exhaust does take around 1500 miles to break in and fully open up. Then I purchased a Boomba BOV to have some cool turbo sounds and still have it on to this day. I will say that the install is very hard as its in a hard to reach location with the entire front suspension being in the way. multiple times I was banging on the black felt cover to knock screws down that I've dropped. I went on to the next Cjs meet and got the Cobb Plate set to 40%.... It took a little time to get used to but it really helped with the longer throws. Now not saying that I was complaining but I really didn't have anything to compare the stock one to so i took the plunge and I have never looked back. Next up I got the access port V3 and the Roush intake. The tune was amazing and truly transforming the car even though it was a OTS tune. I put my Roush on a few days later and the amazing turbo sounds almost like a baby supra.