Sorry for the sideways pictures.... I do not understand why some are and some are not and how to fix them. Can someone please PM me on the step by step process to fix them?
Also I do want to point out that I will do my best to cover everything as well as I can that I've done to my car.
When we get to the present I will try by best with lots of pictures and much more details
So at this point I was thinking that I wasn't going to spend or put any more money into my car and boy was I wrong lol
I went ahead and picked this up.. And some Boomba wing risers.
This bad boy is amazing at reducing wheel hop and when its broken in there are really no NVH. Now I did have a few problems getting this in which was my own fault because I wasn't using the right tools for the job.
So after a long car part buying break because of the nice snowy winter
I bought a Sound Symposer delete from Steeda. It took about 15-30 min to put on and though I kinda sometimes miss the noise I really don't because I have an intake.
So now I'm thinking... man I really would like to spice up the power so... I went out and bought these!!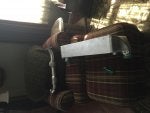 The Depo Racing Beast and 100 cell downpipe. Both the pipe and intercooler were packaged very well. I think the UPS man could have dropped them off of a 5 story building and they would be undamaged lol. I got those put on at the same time and it took a long time to get the old downpipe out and after stripping out a expensive O2 sensor I was on the road again.
Hello crappy lunchbox Stock intercooler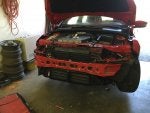 Hello massive 35LBS Beast intercooler
Everything done and put back together.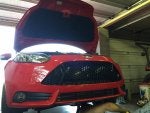 So I loaded up the Cobb Stage 3 OTS tune and started Roxy up for the first time.... Jizzing was done to a mass degree.
There is ALOT of turbo whistle and the Borla catback loved this downpipe. When I took a test drive down the back road I will never forget hearing this car at WOT for the first time with the downpipe. Just as I just had the catback there is no drone... But at WOT the sound levels are EXTREMELY loud. But the good thing is cruising and driving normally is still great and you can hear loud turbo sounds with the windows down. NO video I have taken can not capture how fantastic this combo is.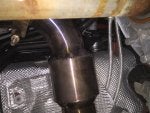 Here is the pipe after around 5,000 miles. Still looks and sounds great.
So I stopped buying parts again but as everyone knows the mod bug stalks you and is always ready to bite.
@VelossaTech
Had to release a really cool big mouth snorkel... So I got one of those and threw it one. Thing was really big and cool looking. But the most important thing was even though I have a open box intake it still let more air flow into the filter and helped keep everything cool.
So then I buy these really cool LED tail lights that are smoked.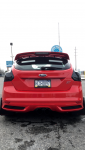 While this was going on I saw that TTR just had to have some black friday sales so I jumped on it.
Also went to Edge Auto sport and picked up a nice set of Boomba Intake +Throttle Body spacers.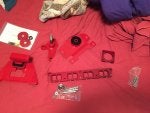 Installing everything was very easy and the car was transformed into a race car. In a good way that is. Shifts are more crisp and I feel that I have more torque. The front end feels more planted in corners and the engine feels one with the car. Its a mod not for everyone but if you don't mind about 25% more NVH them GO FOR IT. Also I will say the NVH goes very nice with my exhaust as it helps balance the noise from the back. You get a very nice growl now form the front at WOT.
I cant forget the thing though that made the biggest difference... STRATIFIED TUNE! I have the latest strat OTS tune and that blows the Cobb tune out of the water. I love it! Its smoother, more power, more pull, More noise! Its really a great tune. The overall car drives closer to stock when going around town but then when you get on it... Its a dramatic difference and a good one compared to the Cobb OTS stage 3 tune.