Building the ST Ford won't - 2012 ST-converted SE sedan
I figured I should start a thread for my car here, and hopefully it'll be allowed in the ST Builds forum even though it isn't quite an ST.
First off though, some answers to a couple of common questions:
Why?
Why not?
Why didn't you buy an ST in the first place?
STs in Canada are relatively expensive compared to N/A Mk3s as we don't have the same ST1/2/3 packages. All of ours are essentially ST3s and all of the ones that came through my dealer had sticker prices between 35 and 38K. I also bought mine over a year before the first STs arrived here and specifically wanted a sedan.
The car is a 2012 SE which I bought in September of 2011 - the specs were Sport Package, Winter Package, Yellow Blaze paint, and a 5-speed manual. A few days later the first small changes started but it was a while before the aftermarket picked up so I was left to pick from the Ford parts catalogue and added a few options that my car didn't (couldn't) have. Once new parts started hitting the market it kind of snowballed and today it's being built with the idea of making the ST(1) sedan that Ford didn't. Currently the conversion is mainly cosmetic but it does have a full ST exhaust system as well as the small intake duct.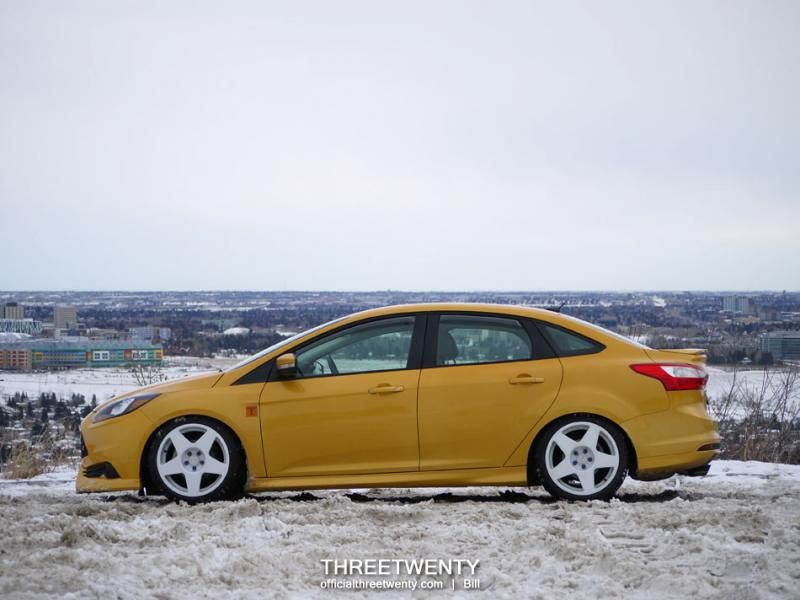 With all of the work that has gone into it care has also been taken to ensure that nothing makes it impractical for use as my daily driver and winter car - you're probably thinking that the ride height certainly causes issues in the winter but it has been fine so far. If a particular day is simply too bad for the Focus I do have another car I can rely on but this car still sees steady use through the snowy months.
It sits on ST coilovers and currently I'm using 18x9.5 Tarmacs for winter.
Outside it has an OEM ST nose and side skirts, OEM black housing headlights, Cup Spoilers, a custom splitter, Euro tail lights, and the washer nozzles, roof rails, and rear valance were all colour-matched to the body (the valance was only partially painted though, some black was left for contrast).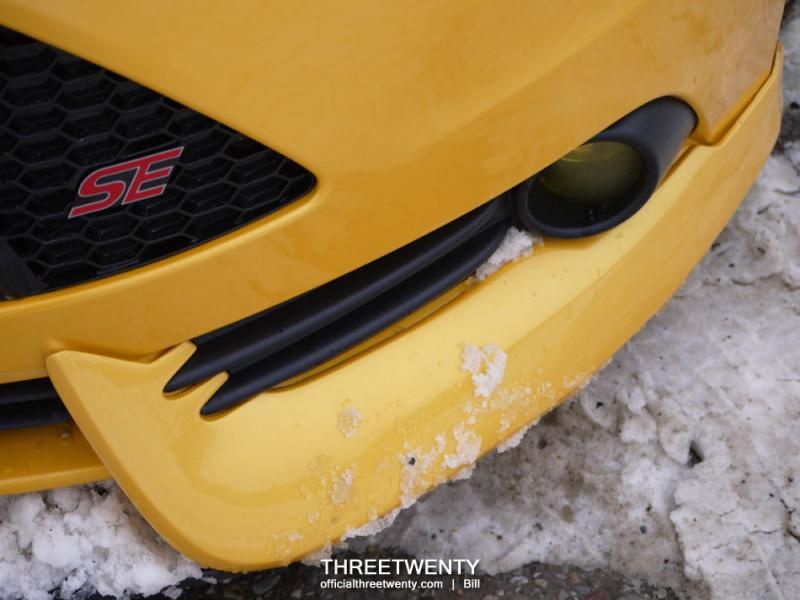 Other small changes have been made too, like the custom ST-style SE decals front and rear, and others.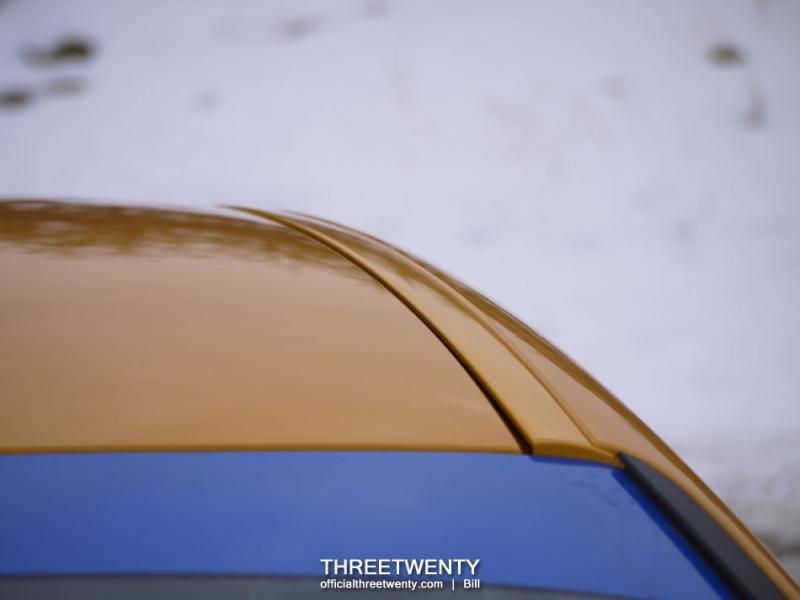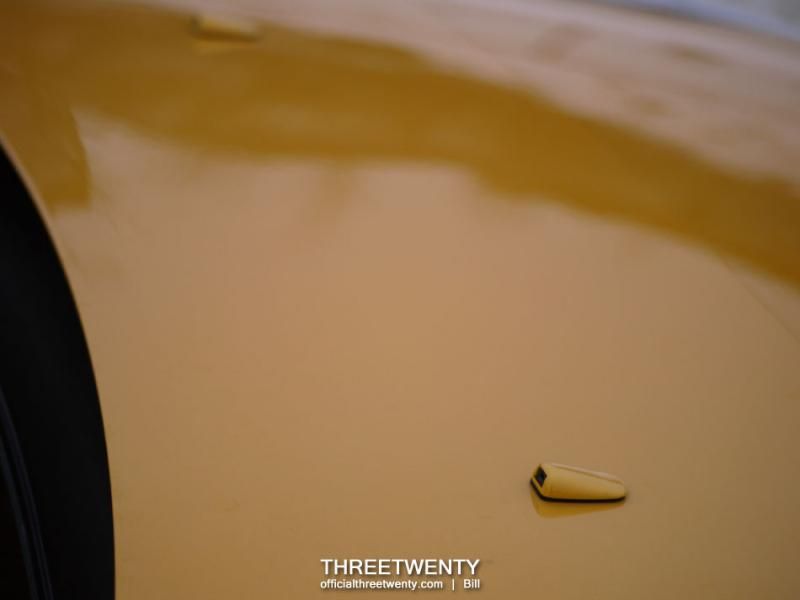 The aforementioned roof rails and washer nozzles...
The rear is the one area of the exterior that I still want to work on but almost nothing is available.
Inside some of the more notable changes are custom gauge faces from BCC, OEM ST outer dash air vents (with the silver trim ring - mine were originally all black), and a new shift boot, e-brake boot, and arm rest cover from Redlinegoods and JPM Coachworks.
Along with the coilovers, for performance modifications it has an intake, the ST exhaust, MS3 rear engine mount, solid shifter bushings, rear sway bar, and the thicker OEM front strut bar. I had an aftermarket upper engine mount at one point but it was too harsh so I promptly went back to the stock piece. There are also a couple of dress-up items under the hood in the form of an oil cap and engine cover.
There are still many items left on my to-do list and yes, eventually a full ST drivetrain swap will hopefully be undertaken. For now I'll take care of the rest of the conversion and when I can afford both the time and money needed for the swap I'll start researching it more. The first update for 2015 is underway and hopefully it won't be too long before that's done.
MODIFICATIONS (Kept updated)
EXTERIOR:
-OEM Focus ST front end conversion
-OEM Focus ST side skirts
-Rebel Devil Customs ST Sedan rear valance
-3D Carbon Pedestal wing
-1552 Cup Spoilers
-Modified Maxton front splitter
-Colour matched washer nozzles and roof rails
-OEM black housing headlights
-LED tail lights
-THREETWENTY SE emblems
-Yellow tinted fog lights with yellow bulbs
INTERIOR:
-OEM Focus ST outer dashboard air vents
-OEM Focus ST gauge cluster
-OEM Focus ST pedals
-OEM Focus ST door sill plates
-OEM Focus ST rear door cards
-SS Tuning shift knob
-Redlinegoods shift boot (Alcantara with silver stitching)
-Redlinegoods arm rest cover (Black Nappa leather with silver stitching)
-JPM Coachworks e-brake boot (Alcantara with silver stitching)
-Broadway 270mm rear view mirror
-Colour matched front door trim
-Boosted Designs limited edition dead pedal (#004/050)
ENGINE/DRIVETRAIN:
-Complete Focus ST conversion
-FSWERKS intake heatshield
-COBB intake arm
-K&N filter
-Ford Racing intake snorkel
-COBB downpipe
-Breedt symposer delete
-COBB short shift plate
-RDC downpipe hanger
-Agency Power exhaust
-COBB RMM
-JBR solid shifter bushings
-SMC oil cap
-Redline Tuning hood struts
-COBB Accessport with Stage 1 tune
SUSPENSION/BRAKES/WHEELS:
-VMAXX front big brake kit
-ST coilovers
-OEM updated front strut bar
-Steeda rear sway bar
-Kyle Deyoung rear strut bar
-Massive front swaybar endlinks
-OEM Focus ST control arms
-18x9.5" 1552 Tarmacs with 235/40R18 Dunlop Winter Sport tires (winter)
-18x9" 1552 Turbomacs with 235/40R18 Continental DWS (summer)
-Stance:Nation lug nuts and Fatlace valve stem caps