Discussion Starter
·
#1
·
OK guys, if you are looking for a sweet build to keep tabs on, this is probably not it. I wanted a thread where I could just upload some pictures and information as I purchase various small bolt-ons that I am super stoked about. Of course, who knows, that's how all the threads start right?? Since I already added a few things, I wanted to put this up before I got too crazy and didn't document anything!
Well I've done a few things I can put in this first post already that I'll glaze over a bit since I don't have too detailed of step-by-step photos or anything. So here goes!!
I purchased my 2014 TB FoST on Nov 5, 2013. The first thing I did was get winter shoes after a disastrous attempt at driving in the snow ... I cannot stress enough how this is absolute suicide ... lesson learned!
I figured steelies would be fine for now. Got 195/?/16 Nittos ... can't actually remember the profile exactly off the top of my head.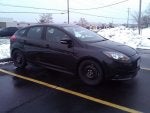 This is my old truck. I had it since I got my license. I sold it to my dad for the down payment on the ST, so in reality I still get to drive it whenever I want!
One other personal addition which was quick to go into my car. This angel was in my grandmother's car and I got it when she passed away. I look at it as though she is my guardian while I am driving.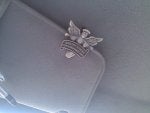 So, through that first winter I didn't really do much except drive, and enjoy driving! I started to think about what to do with my wheels when I was ready to put them back on. I knew the brake dust was a huge issue for me since I am a neat freak, and I decided that Plasti-Dip was an obvious solution. I'd get to keep the OEM paint, while protecting my wheels from the dust if I couldn't get to cleaning them very often. So the day came and I started my work! This was my first attempt at dipping, and it went pretty well! No need for commentary.
I used flat charcoal with a silver flake metalizer, followed up with the glossifier.
I was able to figure out popping out the center cap, luckily LOL!
Notice the dent above the front passenger side wheel well ... yeah ... It is still there as of this post.
More coming!!