Hey everyone,
I decided to go ahead and make my own grille. I am calling it the deep dish grille because I plan to have it recessed inward about 2 inches. I ordered a OEM grille that I received today and already started cutting away at it. I cut all of the honeycomb out and all that i have left is the outside ring and the two vertical bars. I am not totally set on which mesh I will be putting in the back of the grille. I currently have a sheet of perf hexagon aluminum powder coated black that I got on customcargrilles.com. It turn out that the guy that runs the website is local and i went to his house to check out all of the mesh available and he has a few more that I think might be cool including a plastic one that looks very close to out stock honeycomb. I added pictures of the mesh I have right now and a few pictures of the current progress.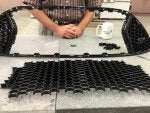 Edit: I probably should add that the plan is to possibility have a mold made and become a vendor then start selling some grilles if everything goes well.
Edit for Update 10/1/15: The Grille is in casting right now they should be poring silicon today. I expect parts Monday or Tuesday. I really want to have it on my car by Saturday the 10th for a meet so i will bust my but during the week to get it finished.
some have had a few questions and heres a few of the answers all in one spot so you don't have to search through the thread.
1. Material will be a cast urethane ring and a ABS mesh or aluminum mesh.
2. They will be painted gloss black, possible color match to your car for extra price.
3. This is a complete replacement of the factory grille.
4. It is recessed 2" in the middle and tapers down to 1" at each end to avoid the crash bar.
5. I do not know it it will fit with a snorkle
6. I do not believe there will be a fitment issue with any aftermarket intercooler.
7. And the most asked question. The price will be between $400-$500
Here are some pictures from a test fit with the aluminum mesh
Here is a picture with the ABS mesh
Here are some pictures from casting
UPDATE: 10/22/15
I am in the final stages of getting everything sorted out with choosing the correct material.
A few quick note:
-I have figured out that the mesh is not ABS and the info on the site i got it from was wrong.
-This is not a bad thing it just does not allow me to glue anything to it and paint will not stick to it, Therefor i had to change up my mounting Technic and the mesh will not be gloss black it will be a flat black. (the recessed ring will be gloss black)
-The mesh not being ABS also eases my worries about it not being UV stable (no ABS is) this material is UV stable so it will not fade
I am sorry that this is taking awhile but it is a side project and I have a real job and life that is taking up time from working on fun things like the grille :crazy: I am taking pride in this and am enjoying every bit about it is is a huge learning experience and i thank everyone for the support along the way.