Discussion Starter
·
#1
·
While I was checking the electrical grounds in my car in reference to
this thread
I noticed my battery cover was loose. When I opened it up I saw the following.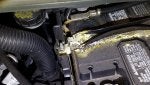 Doesn't look so good to me. Granted my car is a 2013 so the battery is sitting on 4 years. I was debating whether I should just clean it with some baking soda and water or just spring for a new battery.
The car was just at the dealership last week and they gave it a "clean" bill of health during their inspection.