Discussion Starter
·
#1
·
Hey all. Just picked up a new ST on Saturday and I am really liking the car so far. Signed the papers with 89 miles on the clock. Car is pretty much loaded with all the goodies. I bought the car sight unseen. I was looking for a Magnetic, Oxford White, or Kona ST3 and really had a hard time finding one here in NY. I ended up getting in touch with an old college friend who works at a dealer and he was able to get his hands on one. I wasn't a huge fan of the Machined wheels looking at pictures online but in person they are a million times better than the base wheels.
I only have a couple pictures so far:
I only have about 600 miles on the car so far and I am really impressed with it. I haven't had the chance to take it on a really twisty road but I can tell it will be really fun on a back road.
Here are a couple of my previous vehicles. I like a little bit of everything:
02 Cummins 6-Speed. Borg Warner FMW S362, injectors, tune, intake, exhaust, clutch, the usual. Was making in the neighborhood of 425hp and around 1000 lb ft of torque.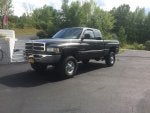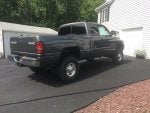 Loved that truck and sold it to my brother. It was a lot of fun but I drive a lot and it wasn't a cheap vehicle to maintain.
I still have the following car albiet it's back to almost stock. 06 Kia Spectra 5-Speed: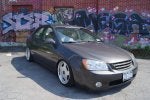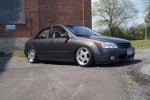 Car was 'stanced'. Used to be really big into StanceWorks and went to Southern Worthersee a couple of times. Met a lot of good people and had some fun. That was a few years ago before it became really big. My car was sitting on 17x8 and 17x9 Wald Duchatelet wheels and a set of Megan coil overs for a Tiburon that I made work for the Kia. Rode slammed like that for about 60k miles. Didn't raise it for winter either, just threw some snowtires on.
My plan for the ST isn't too go too crazy like that. Stance was fun but it was difficult to live with on a car I drove day in day out. It was always fun getting reactions on peoples faces and going to a car show and getting, "Is that a Kia?" Anyways, I digress. My plan for this car is a fun DD I can have fun with but also go on long trips and not have it beat me up. I had a 5" straightpipe on the truck and while I was responsible and didn't make it loud all the time, it was hard going on long trips and not getting somewhere and being close to deaf. It was pretty loud. Here are my plans so far:
-Window tint, just enough for a little privacy and to get rid of the 'fish bowl' look.
-Amber fog light bulbs. Just love that look of the bright white Xenon lights with amber fogs.
-Mud Flaps. Gotta protect the paint. We're not talking Rally Armor either. I'd like to kick someone in the nuts for inventing those. I'm sure they're functional but man they look silly IMO.
-Intake (Injen caught my eye as it uses a dry filter but I'm open to other suggestions)
-Exhaust (will have to read more here. Don't want something too loud but stock is too damn quiet. MBRP, Borla, Cobb, Rouch, Mountune?? Any suggestions??)
-Symposer delete. I just think it's silly.
-I would like to do a BOV but I don't care for the Turbosmart or Boomba stock replacement sounds. I would replace the stock I/C piping and go with a Tial Q. I might just do an intake and exhaust and get enough visceral noise from those I don't need to do an aftermarket BOV.
-Further on down the road I'd like to go Accessport. I've never owned a new car and don't feel it's smart to void the warranty this soon. lol
-I'll have to look hard at it but I wouldn't mind lowering the car a smidgen. If anything it would just be to get rid of the little bit of wheel gap there is. I don't want to change the driving dynamics of the car though, so I'll have to read more there. See what others are doing..etc.
-Wheels. This will be down the road too. The Machined wheels are nice but I would like something lighter and wider. I'd like to think I could stuff some 255's under this sucker. Probably a 18x8 with offset in the mid 30's. Haven't played much with a wheel calculator but that should work.
That's all the plans I can really think of right now. I'd appreciate any input on intake/exhaust setups. Thanks.