This interesting quick little read I happened across while conducting an experiment on increased fuel trims due to higher E content makes a few good points. If modifying our current commercially available fuels with higher ethanol content (over the advertised "up to 10%") reduced dangerous polluting chemicals, increased performance (efficiency) and helps to stretch a precious resource why the increased push to EV? We are struggling with our infrastructure as it is.

But we still have land for growing...

View attachment 405515 View attachment 405516
Ethanol blends have been a matter of scientific debate from way back, with the carbon footprint being one of the main bones of contention.
In 2006 a Berkeley team found that corn ethanol blends were better than gasoline, but not by much, comparing corn to cellulosic ethanol (produced from non-edible botanical biomass such as corn stalks, switchgrass, wood, and so on), where cellulosic ethanol has a lower impact. They encouraged technological development in the latter area, where enzymes are necessary to break down the plant fibers: cellulose, hemicellulose, lignins, and so on, into fermentable sugars. Engineered fungi have been used to produce cellulase enzymes capable of hydrolyzing these plant polymers and structural components rapidly enough to make this method practical. Another method is acid hydrolysis. Specially engineered yeast have also been developed that secrete the enzymes to break down the fibers and then ferment the resulting sugars. Bacteria have also been used.
Ethanol from corn is still the most widely produced.
Since the Berkeley study, there have been many more that either support corn ethanol blends or condemn them: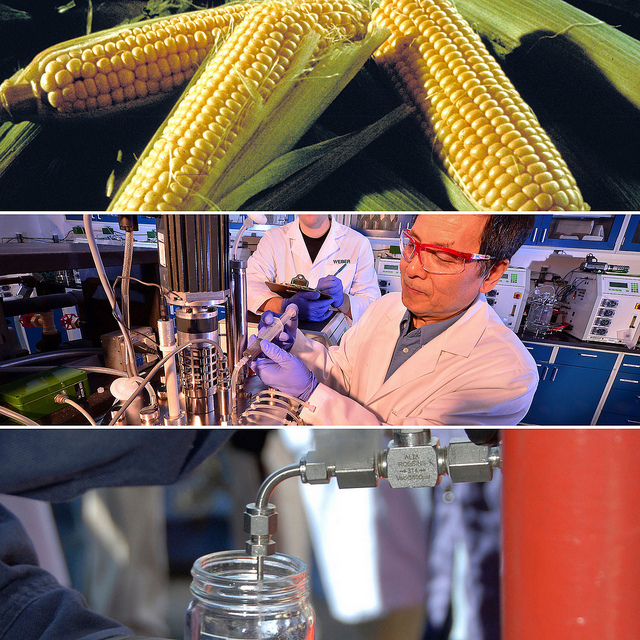 Over the past two decades, the demand for renewable fuels — including corn-based ethanol — has helped drive a strong domestic market for corn, and supported rural America by generating jobs (PDF, 1.5 MB). New research is confirming that corn ethanol also has more greenhouse gas benefits than...
www.usda.gov
I'm sure the final word has yet to be written...