Discussion Starter
·
#1
·
Greetings all. I don't normally make a new member introduction post, but being as this is by far the newest (comparing model year to current date) and by far the lowest mileage/nicest appointed car I've ever purchased, I figured I would break some habits. After a bit of a debacle, my wife and I recently purchased this black on black leather every option 2015 Focus ST with just over 20K miles on it. Here it is detailed as we loaded up the few items we carried in our rental.
I am no stranger to cars (I'm 32 but have owned over 30 cars already - some strictly just bought for parts) by pretty much every manufacturer (my first job was a flat-rate diesel tech at Haldeman Ford for 10 years and I did a ton of side/performance work on just about everything). I've modified...heavily...basically every car/truck I've ever owned, but most have been bare-bones/no-option vehicles and as I've gotten into my 30s I have begun to appreciate some of the nicer features newer cars come standard with. I've done everything from full-race big turbo Ford Probes to drag Fox bodies to a road race Cobra (which I still have, more on that later), raced mud in my truck, street and road raced on 4 and 2 wheels...I guess you could say I have done a little of everything and will race anything with wheels. Over the last few years my wife and I have become a bit more practical (read: old) and let cars take a back seat to purchasing and renovating our house. When my beater no option 2000 Mazda 626 finally pushed a head gasket (but still got me 30 miles further to my patient whose IV antibiotics were due and I simply could not stop), we rented a car and have been car shopping. I figured I would just replace the Mazda with another $2000 or so car that was simple and I had prior history working on, but the rental 2015 Versa Note (loaded) totally changed that course - we were stunned how even a **** econobox car has come lightyears in interior design, amenities, etc.
We needed a car that had great fuel economy (my truck gets 13 mpg on 89 octane highway), decent driver/passenger room (I am 6' 3"), 4 doors (thinking about kids in the next year or two), LOADED is her big thing, and a stick shift and somewhat sporty steering/pep/brakes (driving home after 13+ hours in the ED at 8AM can really put you to sleep, I have ridden my motorcycle many times to prevent this). We wanted to spend about 13-15K, and wanted something fairly new or certified (but not new, never have, never will...after working at the car dealer I think new car buyers are the biggest suckers on Earth IMO). Our candidates, in no particular order, were a Mazda 3, Versa, Corolla, Sonic RS, Fiesta ST, and Honda Fit. We drove 1-2 of each of them except the Fiesta...I couldn't find one anywhere remotely local, and knew as the "performance" car of the bunch and not even sure if you can get leather it would probably be an immediate NO from her. Eventually we settled on a loaded Mazda 3 and went to test drive one about an hour away that we were interested in purchasing, blue on beige leather. We loved it, but thought the dogs would kill the beautiful interior on the first ride and the dealer wouldn't budge on what we thought was $1-2k over. While there, they asked what else we were interested in and said they had a 2015 Fiesta ST on the lot (one of only 6 stick cars total...lol). Turns out it's a FOCUS ST3 at 21500. We drove it just for fun, I knew little about them other than the stats because I hadn't even considered it (bigger car, even more racey, price tag). We were blown away by the interior...no longer is a Focus the early 00s ****boxes we remembered and I serviced so often. The shifter and position was a little weird compared to the absolute perfection of the 3 and the clutch reminded us of the Cobra's heavy cable clutch. The power was addictive, and we loved all the options. We talked a bit, I stopped on our test drive to look up comparable car prices, and we decided we'd buy if they played ball. Like the 3, they wouldn't move a dollar off their number. I have zero problem walking away if the car or deal isn't perfect.
A week later we were still deciding between the perfectly balanced, under-the-radar, responsible-adult 13k Mazda 3 and the boy-racer, flawed, way-funner ST with the bad ass interior and Recaros. We found an absolutely perfect example of each - a graphite grey/black leather Mazda 3 and a the car you see above...an identical match to the one we fell in love with and passed on (except with 14 wheels on it). Turns out the two dealers, although far away, are very close to each other. We decided to go drive each on the same day, get each's best offer on base price + tax/title/license and financing, and play them against each other. The better deal would decide the car we bought, and we could both live with that. We set up the appointments for the next day (we were too far way to make it to either that night), and on the way to the 3 the dealer called us to tell us it sold. Crap, but thanks for the call so we didn't waste our time. On to the ST...we had printouts of each car and I just scribbled some numbers to tell the ST dealer this is what they are offering. At the dealer who had the ST (actually, many of them), we are told sorry the 15 is sold. ****. Thanks for calling ahead ****heads. I'm pretty upset, it had been a long shift at work previously, but they had a 14 ST3 and a 15 ST1 there so I was like well mind as well look at these. The 15 is cloth seats, immediately out. What looks like subtle differences 14-15 is crazy in person and explains about a $5000 differences. Recaros are not power, not as good, and not heated (huge thing for wife), the interior controls are very different, front grille and fogs, etc. Drove it quick, it had some insane loud exhaust on it and 60k miles, said sorry not interested. Sales manager stops me on the way out and says the 15 is still here on the lot, young kid left $500 hold on it a week ago and two people have wanted to buy since and he's passed on them, he thinks this kid is going to flake, how serious are we. I said I want to see if it is as advertised but if so, I want to be $21000 on the dot out the door (I estimated $1500 in tax/title/license would make the car 22K), I have 2.99 APR through my bank on 48 months for up to $30K (but would allow them the opportunity to match or beat that), and whipped out $5K cash in a roll for my downpayment. Serious? I'll drive it away tonight serious.
They came back with $20500, we looked the car over, agreed, and called the kid on speakerphone. Turns out the $369 or whatever/month payment was going to stretch him over 6 years and he still lives at home. They offered him the 13 ST2 they had on the lot for like 500 less than asking, and he asked them to move his $500 hold over to that. They told him if he didn't come in the week this time they were keeping the deposit, he seemed happy, and the 15 was ours. I left the $5K as the deposit and got a receipt for the deposit and the agreed upon price (I worked the entire next day and would not be able to pick the car up...it would also give them a business day to call their banks to compete). They said they'd have us in/out in 15 minutes when we came in. Friday 3/17 rolled around, my wife worked a half day and then we went to her Dr. appt and called the dealer we were on our way. I was told they had such a good APR they didn't want to say it over the phone, whatever that means. We scheduled our rental return time, and arrived. The salesmen was busy with another sale so I went right to the sales manager (we were now under a time crunch to return the car). He quickly got the insurance and other associated paperwork done, now we were just waiting to talk to the finance guy...who had a client in. I told the sales manager I had scheduled the rental drop off for today since he said it would be 15 minutes in/out (which I knew was a lie all along, his part alone took a half hour). The finance guy had a client in there, and an hour later, and past our drop off time, we finally sat down with him, which took another hour where he tried to sell us undercoating, an extended warranty, gap insurance, and everything else under the sun. Apparently he thought we were suckers/naive, as they all do, and was surprised when I shot him down left and right. He tries to breeze over the final numbers, where I spot 4.729% over 72 months...wait wait wait what the **** is this. He tries to tell me how he lobbied for a better number but this is the best he could get us with our credit scores...our 810/800 credit scores...I told him I'd be going with my financing or not buying the car. He tries to play it off as its already well past closing, but my bank gave me an after hours number that since I was already set up I could just call to have the check faxed to whatever dealer I bought from. It's not really that big of a difference in the final money especially if you pay it off early was his game - I came back with you take my financing because I'm leaving tonight with the car or not making this trip back. They finally blinked, I called the bank, they sent the check, and we were off with our car, not even caring it was only filled 1/2 way and the wheels were dirty. What a debacle - **** dealer, good car.
We've been spending the past weekend doing errands and driving around cruising like we used to in the Cobra. My initial impression is that although the power does hit you in the face (especially with the open diff torque steer), I really under estimated how well this chassis was sorted out. I can't wait to get this thing down to NJMP and really see how it does closer to the limit. We are still trying to figure out all the switches and settings, there are so many. My wife LOVES the heated seats, what a godsend in winter. The hands free controls, console display, and cluster/HUD are easily the best of any of the cars we test drove. The shifter position could use some tweaks and the exhaust on it now could be quieted up some, but otherwise no complaints. Averaged 26.0 through one tank of 93, mostly highway (thats what this car's life will be) and a few pulls. No tickets yet!
Mods include unknown intake pipe, missing front lower grille, yellow tape on the foglights, 14 wheels with autopartsstore black lug nuts, tint, unknown exhaust, unsure if programmed, unsure if lowered. I need to get it on a lift to get a better look at everything.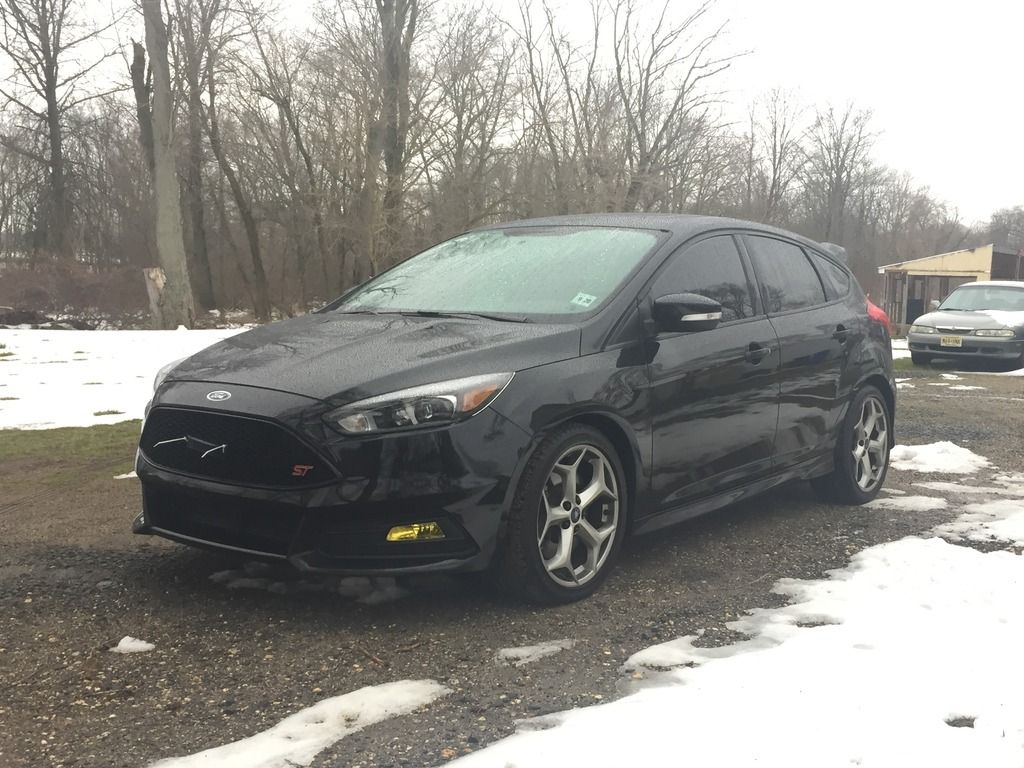 Yes, I did zip tie my EZPass to the grille for the drive home. When I get my front plate bracket (bumper is not drilled, and never will be!!!), it can go on the plate.
The rest of our current stable includes:
2004 Sierra 2500HD - lifted, 33s, bolt ons, affectionally nicknamed Grave Digger by my wife. Currently getting heads/springs/rockers/longtubes, ladder rack, side steps. Purpose built home depot truck (fixer-upper DIY house), tow vehicle, and winter emergency transport (when you are an RN and there is 18 inches of snow on the ground not plowed yet, you CANNOT call out of your shift...you MUST get to work and I don't like having to sleep at the hospital every time the damn weatherman calls for big snow like 15 times a winter and it comes maybe once). Love this truck, despite having almost no options factory we've added a ton.
2008 Ninja 250R, 500EX swapped, bolt ons, track toy and vehicle to keep me awake on summer rides home after night shift
And our pride and joy, 98 Mustang Cobra
Current condition:
Originally purchased by myself as a surprise gift for my wife for graduating nursing school in 2005, the car spent some time with just bolt ons and nitrous as a street/drag car, going as fast as 10.80s when we went all out trying to go 10s on the stock longblock. We went down to Myrtle Beach one year for Mustang Week (drove there), and participated in the autocross a dozen times, street raced more than I can remember, did the circle track another dozen, and made 22 passes in a single night, then drove all the way home at the end of the week...in retrospect, so so so stupid, and the chief reason we trailer our vehicles to the track now even when they are near stock...if something breaks, no sweat load and go. Being exposed to these other forms of racing propelled her to want to go in the road race direction and we did a few track days at NJMP the year it opened and she fell in love. The electric water pump failed and the motor ate it in a non-race driving situation, and in went a 331/AFR/vortech combo I had sitting around. The car would later get a 351W, a Terminator swap, then a TVS on that, then an undersized TT kit I made, and finally a LQ9 HCI combo when she got really serious about track days and making it a true track day vehicle. The car pissed everyone off a "collector" Cobra with a GM engine, a GM trans with Viper gearing, Agent 47 SLA and 03-04 IRS with a Viper center section, but a car we bought a little rough was really starting to show its age from all the beating and cutting and welding from so many combos. After an incident in turn 1 in the advanced class with a Corvette, we decided to blow the whole car apart and throw it on a rotisserie and do a complete unibody-up cleaning and build and give the car the life it should have, a babied track vehicle. We bought our house with no garage on a screaming deal a few months later, and she sits in climate controlled storage until I build a garage.
So that's us in a nutshell, two car nut RNs with 3 dogs and a cat with a new toy Focus. Today we finally got some decent weather here to push it a bit in the dry and enjoyed a cruise. It does understeer significantly off throttle but turns right in with some input and accelerator. The 3-4 shift is a little sketchy for my liking, but otherwise very few complaints - getting used to the odd clutch engagement but may try to research what options we have to modify that. Overall great car that will be excellent for us with some tweaks, very happy with the purchase. I look forward to talking and maybe even meeting up with some of you!