Discussion Starter
·
#1
·
I am one of the lucky ST owners that received a car that did not come with a factory installed drain tube on the passenger side for the sunroof. I found out after a leaving my car out in the rain that a sizable puddle of water would build up on the passenger side floor. Seeing how I have had issues with my local Ford dealer's service department I decided "how hard can it be?". Its kind of a pain in the a$$ but I have the satisfaction of knowing the dealer didn't screw up my car
Anyways, I searched the forum and the internet trying to find out how the hose was routed and where it came out of the car. I am posting a few pics just in case anyone else needs to know this information because the information i found was not clear.
Basically the tube connects at the corner of the sunroof, runs down the A-pillar behind the trim, between the dashboard and the car frame, through a sizable hole (large enough to get a hand in), and there is finally a small hole that the drain end fits through. It helps a lot to remove/loosen the sun visor, the grab handle, a-pillar trim, glovebox and associated trim, the rubber door seal. This should give enough room to pull down ever so gently on the headliner and push the tube onto the sunroof assembly.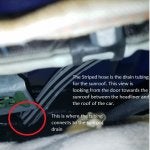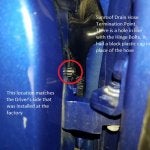 Hopefully this useful information if anyone has issues with the drain.