So far I've had this car a little over a month and in its stock form I am really impressed at what it is capable of. I've modded and driven mostly Honda's, an old 94 mustang GT and a 14 WRX. I'm going to take my time with this build, and try my hand at competing in GS. (I'm used to running in STX and STU for auto-x). The ST really is a fun little car, and I honestly think it is more fun than my WRX or SI was.
Taking delivery:
bone stock shake down auto-x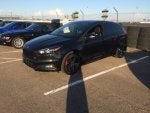 Fastest run plus 1 cone
fastest clean run set me just under the 1st place finisher (he was on re71r's and I was still on the stock goodyears)

and it begins, resonator delete
love the sound but I'm looking for something a bit louder, so I will probably get at cat-back soon.