Discussion Starter
·
#1
·
Hi Everyone,
Lurker-turned member. Coming up on the 1 year anniversary of my ST: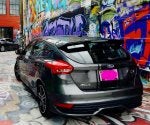 The stripe was not what I was expecting, but I like that's a different from the usual format.
If you're in the Mid-Atlantic, and I park next to your ST, don't be surprised. At least we know we won't ding each other.
Also, I started a vinyl/shirt store not too long ago, and wanted to link in case anyone wants to get their FoST Farmer's Tan started early:
international slaphouse
I hope it's OK that I link that here, if not, point me to the appropriate sub-form and I'll remove & re-post.
Excited to actually start posting and hopefully get out to some meetups.