Hey guys!
So a while back (almost 2 years now I think), I sold my '14 Focus ST. Long story short, I didn't care for the payments anymore, and wanted to invest the money into better things. I was able to pay off half of
one
of my student loans, and able to afford a beautiful engagement ring for my fiance of 6 years at the time. I felt both of those situations were a bit more important than a fancy new Focus.
Anyway - I couldn't find a better replacement in my price range than this amazing SVT Focus I ended up with. I had it shipped in from Michigan to PA with about 89.5k miles on the clock. It was basically stock besides a CFM short shifter, subwoofer upgrade, and FSWerks strut bar. I am the 3rd owner with the 2nd owner having it for 3.5 years and only 5k miles, all garage kept and it mostly showed. Instantly upon driving the car, I felt how raw and manual it felt compared to my Focus ST. I really liked the new feeling.
Here's some stock pictures: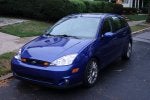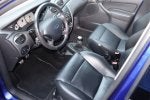 In short time, the mod bug bit. Added clear bumper side markers and a Euro grill: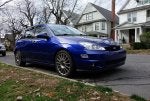 After the summer ended, I moved along to suspension and wheels. I started with Koni Yellow shocks with H&R Race springs. The handling seemed vastly improved, but the ride was a bit harsh. I found an amazing deal on some 16x7 +45 Team Dynamics Pro Race 1.2 in anthracite that I couldn't pass up, and I wrapped them in some nice 205/50 BFG Sport Comp 2's. The car really handled great with the 16lb wheels and sticky tires. Here's that look: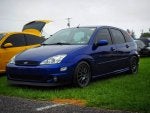 Then came winter and it was my first time seeing the car lowered on the factory euro wheels. I really dug this look:
During winter, I was starting to fall out of love with the car because of my desire for something boosted again. My previous two cars before this one were boosted. Other than my Focus ST, I had an '05 Subaru Legacy GT that made around 300/350 to the ground, big turbo, fuel upgrades, you name it. The car was an animal, but an autotragic (a dying one at that). The SVT, while great fun in the handling department, was really disappointing in any factor regarding speed. I'm no speed racer, nor do I street race, I just like having actual power on tap. Low and behold, I came across a COMPLETE (rare to find) Powerworks supercharger kit. This gave me huge ideas.
I obtained the blower, and also decided it was time to really go hard. I came across a group buy on a Fiesta ST forum for 16x7 +43 RPF1's from Oakos Automotive that were produced in 4x108 for the first time. I couldn't pass them up. At the same time, I ordered BC coilovers to complete the look with the RPF1's. Along with the RPF1's, I ordered some nice ARP slightly extended studs to further enhance the race car look I was going for. Here she is as of today (I do have custom center caps now, but no real pictures yet):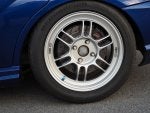 Now for the fun part. It's supercharger time! My friends and I took this past Memorial Day weekend to install the blower setup. We started on Friday night around 6pm-10pm, Saturday 10am-2am (LONG day), Sunday 11am-6pm. Fortunately my tuner (hard to find for this car), only 2 hours away in Dillsburg, PA, was able to send me a base map allowing me to putt putt down to the dyno on Wednesday 5/31. Along with the blower, we installed 60lb injectors, and a new OE driver side motor mount.
Here's the FIRST start. Don't mind all of our reactions, including my goofy one. It's NOWHERE near as loud in the video, but the car straight shot-gunned upon start up. Per instructions, I basically flooded the engine before actually starting it for the first time. This left lots of fuel in the exhaust. You'll hear it, but not like we heard it lol. First start up video!!:
Two days later, on Tuesday, I installed my new AEM Wideband and Prosport boost gauge. The wideband would've been installed the day of start up, but I lost the power cable..durh..
At the dyno, my tuner, McNew's Automotive, worked their magic on the car to put out some healthy power. The stock pulley on the Powerworks blower is capable of about 10psi, which is right about where I was hitting. See the chart and bay shot while on the dyno below: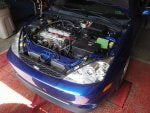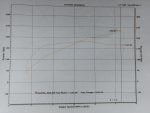 Now for the best part. Check out the final pull on the dyno!!
_______________________________________________________________________________
Full Mod List
Engine/Exhaust/Fuel
- Powerworks Supercharger
- 2.5" stainless exhaust with a Vibrant bottle muffler in the midpipe, Borla muffler in the rear section
- 60lb Siemens Deka Injectors
- SCTx4 Tuner with full dyno tune from McNew's Automotive of Dillsburg, PA
Suspension/Wheels/Tires
- 16x7 +43 Enkei RPF1 (14lb's a piece!)
- 205/50 BFG Sport Comp 2
- BC coilovers (basically fully maxed all around)
- Massive Speed adjustable front end links
Interior/Exterior
- Euro front grill
- Sports Appearance Package (SAP) rear diffuser
- AEM Wideband
- Prosport Boost Gauge
- Custom dual pod gauge cluster surround to house the 2 extra gauges
- Solid shifter base bushings
- ZX3 SVT side skirts (ZX5 do not have any from the factory, but ZX3 skirts do fit)
- Mach1 Mustang lip (have to replace)
That's about all she wrote for now. I have more plans, but they're still in development. I just wanted to whip this up here for a small log, so to say, since the other MK1 Focus forums are dead. Hope you guys enjoy!