▀▄▀▄ Vivid Racing | Milltek Sale up to 15% off and Free shipping on certain items

Vivid Racing Presents: Milltek Exhaust sale and shipping incentives!
MSRP $ Varies. PM, call, or email for FORUM Exclusive Pricing!



[email protected]

| +1.480.966.3040 x243 | www.vividracing.com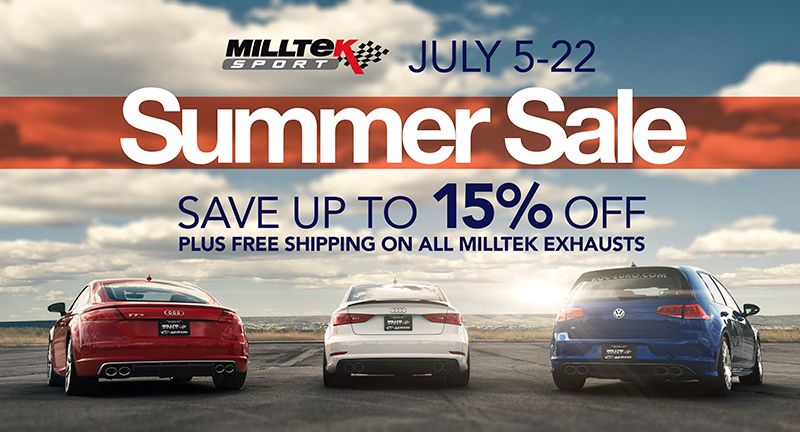 Product Information
:
It's the middle of the year, and we are bringing you sales in JULY! Currently we have some great offers from Milltek so you can finally get that exhaust you always wanted, at a price that you can afford. Milltek is one of the leaders in exhaust technology offering kits for your Vehicle. Right now they have some compelling offers of 15% off and free shipping. Not only is this an great value, this is one of the best deals you will find all year long. Sale ends on 7/22/2016 so make sure to get your orders in before that date.
We also offer intake and exhaust systems from: Agency power, K&N, Akropavic, Borla, Magnaflow, AFE and much much more. Please feel free to call our specialist to see what package deals we can help you with to make your vehicle perform better!
ACTION: OFFER ENDS ON THE 22ND of JULY 7/22/2016 so get your deals in BEFORE that date!
Ordering:
Phone
:
You can reach me directly by calling +1.480.966.3040 x243 to place your order over the phone.
Payment Methods
:
- Credit/Debit Cards (Visa, MasterCard, Discover, American Express)
- PayPal
- Affirm – Now you can finance your parts!
- Bank Wire
- Bill Me Later
- AZ Orders will incur 7.8% sales tax
- All international orders (outside of US and Canada) require Bank Wire or PayPal
Shipping
:
We have very competitive worldwide shipping rates. Most orders leave via FedEx, however we do use UPS, DHL, and various freight companies. The most efficient shipping method takes precedence. Expedited shipping is available by request.
Hours of Operation
: We do not observe Daylight Savings Time in Arizona
March-October: M-F 9am-6pm PST
November-February: M-F 8am-5pm PST
We are closed for business Saturday and Sunday
Contact Information
:
Phone: 480.966.3040 x243
Email:
[email protected]
Website:
www.vividracing.com
Please feel free to contact me via PM, Email, or Phone if you have any questions.​