▀▄▀▄ Vivid Racing | KW September Rebates! Save Big On Top Quality Suspension!

Vivid Racing Presents: KW Suspension September Rebate Program
MSRP Varies by model. PM, call, or email for FORUM Exclusive Pricing!



[email protected]

| +1.480.966.3040 x236 | www.vividracing.com
It is that time of the year again for suspension deals through KW. Get the lowest prices of the year and feel good about doing it!
Here at Vivid we want to pass the savings on to you. All Ford Systems that are hardware only, are included in the rebate. Make sure to contact us for shipping, pricing and availability! We are here and ready to make aggressive deals!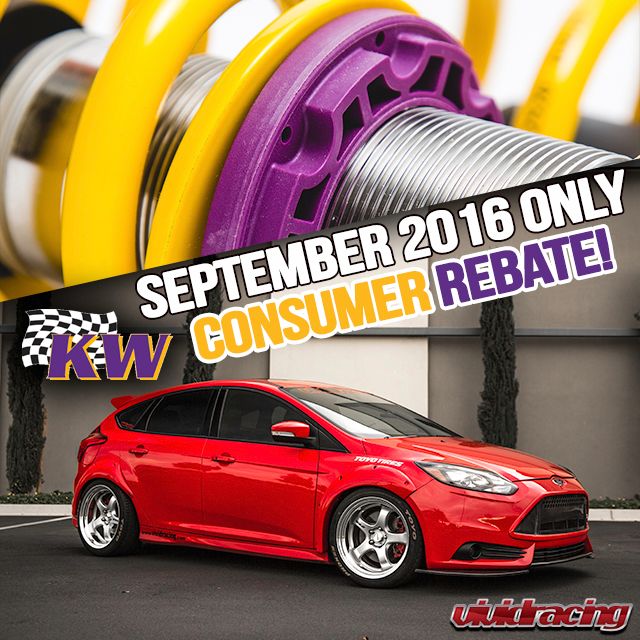 Ordering:
Phone
:
You can reach me directly by calling +1.480.966.3040 x236 to place your order over the phone.
Payment Methods
:
- Credit/Debit Cards (Visa, MasterCard, Discover, American Express)
- PayPal
- Affirm — Now you can finance your parts!
- Bank Wire
- Bill Me Later
- AZ Orders will incur 7.8% sales tax
- All international orders (outside of US and Canada) require Bank Wire or PayPal
most efficient shipping method takes precedence. Expedited shipping is available by request.
Hours of Operation
: We do not observe Daylight Savings Time in Arizona
March-October: M-F 9am-6pm PST
November-February: M-F 8am-5pm PST
We are closed for business Saturday and Sunday
Contact Information
:
Phone: 480.966.3040 x236
Email:
[email protected]
Website:
www.vividracing.com
Please feel free to contact me via PM, Email, or Phone if you have any questions.​