General Information
Packages
Basic as it gets
Future track day and daily driver.
Ultimate goal is to use a Veloster Turbo engine and transmission for a swap and lay down 300whp.
Long term project and it's getting there.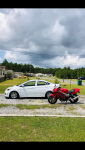 Modifications
Drivetrain
AEM cold air intake with K&N filter.
Fuel Lab 10 micron in line fuel filter.
Evilla Motorsport 2 point front upper strut brace.
Evilla Motorsport x-brace chassis brace-modified.
Custom 3 point trunk brace using a strut brace from a 2001 Lincoln MK IV.

Evilla Motorsport rear torsion bar bought from Pierce Motorsport.

SxthElement/ NST lightweight water pump and crank pulleys.

Canton Racing 1qt Accusump pre-Oiler.
Spring valve delete from the slave cylinder.
Billet, baffled, and higher capacity racing oil pan from KDMTuners for the turbo motor.

Quaife LSD for the turbo transmission.
NRG 2 piece magnetic oil drain plug.

Rear axle swap from drum to disc with poly bushings replacing stock rubber. Work in progress.

2013 Hyundai Elantra 60mm throttle body swap.
Throttlebody coolant bypass.
25mm throttlebody spacer utilizing 3 1/8" NPT ports.

Triple catch can using 2 Mishimoto and 1 Saikoumichi can, all vented to air.

Mishimoto 1.3 bar coolant cap.
Setrab 19 row oil cooler w/ integral cooling fan.
Mishimoto high flow oil sandwich plate w/ 160 degree t-stat.

SoCalGarage delrin shifter cable bushings by SxthElement.

Battery temp sensor delete.
Upgraded ground wires throughout the engine.
SxthElement lower racing dogbone mount with 85 durometer bushings.

TurboTechRacing upper engine mount.
Torkon rigid collars from KDMHolics.
Interior
NRG gen2 quick release.
NRG short hub adaptor.
NRG reinforced steering wheel.

SocalGarage billet shifter bushings.
Dewhel shift boot adaptor-modified.
Torque Solution 3" billet shifter extension.
SickSpeed gold anodized shift knob.

Ultragauge OBD2 gauge.
Holley standalone CanBus led shift light hardwired.

Switch activated upper clutch switch mod I call 'sport mode'.

BC rated fire extinguisher.
Midd Town Co. billet quick release under seat fire extinguisher mount.

Corbeau Forza fixed back racing seats on Corbeau modified Toyota sliders.

Sparco aluminum pedals hard mounted onto the pedals.
WeatherTech floor mats.
Exterior
Subaru WRX front lip installed on front bumper.
Modified Ford Fiesta rear mud guards for the rear.
Korean OEM factory rear spoiler.
Custom made side skirts.
KDMholics lower led rear bumper lights.
Custom led side marker lights front and rear.

Modified lower front oem grill to allow more air flow for the radiator, oil cooler, and future FMIC.

Flaming River 2 pole battery kill switch set to NHRA/ IHRA and SCCA compliance.

Functional/ opened corner fog light openings for air flow to the cai and oil cooler.

Verus Engineering 2015 Ford Fiesta ST hood louvers from Whoosh Motorsports.

Rennline front tow hook hard mounted to the crash bar.

AutoDynasty rear 10mm billet rear tow hook.

Chase Bays 6061 aluminum 20oz. windshield reservoir tank w/ integral washer motor.

Chase Bays billet coolant reservoir overflow tank.
Audio
Bone stock.
My exhaust and NVH are my symphony 😂😉
Lighting
All led lighting by JDMAstar inside and out.
Nokya 2700K headlamps.
Exhaust
Evilla Motorsport mid cat delete pipe.
Evilla Motorsport axle back with Magnaflow muffler.
Polyurethane exhaust hangers.
Suspension
Whiteline adjustable swaybar end links from Evilla MotorSports.

Moog camber bolts.
H&R springs for now until I finish my axle swap and DGR coilovers will be installed.
Wheel and Tire
Konig Rewind rims with 15x7 size and 40 offset.
Yokohama S1 summer tires with 205/50R-15 size.

McGard spline lug nuts with red tips.
949 Racing 7075 billet valve stems.